(Last Updated On: 25th June 2021)
Here is everything you need to know about Springtomize 5, 4, how to get Springtomize Cydia tweak freely for iOS 14?, new versions and device compatibility, alternatives, and most popular Cydia tweaks, and much more.
Content summary.
What is Springtomize?
Springtomize is one of the popular trading all-in-ones tweaks ever conceived in the history of the community, but it's still being maintained to this very day. Those unfamiliar with Springtomize should think of it as a super Cydia tweak.
Also, this is the only tweak you'll ever need to customize your device, as you like. Furthermore, it receives updates every year in support of Apple's latest versions and largest operating system.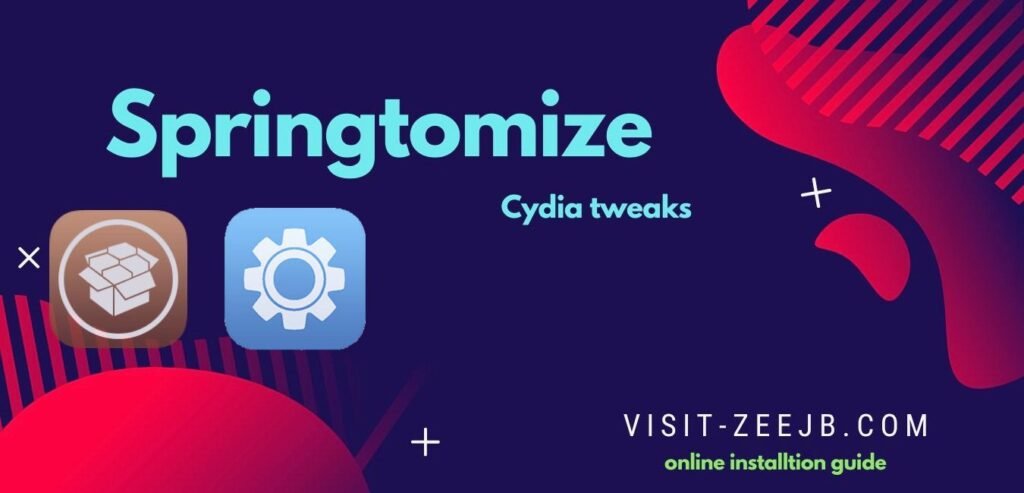 Springtomize uses
You may disable features that you do not use, or it may slow down your device performance.
You can customize the look of your icons, folders, dock, and your Lock Screen.
Springtomize lets you save your Springboard layout and then restore it without wasting time moving icons in or within folders!
Theme section, you can choose to apply a custom dock or battery; You can make your icons transparent and adjust the brightness of your wallpaper!
You can also customize the various animations on your Springboard or add color mods.
How to get Springtomize?
Springtomize is one of the best Cydia tweaks created by developer petcix. You cannot get it free. This tweak requires $4.99. You will not lose money. Because it's so good, this tweak is worth more than the money you invested. After the purchase done you can get this tweak successfully to your device.
There is one way to get this tweak to your device online for free. You can use Cydown tweak to get Springtomize5 and old versions freely. How to get Springtomize freely?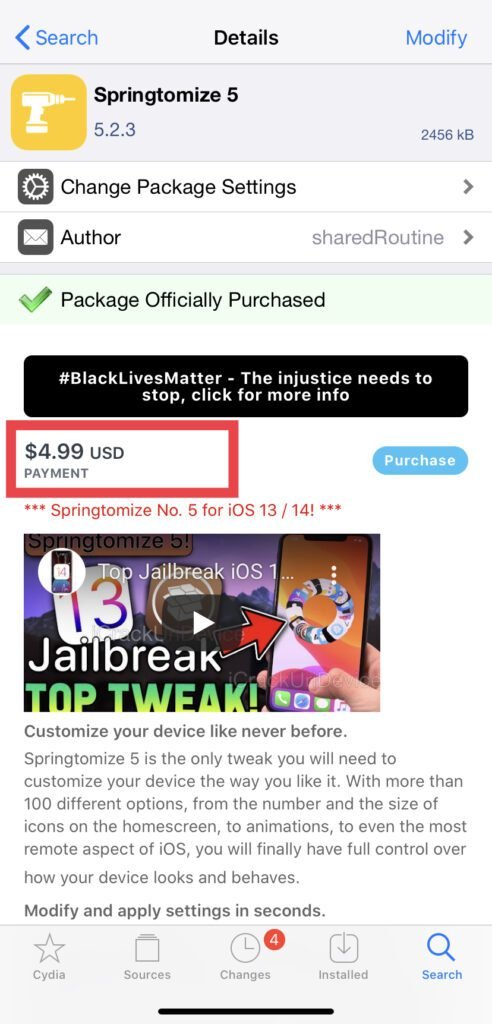 Follow the below steps to get the Springtomize Cydia tweak online.
Step 1- Jailbreak your device using Unc0ver or another jailbreak tool. You can get Unc0ver from U04S Store. (please use U04S premium application to get revoked free experience.). After jailbroken your device Cydia will be automatically installed on your device.
#Step2- Open Cydia and go to "sources" option.
#Step 3- Tap the "Edit"button.
#Step 4- Tap "add" button.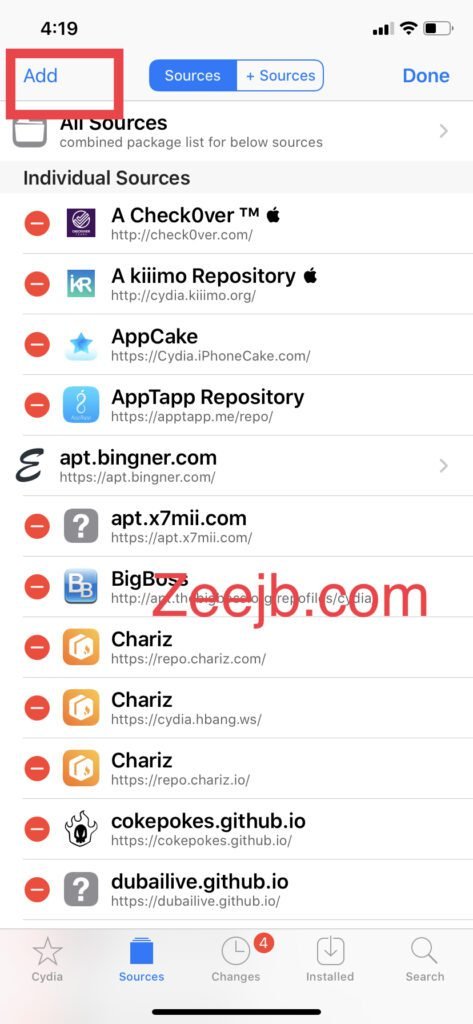 #Step5- Type the URL – https://repo.packix.com/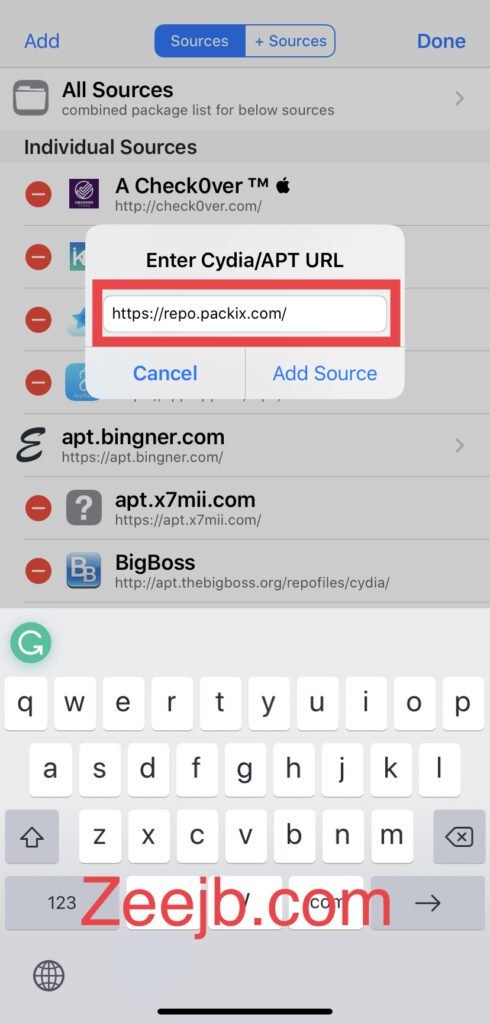 #Step6- press "add source".
#Step 7 – Go to "search" option and type " Springtomize 5 ".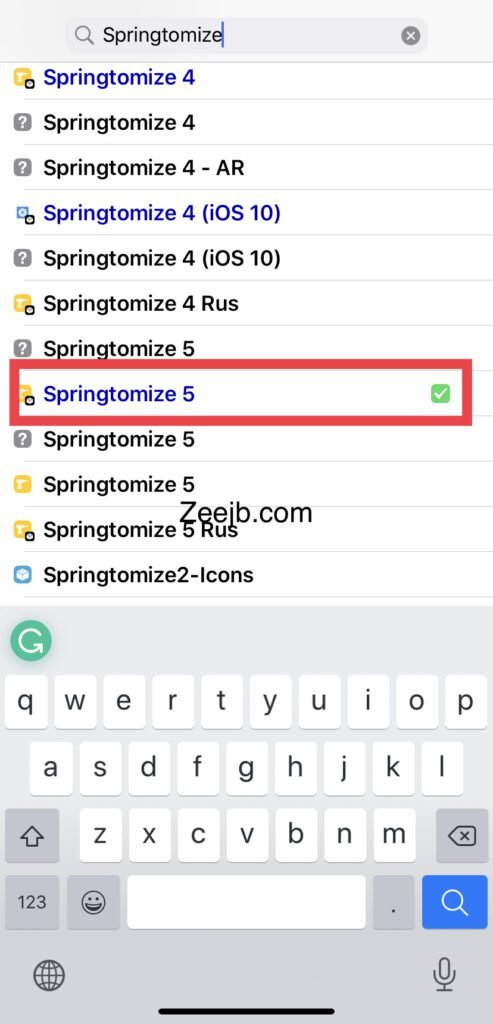 #Step8 – Tap the "modify" button. If you are new to Springtomize, you will get the "install" button. tap the installation button.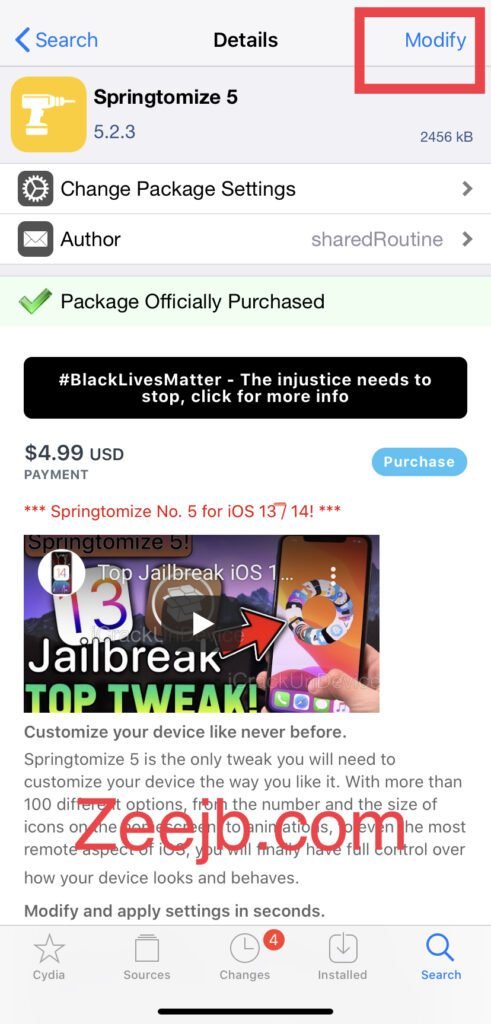 #Step 9 – Tap the reinstallation button.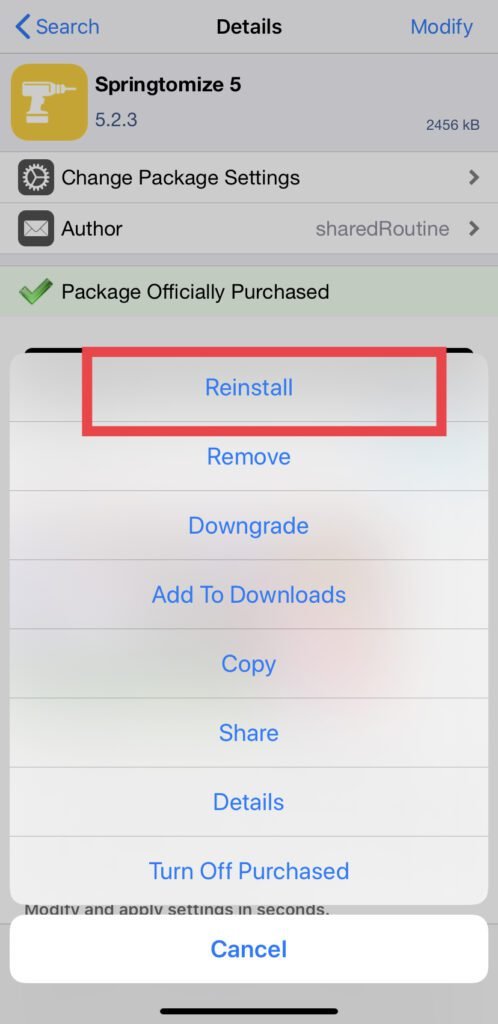 #Step 10 – Go to your device settings and scroll down. Then find Springtomize.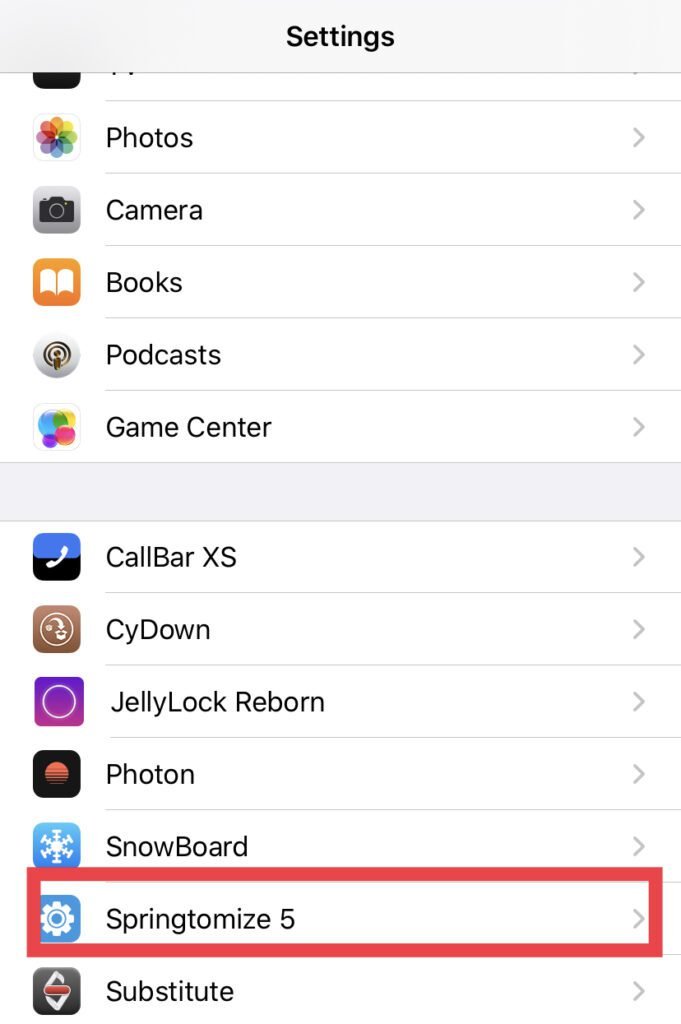 #Step 11 – Enable the Springtomize and customize your iPhone as you want.
How to get Springtomize5 freely?
Step 1 – Go to cydia and add the repo Cydown. ( enter the URL https://julio.hackyouriphone.org/ on Cydia sources.
Step 2-Go to Cydia search bar and type the name "cydown". Then press the installation
Step 3 – Go to the home screen of your device and check if there is a cydown on your home screen.
Step 4 – open Cydia again and go to the search bar. Then search Springtomize5
Step 5 – If your cydwon is installed successfully you can get this package freely.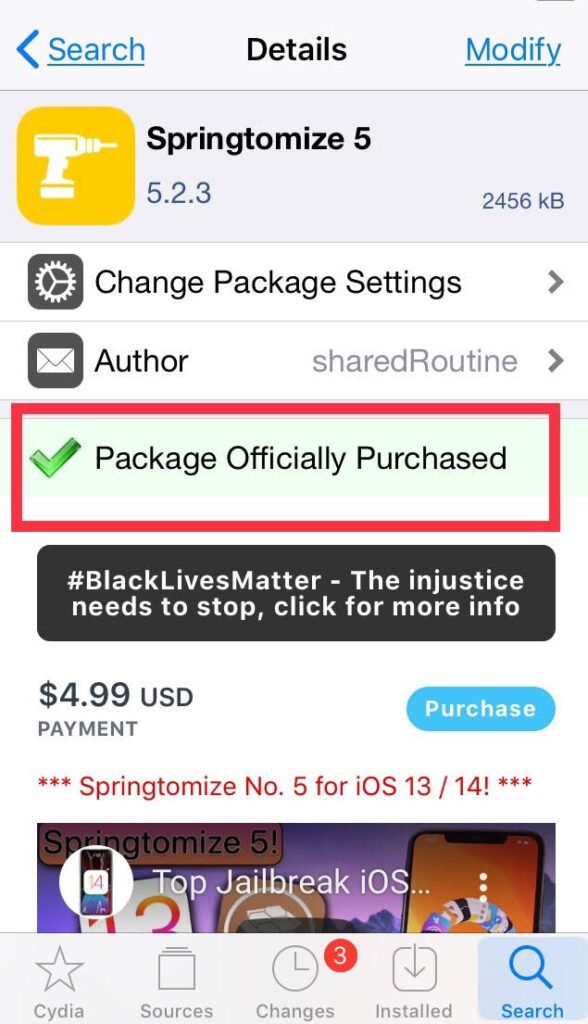 Step 6 – Go to device setting and enable the Springtomize tweak.
The latest version
Springtomize 5
iOS developer Janosch Hübner released the fifth iteration of Springtomize with formal support for iOS 13 and iOS 14. The fifth functionality brings a number of options for different aspects of the Apple mobile operating system,
Animations
App Switcher
Pages
Control Center
Dock
Folders
Lock screen
Icons
Miscellaneous
Notification Center
After installation, you can find all those options in the Settings application.
Springtomize 4
Springtomize4 brings to the table helps users to reduce the number of jailbreak tweaks installed without compromising the customization level or additional features.
Features
You can create all kinds of custom profiles for your device, one when you feel minimal and the other when you feel overwhelmed.
For the very few options that do require a respring, it will show you a beautiful Status Bar notification.
Old versions
springtomize3
Features :
Fixes a bug with disabling uninstallation of Apps
– Finally fixes the status bar issues
-Fixes the Dock Bug on iPad
– Fixes Bluetooth and other Statusbar Icons (when trying to hide them)
Hiding Statusbar Icons fixed
Fixes Bug when it goes into "wiggle" mode when using an animation
Dock Landscape Issue fixed
Support for iOS 9.2 – 9.3.3
Springtomize alternatives
The best alternative is Cylinder, which is both free and Open Source. Other great apps are Muse Art (Free), Winterboard (Free), Five Icon Dock (Free), and MyOS (Paid).
Spentomize updates
Springtomize5 v5.2.1 is out with the following changes.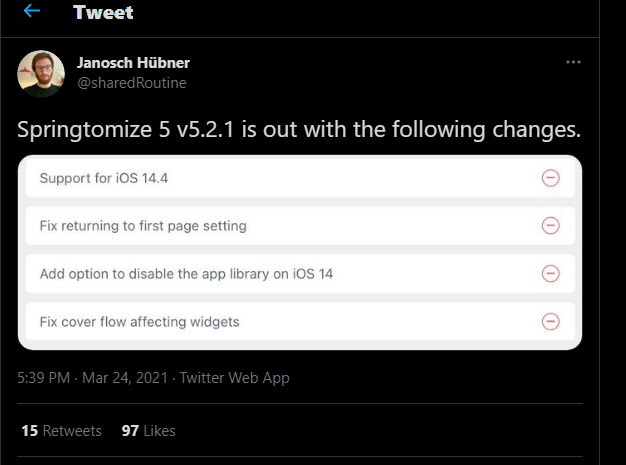 Jailbreak updates
iOS 14.7 successfully jailbreakon with checkra1n.
You may also like :
Top 10 Cydia tweaks
AVLOCK
CLEAN HOME SCREEN
DELETEFOREVER
APPDRAWER
AUXO 3
Sknowboard
Flow
GesturesXS
Shuffle Tweak For iOS
HomeKit Hub Enabler
Hidelabels13
You can get more Cydia tweaks from zeejb cydia tweaks page.