(Last Updated On: 16th August 2022)
---
Top Cydia Tweaks For iOS 12.2 – iOS 13 online more
Top 60 Best Free Cydia Tweaks For iPhone more>>>
---
What is Cydia?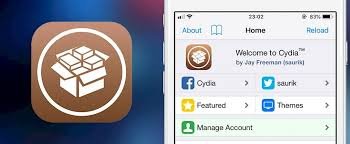 Cydia is a package manager mobile app for iOS that enables a user to find and install software not authorized by Apple on jailbroken iPhones, iPads, and iPod touch devices.
It is the most popular alternative to the App Store, and like all third-party app stores for iOS, it is only available for jailbroken devices.
The main reason why people installed jailbreaks on their devices was to get a Cydia, the third-party app stores that provided all the 3rd-party apps, games, and tweaks they could want.
What is a jailbreak tweak?
Jailbreak tweaks are updated apps that you can't get through Apple's App Store. These apps have more features to make your device look good after jailbreak. But keep in mind, installing apps or tweaks through other sources, Apple does not provide any security.
Best Cydia Tweaks for ios 13.5 to iOS 14.5 – 2021
Artistry (Shows the song artwork in Spotify playlists.)
AppStore++
Compactor
CCModules (Add custom and modules to the Control Centre)
Clean Home Screen
GoogleWindow (Adds a floating window on your screen that can be used to quickly perform Google Search.)
HideYourApps
FloatyDock
JellyFish
Complications
Axon
Accent
Color Flow 5
HomePlus Beta
HideDots
iCleaner
Gravitation
Gesto
Status Viz
Shylabels
Runaway
Cylinder
Dark Keys
Screenshot Actions
Goji
PasscodeText
iOS 15 cydia tweaks
3DBadgeClear
MoreFrequentlyUsedEmojis
A-Font
A-Shield
Accelerated Home Button
Accent
AdGuard
AddToFolder
AlarmVolume
Amonglock
AppData
AppStore++
Apple File Conduit 2
Applist
Apps Manager
Arkrome
BHTwitter
Batterylife
BetterCCXI
BetterSettings
Best Cydia Tweaks for ios 13.3- 2020
1- CozyBadges
2- SugarCane13 for iOS 13
3- Kalm
4- Grupi for iOS 13
5- Xen HTML
6- BatteryPercentX iOS 13
7- Tweaks Manager – disable jailbreak detection
8- PianoPass
9- Maple2
10- Milkyway2
11- Turkey for iOS 13
12- FluidTabs
13- CellDia
14- LockDroid
15- AVLock
16- Color System Pro
17- NotifBounce
18- SmartLight
19- SendDelay
20- Axon for iOS 13
21- Cask Jailbreak Tweak
22- Filza Tweak
23- Nice Notes Cydia Tweak
24- Tweak Count 2
25- Flame Jailbreak iOS 13 Tweak
26- Cylinder
check, jailbreak device with checkra1n jailbreak
27- SmartLPM (Low Power Mode)
28- HomeGesture
29- Preference Organizer 2
30- Colour Badges
Fix Unc0ver App Revoke Problem
31- Jailbreak iOS 13.3 Tweak Zeppelin
32- UltraSound
33- Jailbreak Tweak Noctis 13.3
34- Clean Home screen
35- Boxy 3 Tweak for iOS 13.3 Jailbreak
36- Lock Plus Pro
37- Notifica Cydia Tweak
38- PassBy Jailbreak Tweak
39- MitsushaXI Unc0ver Tweak
40- Small Siri Free Unc0ver Tweak
41- Don't Kill My Music
42- Melior iOS Tweak
43- SmartRotate Jailbreak Tweak
44- Call Recorder X+
45- Harbor 2
46- Notch Volume Hud
47- Folder Open No More
48- MessageColors Unc0ver Tweak
49- Custom Lock
50- Video HUD
51- Whoops
52- SnowBoard
53- Folder Colour
54- Launchtron
55- Togglow
56- SwipeShot iOS 13
57- Cuboid Tweak
58- CC On & Off
59- Double Tap Lock iOS 13 tweak
60- Vesta
61- ColorBoard
62- Six LS
63- 13HUD Tweak
64- BlurryPaper
65- CColor
66- DejaVu2 iOS 13 tweak
To install these tweaks please copy and paste the REPO link into the resources of Cydia.
List of Best To Cydia tweaks for unc0ver jailbreak iOS 13 – iOS 13.3 Jailbreak.
CozyBadges
SugarCane13
Kalm
Grupi
Xen HTML
BatteryPercentX
Tweaks Manager
PianoPass
Maple2
Milkyway2
Turkey
CellDia
FluidTabs
LockDroid
AVLock
Color System Pro
NotifBounce
SugarCane
SmartLight
SendDelay
Axon
Cask
Filza
Nice Notes
Tweak Count 2
Flame
Cylinder
SmartLPM
HomeGesture
Preference Organizer 2
Colour Badges
Zeppelin
UltraSound
Noctis
Clean Home screen
Boxy 3
Lock Plus Pro
Notifica
PassBy
MitsushaXI
Small Siri
Don't Kill My Music
Melior
SmartRotate
Call Recorder X+
Harbor 2
Notch Volume Hud
Folder Open No More
MessageColors
Custom Lock
Video HUD
Whoops
SnowBoard
Folder Colour
Launchtron
Togglow
SwipeShot
Cuboid
CC On & Off
Double Tap Lock
Vesta
ColorBoard
Six LS
13HUD
BlurryPaper
CColor
DejaVu2
20 Best Cydia Tweaks for iOS 12 & 12.4 [2020 List]
FlipControlCenter
PowerDown
Auxo 3
CallBar
Colour Badges
AVLock
AppDrawer
DeleteForever
Clean Home Screen
iWidgets
Top 100 Jailbreak Tweaks for iOS 12 – 12.4
LockScreen:
1. JellyFish
2. Asteroid
3. LeaveMeAlone
4. Jumper
5. Talion
6. lockplus pro
7. Scribble
8. Six (LS)
Settings:
better settings
circle settings
shuffle
Multitasking:
Music:
Mitsuha Infinity
Mitsuha Infinity Homescreen
NextUp 2
Sylph
Sonos
Artsy
Groovify
Artistry
Reach It
Dark Mode:
Noctis12 / Dune
Edge
Eclipse Dark Mode
IGOLED
Control Center:
Duo
realcc
Sugarcane
BetterCCXI
Magma
Ezswipe
power module
CoolCC
Togglow
Homescreen:
Iconator11 / Boxy 3
FloatingDockPlus / Floaty Dock
Bazzi / Arkrome
SnowBoard / Anemone
XenHTML / XenInfo / Xenimated / Hs.Ryu Fluid Widget / Weather Widget / Floating Star
ClassicFolders2
shylables
evanescoXI
SnowWhite / lotus
zeinth
Springfinity
clean home screen
CuttleFish
Cylinder
ColorBadges2
Notifications:
Notifica
ColorBanners2
Centaur
Blurification
Messages:
Whoops
bubbles
Textyle
Animoji 12.2
TranslucentMessages
barmoji
color board
OLED Devices:
Moonshine
pencilchargingindicator
Shortlook
Hyperion
message bubbles
Semperion
Notchification
General:
HideBarX
barscape
AutoUnlockX
Springtomize4
Callbar XS
Small Siri
BioProtectXS
CopyLog
Vesta
DoubleTapLock
TapTime
HapticKeys
PowerApp
SnapBack (Beta)
Cydia Installer
iCleaner Pro
Filza
Sucession
Silactions
Airport
LowPower DND
Silent Screenshot
Swipe-shot
Sileo No Banner
Photomanager iOS 12
SafeShutDown
LendmyPhone2
AnimationsBeFast
SnoozeX
SmartLPM
Hush
SmartLight
WhatAboutThis
No Idle Timer
Alarm Fade
SmartRotate
You may also like :
more about Uncover jailbreak>>>