(Last Updated On: 20th April 2023)
Xina520's iOS 15 – iOS 15.1.1 XinaA15 Jailbreak App Review: This is new jailbreak progress for the iOS 15 series, which is currently in development and has not yet been recommended for public usage. Xina15 is compatible with all iOS 15-supported iPhone, iPad, and iPod Touch devices.
Don't know about the safe and effective iPhone Jailbreak apps? 
Don't worry! In this blog post, we will review the best apps for Jailbreak Apple iPhones.
Popular iOS hacker @xina520 tweeted about the jailbreak update for iOS 15 – iSO 15.1, He is using the Sileo package manager to install the youtube reborn tweak on his iPhone 13.
After a few days, he published XinaA15 Jailbreak for developers, and it is now available to the general public.
@xina mentions that in his tweet as well.
The test will be sent to plug-in developers first. Currently, only. 15.0-15.1.1 A12-A15 is supported
"It is not as flawless as it looks. There are still numerous compatibility concerns to work out. I aim to be compatible with certain older components. I'm hoping to complete it someday."
There are still numerous compatibility concerns to work out. He makes every effort to be compatible with certain vintage components. and he hopes to complete it someday "Unfortunately, there are still various incompatibilities that must be addressed. He does his best to work with legacy gear. He will finish it one day.
This means that developers will have a lot of work to do to ensure stability and device compatibility.
Since several hackers are already hard at work on a jailbreak for the iOS 15 series, we can only hope that it will be published soon.
To summarize, in our humble opinion, if you want to jailbreak your devices, do not upgrade your iOS version to a newer version of iOS, and please stay on the lowest possible version.
Table of Contents
Latest Update:

Xina v1.1.8.0 Released:
=>> fix jailbreakd bugs
Download Now

Xina v1.1.7.2 Released:
=>> fix dpkg LC_ RPATH Library/Frameworks directory
=>> fix jailbreakd bug
Download Now


XinaA15 - v 1.0.3 Released:
 
*This is also a developer testing IPA file, thus if you are not a developer or lack knowledge, we advise you not to use it.
You might use the XinaA15x Online Jailbreak tool(Lite).

Get sileo running on iOS 15.1 iPhone 13 devices.

XinaA15(Online Lite) - v3.1.2.3 Released:
Added support iOS 15 - iOS 15.6 (iPhone 11 - iPhone 13 ProMax)
Bug fix.
XinaA15Install Now
*This is lite version of XinaA15
Suggested reading =>> Top 12 Best iOS 15.1 Jailbreak Software
Let's go deep into the tool and explore its features, advantages, and disadvantages!!
XinaA15 Jailbreak Compatible iOS/iPadOS versions:
iOS 15.1.1, 15.1, 15.0.2 , 15.0.1, 15
Still Not Confirmed
Download / Install XinaA15 Jailbreak
Xina520's Jailbreak app may be installed on your iOS device by tapping the install link below or by visiting the official website. Please download using the iOS Safari Web Browser.
This jailbreak program has not yet been made available to the general public by Xina520; however, as soon as he does so, we will update the download URLs that are listed below. 
XinaA15x Lite Online Tool:
The well-known iOS tweak developer @Jousha has released an online version of XinaA15x, which is similar to the XinaA15 Jailbreak tool with the key difference being that this program uses the iOS 15 – iOS 16.2 safari bug. This implies that you can use this tool with Apple's recently released iOS 16.2 – iPhone 14 Pro Max.
However, the developer has not yet confirmed tool compatibility with iOS 15.6 – iOS 16.2. But, based on our testing, this tool works on our iPhone 14 Pro Max running iOS 16.1.
*XinaA15x is the light version(model) of XinaA15, all credit goes to Xina Dveloper and team.
Install Xina A15 By Cripzi
The Cripzi team has verified that after Xina has finished releasing his jailbreak tool, they will add it to their application library.
Apple has sometimes revoked the above download URLs, but don't worry, you can still install XinaJailbreak using the Cripzi repo signer.
If the Cripzi method does not work for you, you may try additional ways. Other ways can be found by scrolling down the page.
Jump to other installation methods
Pricing
We hope Xina520's XinaA15 Jailbreak app is a completely free app. It will include a Sileo package manager, with that you can install Cydia-modified applications, jailbroken apps, games, cracked iOS apps, and much more.
There is also Kekuk's no revocation application store, which lets you install any jailbroken or tweaked programs without the need for a computer & jailbreak mode. Download it for free by clicking the button below.
Further reading =>> iOS 16 Jailbreak Released?
Important Facts To Know About XinaA15 Jailbreak
Some Cool facts about the Xina iOS app are listed below for your reference.
Compatible With iOS 15 – iOS 15.1.1 support iPhone & iOS Models: It supports a wide range of iOS versions and iPhone models, including the iPhone 13, the iPhone 12, and the iPhone 11.
100% REVOKE FREE: You can sign this app IPA with the Latest TrollStore app, it will permanently install this IPA without revoke.
Sileo Package Manager – We hope the default package manager is a Selio package manager.
Install XinaA15 Jailbreak – Online/Offline
In the following section, we'll go through the numerous options for downloading and installing the XINAIOS app. Pay close attention to following instructions.
Install Through Xina Store.
The Xina store is a platform where you can install the Xina jailbreak app without using a computer. The XinaStore team has resigned from the latest Xina app with a publicly available certificate. The benefit of this method is that it is very easy to install, does not need a computer, and is the fastest way to get Xina15.
There is also a Premium Store option since Apple sometimes revokes the free certificate. So, if you want to keep your jailbreak alive? you can try this legitimate service to install the XInaA15 Latest jailbreak program. You can purchase the XinaStore Premium feature.
#01) Install through KEKUK Store
With this method, you can use Kekuk iOS to install this jailbreak tool without a computer.
Step 01: Please visit the Kekuk iOS Store by clicking on the link below.
https://kekuk.com/app
Step 02: Navigate to the "Search" tab then find "XinaA15 Jailbreak".
Step 03: Tap on the "Get" button.
Step 04: Now that the installation dialog has shown, click the button that says "Install" to continue.
Step 05: Return to the home screen to see that the "Xina520's App/ XinaA15 Jailbreak" has been successfully installed.
Recommended reading =>> iOS 16 Jailbreak
#03) Install through Sideloadly
Step 1: Download and Install Sideloadly Setup for – Mac/Windows – Sideloadly Installation Guide
Step 2: Configure AppleID and Password – Sideloadly Configuration Guide
Step 3: Plug iPhone/iPad into PC, then import Xina Jailbreak Latest IPA file (To get IPA file – Zeejb IPA library)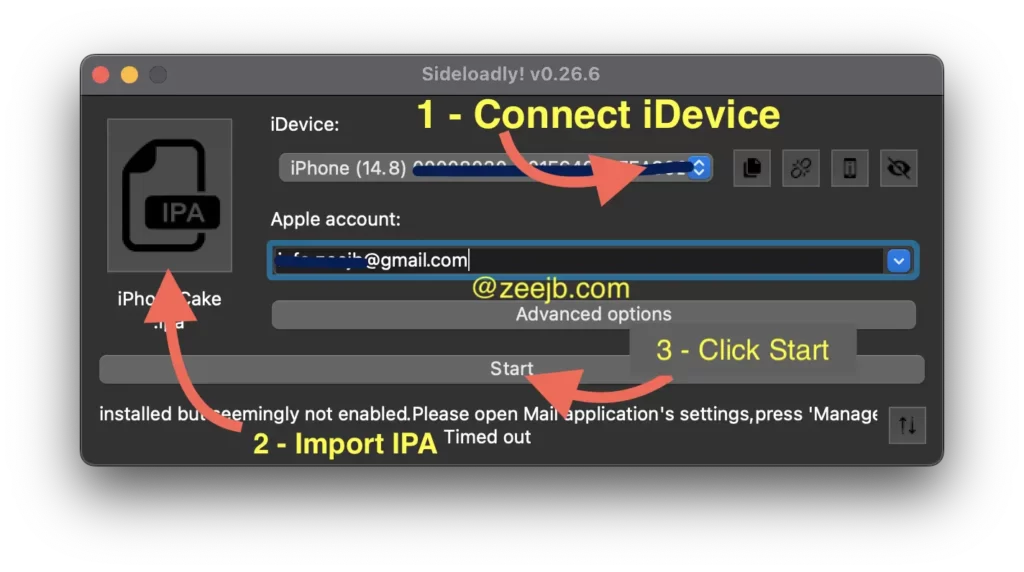 Step 4: Tap on the start button to sideload the app
Step 5: To find Xina's app, go to the iPhone/iPad Home screen.
#04) Install through Esign Patcher
Step – 1: Install Esign Patcher (Esign Installation Guide)
Step – 2: Download the Xina IPA file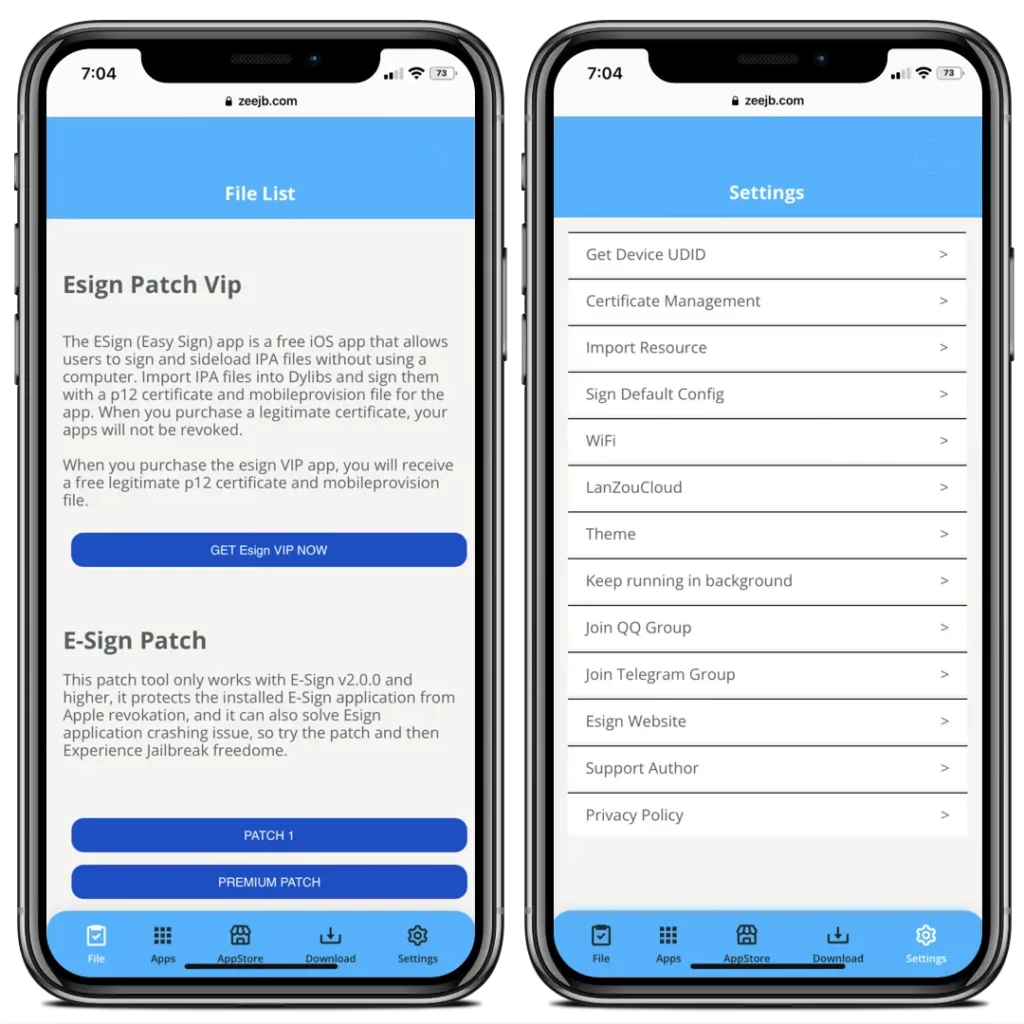 Step – 3: Import the IPA file
Step – 4: Sign with a certificate (Buy premium cert)
Step – 5: The Xina app will be installed immediately.
#05) Install through AppDB Pro
Step #1: Download And Install AppDB Pro App
Step #2: Navigate to Tweaked App and Search "Xina"
Step #3: Download & Install the App.
Step #4: That's all.
#06) Install through 3uTools
Step 01: Download and install 3utTools into your PC / Mac
Step 02: plug your iPhone/iPad into pc
Step 03: Click iDevice → Apps. Here, you can see the apps you have already installed on your iDevice.
Step 04: Click import IPA or Drag Xina520's IPA file
Step 05: Now the XINAA15 Jailbreak app is installed on your device.
Recommended reading =>> iOS 14 Jailbreak
Xina520 Alternatives
According to our research, the following are the top alternatives to the "Xina Jb" app.
AppDb Pro is a popular alternative solution for Xina 15 Jailbreak. This application offers over 10,000 free apps that are not available on the Apple AppStore by default. The main advantage of AppDb Pro is that users can install and use this application without jailbreaking their devices.
Initially, the AppDb Pro team released this software for iOS 11, but over time, they added support for Apple's latest versions. The application is very user-friendly, and it's worth purchasing the premium version. Additionally, new jailbreak and tweaked apps are updated regularly.
The AppDbPro database is made up of a large community of jailbreak fans who upload tweaked apps without viruses or security issues. So, if your device is not compatible with jailbreak tools, you can try AppDb Pro. I'm confident that once you use this software, you'll continue to use it forever.
XinaA15 Jailbreak Supported – Tweaks List
According to our research, the following tweaks are compatible with the xinaA15 jailbreak tool. As a result, you may see a list of all compatible tweaks below.
| Name | Compatible | Description | Repo |
| --- | --- | --- | --- |
| StoreSwitcher2 | Fully Compatible ✔️ | StoreSwitcher 2 lets you easily switch between App Store accounts. | Add Repo |
| ShortLook | Partially Compatible ⚠ | ShortLook shows only when you receive a notification while your device's display is turned off, allowing you to quickly view incoming notifications from a distance. | Get ShortLook |
| UltraSound | Fully Compatible ✔️ | Ultrasound is a lovely iOS volume HUD optimized for iPhone X and later. It is officially compatible with iOS 11.0 to 13.7, however, it has also been tested with iOS 14, and iOS 15. This HUD patch includes a variety of looks and theme appearances that look great on older smartphones. | Add UltraSound Repo |
| Bouncelt! | Fully Compatible ✔️ | | |
| CoolCC v4.0 | Partially Compatible ⚠ | | |
| ShowTouch | Fully Compatible ✔️ | | |
| YouTube Reborn | Fully Compatible ✔️ | | |
| SugarCane14/15 | Fully Compatible ✔️ | | |
| GrupiEmojiPort (iOS 12.0-14.8) | Partially Compatible ⚠ | | |
| Realcc | Fully Compatible ✔️ | | |
| YoutubeMusicUltimate | Fully Compatible ✔️ | | |
| CCSuport | Fully Compatible ✔️ | | |
| SwipExtenderX | Fully Compatible ✔️ | | |
| BlurryAlerts tvOS | Fully Compatible ✔️ | | |
| Hapticb Buttons | Partially Compatible ⚠ | | |
| Killbackground13 | Fully Compatible ✔️ | | |
| VirtualStep | Fully Compatible ✔️ | | |
| Zebra | Fully Compatible ✔️ | | |
| Snowboard | Fully Compatible ✔️ | | |
Xina A15 Jailbreak compatible Jailbreak Sources:
https://dcsyhi1998.github.io
https://brendonikding.github.io
https://ali7assan.com
http://aquaw.github.io/igg
https://getzbra.com/repo
https://udevsharold.github.io/repo
https://dhinakg.github.io/repo
http://tigisoftware.com/cydia
http://cokepokes.github.io
https://iulio.hackyouriphone.org
http://apt.thebigboss.org/repofiles/cydia
https://opa334.github.io
https://apt.geometricsoftware.se

http://repo.qgtir.com
https://repo.snailovet.com
https://iosgods.com/jigg
https://lillieh001.github.io/repo
https:/apptapp.me/repo
https://repo.initnil.com
https://repo.twickd.com
https://joey-gm.github.io
https://wrp1002.github.io
https://repo.cadoth.net
https://repo.niceios.com
https://halo-michael.github.io/repo
https://lenglengyu.com
https://dzmohavip.yourepo.com
https://apt.25mao.com
https://repo.dynastic.co
https://sparkdev.me
https://apt.bingner.com
https://thealphastream.github.io/repo
https://postbox.news
https://repo.1conan.com
https://paisseon.github.jo
https://cydia.akemi.ai
https://poomsmart.github.io/repo
https://repo.acreson.cn
htts://repo.packix.com


https://sailyteam.github.io
https://ib-soft.net/cydia/beta
https://creaturecoding.com/repo
https://miro92.com/repo
https://johnzaro.github.io/cydia
https://creaturesurvive.github.io
https://iosgods.com/repo
https://repo.cypwn.xyz
https://ios.iolano.me
https://apt.cydiabc.top
https://cydia.ichitaso.com
https://apt.alfhaily.me
https://mrepo.org
https://repo.chariz.com
https://wstcIzy2010.github.io/repo
https://havoc.app
https://rpetri.ch/repo
https://sharman79.github.io/Netskao
dcsyhi1998.github.io
XinaA15 Jailbreak Detection – Fix
When you jailbreak your iDevice, most banking apps and other iOS applications detect the device's jailbreak status; specifically, banking apps do not work on jailbroken devices. To open those apps in jailbroken mode, you must bypass the jailbreak detection.
The video tutorial below demonstrates how to resolve the jailbreak issue. In this example, we'll use the Barclays Bank iOS app.
Conclusion
This jailbreak tool has fantastic community support. Since it has not yet been made available to the general public, we cannot provide any rating information at this time.
Overall, The progress rate is 3/5. It's a worth-trying tool!(According to the progress)
XinaA15 Jailbreak Progress: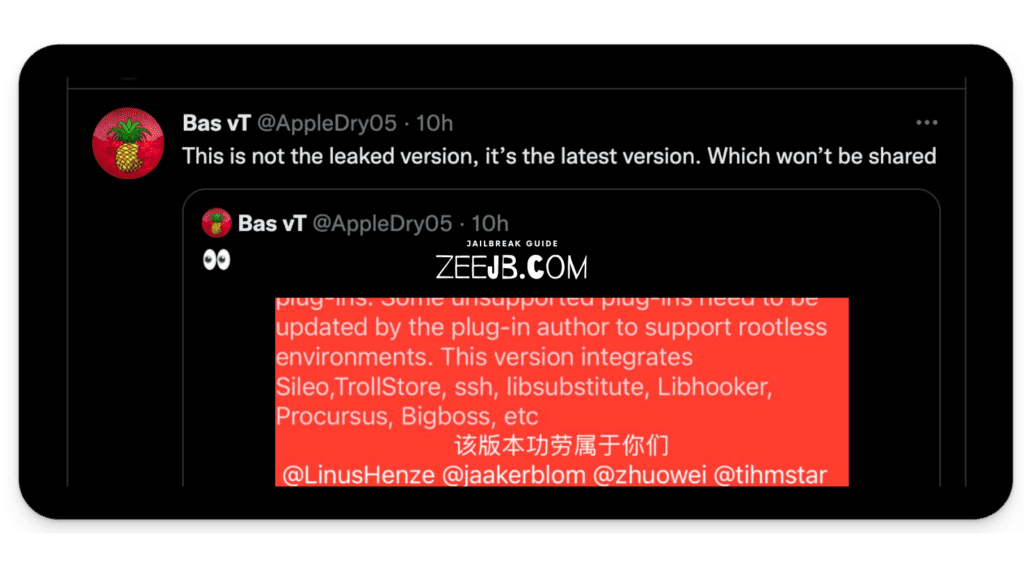 The iOS developer and FilzaEscaped inventor Tweeted XinaA15 Latest version, tested it on his iPhone, and mentioned that "This is not the leaked version, it's the latest version. Which won't be shared".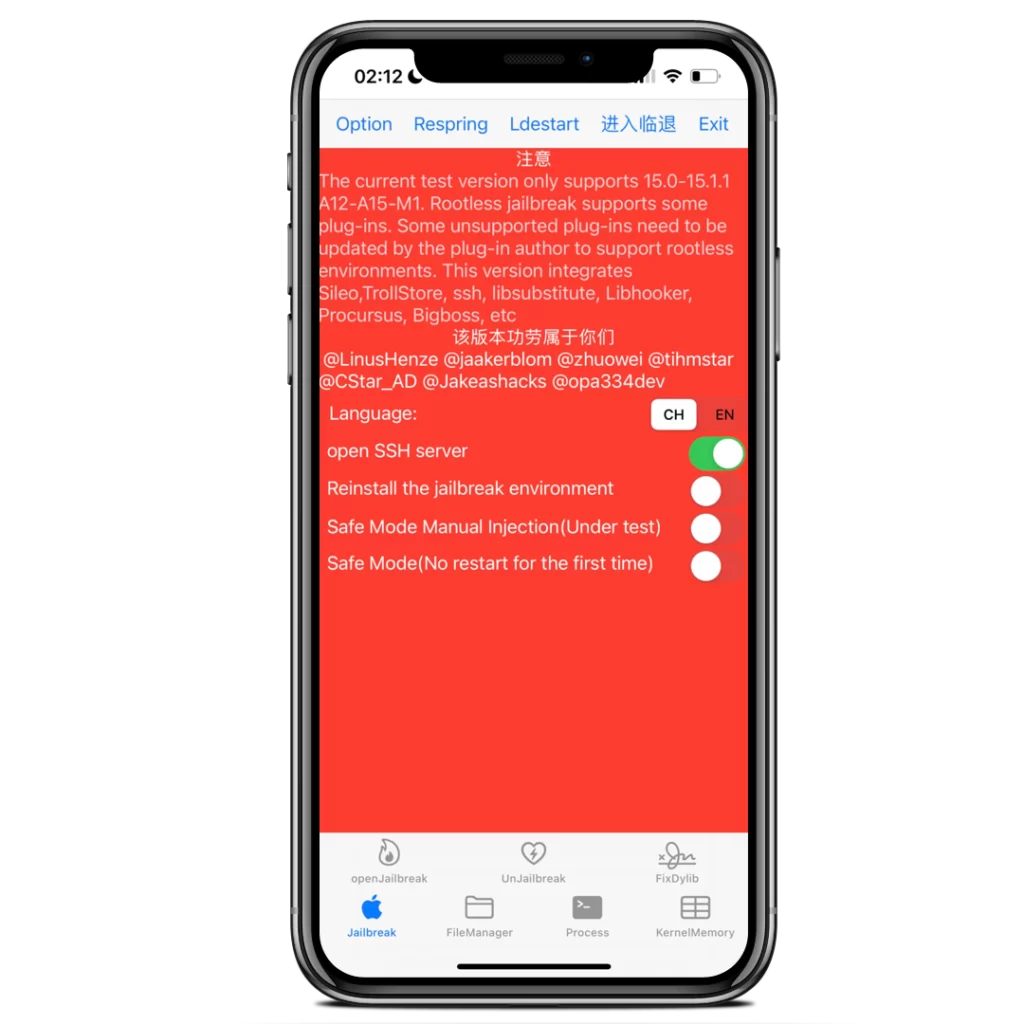 "XinA15 jailbreak is really fast and stable, It should be embraced by other developers soon.
Thanks, @xina520″ –
According to iOS developer @xybp888, the Xina A15 Jailbreak is very quick and reliable. As a result, we may expect this jailbreak to be published as soon as the developer resolves the stability issues.
So, now iPhone 13, iPhone 13 mini, iPhone 13 Pro, and iPhone 13 Pro Max users can wait till the release.
The iOS 15 jailbreak will have a built-in file manager and a process viewer.
XinaA12/A15 Old Updates:
Xina v1.1.7 Released:
=>> updated UI 
=>> bug Fix
Download Now

XinaA15 - V 1.1.6.2 Released:

==> Jailbreak stability has been improved
==> Improved the font support
==> Fixed reboots in launchd
==> Fixed random reboots to an extent, they aren't fully fixed, but they are almost fixed
==> The Sileo and Saily package managers are now gone from XinaA15 and must be manually installed
==> A new process viewer has been added
==> Added the function for signature mask injection
==> Repaired the incomplete display text of widgets

Download Now

XinaA15 - v 1.1.5 Released:
==> plug-ins improvides 
==> Fix Old patches
Download Now