(Last Updated On: 17th February 2023)
Zeon is the most popular jailbreak solution for iOS 14 and higher. Now it is compatible with all the iOS 15 versions, and iOS 16 versions including iOS 16.3. Zeon is not a jailbreak tool. It is a jailbreak repo extractor. It allows you to install jailbreak apps on your iOS 14–15.4.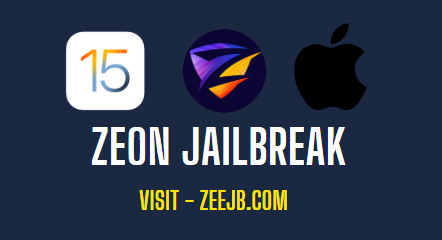 Zeon is compatible
Zeon is the Without PC Jailbreak application installation solution for iPhone, iPad, and iPod Touch devices running iOS 15.2 to iOS 14, and it also works with iOS 13 versions running on iPhone, iPad, and iPod Touch devices.
What are the jailbreak tools? read more>>>
Core Points of Zeon
It's very easy to install, just like an app. No complicated download process.
It's an online solution. No need for a Windows or Mac computer.
Easy to use. Just extracting Jailbreak repos. You can install apps, tweaks, and themes for iOS 15.1 / iOS 15.1.1 devices.
Older Jailbreak features for iOS 15.1 or iOS 15.1.1 cannot be installed using the Zeon Jailbreak repo extractor.
You can install Cydia for iOS 15.1 with Zeon. But you can not install all Cydia features with this Cydia app.
Also, you cannot install all the Silo features with the Zeon Sileo app.
Zeon Jailbreak repo extractor will not work if you do not connect your device to the internet.
How to get Zeon jailbreak online?
Step 01 – Download Zeon from zeejb app store from the below button.
Step 02 – Then it will download to the device settings.
Step 03 – Go to Settings > Profile download > Enter the Device passcode.
Step 04 – The installation Process will be complete within a few seconds. So you can find the Zeon App on your iPhone / iPad springboard.
Step 05 – Open the Zeon App. You can find a Jailbreak repo extractor that is compatible with iOS 14 – iOS 15.4 devices.
Zeon Features

Zeon app comes in many stores. You can use these stores to install Jailbreak tweaks / Apps / Games.
Zeon App Stores
Zeon Repo extractor
Zeon Tweaks
Zeon Repo Extractor
Repo extraction is a very easy method to install Jailbreak applications. Tap Get Repos > Copy the Repo URL > Tap Repo Extractor > Enter the code > Tap Ok to Extract
Now you can use it to install Jailbreak apps.
zeon jailbreak alternatives/ solutions
you can use the following jailbreak tools and solutions as a zeon alternative.
The most famous jailbreak solutions are,
jailbreak tools
According to user rankings, the most popular 2021 Jailbreak solutions are the Pikzo jailbreak and E-sign patch (jailbreak installer) application.
Cydia tweaks
iCleaner Pro
Smart LPM
Preference Organiser
Ultra Sound
Notifica
Boxy 3 Tweak
Power Selector
Safari Plus
Notifica
Appcon
Barmoji
Harbor
you may also like:
Unc0ver jailbreak online installation
Zeon jailbreak updates
The new zeon jailbreak is compatible with iOS 16.3