(Last Updated On: 1st May 2023)
ra1ncloud Fugu15 based Jailbreak App Review: The most popular public semi-tethered, Fugu15 -based jailbreak app for iOS 15.0-15.4.1 (including iOS 15.3.1) on iPhone, iPad, and iPod Touch devices.
Are you worried about the jailbreak of iOS 15 (iOS 16.2)? Do you need a permanent solution for installing Cydia/Sileo, or Zebra on your iPhone/iPad? Just be calm! There will be no more worries in the future!!
All you have to do is install the ra1ncloud (fugu15) jailbreak app on your device. ra1ncloud uses a Fugu15's CoreTrust bug developed by @LinusHenze, and it supports all new iPhone devices running 15.0 up to 16 including iPhone XS, iPhone 11, iPhone 12, and iPhone 12 Pro Max and lower devices.
iOS 16 (iOS 16.3) Partial Jailbreak Released. See Achievements:
Updates – iOS 16.3 Palera1n Jailbreak Released For iPhone. Read More>>>
Table of Contents
Latest Update: 
V 0.4 Released
=>> Automatic trustcache regeneration 
=>> bugfixes
Download / Install

v 0.3.3 Released
=>> More bugfixes

Download / Install

v 0.3.2 Released
Bug fixes and improvements
=>> Fix a bug where iDownload would not restart

Download / Install

For iOS 15.4 - iOS 16.3 Devices -
Palera1n Virtual Jailbreak released: This is a newly introduced online method to install Sileo after running Plara1n iOS 15 jailbreak process virtually. The Virtual Plara1n jailbreak process is very easy. It is a web-based application that you can jailbreak virtually.
Read More: Virtual Jailbreak
iOS 15 - iOS 15.1.1 A11 Online Jailbreak XinaA15 Released
ra1ncloud: iOS 15 – 15.4.1 (16.4) Jailbreak App Review:
ra1ncloud is a jailbreak for the latest iPhone/iPad devices (A14 and below). Currently, support ranges from 15.0 to 15.4.1
ra1ncloud was developed based on a fugu15's core trust bug discovered by @LinusHenze. It is now possible to jailbreak iPhone/iPad models running iOS 15 – iOS 15.4.1 using the ra1ncloud tool created by @iarchiveml.
Suggested reading =>> Best iOS 15.1 – iOS 16.3 Palera1n Alternative
Let's go deep into the tool and explore its features, advantages, and disadvantages!!
ra1ncloud Compatible iOS/iPadOS versions:
Supported iOS versions:
iOS 15.1.1, 15.1, 15.0.2 , 15.0.1, 15
iOS 15.4.1, iOS 15.4, iOS 15.3, iOS 15.2
Unsupported iOS versions:
iOS 14 & below (Palera1n Virtual supported)
iOS 15.7.1, iOS 15.7, iOS 15.6, iOS 15.5 (Palera1n Virtual supported)
iOS 16, iOS 16.1, iOS 16.2, iOS 16.3 (Palera1n Virtual supported)
Palera1n 1.4.1 now supports iOS 16 – A11 and below devices.
Palera1n injector and sileo package manager can be installed on iOS 16 - iOS 16.3 and higher devices.(All iPhones & iPads Supported)
Download Palera1n Injecter - For Online, For Windows
ra1ncloud Compatible iPhone/iPad Models:
Supported iPhone Models: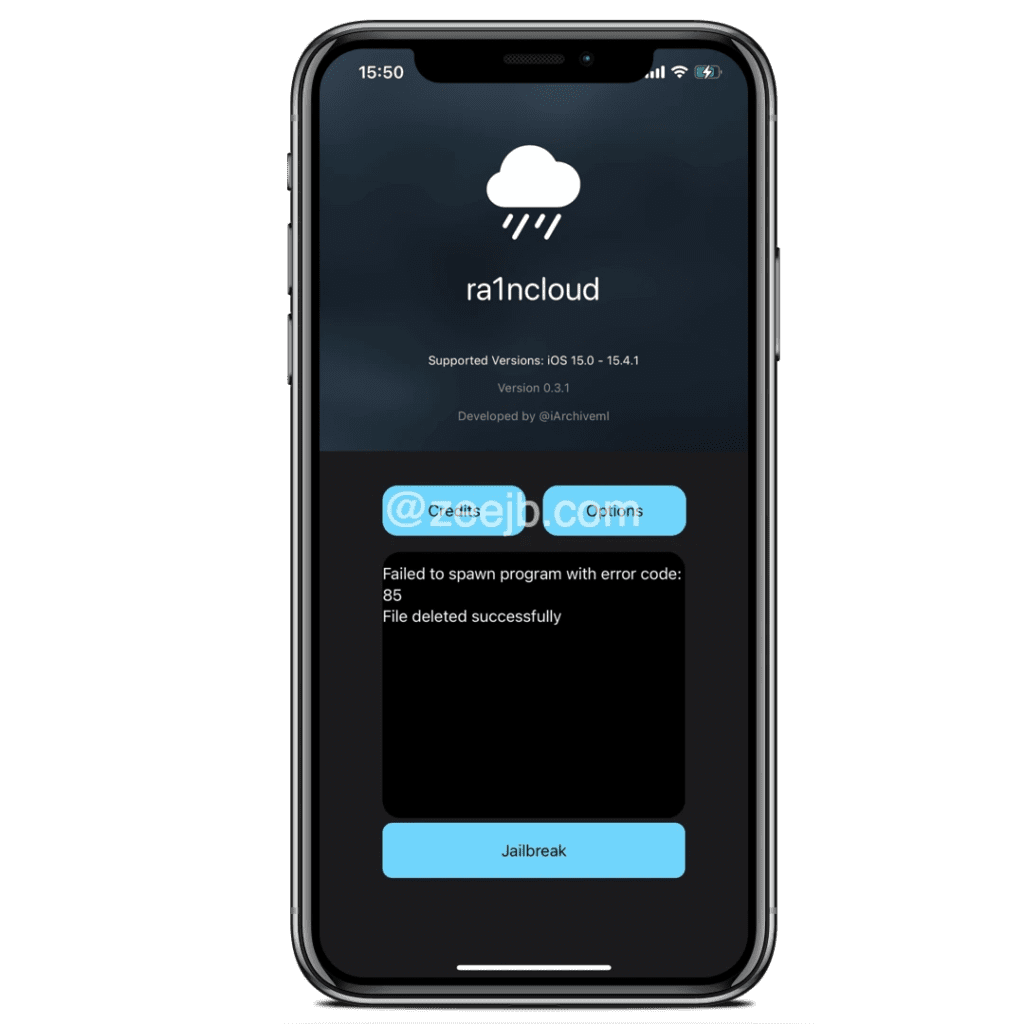 iPhone 13 (iOS 15.1)
iPhone 12, iPhone 12 Pro, iPhone 12 Pro Max, iPhone 12 Mini.
iPhone XS, iPhone 11, iPhone 11 Pro, iPhone 11 Pro Max.
iPhone X, iPhone 8, iPhone 8 Plus, iPhone 7, iPhone 7 Plus, iPhone 6s, iPhone 6s Plus, iPhone 6, iPhone 6 Plus, iPhone SE.
Supported iPad Models:
iPad Pro (12.9 inches.) 1st generation, iPad Pro (9.7 inches.)
iPad (2017) 5th Generation
iPad (2018, 6th generation), iPad (2019, 7th generation)
iPad Pro 10.5″ (2017), iPad Pro 12.9″ 2nd Gen (2017)
Other devices are probably supported as well. Non-arm64e devices are not supported.
Download ra1ncloud Jailbreak
As a result of the increased demand for the IPA file, developers have generated a public IPA file subsequent to the release of v0.3.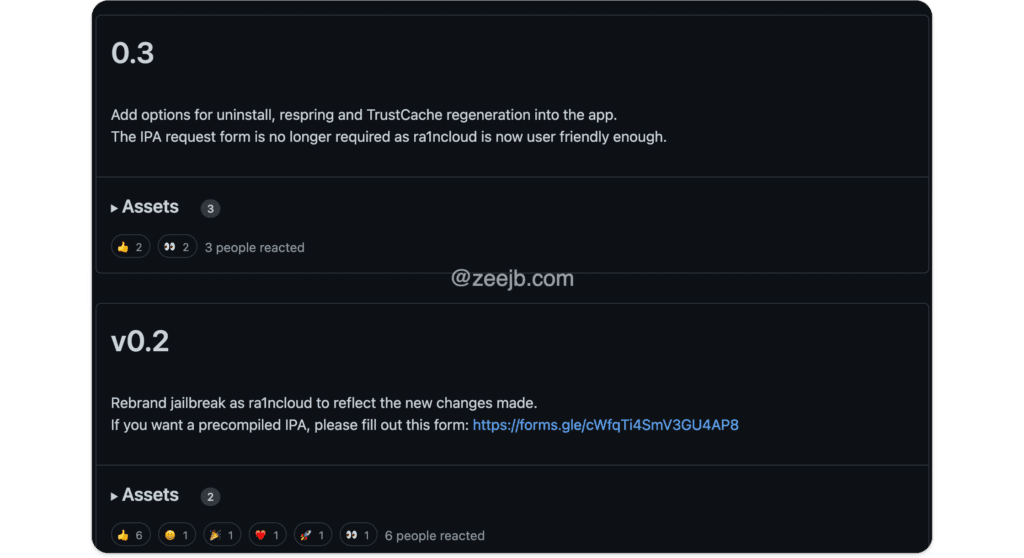 Install ra1ncloud Jailbreak – MAC Guide
Make sure you have Xcode 13/14 14.1 installed
Import the fastPath arm certificate (Exploits/fastPath/arm.pfx) into your Keychain (double click on the file). The password is "password" (without quotes)
You need a validly signed copy of Apple's Developer App from the AppStore (with DRM!). Copy the IPA to Server/orig.ipa. Note that if you would like to use a different AppStore App you will need to get it's Team ID and add TEAMID= to all make commands
Now you can simply run make to build ra1ncloud (internet connection required to download dependencies).
Please note that you will be asked to grant "fastPathSign" access to the Keychain item "privateKey" (the private key of the fastPath certificate). Enter your password and select "Always allow".
Some Cool facts about the ra1ncloud++ jailbreak app are listed below for your reference.
Compatible With many iPhone & iOS Models: It supports a wide range of iOS versions and iPhone models(Checkm8 compatible devices).
No 7 days app resign.
Mac & Linux support
ra1ncloud is a semi-untethered permasigned jailbreak for iOS 15.
It contains a code-signing bypass, kernel exploit, kernel PAC bypass and PPL bypass.
Additionally, it can be installed via Safari, i.e. a computer is not required, except for a Web Server that hosts ra1ncloud.
Please note that ra1ncloud does not support tweaks (no tweak injection library).
Best #3 Methods to install ra1ncloud Jailbreak
In the section below, we will go through the various options for downloading and installing the Cydia tweaked apps.
#01) Sideloadly
Sideloadly is a great alternative to Cydia Impactor. With this program, you'll be able to sign and resign IPA files using your Windows or Mac computer.
Step #01: Download & Install Sideloadly Tool to your PC/MAC.
Step #02: Configure Sideloadly with your iCloud Details, then connect your iPhone/iPad to the PC.
Step #03: Import the Any IPA file then Start Signing the app. You can download the Latest IPA files using the below button.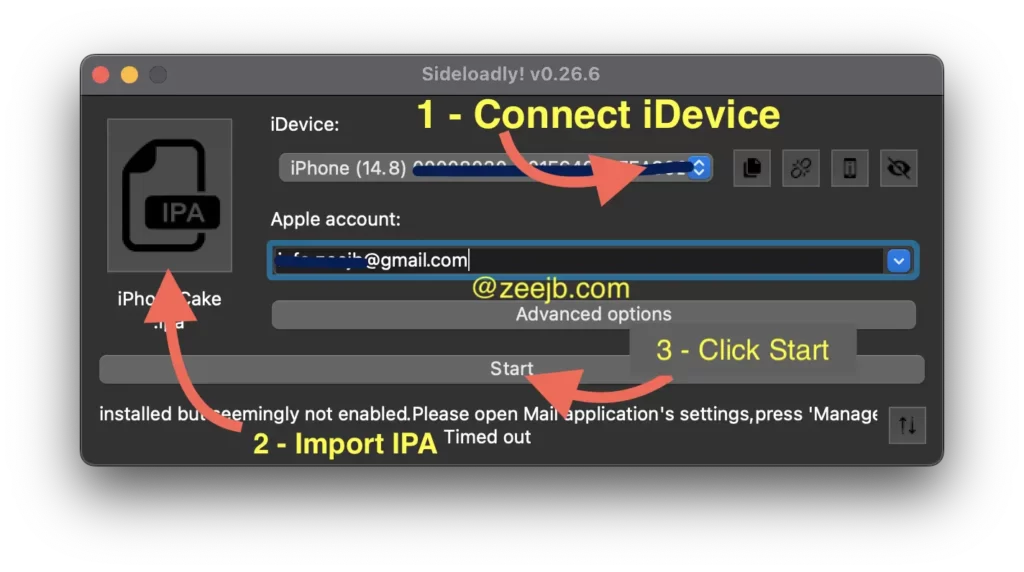 Step #04: Once installation is done, navigate your iPhone App Library (To find it, simply swipe all the way to the very last, rightmost page of your iPhone's home screen)
Step #05: Search the app name which you have installed.
Recommended reading =>> iOS 16 Jailbreak
#02) Install Through Kekuk Store
If you use Kekuk iOS Store to install IPA files, you don't need a computer.
Step 01: Visit the Kekuk iOS Store by clicking on the link below.
https://kekuk.com/app
Step 02: Navigate to the "tweaks" tab then you can find tweaked apps and games.(Search " ra1ncloud" )
Step 03: Tap on the "Get" button.
Step 04: Now that the installation dialog has shown, click the button that says "Install" to continue.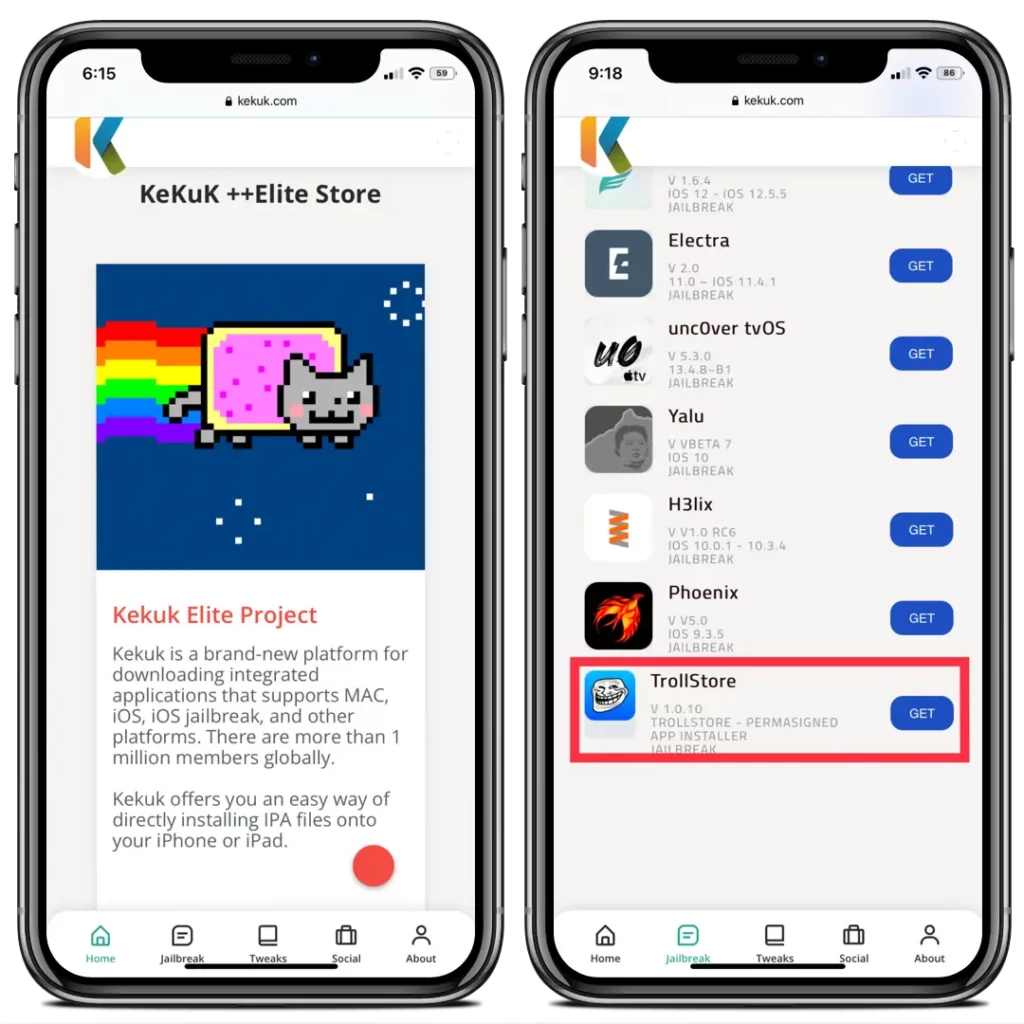 Step 05: Return to the home screen to confirm that the app has been installed properly.
#03) How to install ra1ncloud App on iOS 14 – Filza
IF the Filza file manager is compatible with your device, then you will be able to install the Tish jailbreak app with Filza or Plank Filza.
Recommended reading =>> How to install Filza iOS File Manager?
Recommended reading =>> iOS 14 Jailbreak
Step #1 – Download and install Filza File Manager
Step #2 – Download The IPA file
Step #3 – Download and install the IPA file using Filza
Step #4 – You may either respring your iPhone or run the uicache command.
Step #5 – Launch the Installed application by tapping it from the Home Screen.
How to get ra1ncloud online?
ra1ncloud jailbreak is not available online, however, you may install ra1ncloud alternative applications that may perform on iOS 15 – iOS 15.7
Cripzi jailbreak
Cripzi is the world's best jailbreak alternative app. You can get amazing tweaks, repos, hacked games, and 1000+ Jailbreak apps, etc. now you can download an online t-store from the cripzi application.
Step 1 – Go to the Cripzi jailbreak page and install the Cripzi jailbreak. (please use the below button)
Step 2 – Go to the device setting and trust the profile.
Step 3 – Open the cripzi app and tap the app icon you want. (Please note – if the free certificate is revoked, you cannot download apps successfully, please get the cripzi pro application)
Step 4 -go to device setting>general>profile management and trust the profile.
Step 5 – Enjoy the application.
ra1ncloud Compatible Tweak List:
This jailbreak doesn't currently patch the sandbox hooks. This means that installed apps will stay sandboxed until the unsandbox entitlement is injected or the Sandbox hooks are patched.
This can and has caused problems because some tweaks can't change installed apps because they aren't "unsandboxed."
| Name | Compatible | Description | Repo |
| --- | --- | --- | --- |
| BatteryBoobs | Fully Compatible ✔️ | Turn on Apple's hidden "%" percentage in battery | Download Deb |
| DualClock 2 | Partially Compatible ⚠ | The status bar doesn't operate. LS and status bar should show 2 time zones. | Ginsu |
| EmojiPort (iOS 12.0-14.8) | Fully Compatible ✔️ | The latest iOS 12.0-14.8 emojis, need file modification. | PoomSmart |
| Eneko | Fully Compatible ✔️ | Set a video as your wallpaper | Taurige Github |
| Filza File Manager 64-bit | Partially Compatible ⚠ | File Manager for iPhone, iPad, and iPod Touch, fails when .debs/binaries are pressed. | TIGI Software |
| HideSerialNumber | Fully Compatible ✔️ | Hide the serial number on the About page of Settings | ichitaso |
| NewTerm 2 | Fully Compatible ✔️ | A powerful iOS terminal app | Chariz |
| ColorMyBattery | Fully Compatible ✔️ | Able to change the color of the battery icon | Packix |
| Xen HTML | Partially Compatible ⚠ | Re-enables passcode functionality on A10/A11 devices | krit's repo |
| visum | Fully Compatible ✔️ | Wake up and check the weather on your Lock Screen. | Packix |
| lockdown beta | Fully Compatible ✔️ | Allows A10 and A11 devices to use passcodes again | krit's repo |
| dotto+ | Fully Compatible ✔️ | Notifications, your style | Dynastic |
| croutons13 | Fully Compatible ✔️ | Brings the croutons tweak to iOS 13 and later. | Ren |
| Vinyl | Fully Compatible ✔️ | A more simple appearance for the lock screen music player | BigBoss |
| Amber | Partially Compatible ⚠ | Amber-if your LED torch | PoomSmart |
| Amelija | Fully Compatible ✔️ | Take full control of your wallpapers on the fly | Twickd |
| Axon | Fully Compatible ✔️ | Notification priority hub tweak | m3 |
| CC On & Off | Fully Compatible ✔️ | Toggle Wi-Fi and Bluetooth fully on/off from Control Center | PoomSmart |
How to Install IPAs Permanently iOS 15 – iOS 15.7
In most cases, the TrollStore/T-Store app makes it easy to install IPA files on iOS. TrollSt0re will provide a permanent certificate to any IPA that is added to the App List.
Step 01: Download any IPA file you like to install. (You can find the most updated IPA files through – the ZEE IPA library)
Step 02: Import it into the TrollSt0re app list. (It will automatically install IPA)
Step 03: Tap on the IPA file icon on the list then tap Open.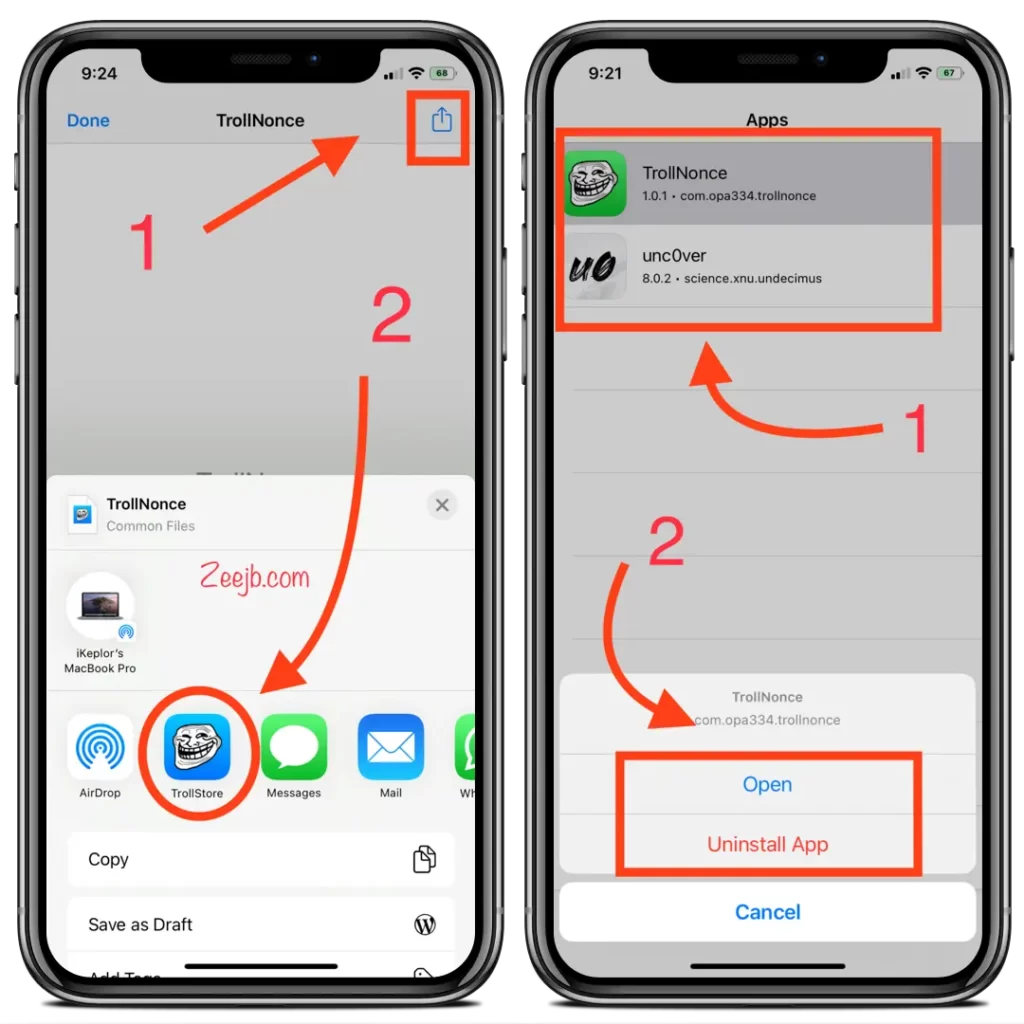 Tip - It also has an option to uninstall the app directly from the device.
TrollNonce IPA – Set Nonce on iOS 15.0 -15.1.1
This is the first tool that is compatible with 15.0-15.1.1 for A10-A15 devices. This tool will help you to downgrade & Upgrade iOS versions to Apple's unsigned iOS versions.
Step 01: Download the TrollNonce IPA file by clicking the "Download" button above.
Step 02: Open the Downloaded TrollNonce IPA file into TrollStore Applist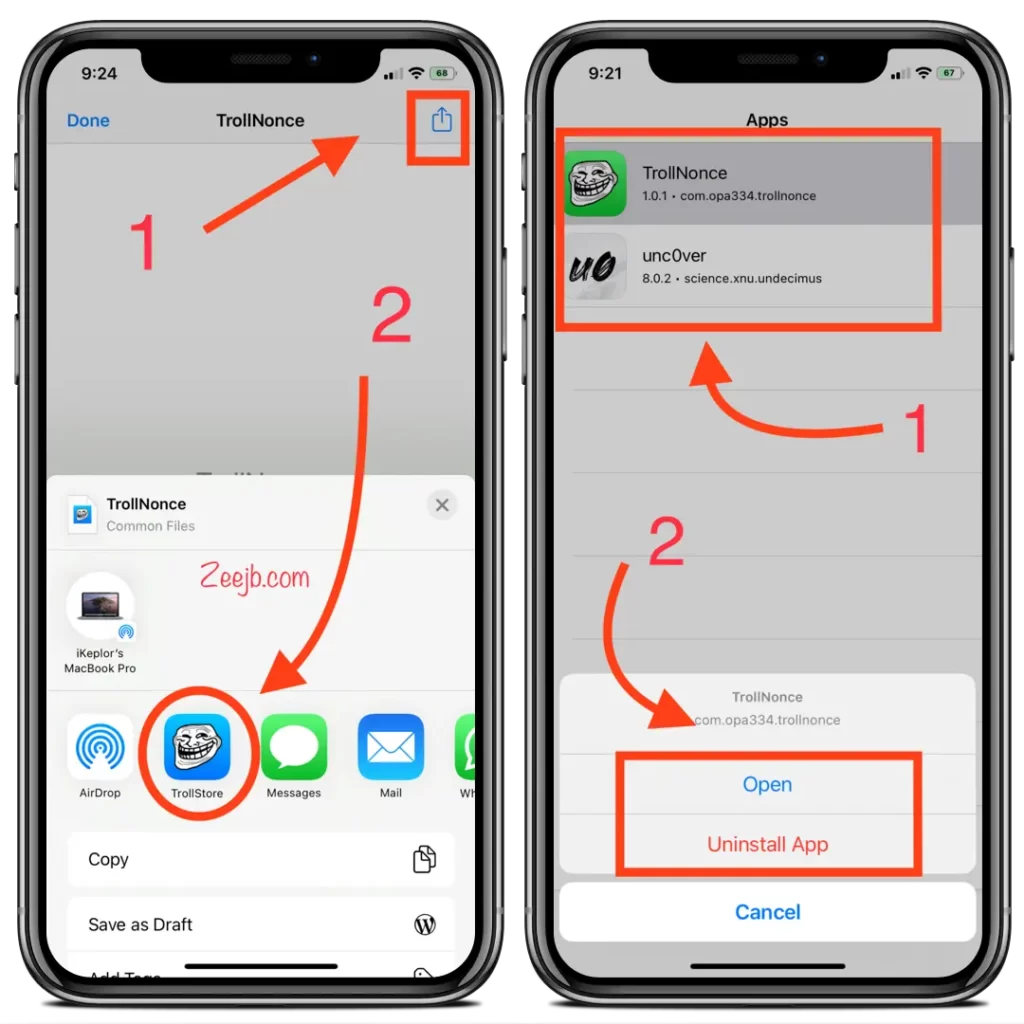 Step 03: Tap on the installed TrollNonce App then tap "Open"
Step 04: Set the Nonce value (Eg – 0x1111111111111111) then tap on the "Set Nonce" Button
Recommended reading =>> How to downgrade/upgrade iOS versions
Conclusion:
Our experiences with using this tool have been quite beneficial. This utility includes features, speed, and performance that are all worth appreciating. When compared to other iOS 15 Jailbreak apps that are equivalent, this one is by far the best solution.
Overall, we would rate it as 4.7/5. It's a worth-trying tool!
Install Filza File Manager IPA – iOS 15 Permeant
Thanks to the latest TrollStore update, Filza File Manager software may now be installed on iOS 15 – iOS 15.1.1 devices.
Step 01: Download and install TrollStore – Guide
Step 02: Download FIlza iOS 15 iPA file.
Step 03: Open Filza iPA to TrollSt app list.
Old Versions:
v 0.3.1
=>> Fix for deep sleep bug by killing iDownload and oobPCI after jailbreaking
NOTE: After installing something in Sileo, you must press "Regenerate TrustCache" inside the ra1ncloud app for it to work. I am working on a way to start iDownload automatically after installing packages.
EDIT: You must uninstall and reinstall ra1ncloud for this update to fully work as changes to the bootstrap have been made.
Download / Install

v 0.3
=>> Add options for uninstall, respring and TrustCache regeneration into the app.
The IPA request form is no longer required as ra1ncloud is now user friendly enough.

v 0.2
=>> Rebrand jailbreak as ra1ncloud to reflect the new changes made.


FAQ
Q: I'm an end user. Is ra1ncloud useful to me?
A: Maybe, if running getting an easy to use terminal environment and some apps on your device is what you're looking for.
Q: My iOS version/device is not supported by ra1ncloud, will you add support for it?
A: No.
Q: Will you ever add support for tweak injection?
A: Hopefully. No guarantees on this.
Q: I installed/updated something through dpkg/apt but it won't launch. How can I fix that?
A: ra1ncloud uses TrustCache injection to bypass code signing. Therefore, if you install or update something, it's code signature must be in the TrustCache. You can regenerate the TrustCache from your favorite shell via the trustcache command.
ra1ncloud Jailbreak Achievements:
ra1ncloud v0.3 IPA released and remove the iPA request.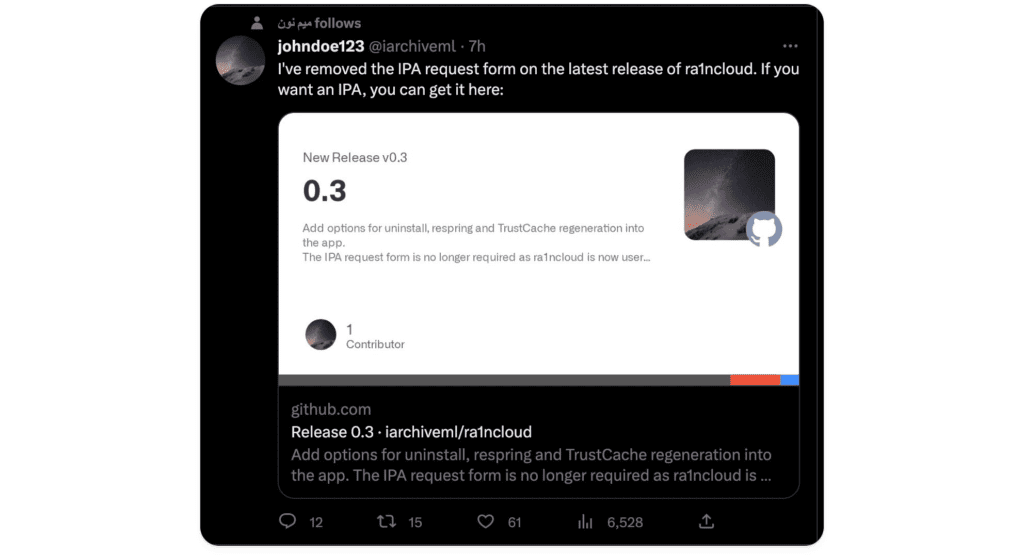 Credits
The following open-source software is used by ra1ncloud:
Procursus Bootstrap: The bootstrap used by ra1ncloud. License: BSD 0-Clause. The tools included in the bootstrap are released under many different licenses, please see the procursus repo for more information
Sileo: The package manager is included in ra1ncloud. License: BSD 4-Clause
ZIPFoundation: Swift library for working with ZIP archives. Used in the installer to install the ra1ncloud App. License: MIT
opa334 Fugu15 fork: PoC tweak injection code used in this fork of Fugu15. License: MIT