(Last Updated On: 7th December 2023)
Step-by-step guidelines on how to install the Dopamine Jailbreak tool online, iOS news updates, Cydia installation, all the possible jailbreak tools, and all the things you need to know about iOS 15 – iOS 15.6 Jailbreak
Dopamine Jailbreak iOS Tool Review: Lars Froder has announced that Fugu15 Max will now be known as Dopamine, and that this newly developed jailbreak is intended to enable iOS 15 tweak injection (ElleKit) features on A12+ devices.
Read more :==> D0pamine App Store
Updates – Just released the Dopamine Jailbreak(DOPA app) freely from the Darkbro team. Download Dopa Store Now
Updates:

Dopamine Jailbreak v1.1.10 Released:
=>> Fix an issue where on some devices launchd would get killed by jetsam during the initial userspace reboot, resulting in a kernel panic (1.1.3 regression)
=>> Fix an issue where under some super rare circumstances some incorrect code path could invoke the functionality of the "Hide Jailbreak" button without it being pressed
=>> Fix a miniscule and rare memory leak

Download Dopamine Latest Update

Dopamine Jailbreak v 1.1.4 Released:

=>> Fix unreliability when jailbreaking on A14 (1.1.3 regression)
=>> Make forkfix only load when absolutely neccessary rather than inside every single process that is able to fork (This should decrease spinlock panic frequency back to how it was on pre-1.1, but tweaks with C function hooks will obviously still cause it, also the effectiveness of this change has not been confirmed yet, but at least it shouldn't make anything worse)

Download Dopamine Latest Update

Dopamine Jailbreak v 1.1.2 Released:

=>> Disable launchd crash reporter again, as this triggered a lot of jailbreak detections (No idea how they detect this or what specifically they check for :/)
=>> Disable jailbreak button when the device / version combination is unsupported

Download Dopamine Update


Dopamine Jailbreak v 1.1.1 Released:

=>> Add crash reporter for launchd crash reports, when launchd crashes now you will receieve a detailed separate crash log, alongside the (incredibly cryptic) "initproc exited" panic
=>> Fix several wrong offsets related to the ptrace hook
=>> Fix bug in macho parser where it would fail when parsing the dependencies from certain libraries
=>> Improve wifi reenable reliability
=>> Update opainject to 1.0.6

Download Dopamine Update

*Note - The official Dopamine Jailbreak tool does not work well on iOS 15.4.1 and the newest iOS 17 versions, therefore if you are running higher versions, you could try the Domapmine Store (Support iOS 11 - iOS 17 Beta). 

You could also install the Dopamine Jailbreak applications without a PC via the Dopamine Store (for iOS 15 - 15.4.1). 

Download Domapine Store
How to get Dopamine jailbreak?
Dopamine is a semi-untethered per assigned jailbreak tool. today the developer released the dopamine jailbreak to the public and it works on all the iOS 15 versions. it supported all the A13 devices and supported iOS 15 to iOS 15.4.1. Now the jailbreak is released to the public you Download the Dopermine jailbreak tool online from the below button.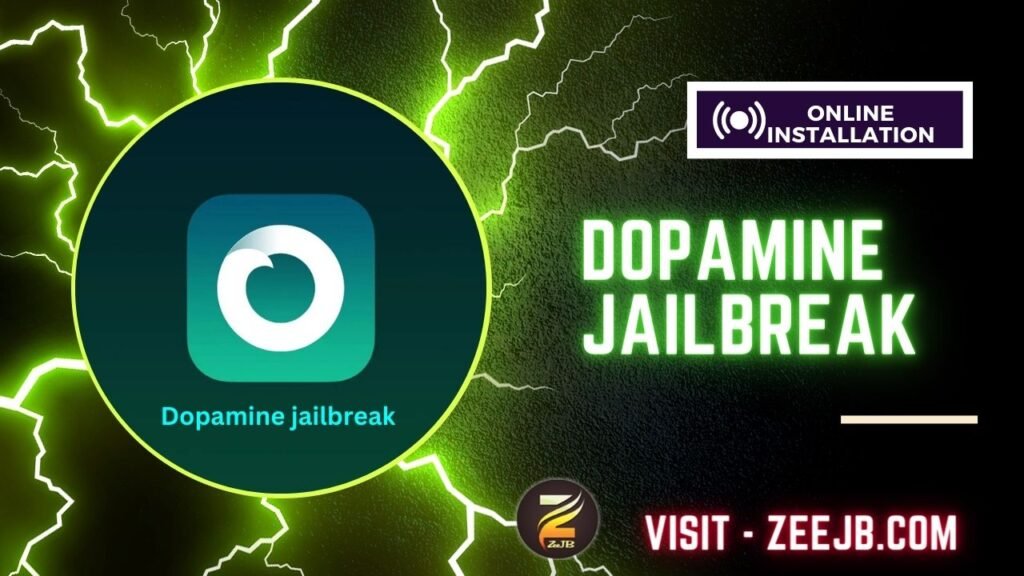 updates: DOPA APP just released to the public. tap the below button and install the dopamine jailbreak – DOPA app store.
Download Dopermine Jailbreak IPA
Dopamine Jailbreak is available as an IPA file that can be installed using the TrollStore IPA Installer on any iPhone device. now you can download this jailbreak iPA file from the opa334/Dopamine GitHub or Zeejb iPA library.
Download Dopamine jailbreak iPA – now available
Dopamine jailbreak (online) installation – now available
What is Dopamine Jailbreak?
Dopamine Jailbreak, previously known as Fugu15 Max, allows users to jailbreak all new iOS devices operating iOS 15 to iOS 15.4.1, including A12+ models. Lars Froder, the creator of the jailbreak, has improved upon Linus Henze's initial Fugu15 proof-of-concept. It employs Sileo as its default package manager and ElleKit as its default tweak injection library.
Dopaminejb is a continuation of the Fugu15 project, with the goal of bringing a traditional end-user jailbreak environment to it, including:
Automatic trust cache handling
Tweak injection (via ElleKit)
libkrw (including the ability to write to PPL protected memory and kcalling primitives)
The wifi and deep sleep bugs mentioned below have already been fixed in upstream commits, though the solution for the deep sleep bug is to simply kill oobPCI after we've spawned it and handed off the primitives to it, and the solution for the wifi bug still requires disabling wifi during the jailbreak (which can be reenabled afterward).
Dopamine Jailbreak Trollstore Guide
TrollStore is a permasigned jailed installer that can help us to install any IPA file on your iPhone for FREE. now you can get the dopamine jailbreak through Trollstore without any issues.
Step 1 – Download the TrollStore to your device. if you don't know how to get a troll store, please click the button below and download it.
Step 2 – Download the dopamine tool iPA file.
Step 3 – Open TrollStore and install the iPA file from your file.
Step 4 – When the pop-up comes up, press "Install."
Step 05- After the installation is complete, tap on the TrollStore icon to launch the jailbreak tool.
Step6- Launch the jailbreak tool and select the jailbreak option.
Step7 – HAPPY JAILBREAK
Step-by-step guide for Dopamine jailbreak No computer
now released the full version of the dopamine jailbreak tool to the public. here is how to jailbreak online with the dopamine jb tool.
you can get this jailbreak online by using the below tools.
Download Dopamine jailbreak from the Esign app
Esign is the most popular iPA signing application. esign allows you to sign any iPA file to download your favorite apps that are not available in the Apple App Store to your device. here is how to download dopamine jailbreak thogh the Esign tool.
Step 1 – Download the esign patch and get the Esign app using the below button.
Step2 – Open the esign app and go to the download app section.
Step 3- Type the iPA library URL – ipa.zeejb.com
Step 4 – Download the dopamine jailbreak latest IPA file to your device.
Step5: Launch the Esign app and import the iPA file.
Step6: Unzip the file.
Step7: Select the dopamine iPA file and select the "Import App Library" option.
Step8: Select the dopamine tool icon and then choose the signature.
Step9: When the procedure is complete, hit the install button.
Step10: Navigate to the device settings and confirm that you trust the jailbreak app.
Step11: Launch the dopamine jailbreak app and do the jailbreak.
Step12: Give just a few minutes to complete the procedure.
Step 13: After completing the process, the Sileo or Zebra package manager will be installed on your device automatically.
Dopamine jailbreak app (DOPA) – online
The newest Dopa App Store helps to install Dopamine Jailbreak on your device without a computer. (revoke fixed for Dopamine Jailbreak ) .many apps, themes, settings, 1000+ Jailbreak Tweaks, Cydia-apps, Hacked Games, and many more here… tap the below button and enjoy the Dopa jailbreak app store.
DOPA app for dopamine
Step 1 – tap on the below button and install the Dopamine jb tool.
Step 2 – go to the device setting and trust the jailbreak tool. (go to device setting>general>vpn & profile management)
Step 3 – Open Dopamine jailbreak and tap the jailbreak button.
Please note – if you need you can enable the teak injection, download, and verbose logs using the setting tab.
Step 4 – allow a few mins to complete the jailbreak process.
You may also like: iOS 16.4 jailbreak >>>
check out more about :
Dopamine jailbreak Compatible iOS/iPad versions:
A jailbreak for arm64e (A12 – A15) and M1
Supported on devices on iOS 15.0 through 15.4.1
A rootless jailbreak
compatible iOS device models
iPhone 14, iPhone 14 Mini, iPhone 14 Pro, iPhone 14 Pro Max
iPhone 13, iPhone 13 Mini, iPhone 13 Pro, iPhone 13 Pro Ma
iPhone 12 Pro / iPhone 12 Pro Max / iPhone 12 Mini / iPhone 12iPhone SE (2020)
iPhone11, iPhone 11 Pro, iPhone 11 Pro Max
iPhone X, iPhone XS Max, iPhone XR
Dopamine Jailbreak supports all A12–A15 system-on-a-chip (SoC) devices. The genuine list of compatible Dopamine iPhones is provided below. It is anticipated that future enhancements will also support iPads. Stay tuned for additional details regarding the compatibility of these devices.
iPhone Xs Max: iOS 15.4.1
iPhone 11 (SRD): iOS 15.4.1
iPhone 12 (SRD): iOS 15.4.1
iPhone 12 Pro Max: iOS 15.4.1
iPhone 13: iOS 15.1 (offline edition – see bugs below [WiFi bug])
iPhone 14 all device models
Other devices are probably supported as well.
Non-arm64e devices are not supported.
compatible iOS versions
iOS 15 / iOS 15.1 / iOS 15.1.1 / iOS 15.2/ iOS 15.2.1/ iOS 15.3/iOS 15.3.1/iOS 15.4/iOS 15.4.1
Note: dopamine is not supported yet for – iOS 16 devices ( iOS 16.1, iOS 16.2, iOS 16.3, iOS 16.4) please get the iOS 16 jailbreak tools and solutions from the below link.
check out about iOS 13.6 jailbreak >>>
Dopamine jailbreak – reddit updates
[Free Release] Dopamine – Jailbreak for iOS 15.0 – 15.4.1, A12, and up.
NOTE TO EXISTING FUGU15 MAX USERS: When first jailbreaking, this will wipe the entire existing bootstrap including tweak preferences and stuff, so back up anything you need.
Official website: https://ellekit.space/dopamine/ 

Thank you opa, we all appreciate your hard work so much. :)
CWarder

Check out more about jailbreak tools:
JAILBREAK TOOLS
Video Guide – New Dopamine Jailbreak
Dopamine Jailbreak updates
What's the latest?
Dopamine Jailbreak has been updated to version 1.0.
Option added to hide/uninstall jailbreak.
Fixing setuid correctly also resolves NewTerm.
Transition to Sileo 2.4 stable.
Fix the freezing of the system when jailbreakd crashes or resumes.
Make systemwide hook more leightweight.
Resolve bootstrapping error when /var/jb is a dead symlink.
iOS 15.4.1 fixes the Wi-Fi panic issue found in iOS 15.
Add the ability to grant privileges to processes.
Usability enhancements, transfer from jailbroken.
Update KernelPatchFinder.
Enable the unrestrict-cs command.
you may also like - iOS 14 jailbreak 
Supported tweaks
Here are some available dopamine jailbreak tweaks. However, numerous tweaks are compatible with this jailbreak tool. We will publish them as soon as it is feasible.
SnowBoard – SnowBoard is a lightweight spiritual successor to the legendary WinterBoard theming engine.
PortraitXI – This hack allows users to shoot realistic portrait-mode images on iOS devices with a single camera.
Aperturize – With the Aperturize tweak, you may change the depth of field (bokeh) in your photos and improve your portrait mode shooting experience. It's particularly built for iOS devices with dual cameras.
Exiwall – Exiwall is an innovative feature that generates depth effect wallpapers by replacing the topic in your wallpaper with a customized design shown above the date and time on your device lock screen.
CopyLog – This is a clever clipboard history manager that makes tracking your device's copied stuff easier.
How to uninstall Dopamine Jailbreak?
If you want to Remove/uninstall Dopamine Jailbreak, follow these simple steps:
Launch the Dopamine Jailbreak app on your device.
Tap on the Settings Button.
Scroll down and tap on the Remove Jailbreak option.
Confirm that you want to remove the jailbreak and restore your device to its original state.
Wait for the app to perform the uninstallation process and reboot your device.
After the reboot, you should see that the Dopamine Jailbreak app and all the jailbreak-related apps and tweaks are gone from your device.
You can also check the Settings app to see that your device is no longer jailbroken.
you may also like: iOS jailbreak solutions  
The most famous jailbreak tools(top jailbreak tools) and solutions are,
Dopamine Jailbreak Releases:
Dopamine v 1.5.0 Released
=>> Fix an issue with forkfix where it would break reinstalling dpkg
=>> Automatically fix the permissions of /private/preboot/ when jailbreaking in case they are wrong (Wrong permissions can cause SSH / NewTerm to not work)