(Last Updated On: 26th October 2021)
Just released iOS 14 checkra1n. Here's everything you need to know about Jailbreak iOS 14. Find out the best available jailbreak tool, Unc0ver, Checkra1n, Chimera, Odyssey, Blizzard Cydia apps, iOS 14 repos. iOS 14 online jailbreak tools, themes & solutions.

iOS 14 Jailbreak status:
Can I jailbreak iOS 14?
Yes, now you can jailbreak IOS 14 online and the Pc methods. Now Uncover jailbreak is support for iOS 14 to iOS 14.3. you can get Unc0ver online from Uo4S Store.
The checkra1n tool v 0.12.4 beta is released with adding support to the new iOS 14.8, 14 & iOS 14 beta 1, beta2 & beta3 versions. The official checkra1n Jailbreak Team just tweeted about that.
Jump to Checkra1n Jailbreak
Now you are able to jailbreak iPhone 6s to iPhone SE (1st Gen) with the checkra1n tool: but it needs a computer to do the jailbreak process. Are you looking for without PC methods, Click here to jump to iOS 14 No Computer JB.
The Definitive Jailbreak Guide
This is a complete guide to Jailbreak iOS 14 it's beta.
In this all-new guide you'll learn all about:
iOS 14 Online Jailbreak Status:
The latest version of Unc0ver v6.2.0 now supports iOS 14 – iOS 14.3. Taurine Jailbreak is also compatible with iOS 14 -14.3 running iPhones and iPads.
You can get a newer version of the Unc0ver tool with U04S Store. also, you can use the checkra1n jailbreak tool and Special jailbreak solutions to install the Cydia package manager on your iPhone/iPad.
Below we have listed all possible jailbreak tools according to your iOS version. Carefully select the correct iOS version and find out the best Jailbreak tool.
Please select iOS Version
iOS 14.0.1 successfully jailbroken with checkra1n v0.11 (tester – @_RKOTIK).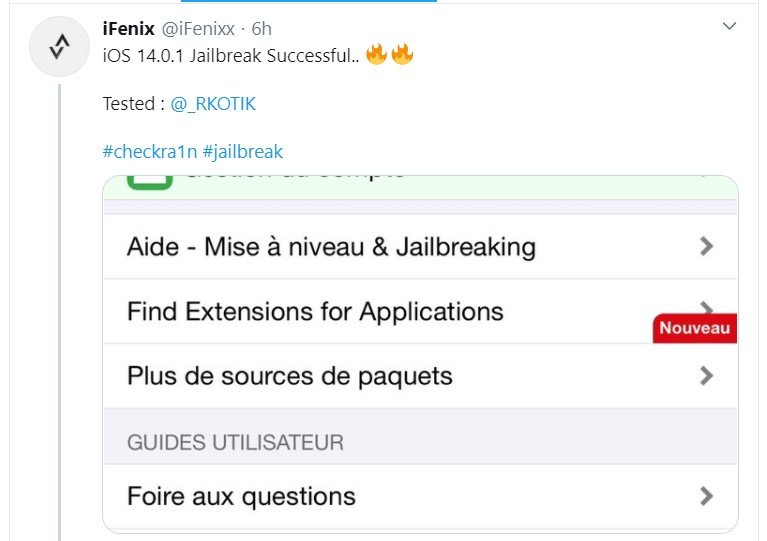 Jump to iOS 14.0.1 Jailbreak
Also, checkra1n tool supports to jailbreak iOS 14.2 beta 1.
Jump to iOS14.2 Jailbreak
Please select Jailbreak Tool
Checkra1n team member of Dany Lisiansky recently tweeted checkra1n jailbreak iOS 14 compatibility.
Checkra1n Jailbreak
Checkra1n Jailbreak for iOS 14
Checkra1n is a permanent semi-tethered jailbreak. It is hardware bug-based jailbreak. Checkra1n (Lifetime) Jailbreak released to iPhone 5s to iPhone X devices which running iOS 12.3 to the latest iOS 13.5 versions. Also, Checkra1n jailbreak is support for iOS 14.
---
Can I jailbreak iOS 14 with checkra1n?
Yes, Now you can jailbreak your iPhone / iPad running on iOS 14 with checkrain jailbreak latest release version of (0.12.4 beta). The Checkra1in developer officially says that tool is compatible with iOS 14.
Jailbreak iOS 14 with Checkra1n tool
Following guide will help you to jailbreak your iPhone / iPad with checkrain jailbreak tool. But before you continue this jailbreak guide, there have a few requirements.
Mac Or Windows OS running PC

USB Pen drive (2 GB or up)

Internet Connection (For download tools)
First of all, check your device compatibility for checkra1n tool
Checkra1n Jailbreak Compatibility
iPhone 5C, 5S
iPhone 6, 6+, 6S, 6S+
iPhone SE
iPhone 7, 7+
iPhone 8 / 8+, X
iPad Mini 2, iPad Mini 3, iPad Mini 4, iPad Air
iPad Pro (12.9 in), iPad Pro (9.7 in), iPad Pro (10.5 in), iPad 6G, iPad 7G
Jailbreak guide(checkra1n)
#Step1: Download checkra1n jailbreak tool and install it. Follow these tutorials to install checkra1n jailbreak on your Mac Or Windows PC
#Step2: Open checkra1n tool and connect your device to PC.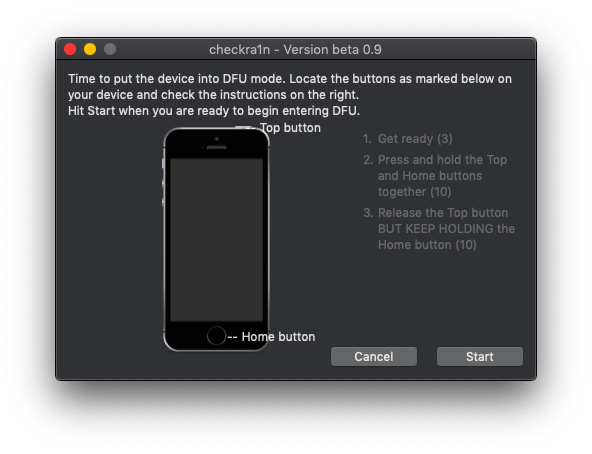 #Step3: Follow on screen instructions and put your device into DFU mode.
#Step4: Press start button and Continue the process.
#Step5: After installation complete your iDevice will reboot with checkra1n logo.
#Step6: Find the checkra1n app and press the install Cydia button (make sure to turning on Wi-Fi)
#Step7: You have successfully jailbroken your device. Now time to install iOS 14 best Cydia tweaks.
Learn more about checkra1n jailbreak
14 Jailbreak Solutions.
As soon as the new iOS 14 public version is released users can't jailbreak their devices. This is because it takes some time to find new bugs / create exploits for the new iOS version. So you should use Jailbreak solutions that allow you to install Jailbreak apps /Repos/ third party apps in any iOS versions.
What are the iOS 14 jailbreak solutions?
Now you can use jailbreak alternatives for iOS 12.4 – iOS 14 and beta versions. Let's see what are the best iOS jailbreak solutions.
#1 PikZO jailbreak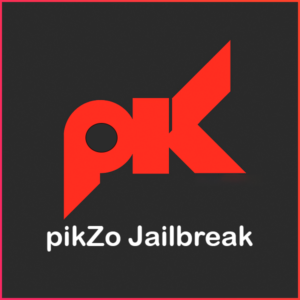 PiKZO is the best iOS 14 Jailbreak solution. The piKZo team verifies that their tools are fully compatible with iOS 14. now it is compatible with iOS 12.4 – iOS 14. You can use many jailbreak options by using PiKzo. Also, PiKzo is a Repo extractor. it offers jailbreak apps, tweaks, hacked games, and more.
To install pikzo on your iPhone/iPad : No computer needed and no revoked issues and without app crash.
Device Compatibility
iPhone 13, iPhone 13 Pro, 13 Pro Max , 13 mini, iPhone 12, 12 Pro, 12 Pro Max, 12 Mini.
iPhone 11, iPhone 11 Pro/11 Pro Max,iPhone XS / XS Max iPhone XR, iPhone X, iPhone 8 / 8 Plus, iPhone 7 / 7 Plus, iPhone 6S / 6S Plus, iPhoneSE, iPad Air 2, iPad Mini 4, iPad Pro (1st gen), iPad Pro (1st gen), iPad (5th gen), iPad Pro (2nd gen), iPad (6th gen), iPad Pro (3rd gen), iPad Air (3rd gen), iPad Mini (5th gen), iPod (7th gen)
#2 UO4S Store

UO4S Store is a world-famous application store. In particular, they have the ability to install Unc0ver jailbreak online. The Uncover team does not approve that their tool is still compatible with iOS 14. but you can use their store to install many hack games,repos, new iOS apps, Cydia apps, and many more.
#3 Hexxa
Hexxa is a jailbreak solution. It is a repo extractor. now it is compatible with iOS14. By using Hexxa plus you can install apps, games, settings, and many more.
#4 OddyStore
OddyStore is another Jailbreak alternative tool, it provides you to get Odyssey Jailbreak (iOS 13 – iOS 13.7) without revoke. Initially, OddyStore supports only with iOS 13 but now it's working well on all iPhones and iPads model which in iOS14.
The new OddyStore owns a bunch of tweaked apps, ++games, Jailbreak repos, and many more things. users can download those apps and other stuff freely.
Checkout More about OddyStore
Unc0ver jailbreak for iOS 14 – online

Uncover jailbreak is a semi-untethered Jailbreak. it also compatible with iOS 14 running devices. It means you can jailbreak your iOS 14 devices with the Uncover Jailbreak tool. The Unc0ver tool developer released a version of unc0ver 6.2.0 with adding support versions running iOS 14- iOS 14.3. Currently, unc0ver jailbreak compatible with iOS 11 to iOS 14.3.
---
Uncover jailbreak compatible devices
iPhone-12, iPhone 12 Pro, iPhone 12 Pro Max
iPhone-11, iPhone 11 Pro, iPhone 11 Pro Max
iPhone X, iPhone XS Max, iPhone XR
iPhone 8, iPhone 8 Plus
iPhone-7, iPhone 7 Plus
iPhone 6s, iPhone 6s Plus
iPhone 6, iPhone 6 Plus
iPhone-SE
iPhone 5s
iPad Mini (5th generation)
iPad Air (2019, 3rd generation)
iPadmini 4, iPad mini 3, iPad mini 2
iPod touch 6G
2nd-gen 12.9-inch iPad Pro, 12.9-inch iPad Pro, 1st-gen 10.5-inch iPad Pro
9.7-inch iPad Pro
iPad Air 2, iPad Air
Explore more about unc0ver Jailbreak
How to install unc0ver jailbreak
If you are in lower version of iOS 14.4 you can use below guide to achieving your jailbreak.
There has two methods to install uncover jailbreak to your device.
Online installation – Without computer
Install uncover with computer
Below we have discussed the unc0ver jailbreak computer installation method, you can refer Online install guide by clicking here – unc0ver jailbreak no PC guide.
#Step 1 – Download and install Altstore tool.
#Step 2 – Open Altstore and connect your iPhone / iPad to PC.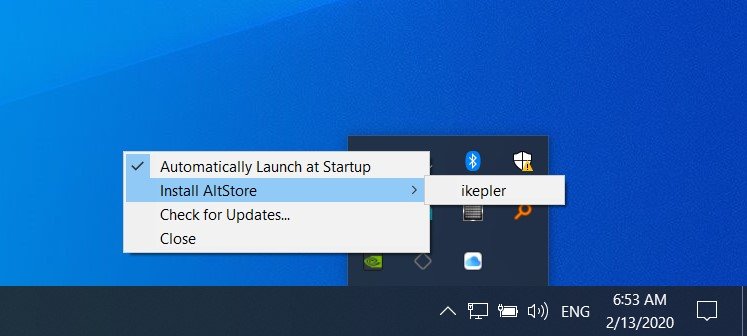 #Step 3 – Enter your iCloud information and continue on screen guide.
#Step 4 – Download unc0ver jailbreak latest version
#Step 5 – import downloaded iPA file in to AltStore tool.
#Step 6 – Sign unc0ver with your own iCloud account details.
#Step 7 – Install unc0ver jailbreak without revoke.
Learn more about unc0ver jailbreak
Chimera jailbreak for iOS 14
Chimera Jailbreak released for Jailbreak iOS 12 & higher versions. However, the Chimera new update does not support for A12 / A12X devices. Also, chimera jailbreak is not compatible with iOS 14 yet.
iOS 14-Odyssey Jailbreak
Odyssey is the new jailbreak tool introduced by developer Coolstar. This Jailbreak tool was formally known as Chimera13 and now changed to Odyssey. Odyssey Jailbreak is an upcoming jailbreak tool for iOS 13 – iOS 13.5. (excluding iOS 14 jailbreak.)
---
Why Do Jailbreak iOS 14?
We all like our iPhone or iPad Keep it as nice as we like with adding all the things we want. but apple limits that freedom. apples add some limitations with app store apps. Therefore, we need to install third-party apps on iOS 14.
For that, you should jailbreak your device. after jailbreak you can use your device your own way. also, you can install hack games Pubg, Free in-app purchase, spy app, install 3rd party app, Cydia, etc.
14-Jailbreak updates.
devices capability/ supported devices- iOS 14
apple says iOS 14 will run on iPhone 6s and later.
iPhone 11
iPhone-11 Pro
iPhone 11 Pro Max
iPhone XS
iPhone-XS Max
iPhone XR
iPhone-X
iPhone 8
iPhone 8 Plus
iPhone-7
iPhone 7 Plus
iPhone-6s
iPhone 6s Plus
iPhone-SE (1st generation)
iPhone SE (2nd generation)
iPod touch (7th generation)
Is it good to upgrade to iOS 14 from iOS 13.5.1?
Typically, iOS users try to update their iOS version when a new iOS version is released. iOS 13.5.1 users are also trying to update their device to iOS 14. iOS 14 is a major iOS version.
iOS 14 comes with high security. Apple has improved its security features to prevent Jailbreak.But Unc0ver jailbreak is now added support for iOS 14 to iOS 14.3. So if you on iOS 14, you can jailbreak your device with Unc0ver.
iOS14 jailbreak updates
iOS14 Jailbreak Exploit : There is a possibility to iOS14 Onlilne JB Tool
iOS 14 exploit demonstration!! By – @abcinfosec
iOS 14 Public Beta
iOS 14 developer beta 8 released(iOS 14.8)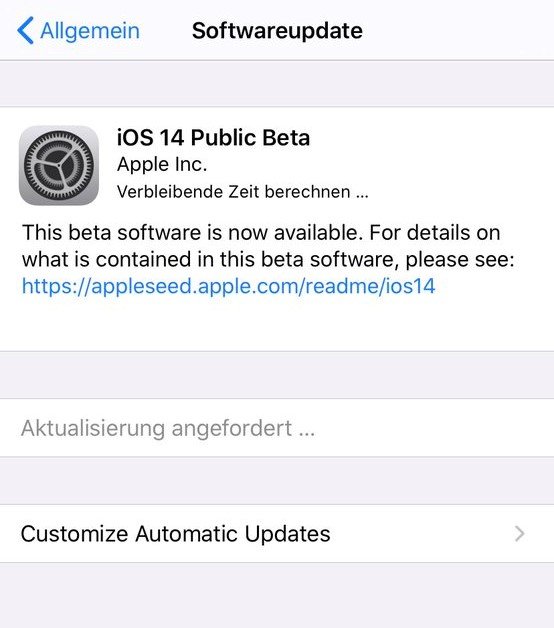 Apple released iOS 14 first beta profiles to the public. The new version can be downloaded from Apple Developer Center.
14 Jailbreak and Cydia install
Cydia is a third-party app store that brings amazingly featured third-party apps, games, tweaks, themes, and extensions for iDevices.
There is no fully functional Cydia for all device models yet. But you can use moded Cydia version with limited features.
Best Cydia Tweaks for iOS 14 – iOS 14 beta 8
Free Tweaks
Cylinder (BigBoss)
Central (OpenPack)
Shylabels (ConortheDev)
sylph (Maxwell).
Digitalbattery13 (BigBoss)
Gravitation (OpenPack)
AwesomePageDots (ShiftCMDK)
PowerModule (PackiX)
ShyPageDots XS (Twicked)
IKSettings (BigBoss)
AutoHideHomeBarX (BigBoss)
Dark Keys (Dynastic)
DarkPapers (Alexpng
Paid Tweaks
NextUp 2 (PackiX) $
FloatyTab (Twicked) $
Harbor 3 (PackiX) $
Prysm (PackiX) $
Gesto (PackiX) $
To add sources
Twickd: https://repo.twickd.com/
OpenPack: repo.openpack.io
SparkDev: https://sparkdev.me/
ConortheDev: https://repo.conorthedev.me
PackiX: https://repo.packix.com/
AlexPNG: https://alexpng.github.io
Chariz: https://repo.chariz.com/
Maxwell: https://repo.daus.ch/
ShiftCMDK: https://shiftcmdk.github.io/repo/
Dynastic: https://repo.dynastic.co/
iOS 14.0.1
iOS 14.0.1 Released
iOS 14.0.1 has been released by Apple with much-needed Bug fixes and improvements.
Build : 18A393
IOS 14 has been introduced with major new features such as widget editing and new Memoji. However, when the new OS is released, many bugs are inherently occurring, and many reports from users are being raised.
Apple has fixed a bug and will provide an updated version of iOS 14, which was just released on September 16th, nine days later.
Fixes an issue that could cause default browser and mail settings to reset after restarting your iPhone

Addresses an issue that could prevent camera previews from displaying on iPhone 7 and iPhone 7 Plus

Fixes an issue that could prevent your iPhone from connecting to Wi-Fi networks

Resolves an issue that could prevent sending an email with some mail providers

Addresses an issue that could prevent images from appearing in the News widget
In addition to the above, application errors, text translation errors, photo transmission errors, notification errors, etc. have been reported on the web and additional bug fixes and updates are expected in the future…
iOS14.0.1 Jailbreak Successful…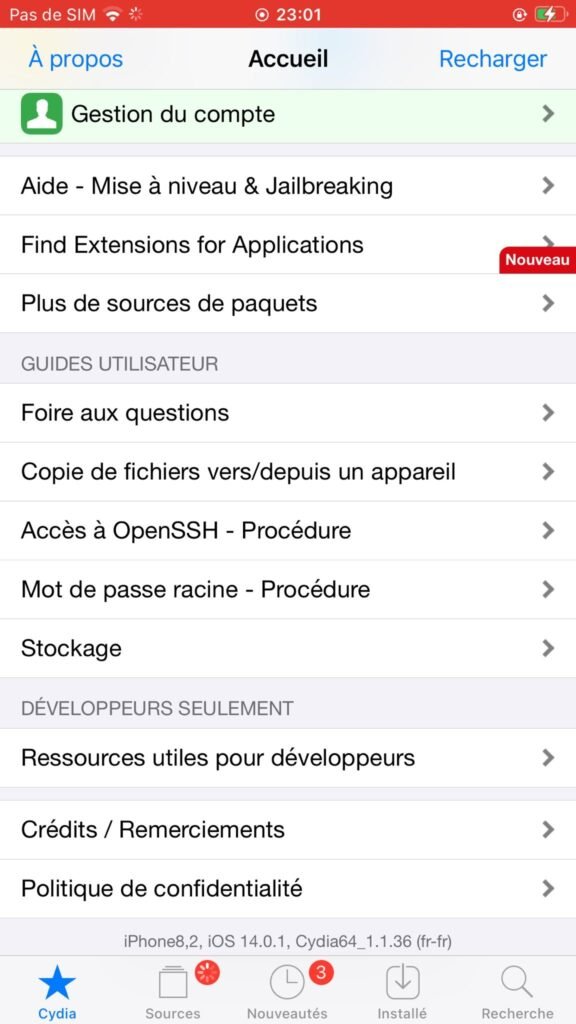 Tested: @_RKOTIK done with checkra1n tool. follow this guide to install checkra1n on your iPhone/iPad
Jump to iOS14.0.1Jailbreak – Here
iOS 14 New Features
Interesting new iOS 14 features you might want to know
In the WWDC 2020 keynote event, Apple announced iOS 14, a major new release. The company spent a big part of the event discussing its new mobile operating system and its new features such as new messages, updated widgets, Maps, Translate and Safari apps, updated Siri, improved CarPlay & App Clips.
Interesting new iOS 14 features
01. Home Screen widgets
In this new update, you can create your own custom widget stack but Apple didn't mention it.
Just place your favourite widgets one on top of another to create a stack on your home screen so you can just flip through them without wasting extra space on your home screen for multiple widgets.
02. App Library
Apple discussed most of the App Library features in the event. now all new apps that are downloaded will now directly go into the App Library and you can also choose to have them appear on the home screen if you prefer the current method.
03. Keyboard updates
The emoji section also has a search field, if you want you can search for a specific emoji.
The special thing is the keyboard can now also autofill contact information in third-party apps without having to give that app access to your contact list. This will keep your contacts safer.
04. FaceTime updates
FaceTime also benefits from the new picture-in-picture feature in iOS and you can have your FaceTime call on top of other apps. this also has higher video quality with up to 1080p resolution on selected devices and its a good improvement over the previous update.
iOS 14 Siri update
The iOS 14 Siri interface has been updated.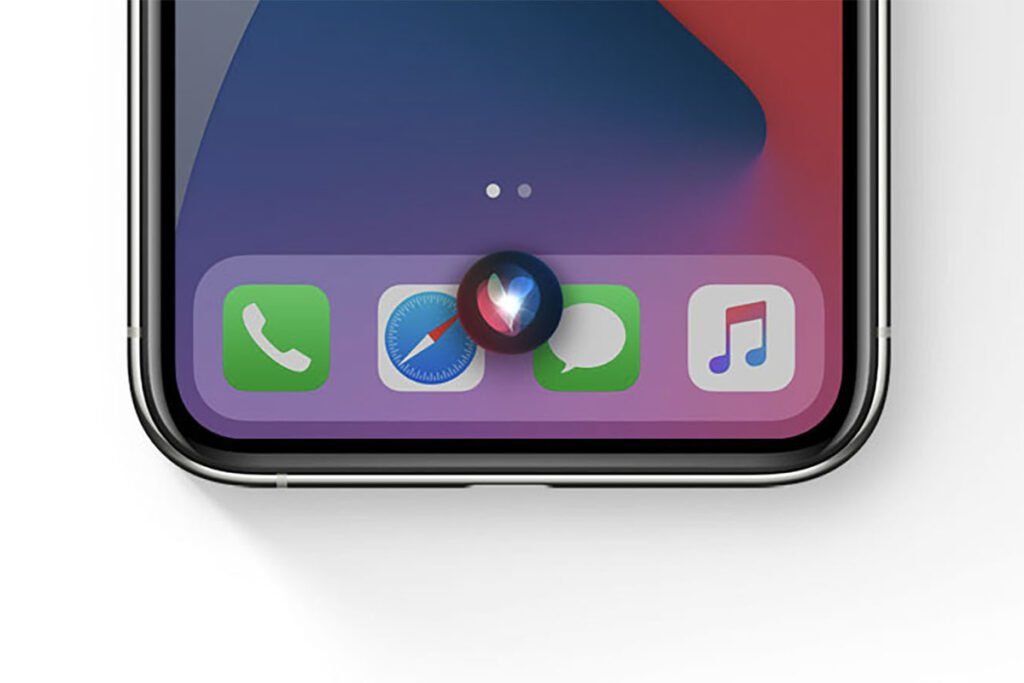 [Question] iOS14Jailbreak Reddit:
Q:Has anyone successfully jailbroken their device through Linux?
Tested on both Ubuntu and Mint, no issue. Run this:
cd "path of checkra1n tool"
and press enter
chmod 777 checkra1n
and press enter
sudo ./checkra1n
and press enter
Q : Bank app issues? (Jailbreak detection)
We have received several complaints from Jailbreak users, some applications have crashed after jailbreaking their devices.

Citibank
Chase apps
usaa
NerdWallet
After detection jailbreak status some banking applications are not supported for their applications mainly for security purposes. However, some applications may not work properly due to jailbreak detection.
Don't upgrade to iOS14 if you have an A12/A13 device and want a jailbreak. #iOS14#jailbreak
---
єχρєят@_AppleExpert confirm about iOS 14 beta 2 checkra1n compatibility:
# Tweaks list for 14:
1. Little 11 2. Clear Dock 12 3. FiveIconDock 4. Viola Dark. 5. SnowBoard 6. Filza 7. NewTerm
#Tweak Update: KillBackground 13 (iOS 13 -14) – Support for iOS 14.x – Added CC long press to run URL scheme- @ichitaso
#Features Hack:
On iOS 14 update on iPhone, the orange dot on top of the screen indicates an app is using the device's microphone & a green dot means the app is using your camera – @mymixtapez