(Last Updated On: 12th May 2023)
TrollStore iOS App Store Review: The permasigned iPA app installer for iOS 14.0 – 15.6 beta 1 – 5 on iPhone, iPad, and iPod Touch devices.
Are you worried about the jailbreak of iOS 15 – iOS 15.1.1? Do you need a permanent solution for application side loading? Just be calm! There will be no more worries in the future!!
All you have to do is install TrollStore on your device. TrollStore uses a CoreTrust bypass developed by Linus Henze and it supports all iOS devices running 14.0 up to 14.8.1 and iOS 15 up to 15.1.1.
Table of Contents
How to install Dopamine jailbreak with Trollstore>>>
Latest Update:
TollStore 1.5.1 Released

=>> Fix crash on uninstallation

Download IPA/DEB

TollStore 1.5.0 Released - Major update

=>> Add "Advanced" settings tab, contains the ability to switch between "installd" and "Custom" (un)installation methods

=>> Separate ldid updates from TrollStore updates, newest ldid version fixes a bug that TrollStore previously had to ship a hacky workaround for, this workaround was removed now
ldid will now be automatically installed/updated on TrollStore app launch when it's either not installed already or the installed version is too outdated for the TrollStore version to support it
=>> Fix an issue where uninstalling some applications could fail

=>> Automatically make the "Reload Icon Cache" button fix a stock iOS issue where a bloated icon cache could cause app installs and updates to cause severe system wide lag spikes (previously reloading icon cache did not fix this bloat issue, now it does)

=>> Fix a bug where the group containers of app plugins could be incorrectly registered
Switch to TrollStore's own CoreTrust certificate in favour of the previous "Worth doing badly" certificate.

Download IPA/DEB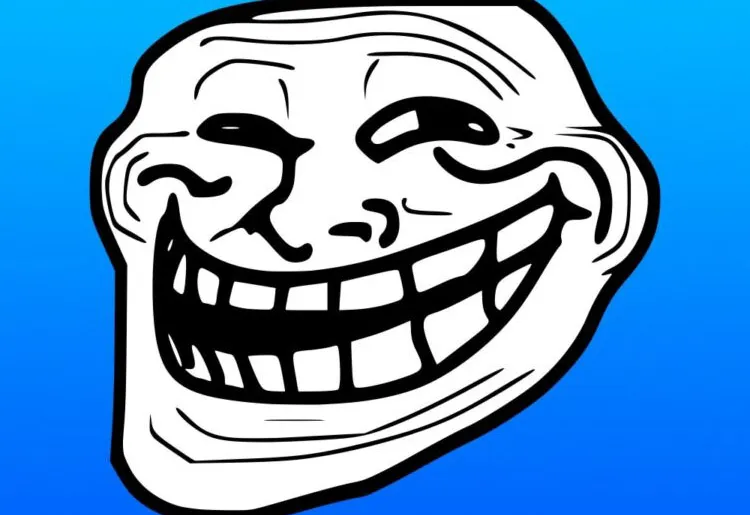 TrollStore: Permasigned Jailed App Review:
Trollstore is an iOS application that enables you to bypass AppStore verification and sideload any app without restriction and use it forever. With Trollstore, you do not need to re-sign the app every 7 days.
Trollstore was developed based on a CoreTrust bug discovered by Linus Hense. Using the TrollStore tool developed by Lars Froder, it is now possible to install Apps/IPA that are permanent on stock iOS.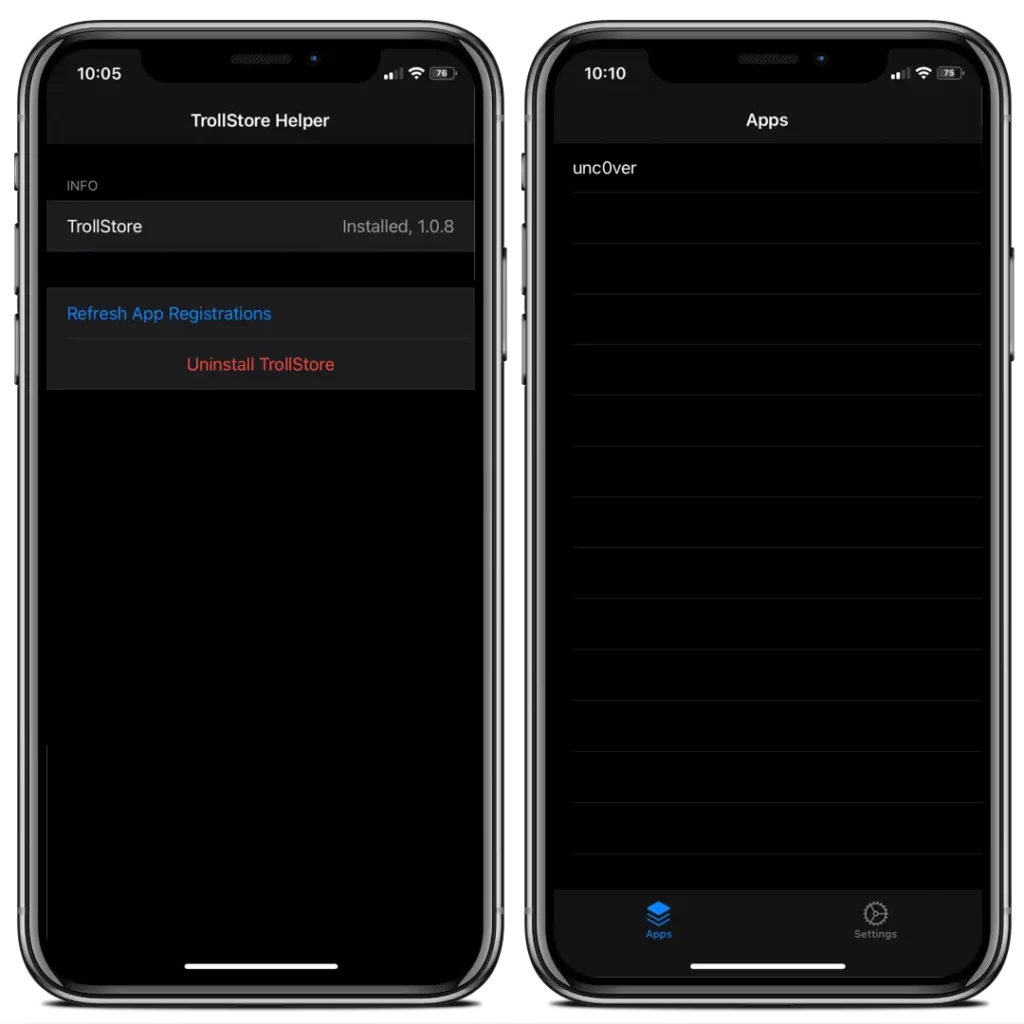 Suggested reading =>> Best iOS 15.1 – iOS 16 TrollStore Alternative
Let's go deep into the tool and explore its features, advantages, and disadvantages!!
TrollStore Compatible iOS/iPadOS versions:
TrollStore's developer tweeted an update on TrollStore tool compatibility.
TrollStore will EVER function on versions 14.0 – 15.4.1, 15.5b1 – 15.5b4, and 15.6b1 – 15.6b5.
TrollStore will NEVER work on 15.5 (RC) or greater than 15.6. (RC).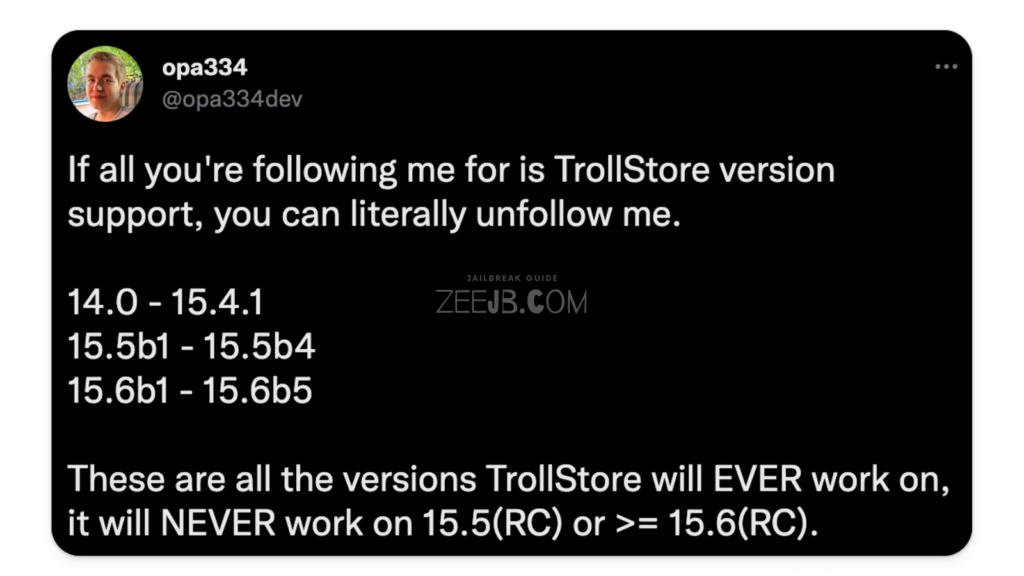 Supported iOS versions:
iOS 15.5, 15.4.1, 15.4
iOS 15.1.1, 15.1, 15.0.2 , 15.0.1, 15
iOS 14.8.1, 14.8
iOS 14.7.1, iOS 14.7
iOS 14.6, 14.5.1, 14.5
iOS 14.4.2, 14.4.1, 14.4, 14.3, 14.2, 14.0.1, 14.1, 14
Unsupported iOS versions:
iOS 16
iOS 15.6.1, 15.6
iOS 15.3.1, 15.3
iOS 15.2.1, 15.2
iOS 13.7, 13.6.1, 13.6
iOS 13.5.5, 13.5.1, 13.5
iOS 13.4.1, 13.4, 13.3.1, 13.3
iOS 13.2.3, 13.2.2, 13.2
iOS 13.1.3, 13.1.2, 13.1.1, 13
iOS 15 – iOS 15.1.1 New Jailbreak – Xinaa15
TrollStore Compatible iPhone/iPad Models:
Supported iPhone Models:
iPhone 12 Mini, iPhone 12, iPhone 12 and iPhone 12 Pro Max, iPhone11, iPhone 11 pro, iPhone 11 pro max, iPhone XS, XS Max, XR, iPhone X, iPhone 8, iPhone 8 Plus, iPhone 7, iPhone 7 Plus, iPhone 6s, iPhone 6s Plus, iPhone 6, iPhone 6 Plus, iPhone SE.
Supported iPad Models:
iPad Pro 12.9-inch (3rd, 4th & 5th generation), iPad Pro 11-inch (1st, 2nd & 3rd generation), iPad Air (4th generation),
iPad Pro 12.9-inch (1st and 2nd generations), iPad Pro 10.5-inch & 9.7-inch, iPad Air (3rd generations), iPad Air 2, iPad (5th, 6th, 7th & 8th generations), iPad mini (5th generation), iPad mini 4.
version support table of TrollStore
Download TrollStore
You can use the below download link to get TrollStore IPA, .deb, and Source codes.
TrollStore Checker
TrollStore Checker is a simple shortcut tool that enables you to check if your iPhone or iPad is TrollStore compatible.
This TrollChecker is also compatible with the most recent beta versions of iOS 16.4 and above. This utility works with devices that support any language.
Changelog: v 2.4.1
=>> Added notification that pops up while installing TrollHelper.
Install TrollStore – Trallinstaller2
There are many methods for installing TrollStore on your iPhone/iPad. The link below will help you in installing it online.
TrollHelper Installation Status: 30/03/2023
Link 01 – 100% working possibility
Link 02 – 100% working possibility
Link 03 – Revoked
Link 04 – Revoked
Link 05 – 50% working possibility
iOS 15 - iOS 15.7 Jailbreak Released - Palera1n Jailbreak How to install guide
Install through EsignPatch
Apple has sometimes revoked the download URLs listed above, but don't worry, you can still install TrollStore using the Esign Patcher.
If you are new to the esign patch, you may learn how to install the esign app here.
If this Esign Patch method does not work for you, you may try another method. You may find them by scrolling down the page.
Jump to other installation methods
Further reading =>> iOS 16 Jailbreak Released?
Important Facts To Know About TrollStore.
Some Cool facts about TrollStore++ iOS AppStore are listed below for your reference.
Compatible With many iPhone & iOS Models: It supports a wide range of iOS versions and iPhone models, including the upcoming iPhone 13, the iPhone 12, the iPhone 11, and a lot more.
Prevent opening undownloaded iCloud drive files
Show detailed error when an app install fails
Force install option
Fast Signing and resigning service: It immediately signs IPAs on the device.
No 7 days app resign.
Best #6 Methods to Install TrollStore
In the section below, we will go through the various options for downloading and installing the iPhone Cake app. Pay close attention to the instructions.
#01) Install through Sideloadly
Sideloadly is a great alternative to Cydia Impactor. With this program, you'll be able to sign and resign IPA files using your Windows or Mac computer.
Step #01: Download & Install Sideloadly Tool to your PC/MAC.
Step #02: Configure Sideloadly with your iCloud Details, then connect your iPhone/iPad in to the PC.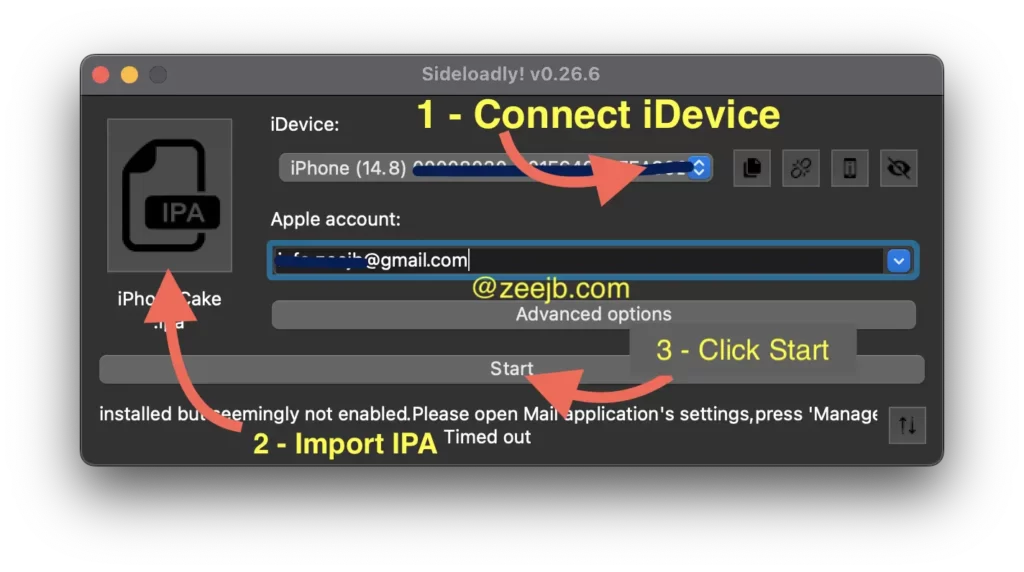 Step #03: Import the Trollstore Installer IPA file then Start Signing the app. You can download TrollStore Installer below button.
Step #04: Once installation is done, navigate your iPhone App Library (To find it, simply swipe all the way to the very last, rightmost page of your iPhone's home screen)
Step #05: Search "TrollStore Installer" then open it & Tap on "Install TrollStore" – This will install the Troll app on your iPhone/iPad.
Step #06: After automatic respiring, navigate again into iPhone App Library then search "TrollStore" & Open it.
Step #07: You have now successfully installed the TrollStore app.
So, let's try installing an IPA file using TrollStore…
Recommended reading =>> iOS 16 Jailbreak
#02) Install through Kekuk Store
If you use Kekuk iOS Store to install T-Store you don't need a computer.
Step 01: Visit the Kekuk iOS Store by clicking on the link below.
https://kekuk.com/app
Step 02: Navigate to the "Search" tab then find "Troll Store".
Step 03: Tap on the "Get" button.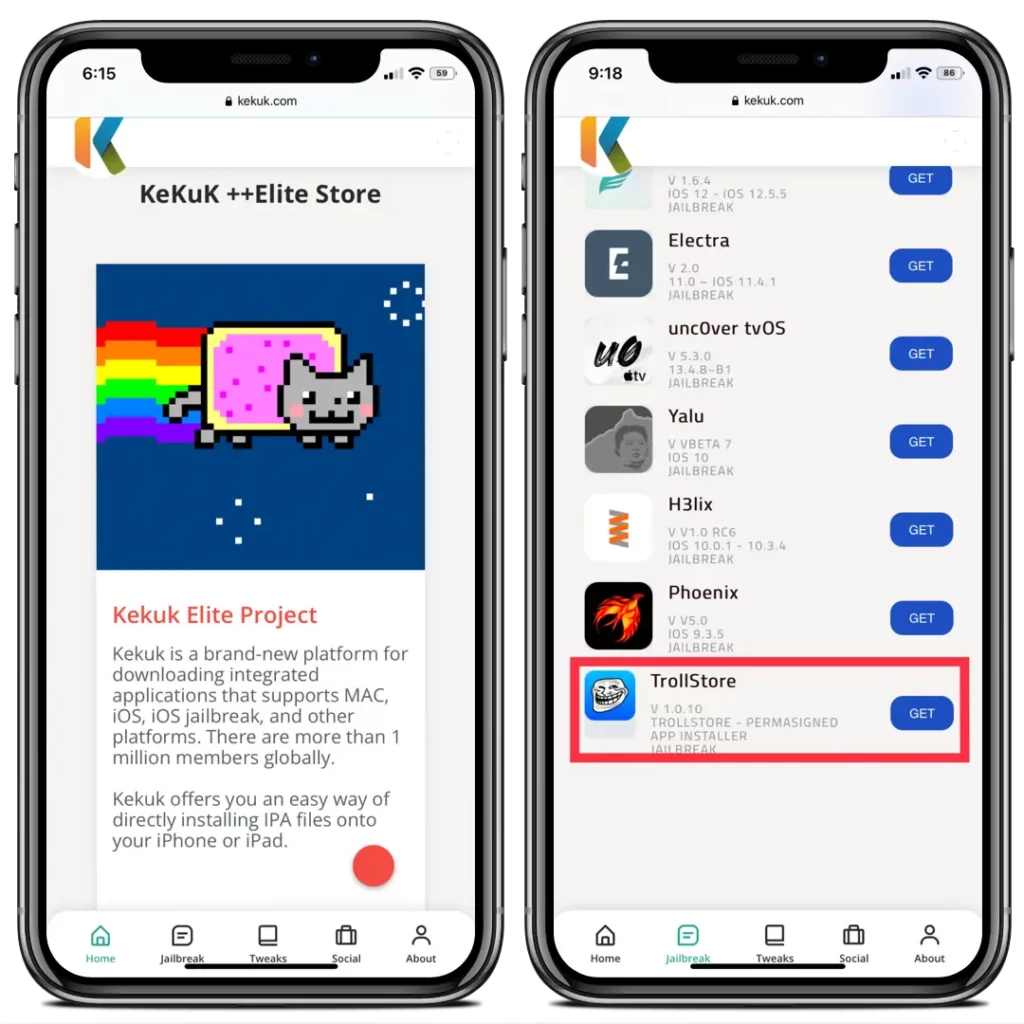 Step 04: Now that the installation dialog has shown, click the button that says "Install" to continue.
Step 05: Return to the home screen to see that the "T-Store" has been successfully installed.
#03) How to install TrollStore on iOS 14 – Filza
IF the Filza file manager is compatible with your device, then you will be able to install troll-store with Filza or Plank Filza.
Recommended reading =>> How to install Filza iOS File Manager?
The troll-Store app requires a jailbroken device in order to be installed on devices running iOS 14. It is expected that a future upgrade will provide you the ability to install the permanent IPA installer on stock iOS 14.
Recommended reading =>> iOS 14 Jailbreak
Step #1 – Download and install Filza File Manager
Step #2 – Download TrollStore .deb file
Step #3 – Download and install the DEB file using Filza
Step #4 – You may either respring your iPhone or run the uicache command.
Step #5 – Launch the TrollHelper Installer application by tapping it from the Home Screen.
Step #6 – To install the app, tap the button labeled "Install TroolStore"
Step #7 – After respring your device, the Tr0llStore app will appear on the Home Screen.
Step #8 – Launch the application, then from the Tr0llStore Settings menu, choose "Install ldid."
You may also like to read :
=>> Get free Apple certificates for Esign/Magic Sign
=>> Download and install unc0ver jailbreak online
#04) Install TrollStore [iOS 14] – iCloud Shortcut
With the Siri shortcut, you can install tr0llstore without a PC.
Step #01: Install the Siri shortcut.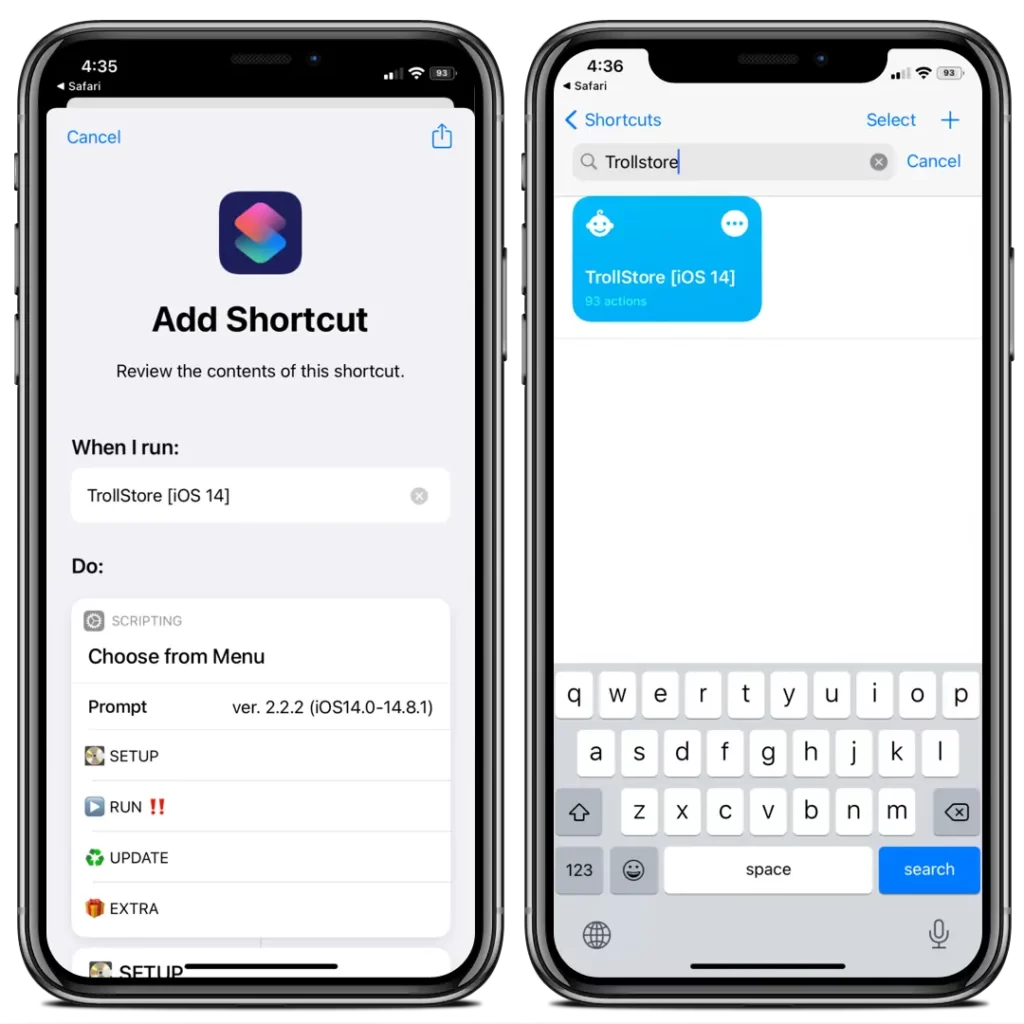 Step #02: Go to iPhone/iPad shortcut app
Step #03: Run Troll Shortcut, then check the home screen for the troll-store app.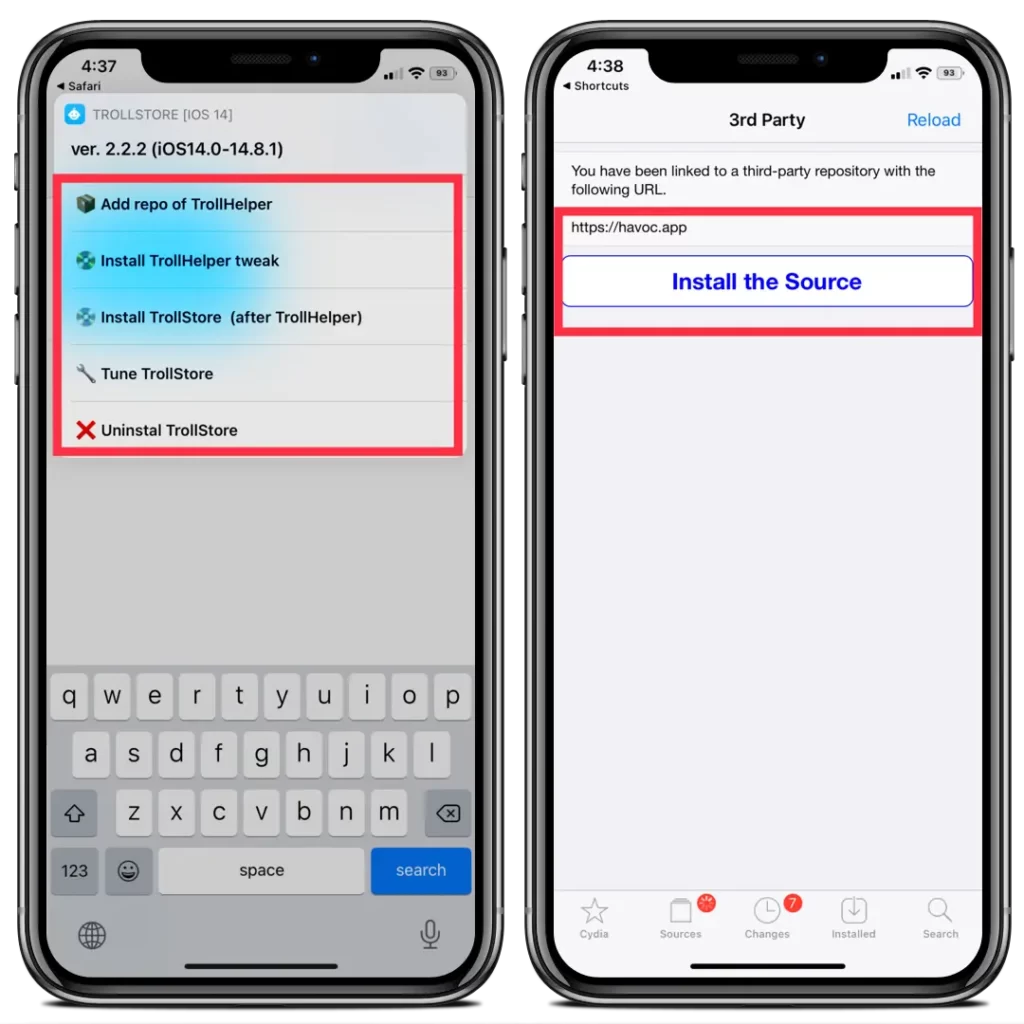 #05) Install using Cydia/Zebra/Sileo Repo
You will need to jailbreak your iPhone before continuing with this process.
Step #1: Open Cydia Package Manager, then add the following Havoc repository URL.
https://repo.havoc.app/ 
Step #2: Navigate to the "search" tab then search "TrollSt0re Helper" and Install it.
Step #3: Open Troll Installer and install it, then navigate to the settings tab and tap on "Install ldid".
#06) Install via Deb File Sileo/Cydia/Zebra/Filza
To install TrollStore using a .DEB file, you must either have a Jailbroken iPhone or install Filza file manager (which is not compatible with the latest iOS versions). If you meet one of these requirements, follow these steps:
Step 01: Download the TrollStore .DEB file.
Step 02: Then, open it via Filza file manager or install it via Sileo, Zebra.
Step 03: After installation, the TrollStore/Troll Installer app icon will appear on your home screen
Step 04: Open the TrollInstaller app and tap on the "Install TrollStore" button.
Step 05: Once you have resprung your device, the TrollStore app will appear on your home screen.
Step 06: Finally, open the app and tap on "Install IDID." You can now install any iPA file using TrollStore.
Download TrollStore Support iPA files for free
#07) Install using SSH RAMDISK No Jailbreak
This method is still working on iOS 14 – iOS 15 checkm8 support devices (A11 and lower devices). To use this tool, you must have a Linux-installed PC.
Step 01: Open the terminal and run the following commands;
1st command
sudo apt install git
2nd command
sudo apt install curl
3rd command
sudo apt install libimobiledevice-utils
Step 02: After completing the above installation go to the PC download section then right click and open a new terminal, then enter the following commands;
Command 1:
git clone https://github.com/verygenericname/SSHRD_Script --recursive && cd SSHRD_Script
Command 2:
Note* Make sure to not include the <> ( Enter your device's current iOS version)
Eg- ./sshrd.sh 15.4 TrollStore <uninstallable system app>
./sshrd.sh <iOS version for ramdisk> TrollStore <uninstallable system app>
Step 03: Now put your device into DFU mode then connect it to the PC.
Tip - How to put iDevice in to DFU mode;

01: Connect the device to a computer using a USB cable.
02: Hold down both the Side button and Volume Down button.
03: After 8 seconds, release the Side button while continuing to hold down the Volume Down button.
04: If the Apple logo appears, the Side button was held down for too long.
05: Nothing will be displayed on the screen when the device is in DFU mode. If open, iTunes will alert you that a device was detected in recovery mode.

If your device shows a screen telling you to connect the device to iTunes, retry these steps.
This process may take some time as various files are being downloaded.
Step 04: After you have finished the steps listed above, you should next execute the following command to restart your iOS device
sudo ./sshrd.sh boot
Step 05: Now open the Tips app from your iPhone home screen, then tap on Install Trollstore, this will install the troll app into your device.
You are now able to install any IPA program permanently via the TrollStore. How to install IPA – Guide
How to get TrollStore online?
mainly you can download tr0llstore online from,
Cripzi jailbreak – troll-store online installation
Cripzi is the world's best jailbreak alternative app. You can get amazing tweaks, repos, hacked games, and 1000+ Jailbreak apps, etc. now you can download an online t-store from the cripzi application.
Step 1 – Go to the Cripzi jailbreak page and install the Cripzi jailbreak. (please use the below button)
Step 2 – Go to the device setting and trust the profile.
Step 3 – Open the cripzi app and tap the tr0llst0re icon. ((Please note – if the free certificate is revoked, you cannot download troll-st0re successfully, please get the cripzi pro application)
Step 4 -go to device setting>general>profile management and trust the profile.
Step 5 – Enjoy the application.
How to Install IPAs Permanently
In most cases, the TrollStore/T-Store app makes it easy to install IPA files on iOS. TrollSt0re will provide a permanent certificate to any IPA that is added to the App List.
Step 01: Download any IPA file you like to install. (You can find the most updated IPA files through – the ZEE IPA library)
Step 02: Import it into the TrollSt0re app list. (It will automatically install IPA)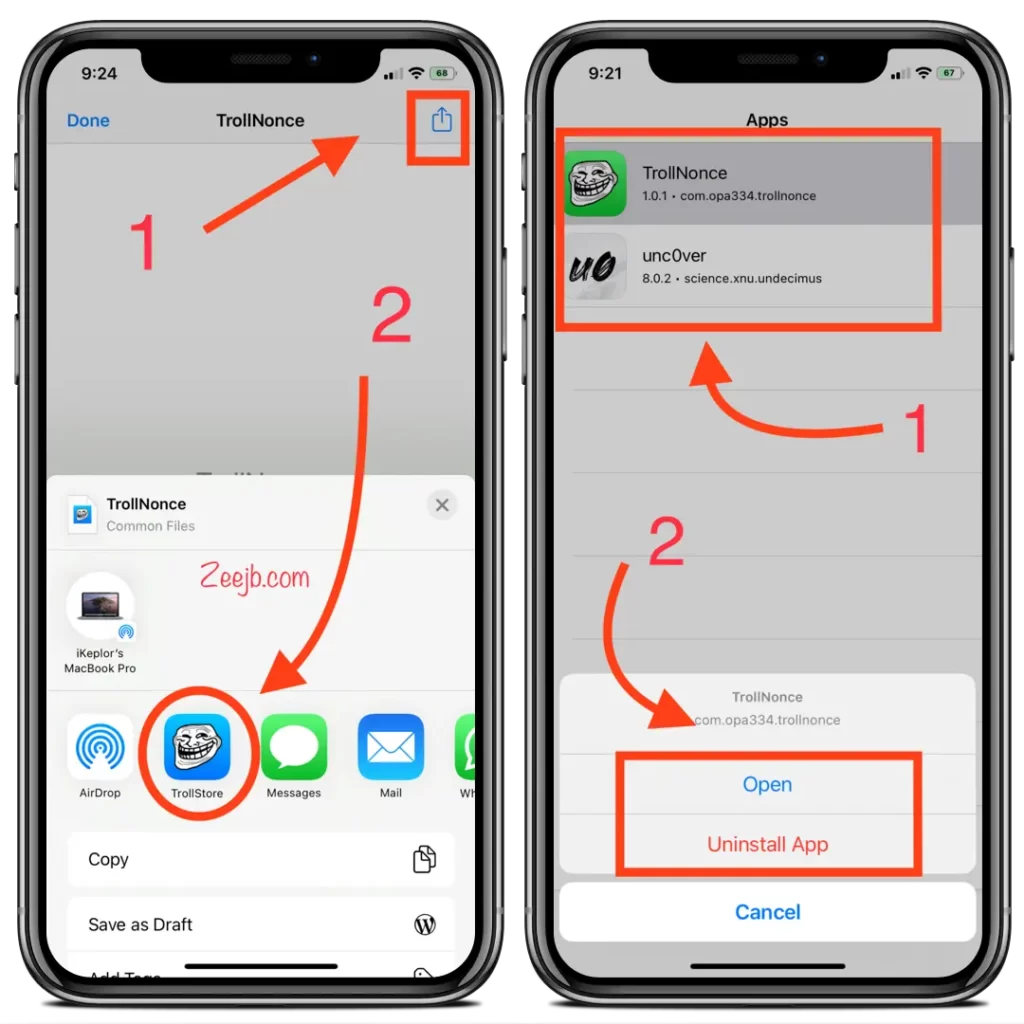 Step 03: Tap on the IPA file icon on the list then tap Open.
Tip - It also has an option to uninstall the app directly from the device.
How to update TrollStore?
You can now upgrade TrollStore to the current version without having to reinstall the IPA file. Here's a step-by-step instruction to update TrollStore.
Step 01: Open the TrollStore app from HomeScreen, then open the TrollStore settings.
Step 02: Now you can see the TrollStore new update under the update section.
Step 03: Tap on the update TrollStore button
TrollNonce IPA – Set Nonce on iOS 15.0 -15.1.1
This is the first tool that is compatible with 15.0-15.1.1 for A10-A15 devices. This tool will help you to downgrade & Upgrade iOS versions to Apple's unsigned iOS versions.
Step 01: Download the TrollNonce IPA file by clicking the "Download" button above.
Step 02: Open the Downloaded TrollNonce IPA file into TrollStore Applist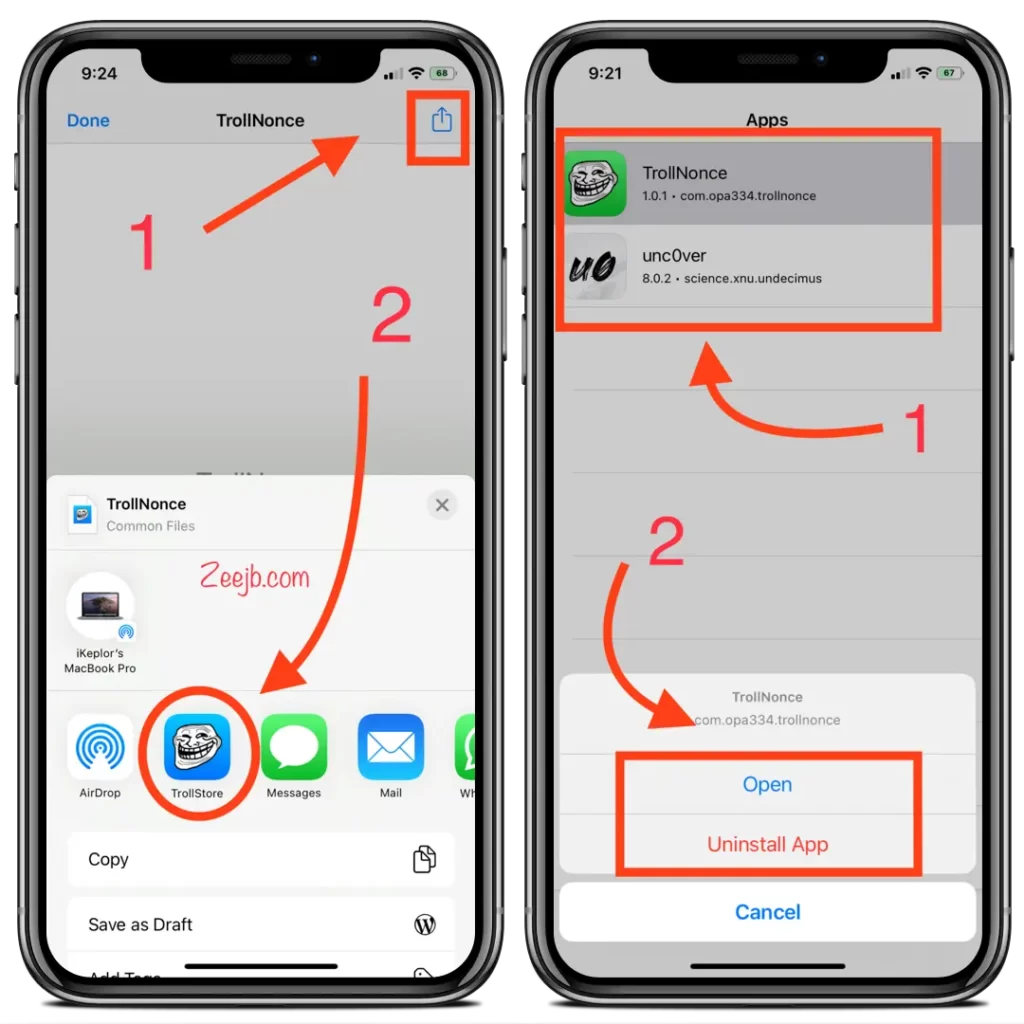 Step 03: Tap on the installed TrollNonce App then tap "Open"
Step 04: Set the Nonce value (Eg – 0x1111111111111111) then tap on the "Set Nonce" Button
Recommended reading =>> How to downgrade/upgrade iOS versions
Must have apps for every iPhone user – TrollStore Apps
With millions of apps on the AppStore, it's hard to find the best ones. Whether you want a great weather app or a new tool to help you work faster, there are always dozens of choices.
We did research to find the best iOS/IPA apps for every need and put only the best ones on this list.
AppStore ++
Price: – Free
Rating: 4.8
The AppStore++ app lets you change the version of iOS apps on the Apple Store. This tweaked app was developed by: CokePokes Team.
AppStore++ is a free tweaked app that adds the ability to downgrade and upgrade any installed app or game to the official App Store app. This tweak can also stop the AppStore app updates from forcing unwanted updates.
ModMyIPA
Price :- Free
Rating :- 4.8
Developer – powenn
An application to modify IPA files so that you can install the same software(IPA) multiple times.
So, using this MOD MY IPA Program, you can install the same app many times. Assume you need to manage two or three Instagram accounts in order to install the same Instagram app clone with a different bundle identification. Changing the Bundle ID of an application is a difficult task for a beginner, and it requires the use of additional apps such as the Esign Patch.
With the MOD MY IPA app, you can easily clone any application file with its ipa file.
AppsManager
Price :- Free
Rating :- 4.7
AppManager for iOS was created by the TIGI Software team to assist you to see the information on installed Apps on your iDevice, as well as getting details about applications "Identifier, version, Last Modification date, Software Size, Application installation route." You can also use this app to back up and restore apps.
You are able to wipe (uninstall) applications completely with the help of the AppManager. This application is definitely worth having on your iPhone or iPad.
BullfrogAssistant
Price :- Free
Rating :- 4.7
Bullfrog Assistant is free iOS software that lets you use the free Apple certificate to sign IPA files directly on your iPhone or iPad.
This is similar to Esign Patcher, Lighting Sign, Sideloadly, and Altstore applications. However, although some of the above apps need a PC to sideload apps, the BullForg software does not require a PC to sideload IPA files.
WifiScanner
WiFi Scanner searches for nearby networks and provides critical WiFi information for troubleshooting. Filtering options Limit the search to areas with a large number of occupants.
You may choose the networks you wish to see by checking or unchecking the boxes next to the networks.
ScreenshotX
With the use of the ScreenshotX software, you are able to set screenshots to modern iPhone and iPad mockups.
Additionally, you have the ability to import custom mockups from outside the app. In a nutshell, ScreenshotX puts your images into an iPhone frame.
Conclusion:
Our experiences with using this tool have been quite beneficial. This utility includes features, speed, and performance that are all worth appreciating. When compared to other iOS IPA SIGNERS that are equivalent, this one is by far the best solution.
Overall, we would rate it as 4.6/5. It's a worth-trying tool!
Install Filza File Manager IPA – iOS 15 Permeant
Thanks to the latest TrollStore update, Filza File Manager software may now be installed on iOS 15 – iOS 15.1.1 devices.
Step 01: Download and install TrollStore – Guide
Step 02: Download FIlza iOS 15 iPA file
Step 03: Open Filza iPA to TrollSt app list.
TIPA – TrollStore IPA Files
TIPA is a renamed IPA file extension (such as unc0ver.TIPA) that can be used to transfer standard IPA files using Apple AirDrop.TIPA is a renamed IPA file extension (such as unc0ver.TIPA) that can be used to transfer standard IPA files using Apple AirDrop.
After you send the TIPA file via AirDrop, the file will be automatically installed by the TrollStore app.
How to Send TIPA files to TrollStore
Step1: Download any iPA file you need to convert TIPA. – Browse New IPA files.
Step2: Rename the .ipa file extension to .tipa format.
Step3: Open Finder app on macOS.
Step4: Navigate to the "AirDrop" tab listed in the "Favourite" section.
Step5: Drag and drop the .tipa file on the device you want to share with.
Step6: The TIPA file will now be automatically installed on your device.
Best TrollStore Alternative Apps for iOS 16.3 – iOS 15
DLEazy Pro
DLEasy is an app that every iOS user should have. This software provides a simple and user-friendly interface for downloading popular customized iOS apps. With its user-friendly interface, you can quickly activate and install iOS-tweaked apps.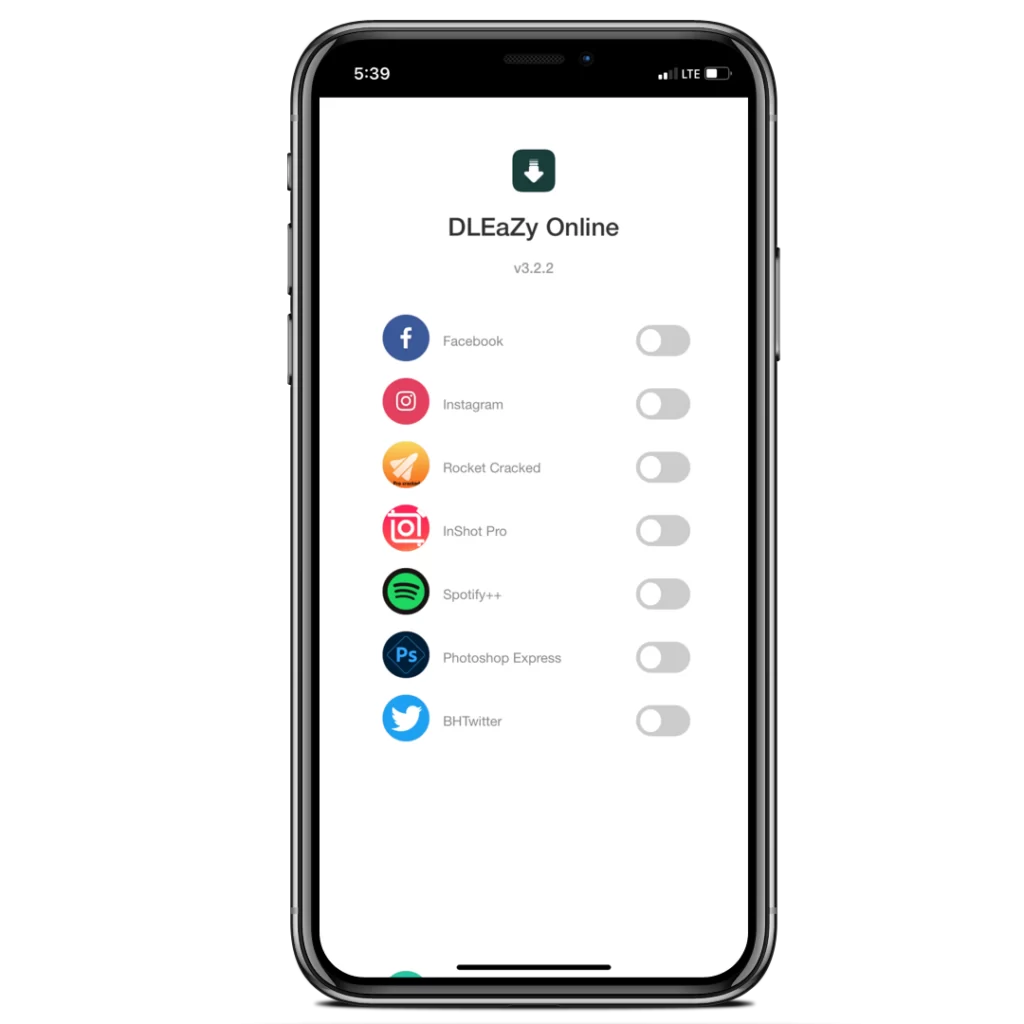 DLEasy is the ideal application for you. DLEasy allows you to get more done and take control of your iDevice.
Development Progress:
TrollInstaller2 released to the public, Every device from 14.0 to 15.5b4 now has a way to install TrollStore, so have fun!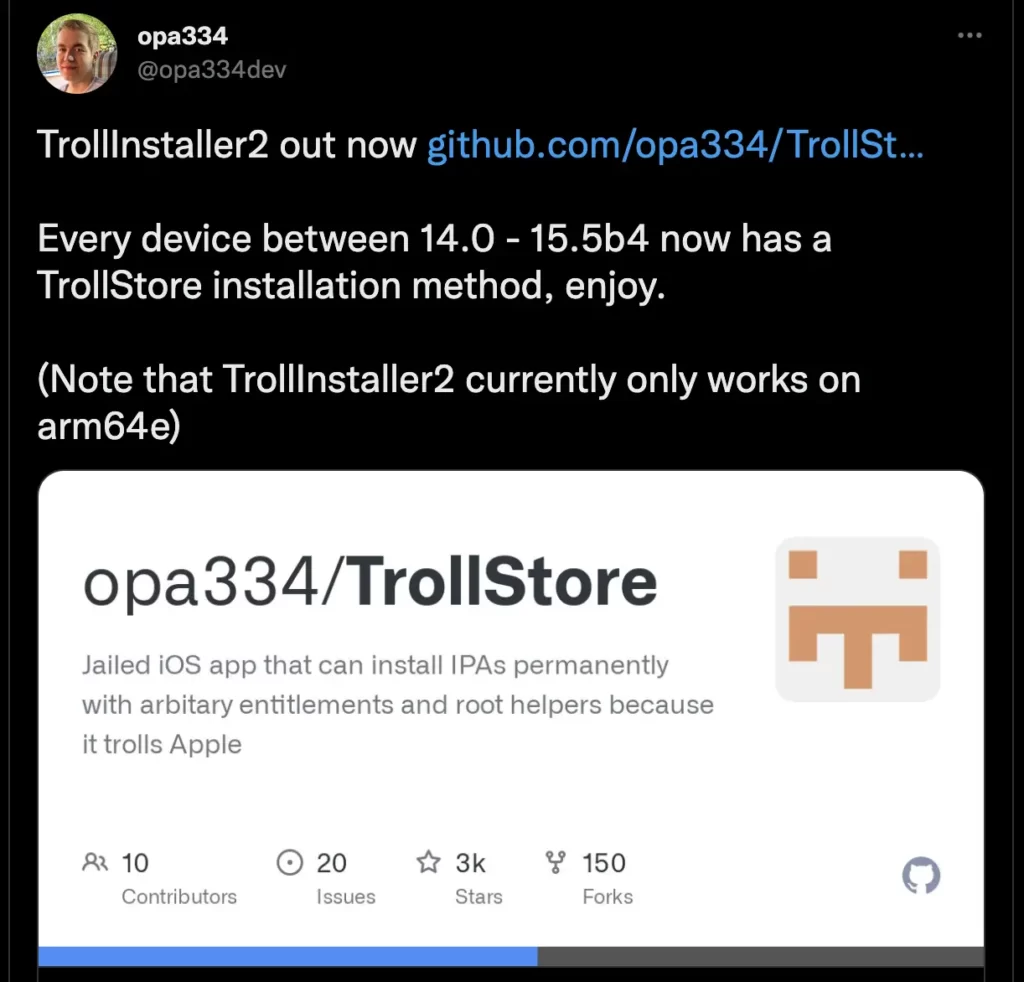 (Note that TrollInstaller2 only works with arm64e right now.)
Opa336 – Fugu15 jailbreak
A new version of the Fugu15 jailbreak, developed by Opa334, the creator of Trollstore and Trolltools, has been released. This version comes with various options, such as the ability to change read-write functions to replace the kernel exploit.
Old Versions:
1.4.3 Released
=>> Fix app group and plugin containers not being removed when uninstalling an app
v1.4.2 Released
=>> Fix an issue where apps could sometimes not be correctly marked as TrollStore apps, causing them to not appear in the TrollStore app list
=>> Fix a theoretical issue that could maybe happen in some rare cases while adding an app to the icon cache
Download IPA
v1.4.1 Released
=>> Fix all problems with apps getting restricted on iOS 14 once and for all
=>> Disable home screen uninstallations of TrollStore apps again because doing this would also cause the app to get restricted
*(If you already have an issue with restricted apps, reload icon cache once after installing this update)
v1.4 Released
=>> Adapt the FuguInstall method for installing apps as it may be a little bit better (This only applies to NEWLY installed apps, but it shouldn't matter too much, if you for some reason want an app to be installed through this new method, you need to uninstall it and then reinstall the IPA)
=>> Add a switch to enable/disable the TrollStore URL scheme (closes #344)
=>>
=>> Add an option to configure when installation confirmation alerts should be shown
=>> Fix an issue where apps in some cases could still replace system URL schemes, which would break system functionality
=>> TrollStore installed apps can now be uninstalled from the home screen
=>> When uninstalling TrollStore, there now is an option to preserve the apps installed through it
=>> Various code improvements and other smaller fixes
TrollStore 1.3.5 Released
=>> Fix #336 issue – (Trollstore shows the size of the software which is multiplied by the number of times "Show Details" is clicked.)
=>> Fix a bug with the update option in settings where it could wrongfully "update" to an outdated version of TrollStore in some rare edge cases
TrollStore 1.3.4 Released
=>> Fix Fugu15 not working when installed through TrollStore
=>> Make app details a little more accurate
NOTE: The previously existing TSRootBinaries Info.plist is now deprecated and no longer needed, you might still want to include it to support older TrollStore versions
NOTE: 1.3.3 had a bug where the update process was broken, if you updated to it and are in a broken state, use TrollHelper(OTA) to update to 1.3.4, sorry for the inconvenience.
TrollStore 1.3.3 Released (Had a bug please update to the latest)
=>> Fix crash
v1.3.2
=>> Allow TrollStore to access Metal, fixes app crashes when bold text is enabled
=>> Add info about what TCC APIs / MobileGestalt keys an app can access, contributed by @luken11
Download IPA,
v1.3.1
=>> Fix the crash by pressing the cancel button on the install alert
=>> Fix installing IPAs from iCloud Drive when using the in-app option
Download IPA, More Changes
v1.3
=>> Show an alert with a lot of info about an app before installing it (Also available for already installed apps under "Show Details" when pressing them)
==> Add plus button to top right of app list allows installing an app from either the files app or from a URL
Replace a system URL scheme that can be used by websites to directly open IPAs in TrollStore (Check README for more info)
==> Add a search bar at the top of the app list
==> Work around an issue where apps could become restricted for some reason (#292), if this happens to you, press "Reload Icon Cache" in TrollStore settings and it should fix itself
==> Add an option to temporarily register a TrollStore installed app as "User" (It will not launch in this state, but it's useful for adjusting its settings, using iTunes file sharing, or using Apps Manager on it)
Massive internal code refactors
==> Add a launch screen to fix a broken animation when opening the TrollStore app
==> Fix a bug where the persistence helper wouldn't show the uninstall button when injected into a system app
NOTE: If you were not on 1.2.2 before installing this update, you will need to install the TrollStore tar twice (one time when you are already on 1.3) in order to get the URL scheme to work.
v1.2.2
=>> Improve the safety checks added in the previous version, now they only affect system apps that are immutable (any apps that are not stored inside /var/containers)
v1.2.1
=>> New safety features ensuring it's impossible to install IPAs that have the same identifier as system applications already installed on the device ==> Don't patch the Info.plist of TrollStore itself when updating TrollStore (important change to fix issues with updating to future updates)
v1.2
=>> Support detecting persistence helper installed into TrollHelperOTA user app
=>> Actually fix Chinese connectivity issues(?), thanks to @Halo-Michael
=>> Fix the persistence helper black screen when it's installed into apps that use a SceneDelegate
Download IPA
v1.1.2
Changes:
=>> Support opening/installing .tipa files, these are just .ipa files but renamed, unlike .ipa files they can be airdropped to your device however
v1.1.1
Changes:
=>> Work around some connectivity issues in TrollHelper and TrollStore on Chinese devices
=>> Fix a bug where an app could not be uninstalled if it doesn't have Info.plist
v1.1.0
Changes:
=>> Sort app list by name
=>> Improve app borders, even more, they should look like the ones in App Store now
=>> Fix an issue where apps with wrong icon sizes would appear incorrectly in TrollStore
=>> Fix incorrect icon sizes on iPads
=>> Kill apps when they are uninstalled
=>> Improve uicache implementation a bit (should not bring any notable improvements though)
=>> When a new TrollStore update is available, it will now show in both TrollStore settings and inside the (persistence) helper app alongside a button to install it.
V 1.0.10
Fix a bug where T-Store could crash on launch (OTA updates via tar should still be working in this state tho)
Small visual improvement to app border
V 1.0.9
Work around a IDID bug where the entitlements of root helpers would be stripped when signing them
Improve app list in apps tab (icons, versions, bundle identifiers) (partially thanks to contributions from @tylinux)
Add an option to open an app to the menu that appears when pressing on an app in the apps tab (thanks to contributions from @SerenaKit)
v 1.0.8
Pretend apps installed through T-Store are ad hoc signed, not sure if this improves anything but I found some checks for it
Remove apple-owned URL schemes when installing apps, and prevents apps from breaking system functionality (if you have such an app installed, reinstall the IPA after updating to T-Store 1.0.8)
Prevent deletion of group containers when another app is still using it
Fix another small file permission problem when installing some very specific IPAs
Add a pop-up when pressing an app in the list, currently only has an uninstall option
Code improvements, more detailed error messages on installation failure
TrollStore Issues
Get Rid of Lag
Fixed the insane laggyness when updating & installing apps on iOS 15.1.1 iPhone 13 Pro.
"Solution: Delete /var/containers/Shared/SystemGroup/systemgroup.com.apple.lsd.iconscache/Library/Caches/com.apple.IconsCache via Filza, then Reload Icon Cache in TrollStore."
TrollHelperOTA does not support arm64 iOS 14
To install TrollHelper, the developer recommends creating it yourself. Then use checkra1n + TrollHelper to install it.
If those instructions do not work for you, please wait for the next update.
You may also use this URL for arm64e iOS 14 devices: https://api.jailbreaks.app/troll64e.
Jailbreak updates
here are the latest jailbreak and trollstore updates.
How to install Dopamine jailbreak with Trollstore?
Dopamine, a perma-signable jailbreak utility for arm64e devices running iOS & iPadOS 15.0–15.4.1, has been officially announced by developer Lars Froder (opa334).
Dopamine was called Fugu15 Max during the test phase.
Dopamine works with iOS and iPadOS versions 15.0 through 15.4.1, but only on arm64e devices. These are smartphones that have an A12 chip or a newer one inside, like the iPhone XS and later models.
1) Install TrollStore if you haven't done so already. Follow the tutorial to accomplish this, and then return to this guide to continue to step two:
Installation of TrollStore using TrollHelperOTA
Once TrollStore has been installed, install the Dopamine exploit as the next step.
2) Launch Safari from the Home Screen on the same device where TrollStore was installed:
3) Enter the following URL in the search bar and click the "Go" button:
URL — ellekit.space/dopamine/
4) From the menu, select Install with TrollStore:
5) When prompted to do so, tap the Download button:
6) In the address bar, select the Downloads icon:
7) From the menu's drop-down, select Downloads:
8) Select Dopamine from your inventory of installations
9) In the following interface, choose Share:
10) Tap the TrollStore icon in the share pane.
11) Tap the Install button in the prompt:
This should only take a few seconds, after which the application should appear as follows in your TrollStore apps list:
12) After installation, launch the Dopamine app from the Home screen:
13) Touch the Jailbreak icon:
14) Select the Sileo programmer and then click Continue:
15) You will be prompted to enter the Terminal's passcode. Create (two) instances of your selection, then tap the Set button:
Avoid forgetting your created passphrase!
The Sileo package manager app should be accessible from the Home Screen once the installation is complete:
Congratulations, you have successfully completed the jailbreak process.