(Last Updated On: 19th September 2023)
Here are all the details about How to get the Taurine Jailbreak Online and with PC methods? Taurine Jailbreak tool updates, Device capability, supported iOS versions, Cydia and Selio installations, All the possible Jailbreak tools and Solutions updates.
Tip: – unc0ver jailbreak & Checkra1n is also supported for Jailbreak iOS 14 – iOS 14.3, iOS 14.8, iOS 14.8.1 you can Install Cydia through it.
The Taurine jailbreak is not yet compatible with the new iOS 16.5 jailbreak.
Latest News: 
Taurine Jailbreak v1.1.7 is now available!

- Introduce support for devices running iOS 14.4 -> 14.8.1 
- Include a system-wide OldABI patch for iOS 14.5 -> 14.8.1  

Download Now

New Taurine jailbreak beta release!
- adds support for iOS 14.4- 14.8.1 via kfd exploit.

iOS 15.0–15.1.1 JAILBREAK Latest Taurine15 CodeSign Bypass ACHIEVED (For Tweaks)

Download Now

If you are on the latest iOS version please follow these pages to get related jailbreak tools.
Jailbreak iOS 15 , iOS 15.1, iOS 15.2 , iOS 15.3 , iOS 15.4
Content summary:
What is Taurine jailbreak?
Taurine is a new Jailbreak tool released for iOS 14 to iOS 14.8.1 (With KFD exploit support).. The developer of this tool is the famous Jailbreak tool developer CoolStar, He also released the Chimera and Odyssey Jailbreak tools.
*Note: If you are on Taurine v1.0.5 and v1.0.6 versions, Please update to v1.1.3 because of a Major security issue.

Also, coolstar recently released v 1.1.6 beta (iOS 14 - iOS 14.8.1 Support)
Introducing Taurine: The latest jailbreak tool released by @OdysseyTeam_ for iOS 14.0 – 14.3. This tool is supported for every iPhone /iPad and iPod Touch device, Sileo is the default Package Manager. But you can install Cydia, Zebra, and App Installer through it.
Download IPA file (Updated)
Latest News – 2022/04/15
Taurine Developer Coolstar Says,
Needless to say, if you're on 15.1.1 or lower on A12+, stay there as it will quite literally be possibly the last public jailbreak

Taurine15 will support A8-11 on all iOS 15 versions, however, A12+ will support 15-15.1.1 and be Coolstar's "last jailbreak"

By Coolstar

The Taurine team might have an idea to jailbreak iOS 15.1.1. This could be the last jailbreak for A12 devices.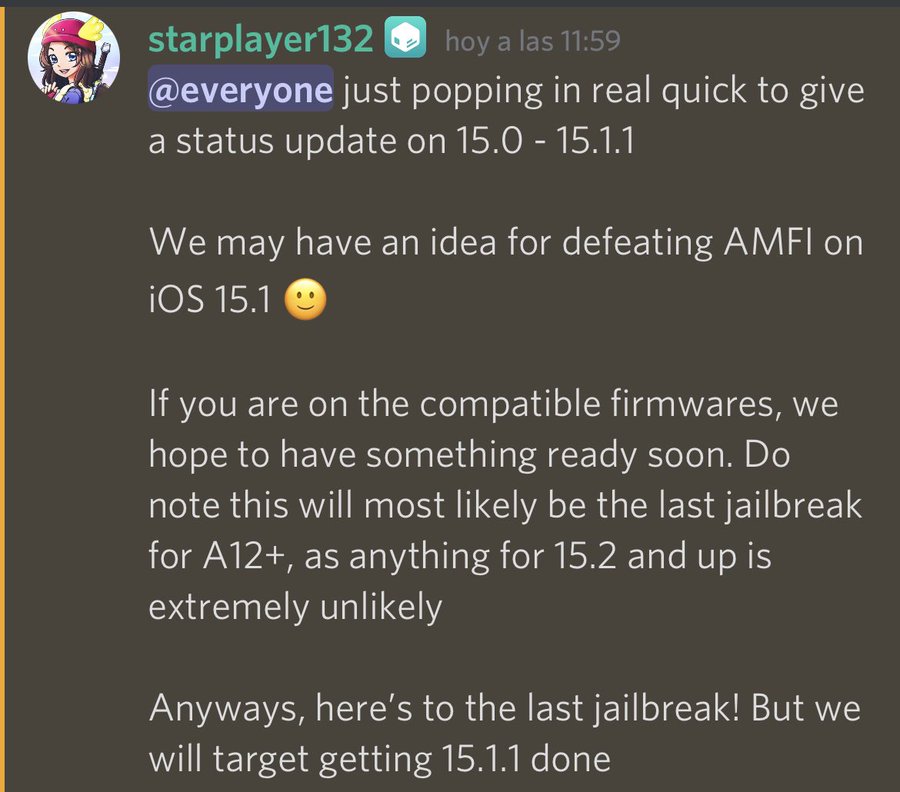 How to get Taurine Jailbreak?
You can use online(No computer) and computer methods to install Taurine into your iPhone / iPad. The most popular and easiest method is online installation. You can use the buttons below to download it online.
Install Taurine Online – Just Updated
*Note - The above download links can be blacklisted by Apple, if you want to install Taurine without Apple Blacklisting, try the OddyStore Premium.
Taurine jailbreak new IPA – 1.1.6 Just Released.
Taurine jailbreak for iOS 15 to iOS 15.4.
Jailbreak developer CoolStar tweeted that he is going to release a new Jailbreak for iOS 15 – iOS 15.2. Hopefully, this will happen next week. this may be supports iOS 15 to iOS 15.4.
Install Taurine Jailbreak with a Computer(PC) Guide: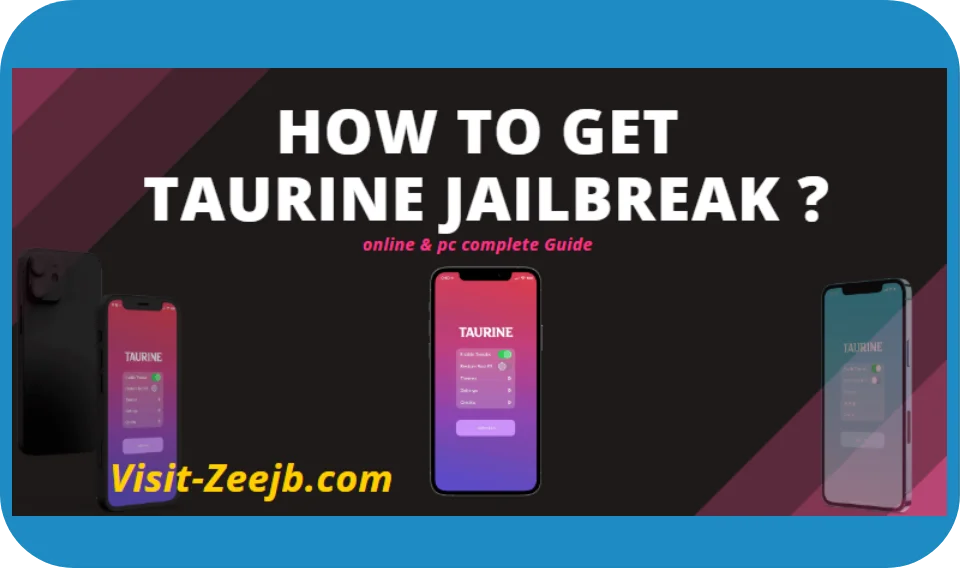 You can install the Taurine tool with the following tools. These methods work on Windows, Linux & Mac OS.
Taurine AltStore Guide
Step 01. Download AltStore to your computer.
Step 02. Open AltStore from Device and tap my app.
Step 03. Tap the + button and select the downloaded Taurine IPA.
Step 04. Wait until the process is complete.
Step 05. Go to Home and open the Taurine Application
Step 06. Turn on the " Enable Tweaks" button and tap the jailbreak button.
Click here to AltStore Windows, Linux, Mac Complete Guide
Taurine Sideloadly Guide
Step 1- Download the Sideloadly application.
Step 2- After installation, open Sideloadly from desktop
Step 3- Connect your Device to a Mac computer.
Step 4- drag and drop the download IPA to Sideloadly.
Step 5- Enter your Apple ID then tap the start button.
Step 6- Enter Apple ID Password and tap the OK button.
Step 7- Enter the verification code and tap the Ok button.
Step 8- Press the Done button.
Step 9- Go to Settings > General > Profile and Device Management and Trust the Taurine profile.
Step10- Enable the " Enable Tweaks" button and tap the jailbreak button.
Taurine Jailbreak Cydia Impactor
Cydia impactor is another IPA sideload application developed by Saurik, who is developed Cydia Package Manager. Cydia Impactor tool available for Mac, Windows & Linux OS. You can use this tool to sideload IPA files into iPhone or iPad.
*Note – Cydia Impactor has stopped working with regular Apple IDs. So we recommend installing AltStore or Esign Online for installing IPA files on your iOS device.
Step 01. After downloading Cydia Impactor Double click on the setup file and open it.
Step 02. Connect your iPhone/iPad to your PC. Now Cydia impacter will detect your iDevice.
Step 03. From the menu bar navigate to Device > Install packages then upload the Taurine IPA file. or you can also Drag & Drop the Taurine IPA file into the impactor tool.
Step 04. Enter your Apple ID and Password. then follow on-screen instructions.
Step 05. Then navigate to iPhone Setting > General > Device Management.
Step 06. You will see your Apple ID there along with the application you just installed. Click on ID and tap on Trust to authorize the app as validated.
Step 07. Now open the Taurine Jailbreak app and Press the Jailbreak button.
Install Taurinejb with the Eisgn application
You can get Taurinejb online with an e-sign application. Use the Esign premium patch to get revoked free experience. (No 7 Days app expires)
Step 01. Download the E-sign patch application using the below button.
Step 02. Go to setting and trust the E-sign application. (Setting>general>profile management> Trust the profile)
Step 03. Open the E-sign patch and tap patch 1 or premium patch.
Step 04. Tap the E-sign install button.
Step 05. Go to setting>general>profile management> trust the profile.
Step 06. Open the E-sign app and import the 2 certificates. If the free certificates are revoked, please get the premium certificates from the E-sign patch team or UDID Master's website.
Step 07. Go to E-sign Download and import the Taurine IPA file. Please use the below button to get the Taurine IPA file.
Step 08. Tap the IPA file and press "import to app library".
Step 09. Tap the"signature" button.
Step 10. Press the Sign button and tap the installation button.
Step 11. E-sign application is on your home screen. Open it and enjoy it.
Install Taurine With Oddy Store
This is a well-known and easy way to get taurine jailbreak on your iPhone / iPad, with this method your jailbreak will not be revoked after 7 days.
Step 01: Download OddyStore Latest version
Step 02: After downloading, you need to trust the developer certificate from your iPhone/iPad settings.
Step 03: Go to iPhone Settings > General > Profiles & Devices Management > Trust the OddyStore certificate > Use your iPhone Passcode to install the prompt.
Step 04: Open OddyStore App From the Home screen, Tap on the Getting Odyssey Button.
Step 05: Now that Odyssey has been downloaded to your device, sometimes the free certificate will be revoked by Apple. So you need to use Oddy Premium service to download Odyssey.
Step 06: Open the Odyssey Jailbreak app, Press the Jailbreak button.
Step 07: Now Sileo Package Manager appears on your device's Home screen.
Taurine Jailbreak iOS Compatibility
iOS 14.3 / iOS 14.2.1 / iOS 14.2 / iOS 14.1 / iOS 14.0.1 / iOS 14
Note: Taurine is not supported yet for – iOS 14.4, 14.5, 14.6, 14.7 & iOS 15
Device Compatibility
iPhone12 Pro / iPhone 12 Pro Max / iPhone 12 Mini / iPhone 12 / iPhone SE (2020)
iPhone 11, iPhone 11 Pro, iPhone 11 Pro Max
iPhone X, iPhone XS Max, iPhone XR
iPhone8, iPhone 8 Plus
iPhone 7, iPhone 7 Plus
iPhone6s, iPhone 6s Plus
iPhone SE
iPadMini (5th generation)
iPad Air (2019, 3rd generation)
iPadmini 4
iPod touch 6G
2nd-gen 12.9-inch iPad Pro, 12.9-inch iPad Pro, 1st-gen 10.5-inch iPad Pro
9.7-inch iPad Pro
iPad Air 2, iPad Air
You can download the Taurine tool online as well as the Computer methods.
Taurine jailbreak online installation guide
Online installation guide.
1. Eisgn guide
2. Oddy Store
3. ReProvision Reborn REPO
4. Plank Filza -(Filza)
5. Through Siri Shortcut
6. ZEE Store
7. AppDB Pro
How to get the taurine profile on your device?
Step 1- Delete the old/Revoked Taurine Jailbreak app and restart your device.
Step 2- Tap on the online jailbreak button below.
Step 3- Go to the device setting and trust the profile. (setting> general> profile management> press install)
Step 4- Go to the Home screen and open the taurine tool.
Step 5- Tap the Jailbreak button and let your device restart for a few minutes.
Step 6- Now your device will jailbreak and Selio will install automatically to your device.
PlankFilza -(Filza)
Filza is the most powerful File Manager for iPhone, iPad, and iPod Touch. you can use this tool to get the taurine tool to your device with a PC.
Taurine Alternatives
Unc0ver jailbreak tool is the best alternative to Taurine. The Unc0ver tool is already compatible with iOS 14 to iOS 14.3. But it is still not compatible with iOS 14.4 and higher versions.
Odyssey jailbreak
Odyssey is an online jailbreak tool. It lets you get Selio and Cydia to your device. now it is compatible with iOS 13 to iOS 13.7.you can get the Odyssey jailbreak tool online from the Zeejb Odyssey page.
Jailbreak video guide
Link1- introduction video by the jb YouTuber –
Link2-How to get Taurine online?
(coming soon)
If you would like to publish your videos on our website for free, please contact us. Email- info.zeejb@gmail.com : Twitter- https://twitter.com/ZeeJailbreak
Jailbreak updates
Taurine v 1.1.6 beta released: Aug 24, 2023
==> arm64e iOS 14 – 14.3 validated
==> arm64 iOS 14 – 14.8.1 validated
Taurine v 1.1.6 released: Jul 17, 2022
Changes:
Backports DER entitlement fixes from Taurine15
Backports codesignature fixes from Taurine15
Backports various other fixes from Taurine15
Taurine v 1.1.3 released : Mar 20, 2022
Changes:
Runs uicache for Sileo for first-time users
Updates built-in libhooker to 1.6.9
Adds support for custom dyld shared caches
Taurine Jailbreak was updated to v1.1.1 with many fixes.
Change Log:
Fixes issues with injection into cfprefsd
Re-enables tweak injection into cfprefsd
Reduces memory usage and improves performance system-wide
Taurine 1.1.1 Jailbreak Update released!
Taurine Jailbreak was updated to v1.1.1 with many fixes.
-Fixes issues with injection into cfprefsd
-Re-enables tweak injection into cfprefsd
-Reduces memory usage and improves performance system-wide
Taurine v1.1.0 was released with some key changes:
Changes:
Adds a patch to fix the boot loop issue in stock iOS (the /var corruption that previously would require users to wait for the next BSOD to use startup repair)
Adds battery level indicator to recovery UI
Increases AMFI timeout so there's less BSODs on older/slower devices
Adds support for custom in-app themes
Taurine v 1.1 – Whats New
The taurine team added a new feature call custom theming- with this you can choose custom backgrounds, custom images custom colors as well.
Taurine v 1.0.4 released
Changelog:-
Improves battery life
Fixes hangs when renaming certain tweak dylibs
userspace reboot failing for certain users fixed.
Fixes full system hangs for certain users
Taurine v 1.0.3 released
Changelog:-
CarPlay on Ford vehicles (or the FordPass app) crashing fixed.
Fixes the shell failing to spawn sometimes (e.g. when spamming open tab in NewTerm).
Fixes kernel panics on malformed shell commands.
Updated bundled bootstrap.
Taurine v1.0.2 was released to the public
Changelog:-
Increase jetsam limits
Fix battery drain bug from 1.0.1
Redesigned userspace reboot screens!
Taurine has been updated to 1.0.1!!
Changelog: –
Fix sandbox issues with certain processes (e.g. WebContent) [pair with libhooker 1.5.4]
Fix zombie processes on subsequent userspace reboot IPA
Get iPA
Taurine FAQ
Taurine is a fast, supercharged experience, using libhooker and extensive testing to ensure the best possible jailbreaking experience.
Q. Is taurine jailbreak safe?

A. According to zeejb team security measurements, the taurine tool is safe to use. But some users faced encountered a bootloop issue after using Taurine's latest versions 1.0.5 and 1.0.6.
After the bootloop issue, one of the Sileo Discord member lost over 15,000 photos and videos
Reddit message of BootLoop issue.
So our opinion is you should stay on 1.0.4 or update your Taurine Jailbreak to latest update v1.1.1
You may also like:
https://zeejb.com/top-5-jailbreak-tweaks-for-entrepreneurs/
Selio with Taurine
Sileo is the modern, fast package manager that comes bundled with Taurine, Odyssey, and Chimera. To learn more about Selio please tap the below button.
Taurine Source Code
When developers make their work available as open-source, it demonstrates that they are both trustworthy and generous.
When you discover the GitHub repository that houses the software's source code, you'll see that everything is organized in a simple directory.
To download the Taurine Jailbreak source code use the below button.
Taurine Old updates
Coolstar leading developer of the Taurine Jailbreak tool has now tweeted that they are "looking at" a new kernel exploit for iOS 15.0 – iOS 15.1.1.
So this means that if that kernel exploit can be used to Taurine, we can quickly get iOS 15 Jailbreak support …
FAQ
Taurine for iOS 15, iOS 15.1, iOS 15.1.1?
More problems occurred with iOS 15 since Apple has now locked the ROOT File System, causing a boot loop. Traditional iOS jailbreaks relied on altering the ROOT FS (System Partition) to spill the jailbreak files and applications that allow for customizing.
Because of the new iOS 15 sealed ROOT FS, a change in jailbreak strategy was required. The Odyssey Team is currently creating Taurine Jailbreak for iOS 15, but they are also reviewing what is still achievable and what requires new approaches to be burned in iOS 15 as they go.
what are the new features of taurine?
Fast. Really Fast.
A path to openness.
Power users welcome.
how to use oddy store?
Oddy store allows you to install taurine, odyssey, and chimera tools online to your device. also, you can use this store for download hacked games and new ios games, themes, wallpapers, and much more. you can download odyy store from zeejb Oddy store page.
What is chimera?
chimera is a online jailbreak tool for iOS 12 devices. it's developed by the coolstar.this allows you to install selio. you can get more information from zeejb chimera page.
Is Taurine jailbreak untethered?
The software will be available to all devices that are currently jailbreakable via the Odyssey and Taurine jailbreak tools for iOS & iPadOS 13 and 14 respectively.
Does Taurine use Cydia?
Both tools support jailbreaking iOS 14 – iOS 14.3 on all iPhones and iPads, including the iPhone 11, iPhone 12, 2020 iPad Pro, and iPad Air. Taurine uses Sileo as its package manager, while Unc0ver relies on Cydia.
Who made Taurine jailbreak?
Odyssey Team officially makes its Taurine jailbreak tool for iOS 14.0-14.3 open source.
is Taurine install Unc0ver ?
No, unc0ver is developed by another developer.
Is Taurine jailbreak safe?
Taurine is another jailbreak tool developed by coolstar, the founder of Electra and Odyssey. You can install Taurine jailbreak without issue
How to remove Taurine jailbreak?
To remove, open the Taurine Jailbreak app on the iPhone home screen, enable "Restore RootFS" and run Jailbreak again.
Is Taurine jailbreak safe?
Taurine is another jailbreak tool developed by coolstar, the founder of Electra and Odyssey. You can install Taurine jailbreak without any issue
How to get taurine certificates?
You can easily get taurine certificates from UDID MASTERS website.
Is taurine install selio?
yes, you can get Selio from tauirne jailbreak. selio is a package manager like cydia. so you can get awesome modifications from selio.
is lightiningsign latest ipa work for taurine?
lightningsign is a ipa signer.but the latest version of lightning sign is not yet added support for ios 14. you can use E-sign patch app as option to take taurine for iOS 14 to up running devices.
Can i download for iOS 14.5.1?
you can get this tool for iOS 14.5.1. curretly it is work on iOS 14.3 lower versions.
what is the main different unc0ver vs taurine?
Mainly Unc0ver jailbreak tool allows you to install Cydia package maneger and Taurine lets you to install Selio package manager.
is Taurine Jailbreak install through Siri Shortcut?
yes you can download taurine from siri shotcut.
can I download taurine online?
yes, you can download taurine online from Oddy store.
whats new in taurine new IPA v1.1.1?
Fixes issues with injection into cfprefsd
Re-enables tweak injection into cfprefsd
Reduces memory usage and improves performance system-wide