(Last Updated On: 19th August 2022)
Here is the complete guide about – how to install AltStore on Windows, Mac, Linux OS. iOS 11 – iOS 15.6 beta 3, Install Jailbreak, tweaked IPA's, AltServer latest setup, & old zip files.
AltStore is a next-generation iOS Apps/IPA SideLoader, it helps you to install unofficial IPA files to your iPhone and iPad Devices. It is a 100% Free and Safe sideloading tool, that supports both Windows and Mac operating systems.
CONTENT SUMMARY
upcoming jailbreak for iOS 15 to iOS 15.3 – cheyote jailbreak
Download AltStore / AltServer Free
You can download & Install the AltStore application without having a Jailbreak.
Download links updated – 2022 AUG
*NOTE Windows PC users should download iTunes from the links below.

⚠️ Windows users! If you receive an error code (1100) "Your session has expired" please follow these instructions:

1. Close iTunes
2. Delete the "adi" folder in C:\ProgramData\Apple Computer\iTunes
3. Start iTunes

NOTE: You may need to show hidden files to see the ProgramData folder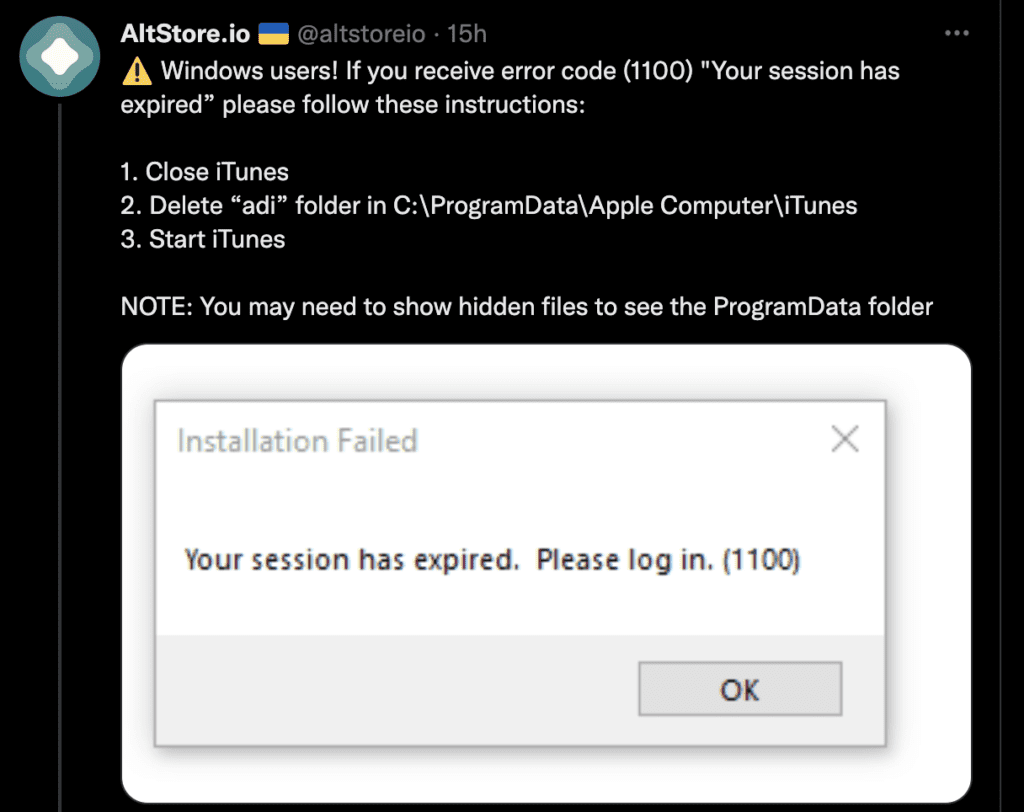 AltStore/ AltServer the latest update
AltStore 1.5 – compatible with iOS 15.6 beta 3 + macOS 12.5 beta 3.
AltStore 1.5 RC – compatible with iOS 15.5 beta 2 + macOS 12.4 beta 2.
v1.4.9(and 1.5b4) compatible with iOS 15.4.1 + macOS Monterey 12.3.1 – Updated.
v1.4.8(and 1.5b3) now compatible with iOS 15.4 beta 5 + macOS Monterey 12.3 beta 5.
v 1.4.8 compatible with iOS 15.4 beta 3 + macOS Monterey 12.3 beta 3
Due to @DynasticRepo shutting down, AltDaemon 1.0.1 is now available on @CharizTeam for all jailbroken devices running iOS 12.2 or later!
For the simplest migration, we recommend uninstalling AltDaemon 1.0 before installing 1.0.1.
To get AltDeamon 1.0 without PC, add the following repo to Cydia or Sileo Sources.
Go go to  - https://chariz.com/get/altdaemon
How to Install AltStore
AltStore required a Windows PC or MAC computer for the installation of the AltServer app. Now, AltStore/AltServer is available for both Mac and Windows OS.
Install AltStore windows
Step 01. Windows users should install the latest version of iTunes from the links below.
Step 02. Download the latest version of AltStore Here.
Step 03. Extract the downloaded AltStore Zip file > Double-click on Setup.exe > Follow-onscreen instructions
Step 04. If you haven't installed iCloud yet, or you'll get the following message during the AltStore installation, Simply click on "Download" to get iCloud.
(If you have done Step 01 carefully? This issue will be fixed Otherwise, follow the below instructions)
Open downloaded iCloudSetup.exe (Run As Administrator), restart your Pc/computer.
Make sure iCloud for Windows is open. If it doesn't open automatically, go to Start Menu & open Apps or Programs, and open iCloud for Windows.exe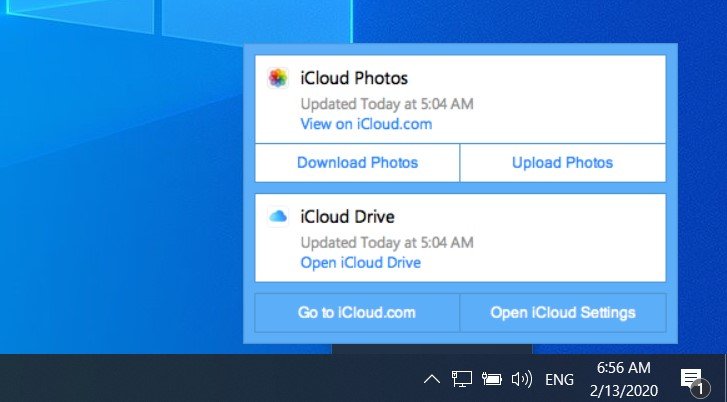 Step 05. Connect your iPhone/iPad to your PC and open the iTunes app and press on the device icon to view the Summary page.
Step 06. Scroll down and find the Options section, under that make sure to enable "Sync with this iPhone over Wi-Fi". Then press the done button.
Step 07. If you are running the AltStore on your Windows PC, there is no application icon on the desktop, However, you can find the AltStore application on the system tray of your Windows PC.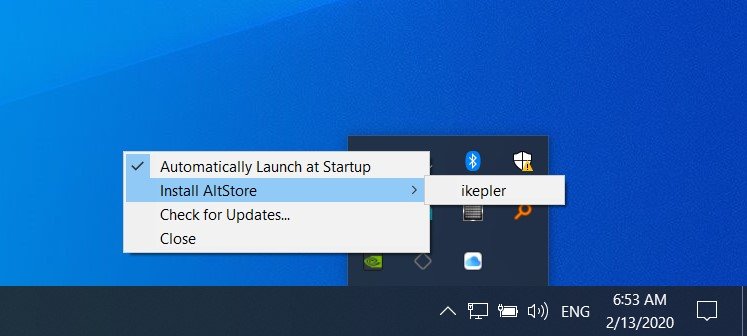 Step 09. Choose "Install AltStore" from the dropdown menu and click on your iPhone or iPad name. If your device is not listed yet here, please check your iPhone to PC connection.
Step 10. You'll be prompted to sign in with your Apple account details to proceed with the installation. Once you've entered the details, click on "Install".
Now you can see the AltStore app was installed on your device's Home Screen.
Step 11. After the complete installation, Go to iPhone Settings > General > Profiles (or Profiles & Device Management) > find a profile that is labeled with your Apple ID > Tap trust.
Step 12. Congratulations now you have successfully installed the AltStore to your device.
Note* AltStore is valid only for 7 days, you need to manually refresh the app data. Otherwise, you can have an apple paid developer certificate, but it will cost $99 per year. But the best option is to get an Apple developer certificate above $10 from the https://udidmaster.com website.
Install AltStore MAC
Step 01. Download AltStore's latest update DMG file Here
Step 02. Double-click on the altserver.zip file to unzip the archive > AltServer icon will appear near to zip file.
Step 03. Drag and drop the AltServer app into the MAC Application folder.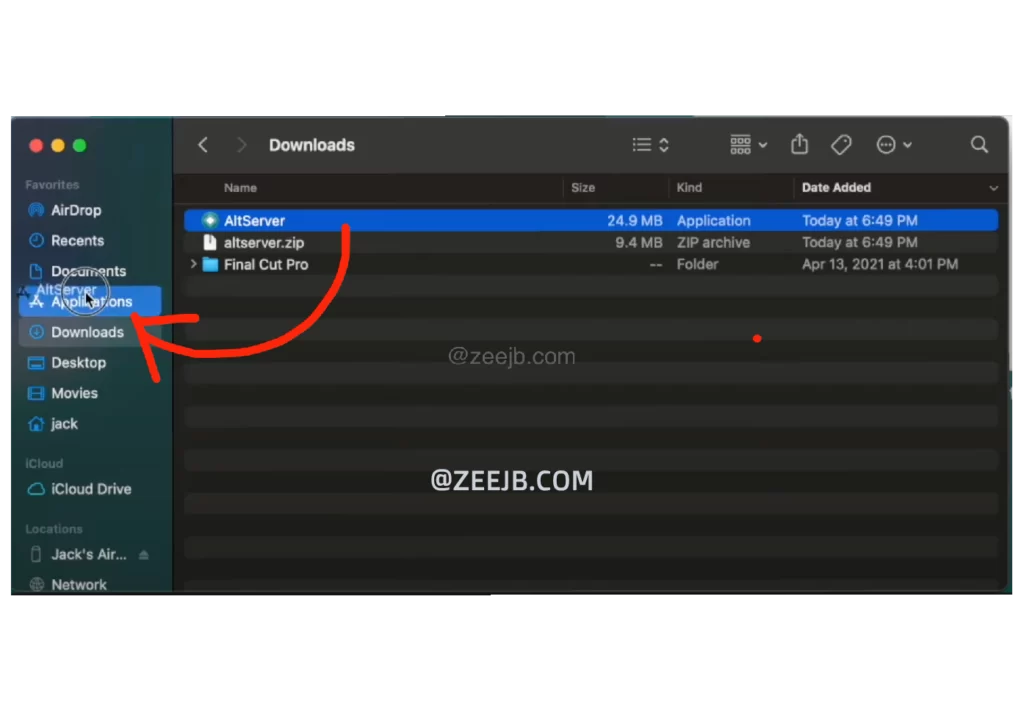 Step 04. Now go to the Application folder and double-click on AltServer, then it will pop up app downloaded confirmation > click on open.
Step 05. Now you can see AltStore on the menu bar(upper right corner)
Step 06. Click on the AltStore icon, then select Install Mail plugin in the AltStore menu bar > Type your Password, it will install the Mail plugin into your MAC.
Step 07. To Enable the Mail plugin, Open up the Mail app and go to preferences > general > Manage plugins > check the alt plugin. Mail bundle, then click on allow access and then click on apply and restart mail.
Step 08. Congratulation now you have installed the AltStore Successfully.
How To Get AltStore No Computer iOS 15.1- 15.6 Cydia/Sileo
You can Install AltStore to your Jailbroken iPhone/iPad. The important thing is once you restarted your device you can re-run the resigned application without revoking it, it mean you can re-use the resigned application without having a jailbreak.
By following the below steps, you can install Altstore to your iPhone/iPad without a PC.
Step 1: Open Sileo, Cydia, Zebra package manager then add the following repo.
Repo: https://cydia.ichitaso.com/
Step 2: Go to the Search tab on Sileo/Cydia, and search " AltStore " then navigate to Altstore 1.4.5 by Riley Testut – Install it.
Step 3: Now go back to your home screen, there has an AltStore app icon, Tap on that and launch the AltStore.
Step 4: Navigate to AltStro settings and enter your Apple ID and password to generate a free developer certificate. This certificate is valid with limited dates. To break the limits go to UDIDmaster web and purchase a certificate.
Step 5: After that now you can Sideload Any IPA files without revoke. Also, after restarting your device, you can use AltStore without any issue.
Step 6: Go to ipa.zeejb.com to find trusted IPA files.
How to use AltStore
AltStore & AltServer is now available to iOS 15 & iOS 15 beta 2. You can install any unofficial IPA files using AltStore without having a paid Apple developer account(Which has limitations).
Follow the below how-to-use guide to install IPA files without a PC.
How to sideload/install any IPA file using AltStore
Step 01. Download the IPA files from our IPA Library.
Step 02. For the first time, you open the AltStore on your iPhone, you need to Trust the Untrusted Developer account from the iPhone settings. Settings > General > Profile and Trust the Developer.
Step 03. After opening the tool navigate to the AltStore Settings section, Now you need to sign in with your Apple ID and Password. (In some cases, it will ask you to enter your Apple ID and Password when first-time installation)
Settings > Account > Sign In
Step 04. Then navigate to the Apps tab and press the "+" mark upper left corner. Now you can see the downloaded IPA files(Or navigate to the download section).
Step 05. After import, You can see Downloaded IPA apps on the AltStore My Apps section
Step 06. Now AltStore begins installing the app. It will take a few minutes to complete the installation.
Step 07. Go to the Home page of your iOS Device and open the App.
Popular IPA files for AltStore – supported AppStore
You can directly import the below-updated IPA files into AltStore and install IPAs without crashing issues. We have listed below IPA files according to popularity.
Jailbreak apps
Tweaked apps
How to refresh AltStore apps?
There are two ways to refresh apps, The most easiest and famous method is Refresh Apps without PC. Let's drive into the how-to guide.
Refresh Apps without PC
The new AltDeamon application will help you to refresh installed apps without a PC. You can install the ALtDeamon application by adding the following Cydia/Sileo repo.
https://repo.dynastic.co/
The main disadvantage of using this method is that you must have a Jailbroken iPhone / iPad. Because Cydia and Sileo app only works on Jailbroken devices.
After adding the above repo to your iDevice, you need to navigate the search tab on Cydia or Sileo app then search "The main disadvantage of using this method is that you must have a Jailbroken iPhone / iPad. Because Cydia and Sileo app only works on Jailbroken devices.".
After that, you need to install AltDaemon from Cydia/Sileo Store. Now you can refresh your apps without having a PC.
Also, you can refresh your apps as a background service. It means you don't need to manually refresh the apps again and again. it will refresh the apps automatically.
To set up background app refresh follow this guide.
Refresh Apps with PC
You must have AltStore installed on your computer to continue this process. Here is the How-to install guide.
Step 01: Connect your iPhone/iPad to your computer.
Step 02: Navigate to the AltStore icon and Check if your iPhone is detected by AltServer.
Step 03: Open AltStore from the device, and refresh the apps.
What is AltStore?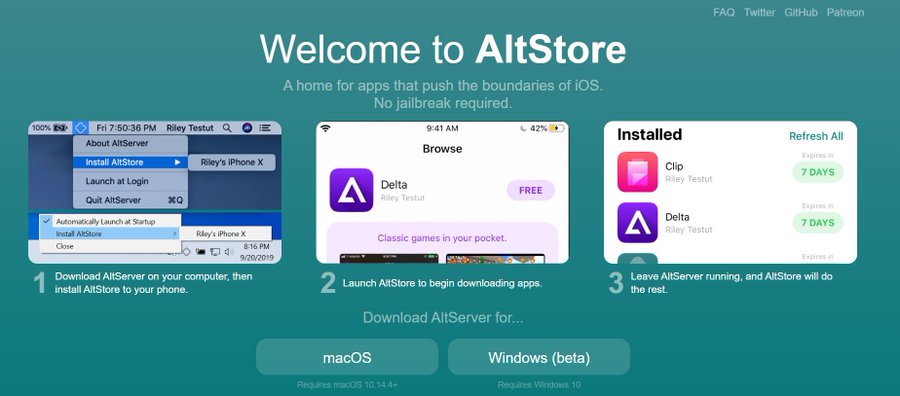 AltStore is a third-party application installer for iPhone/iPads. It is brought to you a completely different kind of app store using which you can install third-party apps without getting revoked & Without a PC.
This method is one of the best ways to get famous jailbreaks apps on your iDevice. (unc0ver, chimera, blizzard, odyssey, rootless).
Tip - You can directly import your favourite Apps, Games, And Tweaked apps from Zeejb's iPA Library
Visit - iPA Library Free
Latest update: AltServer 1.4.7 is now available.
Supports iOS 15.1, iOS 15.2 beta
Fixes widget not updating
Fixes "Refresh Apps" shortcut timing out
Fixes Mail plug-in on macOS Monterey
Note - If already on iOS 15.1, manually update AltStore by reinstalling with AltServer
| IPA Name | Version | Download Link |
| --- | --- | --- |
| unc0ver Jailbreak | v 8.0.2 | GET |
| Rootless Jailbreak | RC.2.0 | Get |
| Odyssey Jailbreak | v1.4.0 | Get |
| Chimera Jailbreak | v1.4.0 | Get |
| Blizzard Jailbreak | v0.0.1 | Soon… |
IPA files for AltStore
Download More IPA files from zeejb IPA Library
Altstore Supported Devices
iPhone 13, iPhone 13 Pro, iPhone 13 Pro Max
iPhone 12, iPhone 12 Pro, iPhone 12 Pro Max
iPhone 11, iPhone 11 Pro, iPhone 11 Pro Max
iPhoneX, iPhone XS Max, iPhone XR
iPhone8, iPhone 8 Plus
iPhone7, iPhone 7 Plus
iPhone6s, iPhone 6s Plus
iPhone 6, iPhone 6 Plus
iPhone SE
iPhone5s
iPad Mini (5th generation)
iPad-Air (2019, 3rd generation)
iPad mini 4, iPad mini 3, iPad mini 2
iPod touch 6G
2nd-gen 12.9-inch iPad Pro, 12.9-inch iPad Pro, 1st-gen 10.5-inch iPad Pro
9.7-inch iPad Pro
iPad Air 2, iPad Air
Compatible iOS versions
iOS 15, iOS 15.1, iOS 15.2, iOS 15.3, iOS 15.4.1, iOS 15.4 beta 4, iOS 15.5 beta 1, iOS 15.6 beta 3
iOS 14, iOS 14.1, iOS 14.2, iOS 14.3, iOS 14.4, iOS 14.5, iOS 14.6, iOS 14.7, iOS 14.8, iOS 14.8.1
iOS 13.5.5beta/ iOS 13.5 / iOS 13.4.1 / iOS 13.4
iOS 13.3.1 / iOS 13.3 / iOS 13.2.3 / iOS 13.2 / iOS 13.1.3 / iOS 13.1.2 / iOS 13.1.1 / iOS 13.1 / iOS 13
iOS 12.4.8 /iOS 12.4.1 / iOS 12.4 / iOS 12.2 / iOS 12.1.4 / iOS 12.1.3 / iOS 12.1.2 / iOS 12.1 / iOS 12.0.1 / iOS 12
iOS 11.4.1 / iOS 11.4 / iOS 11.3.1 / iOS 11.3 / iOS 11.2.6 / iOS 11.2.5 / iOS 11.2.2 / iOS 11.2.1 / iOS 11.2 / iOS 11.1.2 / iOS 11.1.1 / iOS 11.1 / iOS 11
How To Install AltStore on iOS Devices
iOS offers an environment in the Apple system that will show the third-party apps as the user-developed apps.
Also, we can use this as a Cydia impactor alternative – windows and mac PC. It is an excellent and easy method to install unc0ver jailbreak without being revoked. It is the only option to sign your applications.
uncover jailbreak for windows iOS 13- iOS 14.8- A12, A13 Device jailbreak Video tutorial
Please Share this article
AltStore Top Alternatives
#1 – Esign Patch
Esign Patch is an iOS application that allows users to sideload IPA files with apple certificates. You can install 1000+ apps without any limitations.
Also, the Zee Ipa library is now fully compatible with Esign Patch.
iOS 13.3.1 / 13.3 / 13.0 New version Released!
AltStoreio officially tweet about their upcoming update-
This update addresses some sideloading changes introduced in iOS 13.3.1. And also significant performance improvements when refreshing apps.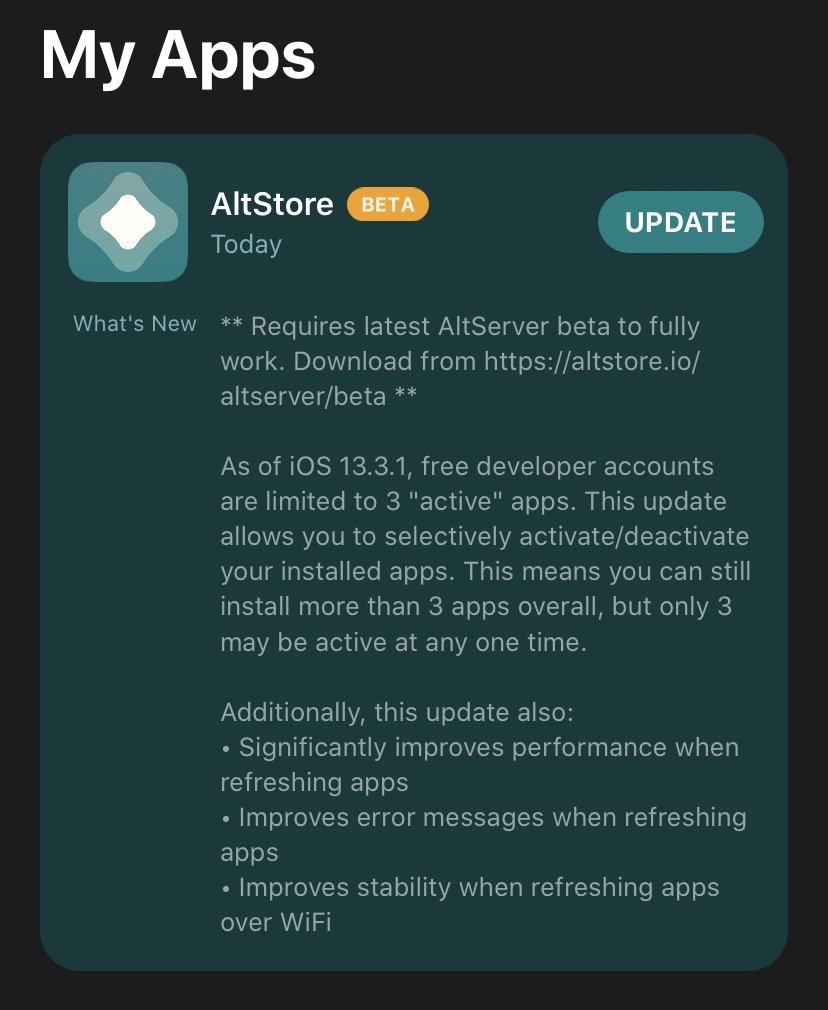 Are you still using the old version? Now is the right time to update it.
The new update of AltSore significantly improves performance when refreshing apps and improves stability when refreshing apps over wifi.
v 1.4.8 (& 1.5b3) + AltJIT will fully supports for iOS 15.4 beta!
AltServer 1.4.8 For mac os is now available
Fixes Mail plug-in on macOS Monterey 12.1
v1.4.8 Released
v1.4.8, support for iOS 15.2 beta & unc0ver + Fugu14 untether.
Update via the "My Apps tab", sideload unc0ver, and it will guide you through the complete untether process.
Get unc0ver Online – A12 / A13
Unc0ver is compatible with all the iOS versions between iOS 11 to iOS 14.3. Use the below link to install all-new versions of Uncover jailbreak for iOS 14.3, online installation.
Unc0ver jailbreak for iOS 13.5
The unc0ver team released their new unc0ver version 5.3.1 v for every iOS version up to iOS 13.5.5 beta for all devices including A12/A13 using 0day kernel vulnerability.
How to download iOS 13.5 jailbreak? >>>
Unc0ver JAILBREAK (A12 / A13): Unc0ver Beta Preview (13.3)
More information about the uncover jailbreak iOS 13.3, iOS 13.2.
iOS 13.3 which is no longer signed, uncover jailbreak leading developer @Pwn20wnd posted a quote.

"You should install @altstoreio in order to prepare for the release of the #unc0ver jailbreak for A12-A13! "
This is according to @Pwn20wnd the official method of getting the uncover jailbreak beta for iOS 13.3. So Cydia Impactor is down, and other methods are not reliable, and he will run this method.
This new version of the Unc0ver Jailbreak Beta comes as an IPA file, unlike the Chekra1n Jailbreak that requires our device to be connected to a computer at all times to Jailbreak our devices.
How to fix the Unc0ver jailbreak crash issue
Some newer devices are currently incompatible with tweaked apps and unc0ver jailbreak v4.0.0 Online installation. Therefore, some users cannot properly jailbreak their devices.
If you have an unc0ver jailbreak installation crash error, please watch this tutorial and find out the best solution.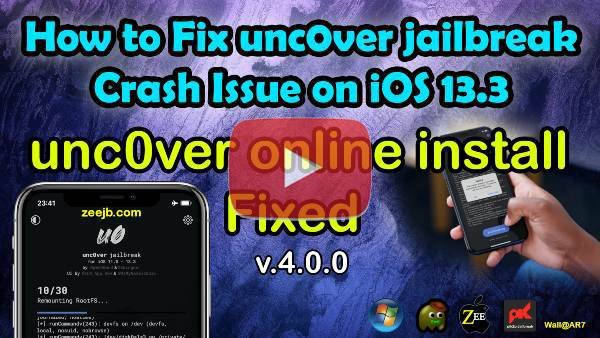 Video link – unc0ver jailbreak app crash fix
AltStore AltServer Old versions:
v1.5b2 + AltServer 1.5b8 on 13-Oct-21
Supports iOS 15.1 beta
Fixes widget not updating
Fixes "Refresh All Apps" shortcut timing out
Fixes Mail plug-in on macOS Monterey beta 9
AltStore 1.5b + AltServer 1.5b7 on 17-Sep-21
AltStore 1.5b + AltServer 1.5b7 – AltJIT Improvements
Adds "Enable JIT" option
Supports apps using AltKit
Fixes Mail plug-in on macOS Monterey
Note: What is AltStore JIT means? – JIT is a "Just in Time" emulation. Used for things like DolphiniOS, an emulator for GameCube and Wii, and UTM, a virtual machine emulator. by @Dankymk_
it's more like compilation, it's recompiling code from a different platform into another, almost like translation – by @Rullinoiz
AltStore Pros & Cons
Need PC to install
7 days app revoke possibility.
Sideloading limitations.
cant change the IPA app image.
Auto-refresh needs jailbreak.
Need some development knowledge.
Need to enter your Apple ID & Password.
Take some time to sign applications.
Can't share signed IPA files.
After a crash needs pc to reinstall altstore.
Troubleshooting Guide
[Help – Reddit]
How can I reinstall AltStore and any applications I downloaded from it after the 7-day period has expired?
How to Fix: You do not need to reinstall everything. Simply connect to the same wifi network as the PC that is running altstore, launch the app on your phone, and press refresh all. Alternatively, in the app, go to settings and enable background refresh, which will keep it up to date automatically.
Are looking for 7 days revoke solution – Get AppDB-Pro for free.
FAQ
How to get Unc0ver online?
you can get unc0ver online from U04S Store. it allows you ro get Unc0ver online and dowalod the most popular iOS hacked apps.Get now>>>
can I get Unc0ver from Altstore?
yes you can get Unc0ver from altsore.but you must use a mac or linux computer.
Can we use This to Sign the Twitter++ Application?
Yes, you can use this tool to sign any IPA file without an Apple Developer Certificate. (Has some Limitations)
Is AltStore legal?
Yes, this tool is completely safe. It stores no personal information and only requires your Apple ID and passcode to "sign" the app/jailbreak tool. The ONLY time it becomes unsafe is if you don't research what you are doing. I have personally been using it for a while.
What is the newest version of AltStore?
The latest version of the tool is, dubbed version 1.4. 8, is now available to all users with official support for the updated unc0ver jailbreak.
Can you install this tool on iOS 15.4 beta 4?
Yes with the new update you can install it.
Do you have to pay for this?
No, it is a free application, you dont need to pay
The application is not opening after reboot?
Sometimes this tool will crash after rebooting your device, you may need to remove the existing AltStore application and reinstall it using a computer to resolve this issue.
update Error?
Try to download latest version and reinstall altserver form PC.
Can we installed AltStore from Cydia
Yes, if you are a Jailbroken user, you can install AltStore without PC, To do that follow our AltStore without PC guide. Checkout our AltStore without PC Guide.
How to fix AltStore could not connect to the device
Check your cable, and try to un install and install latest version of AltStore to your PC.
Altstore alternatives for mac?
You can use Sideloadly and Cydia Impactor as alternatives to the AltStore.
Best Altstore Apps / App Store
To import best apps to AltStore & Alt Server you can use our Zeejb IPA Library, AppDB Pro.
Can we use AltStore to multiple device?
Yes, you can install AltStore on different devices, the best practice is to use a separate Apple id for each device.
AltStore vs 3uTools
You can use 3uTools as an AltStore option, but we recommend installing the sideloadly tool.
Altstore installed but won't open
Make sure you trust the personal certificate of your Apple ID on the iPhone settings. To fix you go to iPhone Settings> General> Profile and Device Management> Tap on your iCloud Email Profile> Trust it. Or you can try reinstalling the AltStore.
Can we install AltStore on Apple TV?
Yes, you can install AltStore on apple tv with a MAC, windows support soon…
how to get selio?
you can get selio from oddy store.oddy store allows you to download turine jailbreak tool online.
TV TV