(Last Updated On: 14th December 2022)
Complete hands-on review of Icon Theming Engine for iOS 15: BlizzardBoard including its installation process, pricing, features, etc.
After jailbreaking an iPhone, every user downloads a custom icon theme. However, we know that there is no full jailbreak for iOS 15 to iOS 16.2.
To install custom iOS themes, you need to jailbreak your iPhone/iPad.
But how do we do it?
Just be calm! There will be no more worries in the future!! Install BlizzardBoard on your iPhone/iPad. It will solve all your iPhone customization problems.
In the early stage, Theaming is not possible for iPhone users in iOS 15. Fortunately, BenjaminHornbeck6 has figured out a method to replace icons on your Home Screen with those that are compatible with SnowBoard's themes for iOS.
Table of Contents
BlizzBordZ Repo v14.10.0
=>> Bug fix build
=>> Windows OS support
=>> iOS 16.1.2 Supported
=>> Added DarkPerl Theme
==> Added Jimmy Dial - Color Theme for dialpad
==> Muze4 Theme

BlizzardBoardz Repo theming engine released: This is a newly introduced online method to install BlizzardBoardz. The BlizzardBoardz Repo Patcher process is very easy. It is a web-based application that you can change iPhone/iPad Homescreen icons virtually.
BlizzardBoardz Repo Patcher Now compatible with iOS 16 - iOS 16.2 beta
Read More: BlizzarBoardz Repo Engine

Latest Update: v1.1
=>> Bug fix version
Download / Install

BlizzardBoard: iOS 15 -15.7 Icon Theming App Review:
Price: Free
BlizzardBoard is a new app for jailbroken and Non-jailbroken iPhones that can be installed from TrollStore and used to change the look of the app icons on the Home Screen.
This app can replace your iPhone/iPad Homescreen icons with SnowBoard-compatible iOS themes. That means you can install Cydia/Sileo/Zebra themes without jailbreaking your iPhone/iPad.
Suggested reading =>> Best iOS 15.1 – iOS 16 Palera1n Alternative
=>> How to jailbreak iOS 16.1?
=>> Install AppStore++ on iOS 15 – iOS 15.7.1
=>> Palera1n Jailbreak Released for iOS 15 – iOS 15.7
Let's go deep into the tool and explore its features, advantages, and disadvantages!!
BlizzardBoard Compatibility- iOS/iPadOS versions:
Supported iOS versions:
iOS 15.4.1, iOS 15.4,
iOS 15.3.1, iOS 15.3,
iOS 15.2.1, iOS 15.2,
iOS 15.1.1, iOS 15.1,
iOS 15.0.2, iOS 15.0.1, iOS 15,
iOS 14.8.1, iOS 14.8,
iOS 14.7.1, iOS 14.7,
iOS 14.6, iOS 14.5.1, iOS 14.5,
iOS 14.4.2, iOS 14.4.1, iOS 14.4,
iOS 14.3, iOS 14.2.1, iOS 14.2,
iOS 14.1, iOS 14.0.1, iOS 14
Unsupported iOS versions:
With the most recent update for BlizzBordz, version 14.9.0, users of iOS 16 can now access the Icon Repo Engine on iPhone 14 Pro Max and below devices.
BlizzardBoard Compatible iPhone/iPad Models:
Supported iPhone Models:
iPhone 11
iPhone 11 Pro & 11 Pro Max
iPhone SE (2nd generation)
iPhone 12 & 12 Mini
iPhone 12 Pro & 12 Pro Max
iPhone 6S & 6S Plus
iPhone SE (1st generation)
iPhone 7 & 7 Plus
iPhone 8 & 8 Plus
iPhone X
iPhone XS & XS Max
iPhone XR
Supported iPad Models:
iPod Touch (7th generation)
Download the BlizzardBoard Icon Theme Engine
BlizBoard Repo Engine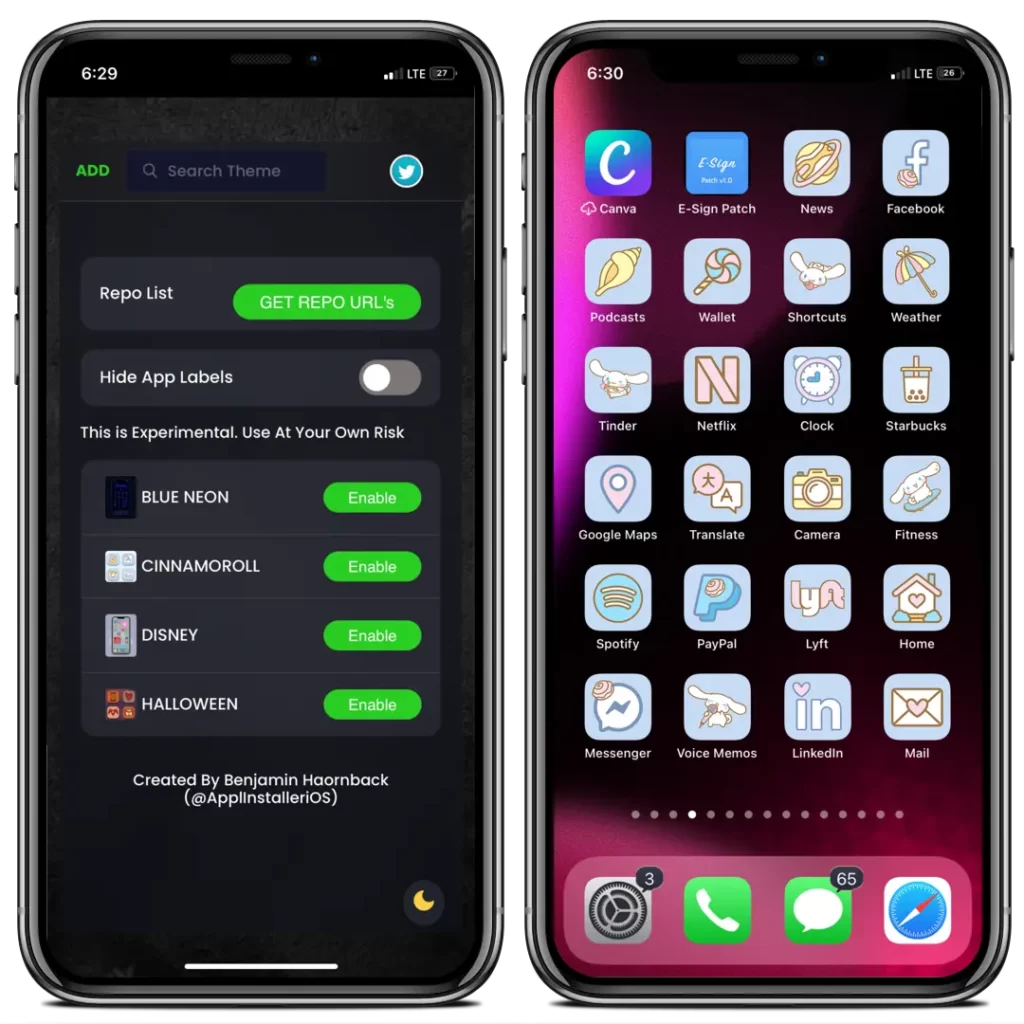 BlizzardBoard Repo Engine is the most popular and simplest option to install the BlizzardBoard icon engine in your iPhone/iPad running iOS 15 – iOS 15.7, including Apple's most recent iOS 16 beta 2 and higher.
BlizzBordz Repo Engine includes 100+ HD icon sets that are compatible with iOS 16 and higher. This utility is the greatest alternative option to the default IPA signature mechanism used by BlizzardBoard.
You can use the below download link to get BlizzardBoard IPA, .deb, and Source codes.
Install BlizzardBoard App
There are different ways to install BlizzardBoard. Before proceeding, ensure that your device is compatible with the tool.
Step 01: Download and install TrollStore Permanent App Installer.
Step 02: Download the BlizzardBoard IPA file and open it through TrollStore
Step 03: TrollStore will automatically install it for you.
Further reading =>> iOS 16 Jailbreak Released?
How to install a Theme?
Step 01: Download Compatible theme – Compatible theme list
Step 02: Extract the zip file(Tap on the downloaded theme zip file)
Step 03: Open extracted Zip folder through the BlizzardBoard app. (Tap and hold the folder to share with BlizzardBoard)
Step 04: It will add the theme file to the BlizzBoard theme list, then simply tap the "Enable" button then click "Respring"
Step 05: Go back home and you can see the changes.
Important Facts To Know About BlizzardBoard.
Some Cool facts about the BlizzardBoard++ icon theme engine are listed below for your reference.
Compatible With many iPhone & iOS Models: It supports a wide range of iOS versions and iPhone models(TrollStore compatible devices).
No 7 days app resign.
Mac & Linux support
Best #3 Ways to Install BlizzardBoard App
In the next part, we'll talk about the different ways you can install the BlizzardBoard app.
#01) Sideloadly
Sideloadly is a great alternative to Cydia Impactor. With this program, you'll be able to sign and resign IPA files using your Windows or Mac computer.
Step #01: Download & Install Sideloadly Tool to your PC/MAC.
Step #02: Configure Sideloadly with your iCloud Details, then connect your iPhone/iPad in to the PC.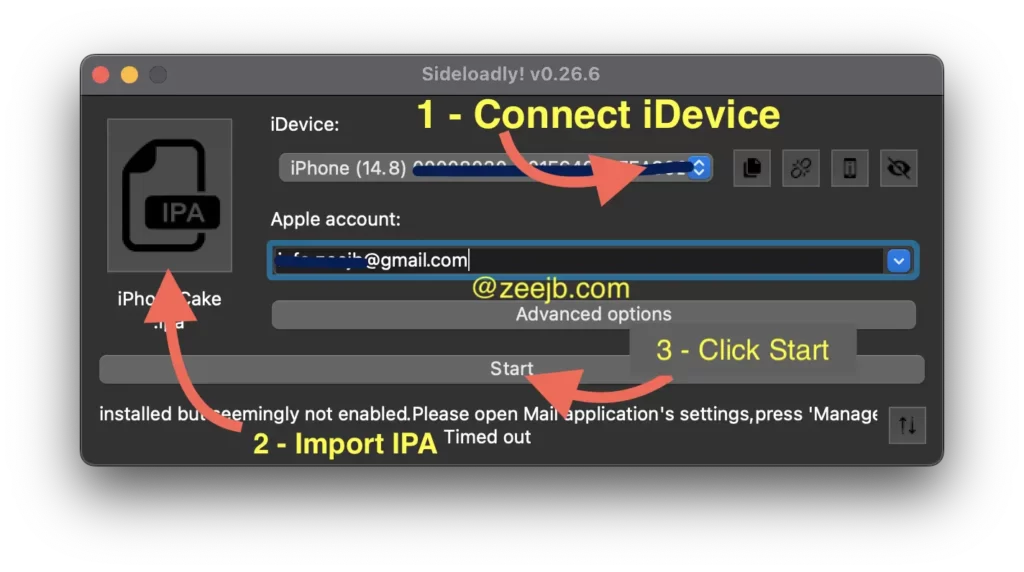 Step #03: Import the Blizzard BD IPA file then Start Signing the app. Also You can download the Latest IPA files using the below button.
Step #04: Once installation is done, navigate your iPhone App Library (To find it, simply swipe all the way to the very last, rightmost page of your iPhone's home screen)
Step #05: Search the app name which you have installed.
Recommended reading =>> iOS 16 Jailbreak
#02) Install Kekuk Store
If you use Kekuk iOS Store to install BlizzardBd IPA file, you don't need a computer.
Step 01: Visit the Kekuk iOS Store by clicking on the link below.
https://kekuk.com/app
Step 02: Navigate to the "tweaks" tab then you can find Blizzard Board App.
Step 03: Tap on the "Get" button.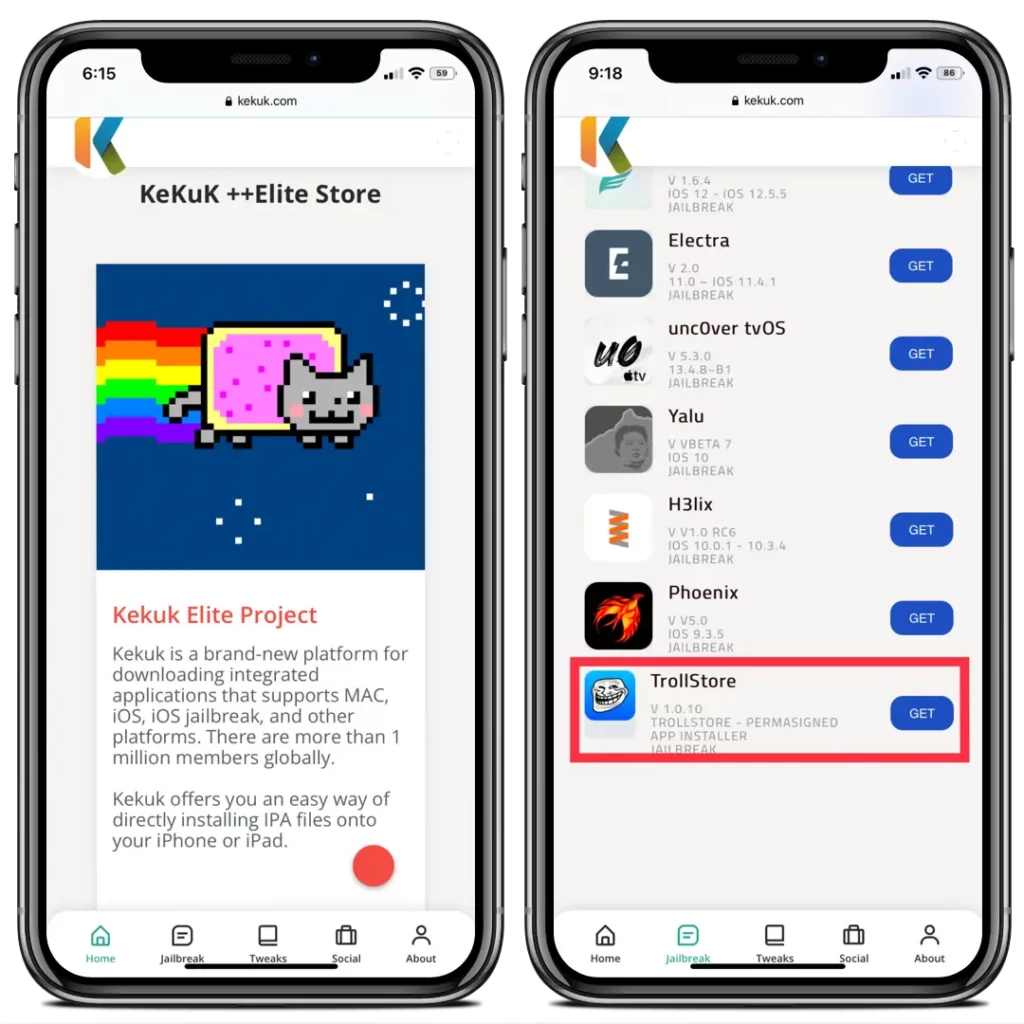 Step 04: Now that the installation dialog has shown, click the button that says "Install" to continue.
Step 05: Return to the home screen to confirm that the app has been installed properly.
#03) How to install BBoard App on iOS 14 – Filza
IF the Filza file manager is compatible with your device, then you will be able to install Blizzard Board app with Filza or Plank Filza.
Recommended reading =>> How to install Filza iOS File Manager?
Recommended reading =>> iOS 14 Jailbreak
Step #1 – Download and install Filza File Manager
Step #2 – Download The IPA file
Step #3 – Download and install the IPA file using Filza
Step #4 – You may either respring your iPhone or run the uicache command.
Step #5 – Launch the Installed application by tapping it from the Home Screen.
How to get BlizzardBoard online?
BlizzardBoard app is now available to online installation, Also, you may install BlizzardBoard alternative applications that may perform on iOS 15 – iOS 15.7
Cripzi jailbreak
Cripzi is the world's best jailbreak alternative app. with the Cripzi Repo signer you can get BlizzardBoard Online IPA file, also you can get amazing tweaks, repos, hacked games, and 1000+ Jailbreak apps, etc. now you can download an online t-store from the cripzi application.
Step 1 – Go to the Cripzi jailbreak page and install the Cripzi jailbreak. (please use the below button)
Step 2 – Go to the device setting and trust the profile.
Step 3 – Open the cripzi app and tap the app icon you want. (Please note – if the free certificate is revoked, you cannot download apps successfully, please get the cripzi pro application)
Step 4 -go to device setting>general>profile management and trust the profile.
Step 5 – Enjoy the application.
BlizzardBoard Compatible Theme List:
| Name | Compatible | Repo |
| --- | --- | --- |
| 6GOD | Fully Compatible ✔️ | Download |
| Berry – Icons & Settings | Partially Compatible ⚠ | Download |
| Elite 8.theme | Fully Compatible ✔️ | Download |
| Fine.theme | Fully Compatible ✔️ | Download |
| Marque iOS 13 icons | Partially Compatible ⚠ | Download |
| Mobile Sur.theme | Fully Compatible ✔️ | Download |
| StockOS | Fully Compatible ✔️ | Download |
Muze 4 BlizBoard theme
A popular iOS theme is back, brighter, bolder, and better than ever. Muze is a modern icon theme that completely changes your iOS experience. Muze removes the detail with a wide range of lovely colors and gradients, offering you with a design you'll quickly fall in love with.
Developer: purdixx
Version: 1.04
Price: Free
This theme includes over 700 icons, including 300+ updated original icons, 400+ new icons and alts, and settings tab icons.
Conclusion:
Our experiences with using this tool have been quite beneficial. This utility includes features, speed, and performance that are all worth appreciating. When compared to other iOS 15 Jailbreak apps that are equivalent, this one is by far the best solution.
Overall, we would rate it as 4.9/5. It's a worth-trying tool!
Old Versions:
Initial Release: v 1.1
Changes:
=>> Bug-fixed version
=>> Fixed possible boot loop issues.
=>> Added error messages to installed themes.
=>> Fixed sharing bug where nothing happens.
BlizzardBoard Theme Engine Achievements:
"I updated BlizzBoard unstable IPA to support most themes and it has a better ui, do know this is unstable it works for most people but others prefer not to risk getting bootlooped"