(Last Updated On: 30th August 2023)
Just released FilzaEscaped15 to the public. Here is how to easily download FilzaEscaped 15 to your device, compatible devices, iOS versions, and all the things you need to know.
Bas vT, the developer behind FilzaEscaped, has just tweeted that he released FilzaEscaped 15 to the world. Filza Escaped 15 is a jailbreak file manager with root access. This allows you to edit iPhone / iPad system files, install tweaks, and modify your device.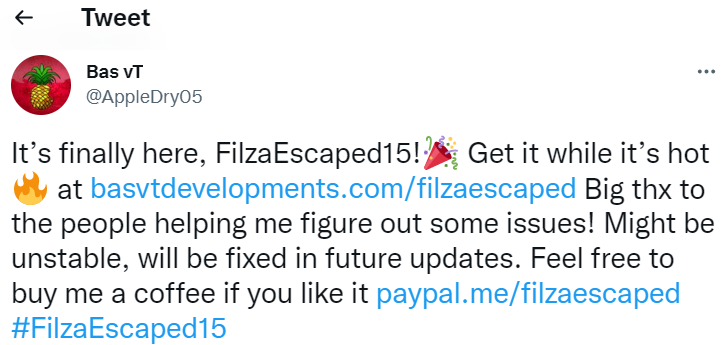 FilzaEscaped 15 compatible iOS versions
Earlier it was compatible with iOS 11 to 14.3. Now it is compatible with iOS 15.0 – 15.1.1.
Supported iOS versions – iOS 15, iOS 15.0.1, iOS 15.0.2, iOS 15.1, iOS 15.1.1
Supported Devices – Filza.
iPhone 14, iPhone 143 Pro, iPhone 14 Pro Max, iPhone 14 Mini
iPhone 13, iPhone 13 Pro, iPhone 13 Pro Max, iPhone 13 Mini
iPhone 12, iPhone 12 Pro, iPhone 12 Pro Max, iPhone 12 Mini
iPhone 11, iPhone 11 Pro, iPhone 11 Pro Max
iPhone X, iPhone XS, XS Max, and iPhone XR
iPad Mini (2019)
iPad Air (2019)
iPhone 8, iPhone 8 Plus
iPhone 7, iPhone 7 Plus
iPhone 6, iPhone 6 Plus, iPhone 6s, iPhone 6s Plus
iPhone SE
iPad Mini (5th generation), iPad Air 1, iPad Air (2019, 3rd generation)
FilzaEscaped 15 – zeejb status
We tested the new FilzaEscaped 15 with iOS 15, iOS 15.1, and iOS 15.1.1 running devices. but It is kind of buggy, but it is possible to use it. We hope the developer will resolve all issues as soon as possible.
Based on a tweet from the developer, we can expect Filza for iOS 16 – iOS 16.5 to be released in the future. Furthermore, our research suggests that Filza can be installed ( iOS 16) using the KFD Jailbreak exploit, albeit with limited features.
How to install Filza IPA on iPhone/iPad? (FilzaEscaped 15)
Filza for iOS 15 – iOS 15.1 is released now. so now you can get the Filza file manager latest IPA file from the following button.
How to get Filza for your iPhone/ iPad?
Here we have listed 4 installation methods, you can install filza on your device with a computer and you can try the online methods.
E-sign Method – No need computer
Sideloadly Method – Need Computer
Cripzi Repo Signer – Without a Computer
AltStore Method – Need Computer
E-sign Method – Online
#Step 1: Download Filza iPA file from – Here
#Step 2: Get E-Sign Patch & Install it
#Step 3: Open E-sign and import Filza iPA
#Step 4: Sign With Certificate
#Step5: Now Filza will appear on your home screen.
Sideloadly Method for Windows computer – FilzaEscaped 15
Sideloadly is a new windows tool that allows users to sideload IPA files on an iOS device with a free developer certificate.
Step1 Download Sideloadly to your Windows PC and install it – Follow the Sideloadly installation Guide
Step2: Download Filza Latest iPA file from Zeejb's iPA Library
Step3: Open the Sideloadly app and connect your iPhone/iPad then configure the account settings(If you do not know how to do it, please follow the Sideloadly Installation Guide)
Step5: Drag & Drop Filza iPA file into Sideloadly or Choose the iPA file. Then press Start Button
Step6: Filza will appear on your home screen
Step7: Go to settings > General > Profiles & Device Management > Developer App( Your Apple Account ) > Trust Application.
Go to Home Screen Then Open Filza.
Altstore installation
Download AltStore. Use the link for your operating system.
Unzip and move AltStore to your Applications folder.
Launch the AltStore application.
Click on the AltStore icon in the Menu Bar, and then click on the Install Mail Plug-in option.
Open the Mail app, and click on Mail → Preferences in the menu bar.
Open the General tab in mail preferences, click Manage Plug-ins, check AltPlugin, and apply and restart Mail.
Connect your iOS device via USB.
Click AltStore in the menu bar, then go to Install AltStore → (Your iOS Device)
Log in with your Apple ID when prompted and click install.
On your iOS device, open Settings → General → Device Management and tap on your Apple ID.
Trust AltStore.
Tap the "Open in AltStore" button located.
AltStore will now install the app. Wait until it finishes.
Please note- we tested the new FilzaEscaped 15 with iOS 15, iOS 15.1, and iOS 15.1.1 running devices. but It is kind of buggy, but it is possible to use it. We hope the developer will resolve all issues as soon as possible.
Developer Bas vt tweeted that he would fix all the issues as soon as possible.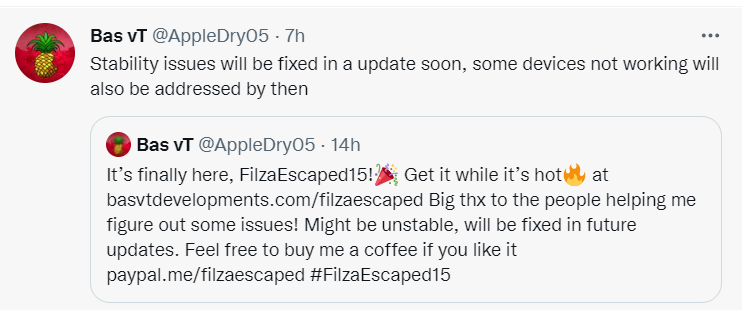 How to download FilzaEscaped 15? – The video guide coming soon.
Features of FilzaEscaped
FilzaEscaped is extremely useful because it allows you to remove any unwanted file from your device regardless of format.
Some obsolete files, ad files, junk files, and caches may remain on the device and can be easily removed with FilzaEscaped.
This application can read and modify system files directly.
You can open and edit any application file. This way, you can download any app on iOS without risk of system damage.
Fliza 15 updates
couple of hours ago bass vt who has been historically developing the FilzaEscaped for ios 14, iOS 13, and so on has posted this quote back at it again and released it very soon with a picture of Filza that is basically running on their device.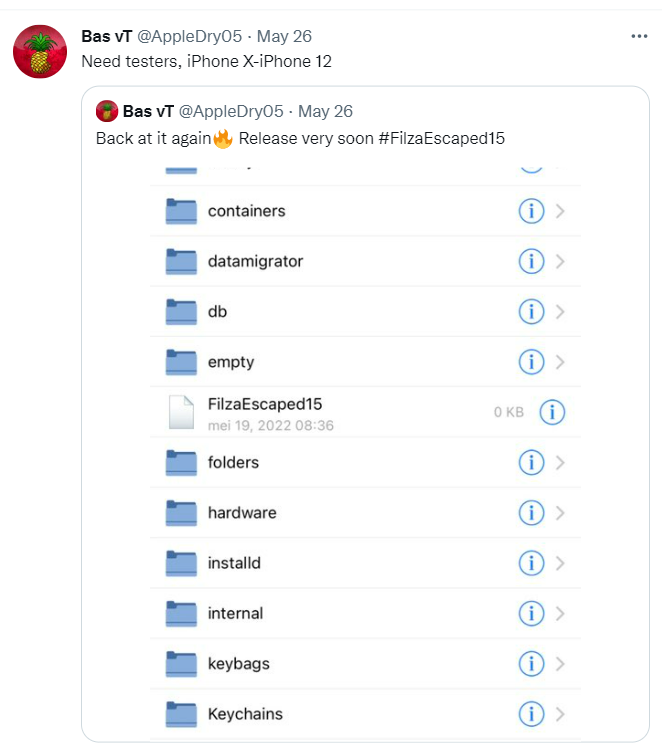 Why do you need FilzaEscaped?
After you have completed the jailbreak process, you can personalize your smartphone using the Cydia app manager or the Sileo app manager. There is not yet a jailbreak available for iOS 15 or higher versions that is either semi-untethered or semi-tethered. Therefore, if you have iOS 15 or a higher version, FilzaEscaped15 is an excellent option for you to customize your iPhone or iPad without having to resort to jailbreaking it.
iOS 16 – FilzaEscaped 16
FilzaEscaped is not yet compatible with iOS 16.
iOS 15 jailbreak tools and solutions
The most famous jailbreak solutions are
jailbreak tools
According to user rankings, the most popular 2022 Jailbreak solutions are the Pikzo jailbreak and E-sign patch (jailbreak installer) applications.
you may also like :
https://zeejb.com/filza-download/
Unc0ver jailbreak online installation