(Last Updated On: 26th September 2021)
Here is everything about the Manticore jailbreak online and PC methods installation guide, device compatibility, manticore jailbreak version compatibility, released date, iOS 14.5, iOS 14.4, iOS 14.3, iOS 14.2, iOS 14.1, iOS 14 all jailbreak updates, and Manticore installation guide.
The jailbreak community is in turmoil these days. This is because there may be a Jailbreak Tools release in the near future. Hackers and developers of JB discovered many exploits in iOS 14-14.3.
There is a good chance that a new jailbreak will come using them. The Manticore Jailbreak Project is one of them. This project is currently playing an important and prominent role in the Jailbreak community.
How to install Manticore Jailbreak for iOS 14 to iOS 14.3?
Manticore Jailbreak Tool is an online jailbreak tool for all iPhones and iPads that run on iOS 14.3 to iOS 14. Currently, this tool is under development.
So you still can't use this tool. Once released to the public, you can get the IPA and online Jailbreak link from the button below.
Install Manticore iPA file
(An IPA file has not yet been released.)
IPA file Coming soon
Install Manticore online
(You can not install online yet)
Manticore online coming soon
(Subscribe to our YouTube Chanel to get instant updates of Manticore jailbreaks and all iOS 14 to iOS 14.4 JB updates.)
https://twitter.com/ZeeJailbreak
https://www.youtube.com/channel/UCDGq-3Si4KutDePn0YYabKg
Manticore jailbreak online- (without PC guide)
After releasing the IPA file, you can use the following methods to get Manticore online.
Step#1- Download Manticore IPA file (coming soon)
Step#2- Get E-Sign Patch & Install it
Step#3- Open E-sign and import Manticore IPA
Step#4- Sign With a free or premium certificate.
Step#5- Now manticore will appear on your home screen.
Manticore jailbreak with the computer guide.
After the IPA file is released to the public, you can use this Sideloadly method with Mac or Windows PC. (Sideloadly application allows you to install IPA files to your device with a free certificate.)
Read More About Sideloadly – windows Tool>>>
Step1– Install Sideloadly to your Windows PC and install it – Follow Sideloadly installation Guide
Step2- Download The Latest manticore iPA file.
Step3- Open the Sideloadly and connect your iPhone/iPad then configure the account settings(If you do not know how to do it, please follow the Sideloadly Installation Guide)
Step4– Drag & Drop iPA file into Sideloadly or Choose the iPA file.
Step5- Tap the Start button. Allow few mins. to complete the process.
Step6- Manticore app will appear on your home screen.
Step7- Go to your setting > General > Profile management> Install > Trust the profile.
Step8- Go Home Screen Then Open Manticore.
Enjoy the jailbreak
Supported iOS Versions
iOS 14 / iOS 14.1 / iOS 14.2 / iOS 14.3
Note – Not supported yet for iOS 14.4, iOS 14.5, iOS 14.5 beta 1
Supported Devices
iPhone 12, iPhone 12 Pro, iPhone 12 Pro Max, iPhone 12 Mini
iPhone11, iPhone 11 Pro, iPhone 11 Pro Max
iPhone X, iPhone XS, XS Max, and iPhone XR
iPad Mini (2019)
iPad Air (2019)
iPhone 8, iPhone 8 Plus
iPhone7, iPhone 7 Plus
iPhone 6, iPhone 6 Plus, iPhone 6s, iPhone 6s Plus
iPhoneSE
iPad Mini (5th generation), iPad Air 1, iPad Air (2019, 3rd generation)
Supported for all iPhone/iPad devices models.
What is Manticore jailbreak?
Manticore is a new jailbreak tool that will be released to jailbreak the devices running iOS 14, iOS 14.2, and iOS 14.3, and to install a package manager for user devices.
Hopefully, it may be Cydia or Selio package manager there. But the Manticore development team has not yet decided about the package manager.
This jailbreak tool is based on the new cicuta_virosa kernel exploits (discovered by security developer Modern Pawner.) The main developers of these jailbreak tools are dev. Cpwn and dev. rpwnage.
Manticore official Twitter account – https://twitter.com/ManticoreCode
Dev.Cpwn- https://twitter.com/PwnedC99
Dev. https://twitter.com/RPwnage
This development is still under development and does not have a specific release date. But we hope the Manticore team will release their tool soon.
How to install Cydia, Selio, Zebra from Manticore.
Jb Updates:
The Manticore team announces that Manticore has finally been open-sourced to connect better with the community and be more transparent. Here is the look of the Manticore Jailbreak tool after installing the app.
Top of the jailbreak tool, they mention the support of iOS version. It will support for iOS 14 to iOS 14.3. But they didn't mention the iOS 14.4 and higher versions.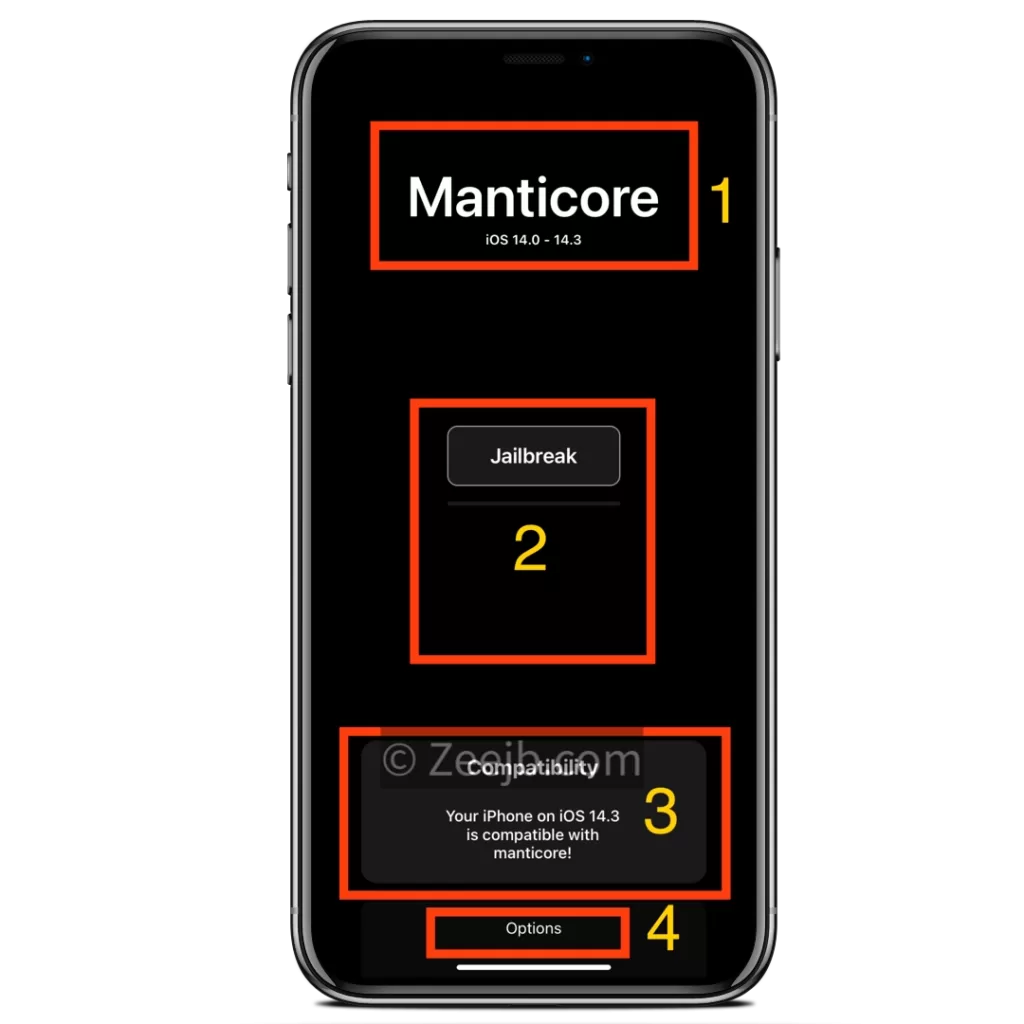 cicuta exploit is support for iOS versions up to iOS 14.3. Because of that, this development cannot be added support for higher iOS versions using this exploit. However, last few week hackers and developers are discovered new exploits that can be used for to jailbreak iOS 14.4 to higher versions. So we can hopefully think that manticore jailbreak tool will be added support for iOS 14.4 to higher versions.
@rpwnage developer, in Manticore Team, tweeted his approach to achieving a WebKit/Safari-based jailbreak for iOS 14.
Note – This does not jailbreak your phone in its current state.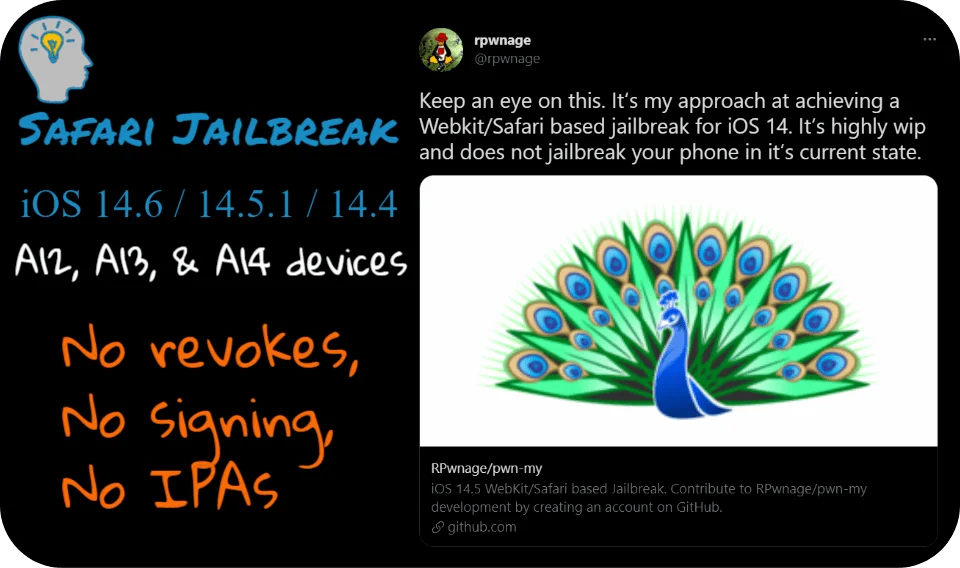 The Manticore team tweeted that they are still working on their development. (2021.03.13)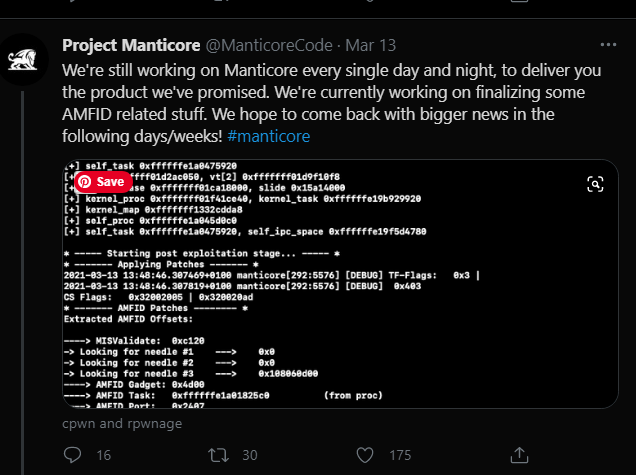 Developer rpwnage tweeted that they are still in the Manticore project updates.
The ManticoreCode team tweeted about their progress.
The Manticore team tweets about the upcoming Jailbreak tool and the UI of the tool.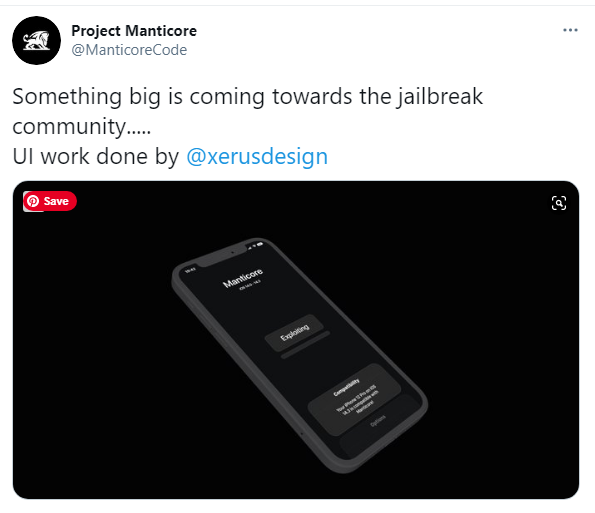 RPwnage – "Let's hope for something big in the future."
FAQ
ETA?
They still can't estimate the arrival time of the closed beta, but it is still going to be released 1-2 weeks before the general beta.
What are the iOS versions/devices supported by Manticore?
They currently added support all iOS versions from iOS 14.0 to 14.3 as well as all devices including A14.
Which package manager does Manticore use?
Selectable package managers including Sileo, Cydia, Installer, and Zebra.
What are the design / included security features?
They are planning on including dynamic jailbreak detection, to detect, disable/enable previous jailbreak installations on the device.
Follow us on:
You may also like:
Quick links-