(Last Updated On: 1st November 2021)
Here is everything you need to know about the Rootless jailbreak online and with PC methods and rootless jailbreak for the new iOS 14.3, iOS 14.2, iOS 14.1, iOS 14- iOS 13, iOS 12.4.8, iOS 12.4.7- iOS 12. This Jailbreak is very similar to the chimera and Unc0ver online jailbreak tool. rootlessJB4 is a "semi-untethered" jailbreak.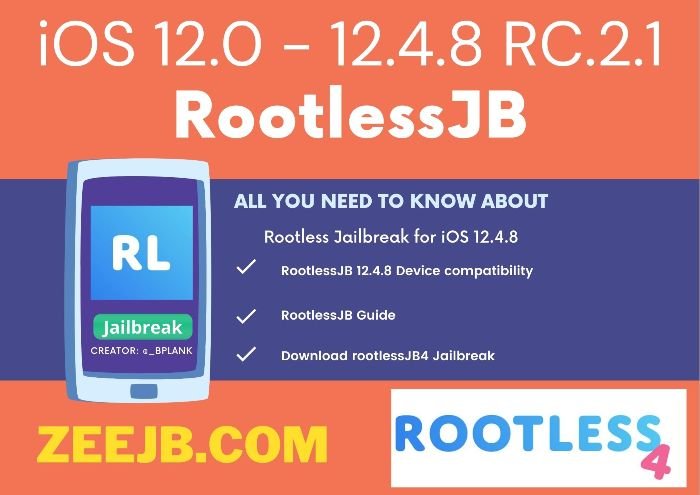 Earlier Rootless jailbreak for iOS 12 – iOS 12.1.2, was introduced by the famous jailbreak developer Jake James. New iOS 12.4 Rootless JB jailbreak was developed by security researcher Brandon Plank. This new RootlessJB4 RC.2.0 tool is also released by Brandon Planck.
JB updates.
Rootlessjb14 will be released soon for iOS 14.3 – iOS 14 and below versions. When it is released you can get it online from this page.
Read more about iOS 14.3- iOS 14 rootlessless jailbreak>>>>
Rootlessjb is coming soon for iOS 14 – iOS 14.3
Developer Brandon tweeted that their tool will soon support the new iOS 14 to iOS 14.3. Also, these days they are working on developing these tools. So we can assume that they will release a new rootlessjb(Rootlessjb14) tool within the next 2 weeks. If you have iOS 14.4, please downgrade to iOS 14.3. If you are on iOS 14.3 do not update to higher versions.
When jailbreak released you can get it easily from this page.
Rootlessjb14 for iOS 14- iOS 14.3 IPA
Rootlessjb14 fro iOS 14 – iOS 14.3 online
RootlessJB4 12.0 – 12.4.8 RC.2.1| Released
rootlessJB4(Rootless Jailbreak) is released for iOS 12 – iOS 12.4.7, iOS 12.4.8 versions running A7 – A11 Devices.
Rootless Jailbreak(rootlessJB4) for iOS 12.0-12.4.7
If you are on iOS 12.4.8, ios 12.4.7, or 12.4.6 you have good news. this new rootlessJB4 jailbreak tool is added support to iOS 12 to iOS 12.4.8. The special feature of this jailbreak is that you do not need a computer to jailbreak.
uncover jailbreak is also compatible with these versions, including iOS 12.4.8.
Download rootlessJB4 Jailbreak
There are two methods to install rootlessJB4 jailbreak. The first method is no computer method. (online). and the second method is the sideloading method. it means you can install rootlessJB by using Cydia Impactor or AltStore.
Download Rootless Jailbreak online (without a computer)
RootlessJB4 12.0 – 12.4.8 RC.2.1
Rootless online 12.0 – 12.4.8 RC.2.1 – online
Rootless Jailbreak-Compatible iOS Versions
iOS 12, iOS 12.0.1, iOS 12.1, iOS 12.1.1, iOS 12.1.2, iOS 12.1.3, iOS 12.1.4, iOS 12.2, iOS 12.3, iOS 12.3.1, iOS 12.3.2, iOS 12.4, iOS 12.4.1, iOS 12.4.2, iOS 12.4.3, iOS 12.4.4, iOS 12.4.5, iOS 12.4.6 and iOS 12.4.7, iOS 12.4.8
Note- currently Rootless Jailbreak is not compatible with iOS 13- iOS 13.5.5 /iOS 14 /iOS 14.1
rootlessJB4 Supported Devices
iPhone 5, iPhone 5S
iPhone 6, iPhone 6S, iPhone 6S Plus
iPhone-SE, iPhone 7, iPhone7 Plus
iPhone 8, iPhone8 Plus
iPhoneX
iPadPro (10.5-inch), iPad Pro (12.9-inch)
iPad (9.7-inch), iPad Mini 2, iPad Mini 3, iPad Mini 4
iPad-Pro (1st-Generation
iPad Air (1st-Generation), iPad Air (2nd-generation), iPad (5th-generation)
iPad (2018, 6th generation)
iPod touch (6th-generation), iPod touch (2019, 7th-generation)
Rootless Jb Not Supported Devices
iPhone 11 Pro,11 Pro Max, iPhone 11
iPad Mini (5th generation), iPad Air 2019, 3rd generation)
iPhone SE (2nd generation)
iPhone XS and XS Max, iPhone XR
Download Rootless Jailbreak with a computer.
Now you can install Rootless jb using a computer. there are two methods.
Cydia Impactor method
AltStore method
Cydia Impactor method
#Step 01. Download Rootless Jailbreak IPA
#Step 02. Download Cydia Impactor tool from the following button.
#Step 03. Drag and Drop Rootless Jailbreak IPA to Cydia Impactor tool for sideloading app
#Step 04. Enter Apple ID details to sideload the app
#Step 05. Once complete the process, go to Settings → General → Profiles & Device Management → Trust the app
#Step 06. Open RootlessJailbreak app from Home Screen
#Step 07. Enable Tweaks toggle and Tap jailbreak
AltStore Method
#Step1– Download Rootlessjb4 IPA file
#Step2 – Download and install AltStore to your Windows or Mac PC
Step3 – Open AltStore and Goto My Apps section
#Step4 – Tap on the "+" Mark and import RootlessJB IPA(Waiting for signing)
#Step5 – Once signing process Done > Go to the Home Screen and open Rootless Jailbreak app
#Step6 – Open Rootlessjb app and tap on the Jailbreak button
#Step7 – Now you can use Filza app to install Cydia applications
Credit- thanks for the rootless jailbreak developer.
You may also like:
Rootless jailbreak updates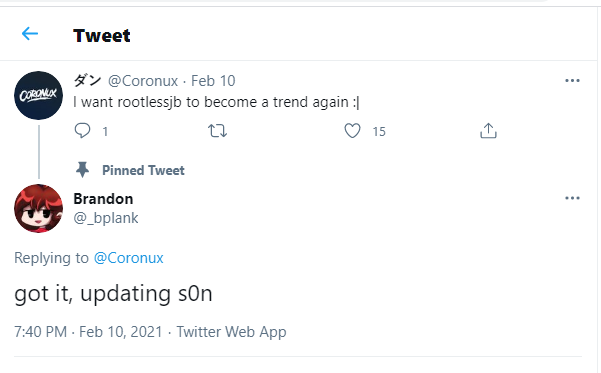 More about rootless jailbreak
Normally, we know this as a rootless jailbreak tool, but the developer named it the rootlessjb tool and further uses this tool to known as Rootlessjb4, rootlessjb14. For the new iOS 14.3, the jailbreak tool name is the same as rootlessjb 14 or will be changed.
Thank you for reading our articles. Nearly always, we are willing to help you.
Please let us know your suggestions and jailbreak issues. Our team can help you to solve them.
Follow us on twitter(zeejb) for new updates- https://twitter.com/ZeeJailbreak
Like us on Facebook for new updates- https://www.facebook.com/zeejbhub