(Last Updated On: 19th August 2022)
This is the most complete guide to installing odyssey for iOS 13- iOS 13.7 and new iOS 14 to iOS 14.4 online and with PC methods, all the instant jailbreak updates. Odyssey Jailbreak for A9 to A13 devices (iOS 13- iOS 13.7 jailbreaks) is released now and the odyssey for iOS 14 coming soon.
A new jailbreak for a new era-Odyssey Jailbreak
Odyssey-jb is the first jailbreak to be written almost entirely in Swift. It is also a quick, responsive experience you won't find anywhere else. This tool comes with an open-source Procursus bootstrap. The Odyssey jailbreak Guide is similar to the Chimera Guide.

Latest Update:
Odyssey has been updated for 13.0-13.7 (Not iOS 14 yet!)
Changes:
Adds userspace reboot support
Fixes issues with memory usage
Faster app launch times
General stability fixes.
What is odyssey jailbreak?
Odyssey Jailbreak is the new jailbreak tool introducing by the famous Selio developer Coolstar. You already know the Chimera Jailbreak tool that comes with iOS 12 versions, and the new Odyssey jailbreak has arrived with the iOS 13 versions. It is a new jailbreak that allows users to install Cydia or Sileo. Also, it accesses thousands of apps, tweaks, hacks that are not in the Apple App Store.
How to jailbreak online with Odyssey?
Odyssey Jailbreak is the second online Jailbreak method, which means you don't need a computer to do Jailbreak. It will fully support iOS 13 to iOS 13.7 running A9 to A13 iPhone, iPad, and iPod Touch Devices. Now you can install IPA and online by using the Oddy store.
Quick links:
Online method
Step01-install the Oddy store by using the following button.
Step02-Go to device setting and the trust of the application.
Step03- open the Oddy store and tap the "jailbreak online" button.
Step04- Allow a few minutes for the process to finish. Your device will restart several times while you jailbreak.
Step05- After jailbreak is done, Cydia/ Selio will automatically be on your device.
now your device is jailbreak.
New IPA & online
Odyssey 1.2.2 is now available with support for iOS 13.0-13.7 and improved exploit reliability on 13.0-13.7.so now you can jailbreak iOS 13.7 running devices with this tool. Now you can get this tool online from Oddy store.
Get new IPA
Install Odyssey online (ios 13.5- iOS 13.7)
ODYY Jailbreak Store
Oddy store provides the ability to install the Odyssey tool online. now you can install Oddy store from the following button. furthermore, you can install apps, tweaks, games, and many more.
Download Odyssey with lightiningsign app
Now you can install Odyssey online from the lightning sign app.
E-sign patch app
E-sign patch is the best IPA signature tool. This app is similar to the lightning sign application. This is the most popular method to get Cydia and sign the jailbreak apps including unc0ver, Chimera, odyssey,snapchat++, watusi, Spotify ++, Hacked games, and lots more.
Odyssey Jailbreak Compatibility
OdysseyJb. now support for iOS 13 – iOS 13.7.
iOS 13.7/iOS 13.6/iOS 13.5.1/ iOS 13.5.5 – b1/iOS 13.5 / iOS 13.4.1 / iOS 13.4 / iOS 13.3.1 / iOS 13.3 / iOS 13.2.3 / iOS 13.2,2 / iOS 13.2 / iOS 13.1.3 / iOS 13.1.2 / iOS 13.1.1 / iOS 13.1 / iOS 13
It is not support for iOS 14 devices. But you can use Taurine jailbreak for iOS 14 to iOS 14.3.
Taurine jailbreak for iOS 14 >>>
Device capability-Odyssey
iPhone11, iPhone 11 pro, iPhone 11 pro max, iPhone XS, XS Max, XR, iPhone X, iPhone 8, iPhone 8 Plus, iPhone 7, iPhone 7 Plus, iPhone 6s, iPhone 6s Plus, iPhone 6, iPhone 6 Plus, iPhone SE, iPhone 5s,12.9 iPad Pro (2nd gen.12.9) iPad Pro, 1st gen.10.5 iPad Pro, 9.7 iPad Pro, iPad Air 2, iPad Air, iPad,5th gen, iPad mini 4, iPad mini 3, iPad mini 2, 3rd gen 2018 iPad Pro models & iPod touch 6G
Odyssey jailbreak with Computer
How to Install Odyssey Jailbreak with Cydia impactor.
install the Odyssey Jailbreak latest IPA file onto MAC or Windows computer.
Download Cydia Impactor: here.
Connect your device to your computer. please use an original USB cable.
Open Cydia Impactor. Drag and drop the IPA file downloaded
Cydia Impactor will ask for your Apple ID and password. If you're not comfortable providing it, then create an alternative Apple ID.
After the app is installed, go to Settings > General > Profiles Device Management. Find the profile with your Apple ID and open it.
press on the Trust button.
Now open the app and enjoy it.
Alt Store method
Step#1- Install Altstore to your device. (how to install Altstore?>>>)
Step#2- Open AltStore
Step#3- Tap my Apps> Tap + button> Odyssey IPA
Step#4- allow a few mins to be installed.
Step#6- after installation goes to your home screen and finds the odyssey app.
Step#7- Tap enable tweaks and press the Jailbreak button
Step#8- enjoy the jailbreak with your favorite Cydia tweaks.
Features- Odyssey
Odyssey will: – Work on all A8-A13 devices on iOS 13.0-13.7
Come with Sileo preinstalled, with Cydia as an optional download without adding any other Repos
Also, work on iOS 13.5.5b1
Have multiple themes
Odysseyjb. will have experimental migration support for unc0ver users to make transitioning easy
Odyssey14 Coming soon
The Odyssey tool will soon support newer iOS 14 and higher versions. It will support all iOS versions including iOS 13- iOS 14, iOS 14.2, iOS 14.3. Also, he will be doing research to develop the tool for iOS 14.4 and iOS 14.5, but sometimes it may not be successful. However, iOS 14 to iOS 14.3 jailbreak will be coming soon so if you are on those versions don't update your device to iOS 14.4 or higher versions.
When a new jailbreak is released you can get it on this page.
libhooker testing on iOS 14 (iPhone 12)
Coolstar will release a new Jailbreak after the completion of the libhooker project.
Jailbreak for iOS 14 coming with new name "Taurine".
Taurine jailbreak (odyssey) for iOS 14
Costar has announced that he and his team are working on a new jailbreak from iOS 14 to iOS 14.3 under the name Taurine. Taurine for iOS 14 to iOS 14.3 has just been released to the public.
Odyssey Jailbreak alternatives
Unc0ver and checkra1n jb. are the jailbreak alternatives for the Odyssey. Currently, Unc0ver jailbreak is compatible with iOS 11 to iOS 14.3. Checkra1n jailbreak is a hardware-based jailbreak. Now it supports iOS 13 to iOS 14.3 and higher versions.
Odyssey is not compatible with the iOS 14, version. so you need to use jailbreak solutions. Cripzi is the most popular jailbreak solution for iOS 13 to iOS 14.3. get cripzi>>>
Odysseyjb vs unc0ver
Coolstar is the developer of 0dyssey Jailbreak.
both the jailbreaks are Semi-untethered Jailbreak.
After completing the jailbreak process, 0dyssey installs Selio and Unc0ver installs Cydia.
Both Jailbreaks are online Jailbreak.
Odyssey vs checkra1n jailbreak
Odyssey is an online jailbreak and checkra1n is a computer method jailbreak.
Checkra1n is a hardware-based jailbreak. Odysseyjb is a Semi-untethered Jailbreak.
Odyssey jb.will compatible with iOS 13- iOS 13.5 but checkra1n is compatible with iOS 12.3 to iOS 13.5.1.
Credits- to all the developers for making Odyssey and all Chimera developers.
(CoolStar, Hayden (@Diatrus), @s0uthwes,Adam Demasi(@hbkirb), @FectaTr1)
Older Releases –
Here is the all oddy. Updates.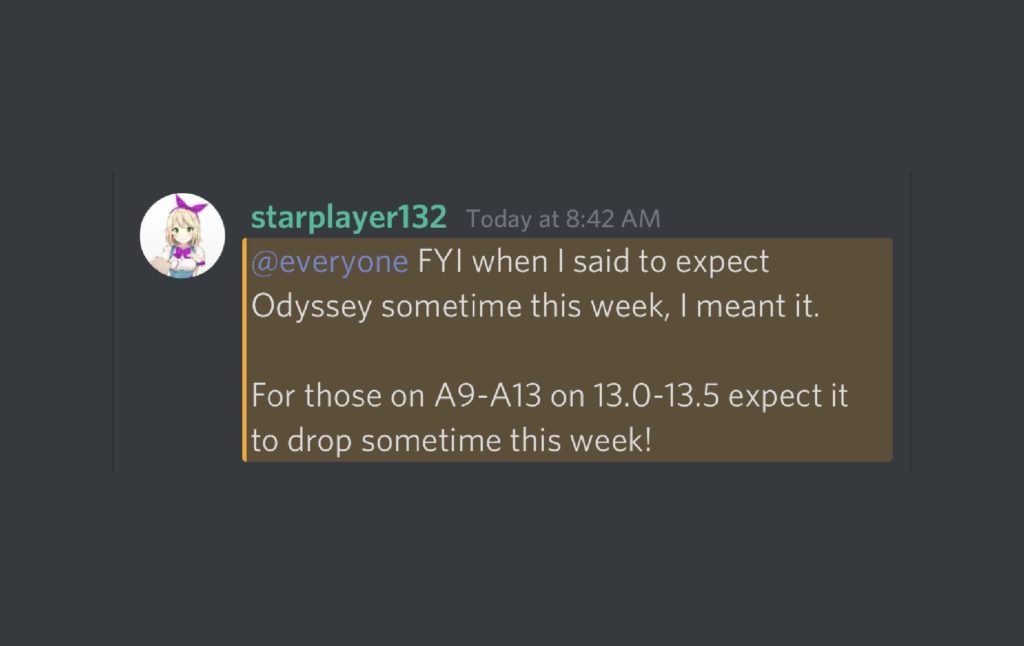 Odyssey 1.1 is now available, with custom theming and fixes for the black screen issues.
Fixes black screen issues after jailbreaking when certain packages are installed.
Includes custom theming support, with both images and custom colors.
v1.3.1 beta 1 is now available with cicuta_verosa and sets of default exploits.
Current v1.3.0 public release:
Adds support for the cicuta_verosa exploit and sets it as the default for jailbreaking
Removes support for the oob_events exploit
Allows users to choose between the cicuta_verosa (13.0-13.7), FTSB (A10+ on 13.0-13.7), and tardy0n (13.0-13.5) exploits on demand
Download Odyssey v1.3.0
Odyssey jb Beta 3
Odyssey jb beta 3 is now available .now you can get this new version from oddy store.
Don't like Sileo?
Odessey will allow you to optionally install Cydia if you prefer to use it over sileo.
GitHub slapped with DMCA claim before its release
Download IPA beta 2
IPA beta is now available
Version Beta 2
1. Improves exploit for all A11 and higher devices
2. Fixes UI scaling on iPhone SE, 6S, 7, 8, and SE 2
3. Adds a new Overwatch theme in the options
Why Odyssey different from other jailbreaks?
It offers the fastest and best jailbreak experience.
Odyssey jb. is completely open-source.
It also comes with full Liebuker support.
Odyssey jb. themes
link- https://www.youtube.com/channel/UCqiPw-zuxEKeK6uGBvGgWCQ
more about Odyssey jailbreak- https://chimera-jailbreak.com/
Chimera- jailbreak
Chimera-jailbreak is a semi-untethered jailbreak. Currently, Chimera Jailbreak supports iOS 12 – 12.2 / 12.4.
You may also like:
credit-thank you for the OdysseyJailbreak developer.
Check out iOS 14.4 jailbreak>>>
FAQ
Is odyssey jailbreak untethered ?
Odyssey is a semi-untethered Jailbreak tool like unc0ver.
How to remove odyssey jailbreak

?
To remove, open the odyssey Jailbreak app on the iPhone home screen, enable "Restore RootFS" and run Jailbreak again.
Odyssey Jailbreak for iPhone 13
You can not use this Jailbreak tool for iPhone 13 series because iPhone 13 default iOS version is iOS 15. So Odyssey still does not support iOS 15, iOS 15.1, iOS 15.2 beta.
Odyssey Direct install link
There are several ways to install Odyssey, the easiest way is to use the ZeeJb Online Store.
How to Dissable iOS OTA updates?
Go to Odyssey app settings> Enable "iOS OTA updates" > Press Jailbreak button.
Odyssey Tutorials
Odyssey Jailbreak without PC video tutorial – https://www.youtube.com/watch?v=9L0wrP2bMQg
Is it compatible with iPhone XR
Yes you can use the chimera tool for iOS XR
Is odyssey jailbreak safe?
Odyssey is another jailbreak tool developed by coolstar, the founder of Electra and Taurine. You can install odyssey jailbreak without issue
What does Odyssey jailbreak do?
The Odyssey jailbreak by default uses the Sileo package manager for installing packages and libhooker for tweak injection. It installs the all-new Procursus bootstrap, which powers everything that makes this jailbreak tick. released on Nov 26, 2020.
Is Odyssey a tethered jailbreak?
It uses Sileo as the default package manager, but users can replace it with Cydia or installers like Installer or Cydia to install their preferred OS.
What is Odyssey rain jailbreak?
The Sileo and libhooker versions of Cydia are more performant than Cydia and alternate tweak injection methods, according to the team behind the jailbreak.