(Last Updated On: 29th October 2020)
The Amazon Firestick is a popular, and an incredible streaming device. This unique device with a lot of features is a device that proffers solutions to the problem of converting any regular HDMI enabled TV into an actual smart TV.
It allows the free stream of various content from various online entertainment and media services, such as Netflix, Hulu, Amazon Prime Videos, Hotstar, and several other TV networks.
That being said, there is a major obstacle however: you will have to subscribe in other to get access to contents through the entertainment services. This subscription is neither free nor cheap. Heartbroken?
While the Fire Stick certainly offers an impressive and ever-expanding share of content, many users choose to jailbreak their device by installing an application called Kodi–a free media player that helps facilitate access to even more shows and movies through the help of third-party add-ons.
Is it possible to jailbreak a Firestick?
Amazon Fire TV devices are running on Android-based Fire OS. It's a custom coded version of the Android platform. That's why Amazon Firestick supports all Android apps.
The second (2nd) generation Fire TV devices are running on Fire OS 5 and it is equivalent to Android 5.1.1 (Lollipop) while third (3rd) generation Fire TV devices are running on Fire OS 6 and this version is equivalent to Android 7.1.2 (Nougat).
If you heard about Android Rooting OR Android Jailbreaking then it's clear that we can also jailbreak a firestick device. Android jailbreaking requires custom patched boot image and lots of command knowledge to perform the steps.
What is Firestick Jailbreaking?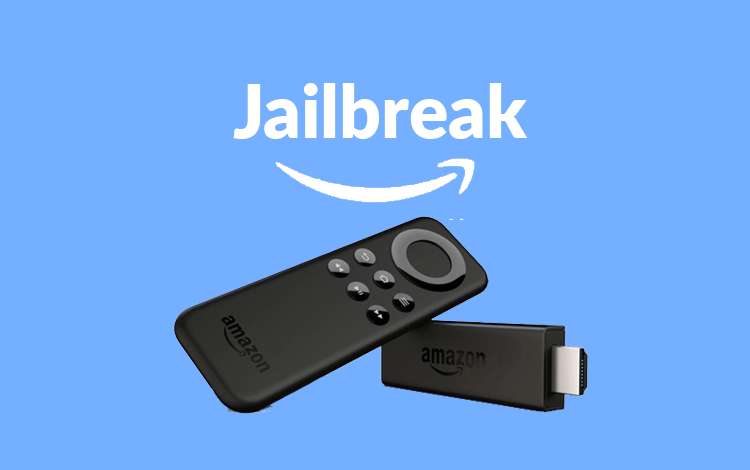 The concept of Firestick Jailbreaking started from July 2015. Amazon has taken strong action against low cost or free to use apps. In June 2015, Amazon has removed the world's popular media player application, Kodi from Amazon App Store.
With this step of Amazon, Firestick users lost a source to watch free movies and shows. Now, the trend of Firestick hacking aka Jailbreaking started.
Fire OS is an Android-based operating system so we have an option to side-load third-party apps on Firestick. So, users started side-loading Kodi APK on FireStick via various methods. This process is known as Firestick Jailbreaking.
Is Firestick Jailbreak illegal?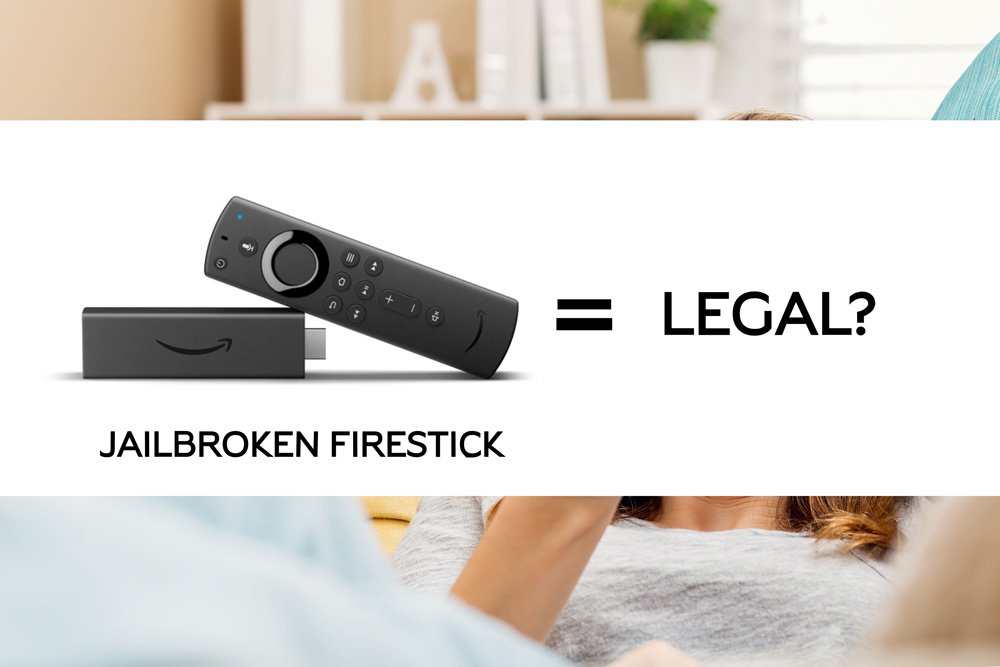 What about the legality of Jailbreaking Firestick? Not to worry, jailbreaking Firestick is completely legal! Once you buy the device, it is yours, and you have the right to do whatever you want with it! The only time it becomes illegal is when you stream pirated content with the device. 
Follow these steps to jailbreak your firestick quickly-
1Plugin-in your TV and Firestick adapter to a power socket.
2 Connect your Fire TV with an HDMI cable
3 Connect your Fire TV Stick with a WiFi network.
4 Go to Firestick Home.
5 Using your Alexa remote, go to Settings.
6 Select My Preferences.
7 Open Privacy Setting.
8 Select Device Data Usage.
9 Now Turn OFF.
10 Select Collect Apps Usage Data.
11 Choose Turn OFF.
12 Go back and Turn OFF Data Monitoring.
13 Now go back and select Developer Options.
14 Choose Apps from Unknown Sources.
15 Select Enable. Press the Home button on Firestick remote.
16 Go to the Search menu.
17 Type Downloader.
18 Press the Download button.
19 Open Downloader.
20 Go to Settings> then Enable JavaScript.
21 Now type the following URL- https://firestickhelp.com/kapk.
22 Wait, a file is downloading on your Firestick.
23 Now select Install.
24 Wait… Kodi is installing on your Firestick.
25 Now press Open.
How to Jailbreak Amazon Firestick TV Stick Using Kodi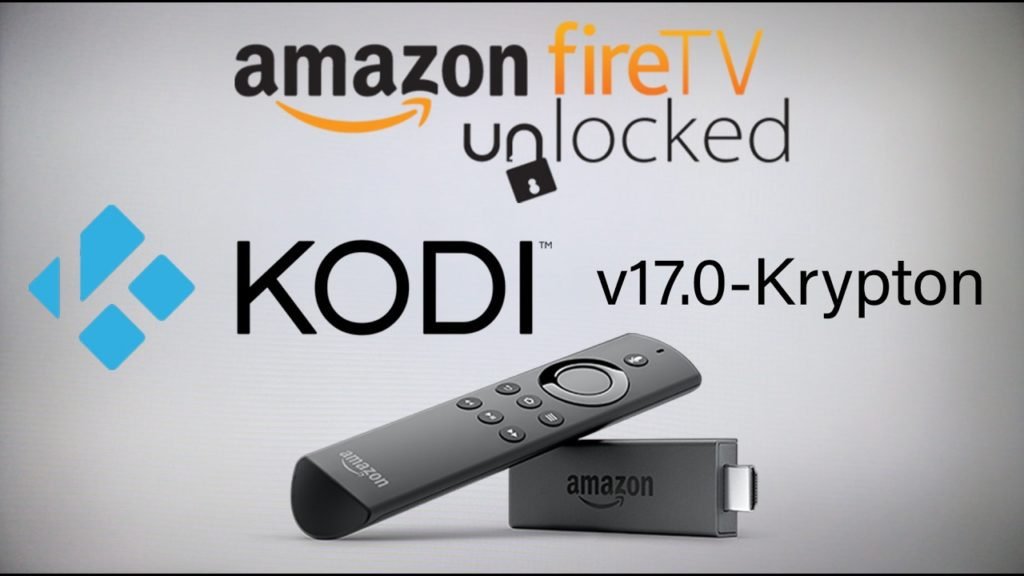 Step by step instructions, so all you simply have to do is to follow the instructions carefully and you might have for yourself, an Amazon Firestick that is jailbroken within a few minutes.
What You Need
Before getting started with the Kodi installation process, make sure that you have the following items ready.
Amazon account: You may already have an Amazon account that you used when first setting up your Fire TV Stick. If not, you can create a free account by clicking on the Start here link found in the Accounts & Lists drop-down menu on the Amazon home page.
Wi-Fi connection: Your Fire TV Stick should already be connected to a Wi-Fi connection. If not, follow our step-by-step tutorial to get online.
VPN software (optional): While not required, some Kodi users choose to utilize VPN software for privacy and security purposes. A couple of recommended VPN apps that run on Amazon Fire TV Stick are IPVanish and PrivateVPN.
Allow Apps from Unknown Sources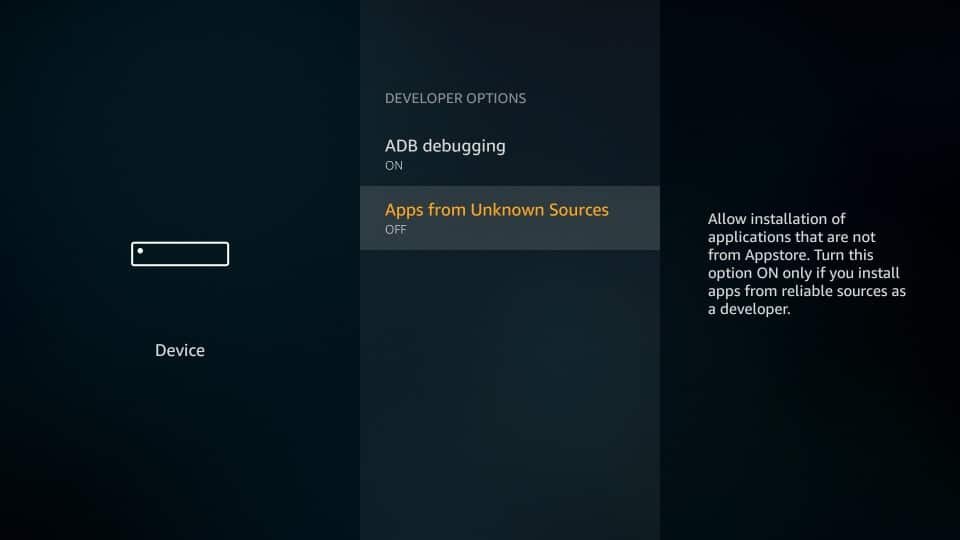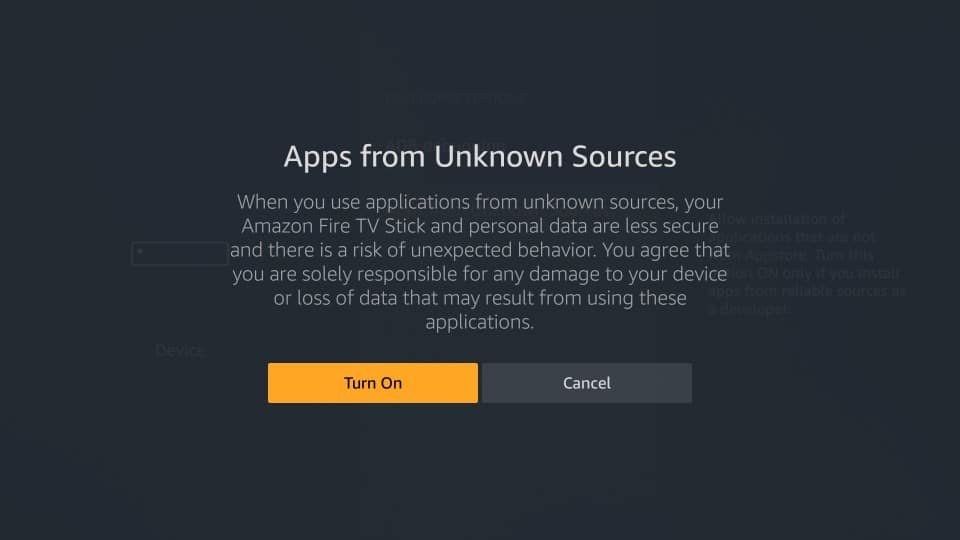 In order to install Kodi on your Fire TV Stick, you must first configure the device to allow for the installation of applications that originate somewhere other than Amazon's Appstore.
Using your Fire TV Stick remote, select the Settings option located at the top of the screen.
Scroll to the right and select Device.
Choose Developer options from the Device menu.
The DEVELOPER OPTIONS menu should now be visible, with the Apps from Unknown Sources option set to OFF. Select this option to enable it.
A warning message labeled Apps from Unknown Sources will now appear. Select the Turn On button.
You should now be returned to the DEVELOPER OPTIONS menu, with the Apps from Unknown Sources option now labeled ON.
Install Downloader On Firestick
Now, the next thing that you have to do is to install Downloader on the Firestick. The Downloader app is a side loading tool that is extensively used on Firestick. Although there is a wide range of options to choose from when it comes to apps to sideload on Firestick, the Downloader app is what I recommend, as it is a very convenient and straightforward utility. You will need a Downloader in order to Jailbreak Firestick and install various streaming apps on it. The download process is both free and easy. You can download it from the Amazon App Store.
Below is the process of installing Downloader on Amazon Firestick:
Go to the home screen of Firestick, and select the Search option that is located at the top right corner, with your remote. The Search option is represented by the lens icon.
The next thing that you have to do is to search for Downloader, with the help of the on-screen keypad
When the search result appears below the on-screen keypad, Click on Downloader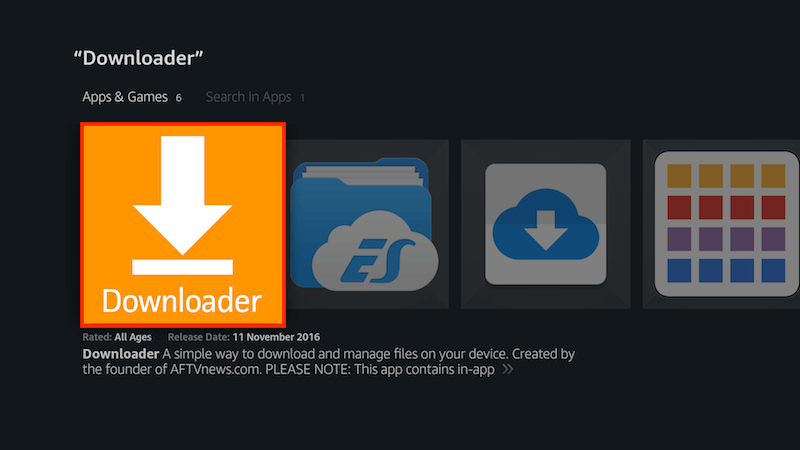 Click on the Downloader icon that is located on the next screen and Download on the next screen
All you have to do now is to simply wait for the Downloader app to finish the download process, and install it on Amazon Firestick
You can now click Open in order to launch the Downloader app
Downloading and Installing Kodi to Amazon firestick
Kodi is actually a media application that grants its users, access to a massive range of free entertainment. It allows its users to watch their favorite TV shows, Movies, Sports, Kids' contents and so much more. you can also stream anything you want! All you need in order to do all that it the right Kodi Addons and Builds.
The latest version of Kodi is Leia 18.2… Enter this URL to download Kodi Latest Version APK file- https://firestickhelp.com/kapk
The Downloader app will be opened in the Home option, pre-selected on the left. You will see a field on the right in which you can type in a URL, click on the field
Kodi has been installed on your FireStick device. Now, you can install any Kodi addon to watch your favorite Movies and Shows on FireStick for free of cost.
There are thousands of Kodi Add-ons available from the various repositories.
 Let us go to the final phase
You now have to secure the already jailbroken Firestick with a secure, and reliable VPN, Below are the steps needed to secure your Firestick with IPVanish VPN:
---
We recommend using a VPN to help keep yourself anonymous and protect yourself online.
You can get up to 60% off any package from IPVanish which allows you to connect 5 devices to an encrypted VPN connection at any one time.
---
The first thing to do is to simply register to get an account at IPVanish
You should input IPVanish on your search icon on Firestick
Click on the IPVanish VPN option when it appears
You can then select the download button
After the VPN is downloaded, you should click on Open in order to launch the IPVanish VPN application
Type in your IPVanish Username and Password, and click on the Login icon
Select the Connect button
If you receive a request that requires a VPN connection, simply click OK
And if you wish to stop the service, all that you simply need to do is to Click on Disconnect button.
jailbreak firestick |