(Last Updated On: 26th August 2023)
Here's everything you need to know about the Blizzard Jailbreak tool, including its installation process, Download links, pricing, features, etc.
Blizzard Jailbreak is a jailbreak tool written, developed, and published by iOS security enthusiast GeoSn0w targeting iOS 9.0 – 9.3.6. It is currently being updated to function on checkm8-supported devices running iOS 15.0 and up to iOS 16.0.1.
This tool will initially only work with iOS 9 through iOS 9.3.6, but we hope the developer will add support for iOS 11 through iOS 16.1 in the future.
Recommended Reading =>> What is Jailbreak?
Table of Contents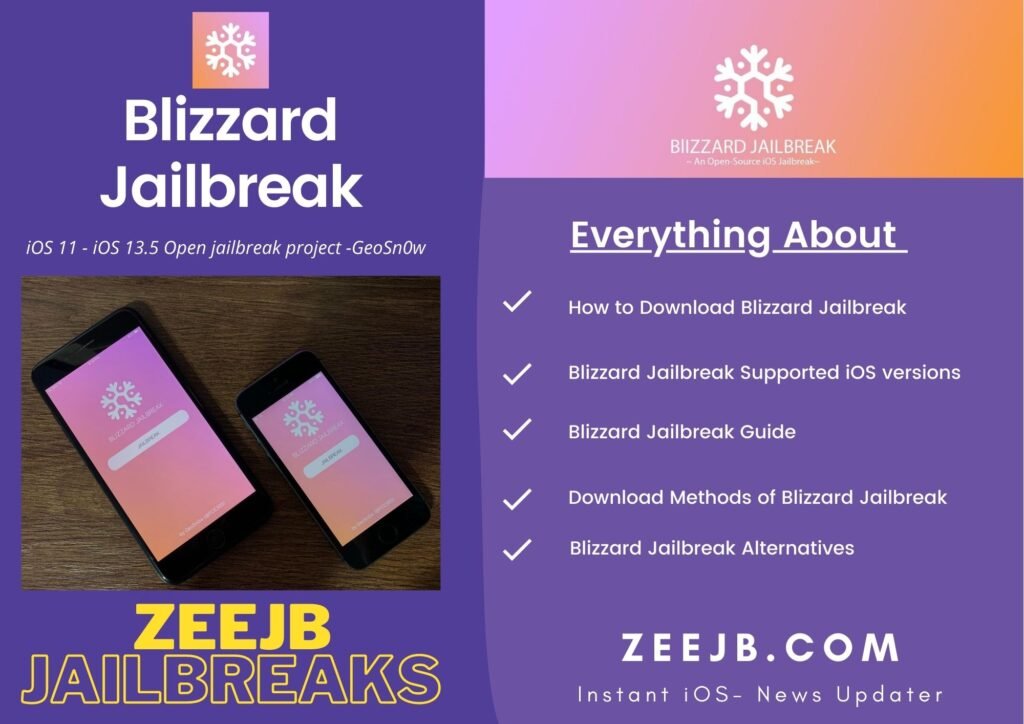 Blizzard Jailbreak Review
There is currently no jailbreak for iOS 16, which means you won't be able to install third-party tweaks and repos. That might change in the future, but it is not something we expect to happen very soon.
However, there is some positive information to share. If you have an iPhone X or earlier, for example, you should be OK.
Because such devices have been jailbroken at the bootrom level, Apple cannot patch hardware bugs (the vulnerability)with software upgrades.
In this article, we will dive deep to study the hype surrounding the Blizzard Jailbreak tool. We will look into its features, what are the unique options, the issues users can face while using the tool, whether you can afford it, and how it is compared to other jailbreaking tools in the community.
What is the Blizzard Jailbreak?
As we said earlier, if you have been waiting for Jailbreak iOS 15 – iOS 16.1 for a long time, there is almost no chance that you have never heard of this tool.
Latest update:
GeoSnow the developer of Blizzard Jailbreak just tweeted that he was able to jailbreak iOS 15.6.1, Sileo working, Procursus Rootless Bootstrap, and SSH performed well.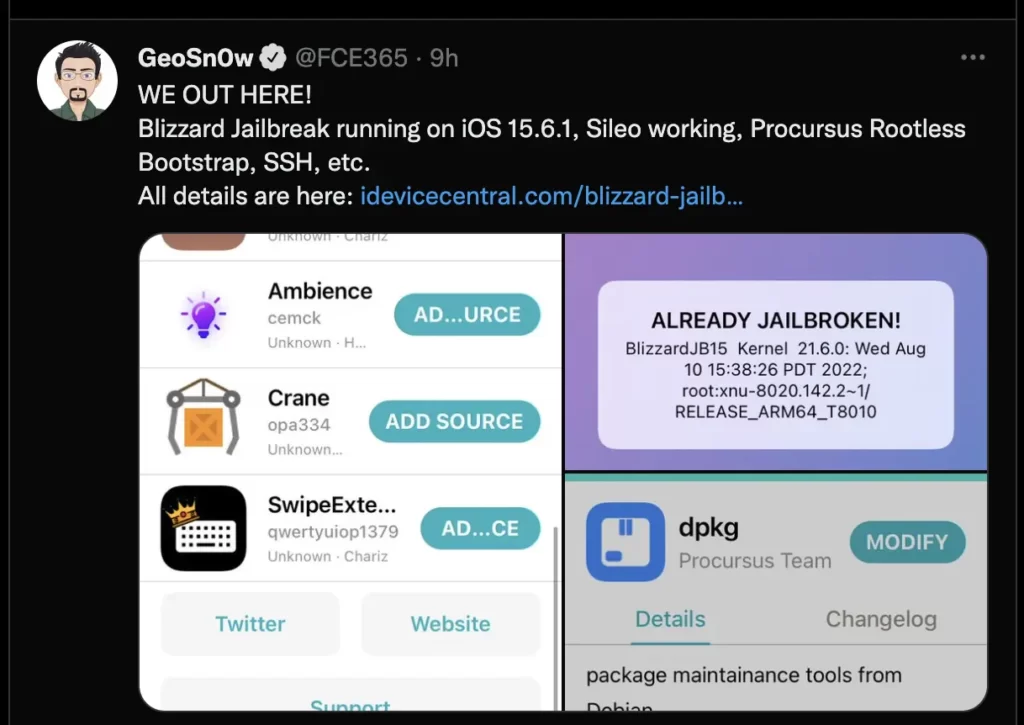 Blizzard is a free and open-source jailbreak program primarily supporting iOS 9 Through iOS 9.3.6. GeoSn0w, a jailbreak developer and hacker, created this jailbreak tool.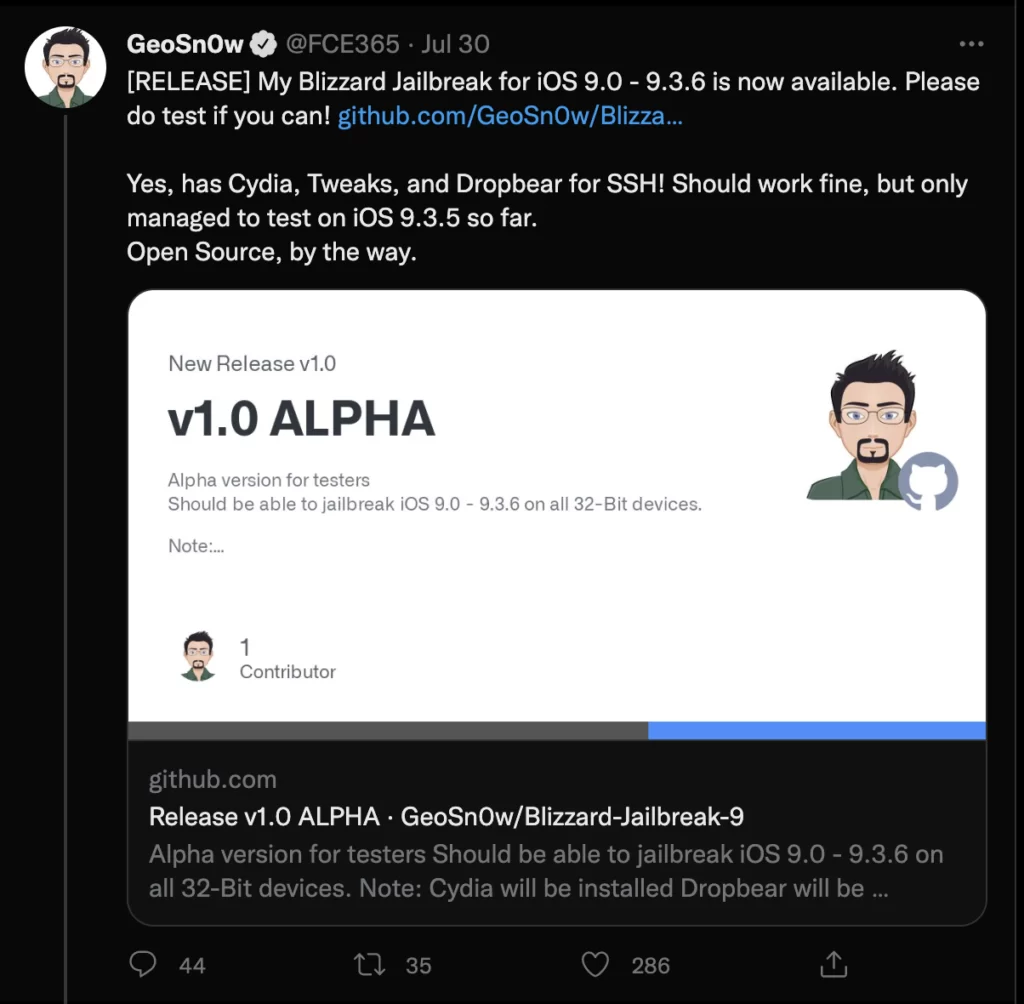 So, Geosnow is currently working on an iOS 15 – iOS 16 jailbreak. Blizzard tool development is well underway. You can check it out on the Blizzard Github website.
BlizzardBoard v1.1 Released: BlizzardBoard – iOS 15 -15.7 Icon Theming Engine
How to Download?
The lead developer, GeoSn0w, released Blizzard Jailbreak v1.0 to the public. The jailbreak tool comes with an Open-Source Project. By clicking the below Download button, you can download all the source files and related folders without hassle.
Supported iOS versions
Here we have listed all the supported iOS versions.
| Supported iOS Version | Support Status |
| --- | --- |
| iPhone XS, XS Max, and XR | Compatible ✅ |
| iPhone 11, 11 Pro, and 11 Pro Max | Compatible ✅ |
| iPhone 5S, 6, 6 Plus, 6S, 6S Plus, SE, 7, 7 Plus, 8, 8 Plus and iPhone X | Compatible ✅ |
| iPad Air, Air 2, and 5th-gen iPad | Compatible ✅ |
| iPad Mini 2, iPad Mini 3, and 4 | Compatible ✅ |
| 12.9-inch iPad Pro 2nd generation | Compatible ✅ |
| 12.9-inch iPad Pro 1st generation | Compatible ✅ |
| 10.5-inch iPad Pro | Compatible ✅ |
| 9.7-inch iPad Pro | Compatible ✅ |
| 6th-gen iPod Touch | Compatible ✅ |
Blizzard Jailbreak iOS version compatibility
Blizzard Alternatives
This jailbreak is compatible with iOS 11 to iOS 13.5. Other available tools support the same iOS versions.
Unc0ver Jailbreak Tool
Best available jailbreak tools for iOS 13.5
Credits: developer of the jailbreak tool – GeoSn0w
Jailbreak – GUIDE
Step 01: Go to the Kekuk AppStore via the below buttons.
Step 02: Search and find the Blizzardjb tool
Step 03: Tap on the get button, it will automatically install the jailbreak app.
Step 04: Make sure to Trust the app certificate settings on iPhone settings.
Step 05: Now check the iPhone home screen the jailbreak app is installed successfully.
Step 06: Do jailbreak and enjoy.
Updates –
The developer of this jailbreak tool "GeoSn0w" tweeted that their temporary website is now available. Now you can preview the jailbreak features and other details. When the jailbreak tool has been finished for public release, they hope to get a new domain for it.
You may also like:
Follow us on Twitter(zeejb) for new updates- https://twitter.com/ZeeJailbreak
Blizzard Jailbreak Current Status:
October 4th, 2022 – Latest Updates
✅ Sileo is now working! Refer to the Twitter post below for a demo 😛
✅ Procursus Rootless Bootstrap now working fine. The Rootless Bootstrap is used as Blizzard Jailbreak on iOS 15 and 16 and will not be doing ROOT FS remounting/union mounts. This is much better and cleaner, and it is a huge step toward making jailbreak detection impossible for apps.
✅ Filza working fine.
✅ SSH working fine!
*From iDevicecentral official website.
FAQ
Can we install this jailbreak tool from AltStore?
Yes after releasing the IPA file you can use the AltStore tool to sideload Blizzard Jailbreak freely.
Is Fugu installing this jailbreak tool?
Fugu is a computer method jailbreak tool. it does not allow you to Blizzard jailbreak. you get the Fugu installation guide from the Zeejb Fugu page.link>>>
What are the appdb alternatives?
Appdb is the most famous application database. you can download ioS apps, Cydia apps, MAC apps, and Apple TV apps from it. please refer to the zeejb appdb alternative page for more information. link>>>
How to get the Unc0ver jailbreak tool?
you can get the unc0ver tool online from the U04S store. u04S Store allows you to get jailbreak tools, hacked games, Cydia apps, and much more.
Package Manager
We will hope Blizzard's default package manager is Zebra, but you can install any other package manager.
Jailbreak Release Date?
This Jailbreak tool is still under development. Therefore, the developer has not yet released any beta version.
Is this an untethered jailbreak?
Blizzard is a semi-autethered jailbreak.
Can we download Jailbreak IPA?
The Jailbreak tool has not yet been released to the public, and we will update the latest IPA file for free once it is released to the public.
Alternatives
You can use unc0ver, Odyssey, Taurine & Checkra1n Jailbreak tools as Alternatives.
What are the compatible devices?
we hope Blizzard works with all iPhones & iPads excluding the iPhone 12 & 13 series.
Is it supported for iOS 15?
According to the Official website, it will support IOS 11.0 UP TO IOS 13.5.
Who is the Jailbreak Developer
The lead developer is GeoSn0w, The creator of the iDevice Central YouTube channel.
Can we use a PC to install this Jailbreak?
After the Jailbreak tool is released, you can use the sideload tool with the pc to install the IPA file.
Is it an online jailbreak tool?
After that jailbreak is released you can get this tool online way.
is it Open-Source Jailbreak?
yes, it is a completely Open-Source Jailbreak for iOS 11.0 up to iOS 13.5.
How do get the iDevice central repo?
you can get the iDevice central repo from the GeoSn0w official site.