(Last Updated On: 28th June 2023)
Is iOSGods IPA downloader ideal for downloading modified or "hacked" versions of iOS apps? Find out in this detailed iOSGods review.
This In-Depth iOSGods Review includes Features, Pricing, and Comparison with Other Tools like DLEasy Store, U04s, KekukStore, AppDB PRO & EsignStore:
Are you looking to download or sideload applications(IPA Files) from the iPhone/iPad AppStore or third-party sources? Perhaps you're interested in downloading deleted apps and games from the AppStore. If you're concerned about not being able to jailbreak your iOS version, I have great news for you! You no longer need to worry about this in the future.
Simply download and install the iOSGods IPA downloader. iOSGods serves as a comprehensive platform where you can conveniently download and install tweaked versions of iPhone/iPad apps and games, both offline and online. It's your one-stop destination for all your modified iOS applications and games.
Table of Contents
Latest Update: 
iOSGoads Initial Version released:
Changes: Support both web and Mobile Configuration installation
=>> Improve General App Speeds.
=>> Sign your own apps.
=>> Enhance App Signing, prevent revokes.
=>> More...
Download Latest Update
iOSGods Review: The Best Alternative to the iPhone/iPad Default AppStore
iOSGods is Jailed App Store, the website that allows non-jailbroken users to download and install free, hacked, tweaked, or cracked apps and games.
iOSGods is a great alternative to AppDB Pro, KekukStore, and AppCake App Stores. So the main advantage is you don't need to jailbreak your iPhone or iPad in order to install iOSGods. The iOSGods store lets you install & Download tweaked apps & iPA files on iPhone, iPad, and iPod Touch models.
BlizzBoard Online v 13.3.9 released: If you are on iOS 15 - iOS 17? You can now install Cydia Sileo Zebra iOS Themes without jailbreaking your iphone.
Learn More - How to install BlizzardBoard
To install iOSGods you don't need a PC, You can also install it by using the Zee Store.
Suggested reading =>> AppStore++ Downgrade and Upgrade Installed iOS Applications
=>> Top 12 Best iOS 15.1 Jailbreak Software
=>> TrollStore for iOS 15 – iOS 15.7
=>> Palera1n Jailbreak released (iOS 15 – iOS 15.4)
What is iOSGods VIP/Premium
iOSGods Jailed App Store makes it easy for non-jailbroken users to download and install free, hacked, tweaked, or cracked apps and games.
It does this by eliminating the need for a computer or the Cydia Impactor tool. Instead, users can use the Easy Install method to directly download and install modified apps on their iDevices. This makes the entire experience smoother and more user-friendly.
The iOSGods IPA downloader provides a user-friendly interface that makes it easy to use. Additionally, all IPA files available through the downloader are guaranteed to be safe and secure.
Let's go deep into the tool and explore its features, advantages, and disadvantages!!
iOSGods Compatible iOS/iPadOS versions:
16.5.1, 16.5, 16.4.1, 16.4, 16.3.1, 16.3, 16.2, 16.1.2, 16.1.1, 16.1, 16.0.3, 16.0.2, 16.0.1
iOS 15.7, iOS 15.6.1, 15.6 , iOS 15.5, 15.4.1, 15.4, iOS 15.3.1, 15.3, iOS 15.2.1, 15.2, iOS 15.1.1, 15.1, 15.0.2 , 15.0.1, 15
iOS 14.8.1, 14.8, iOS 14.7.1, iOS 14.7, iOS 14.6, 14.5.1, 14.5, iOS 14.4.2, 14.4.1, 14.4, 14.3, 14.2, 14.0.1, 14.1, 14
iOS 13.7, 13.6.1, 13.6, iOS 13.5.5, 13.5.1, 13.5, iOS 13.4.1, 13.4, 13.3.1, 13.3, iOS 13.2.3, 13.2.2, 13.2, iOS 13.1.3, 13.1.2, 13.1.1, 13
Install iOSGods++
You can download iOSGods++ without needing a computer; the download URLs below are regularly updated. Please use the iOS Safari Web Browser to download.
Install iOSGods By Cripzi
Apple has sometimes revoked the above download URLs, but don't worry, you can still install AppStore Plus using the Cripzi repo signer.
If the Cripzi method does not work for you, you can try additional ways. Other ways can be found by scrolling down the page.
Jump To Alternative Installation Methods
Pricing
iOSGods offers both a free and premium version of their app, allowing users to download and install a wide range of applications for iPhone/iPad devices. This includes a collection of Cydia-modified apps, jailbroken apps, games, cracked iOS apps, and many other offerings.
Also with this iOSGod premium, you can sideload iPA files online.
There is also Kekuk's no revocation application store, which lets you install any jailbroken or tweaked programs without the need for a computer. Download it for free by clicking the button below.
Further reading =>> iOS 17 Jailbreak For All Devices?
=>> iOS 16 Jailbreak Released?
=>> Checkra1n Jailbreak Windows Tool released
Important Facts To Know About iOSGods+ App
Some Cool facts about iOSGods iOS AppStore are listed below for your reference.
It is compatible with almost all iPhone and iOS devices, including the latest iPhone 14, iPhone 13, iPhone 12, iPhone 11, iPhone 5S, and many more.
No jailbreak is required!
100% REVOKE FREE: After sideloading IPA files with TrollStore, you can use this app forever.
Ability to update and downgrade App Store applications.
Install iOSGods – Online/Offline
In the following section, we'll go through the numerous options for downloading and installing the iOSGods app. Pay close attention to following instructions.
#01) Install through Cydia
If you've already jailbroken your iOS device, go to the following Cydia, Sileo, or Zebra repository to install This plus application:
Cydia/Sileo/Zebra Repo: https://iosgods.com/repo/
Step #01: Open Cydia/Sileo/Zebra from iPhone/iPad Home Screen.
Step #02: Navigate into the "Sources" tab.
Step #03: Tap "Edit" then tap on "Add".
Step #04: Add the repo URL(above mentioned), then click on the "Add Source" button.
Step #05: After adding the source, Navigate to the "Search" tab then search "App Store ++" and then install the package.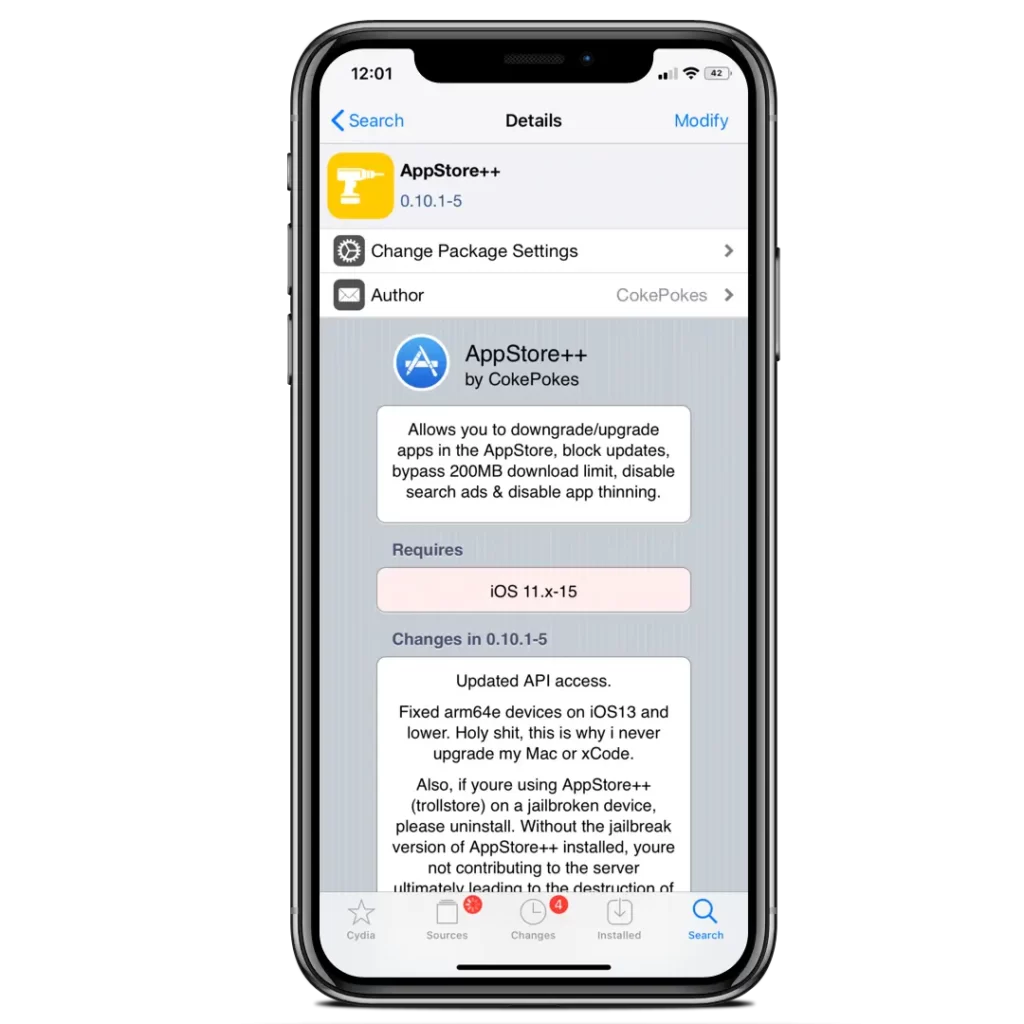 Step #06: You have now successfully installed ApStore double plus App on your iPhone or iPad.
#02) Install through KEKUK Store
This is the most simple and fastest method to install this application on your iPhone or iPad.
Step 01: Please visit the Kekuk iOS Store by clicking on the link below.
https://kekuk.com/app
Step 02: Navigate to the "Search" tab then find "iOSGods".
Step 03: Tap on the "Get" button.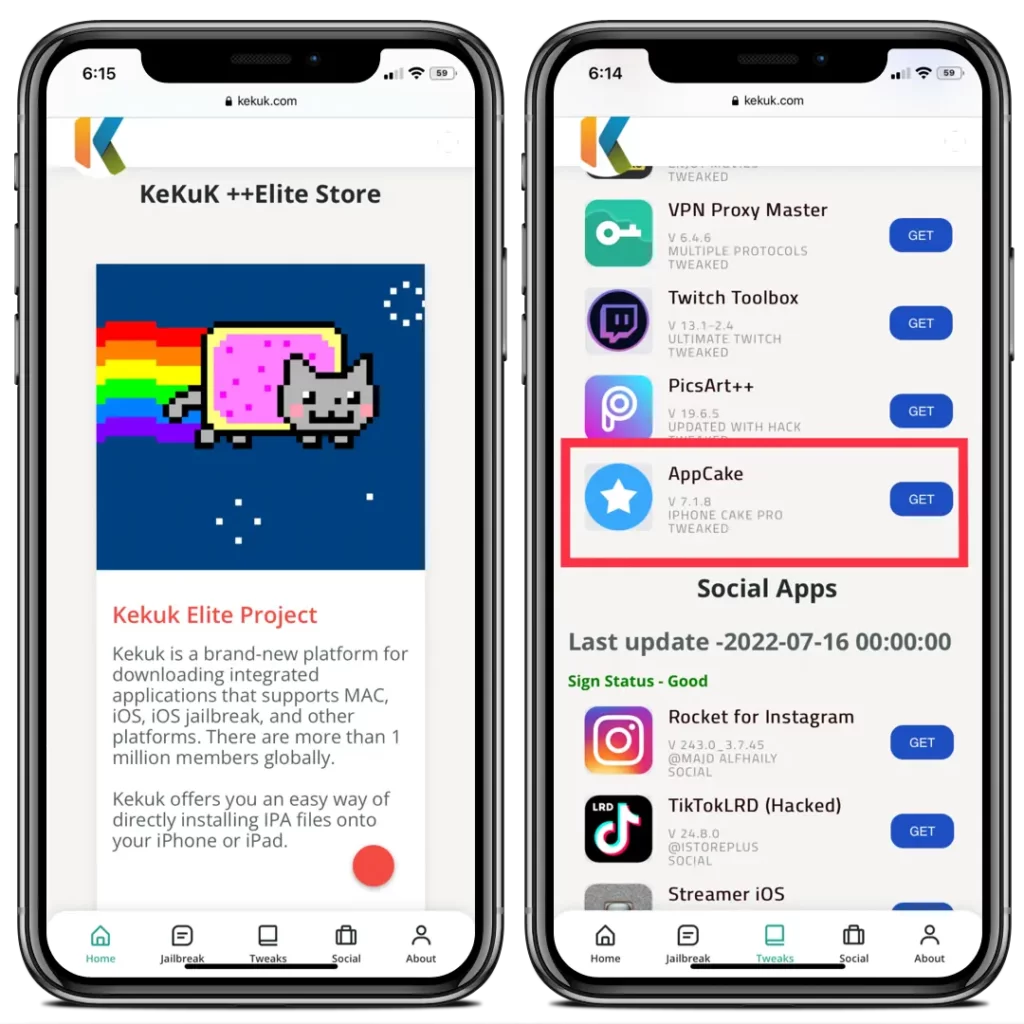 Step 04: Now that the installation dialog has shown, click the button that says "Install" to continue.
Step 05: Return to the home screen to see that the app has been successfully installed.
Recommended reading =>> iOS 16 Jailbreak
#03) Install through Sideloadly
Step 1: Download and Install Sideloadly Setup for – Mac/Windows – Sideloadly Installation Guide
Step 2: Configure AppleID and Password – Sideloadly Configuration Guide
Step 3: Plug iPhone/iPad into PC, then import App Stoe Plus App Latest IPA file (To get the IPA file – Zeejb IPA library)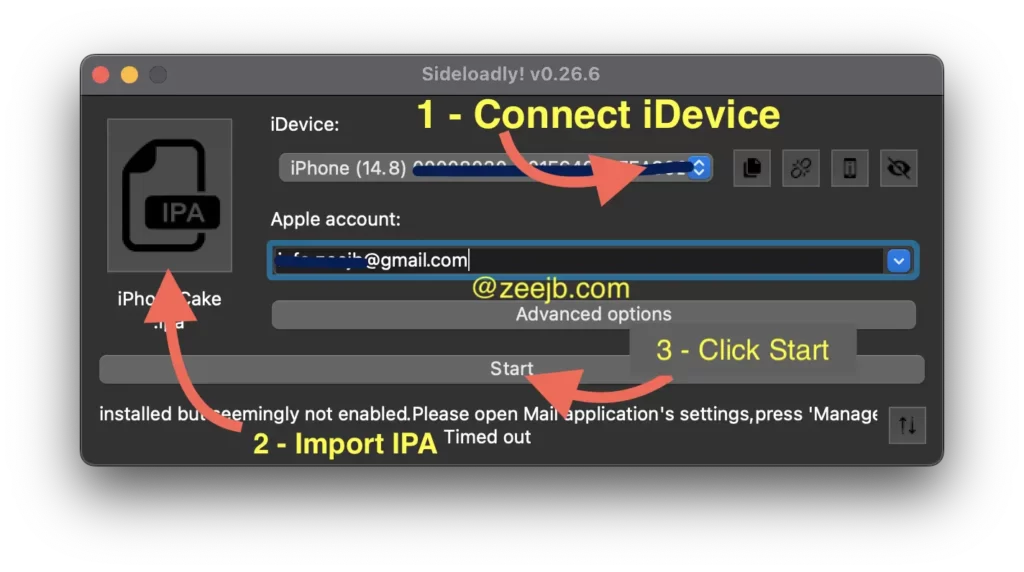 Step 4: Tap on the start button to sideload the app
#04) Install through Esign Patcher
Step – 1: Install Esign Patcher (Esign Installation Guide)
Step – 2: Download iosgods IPA file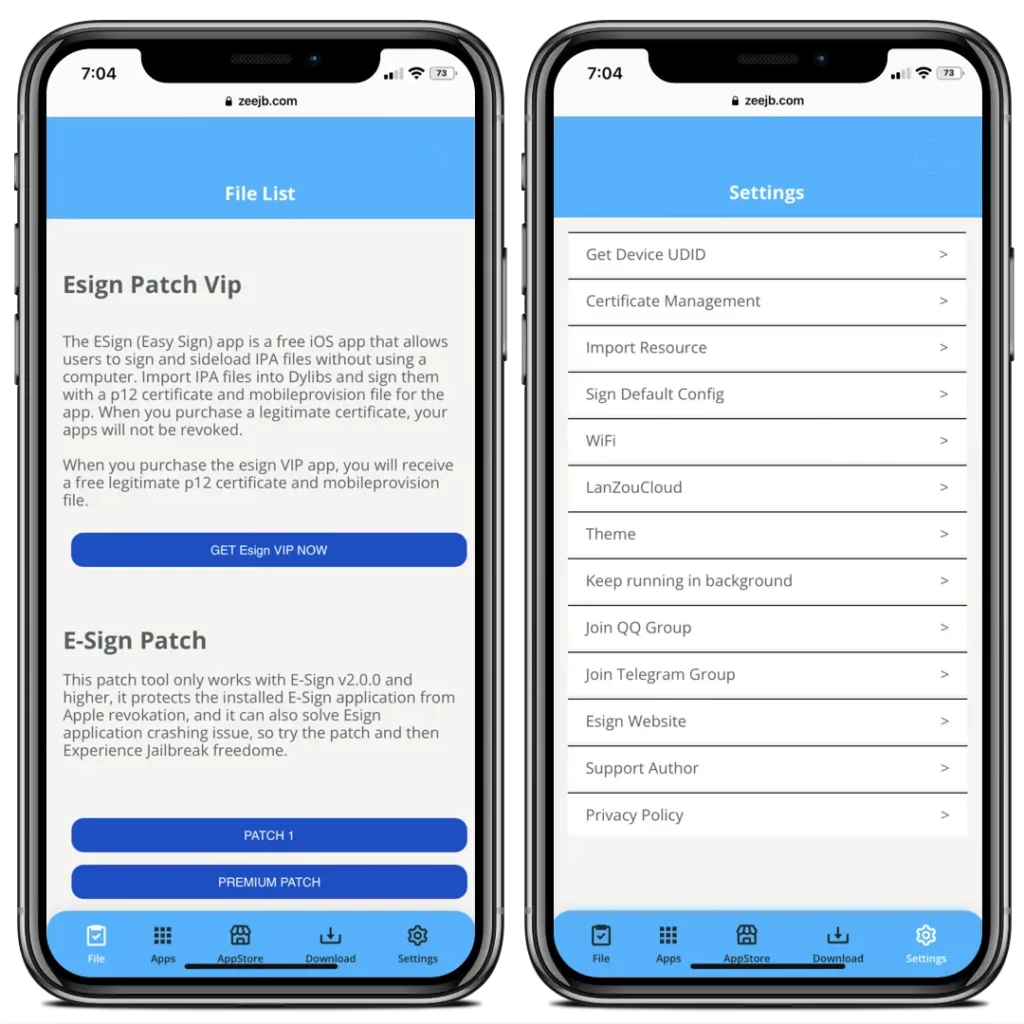 Step – 3: Import the IPA file
Step – 4: Sign with a certificate (Buy premium cert)
Step – 5: The Plus app will be installed immediately.
#05) Install through AppDB Pro
Step #1: Download And Install AppDB Pro App
Step #2: Navigate to Tweaked App and Search "iOSGod"
Step #3: Download & Install App.
Step #4: That's all.
#06) Install through 3uTools
Step 01: Download and install 3utTools into your PC / Mac
Step 02: plug your iPhone/iPad into your pc
Step 03: Click iDevice → Apps. Here, you can see the apps you have already installed on your iDevice.
Step 04: Click import IPA or Drag the iOSGod IPA file
Step 05: Now you can see the app is installed on your device.
Recommended reading =>> iOS 14 Jailbreak
Pros
Enlisted below are the various advantages of the AppStore ++ tool.
One-click app installation function.
The UI of this tool is very simple and easy to use. Not only the user interface, but the user experience (UX) of the tool is also commendable. This tool is a better choice than other Application tools available.
Non-Jailbroken device support.
It is compatible with almost all major iOS versions.
No need PC
This tool is really helpful to manage iPhone apps & games.
Custom App Install: Personalize your app settings before installation for a tailored experience. For more information, click here.
Custom App Signing: Sign IPAs sourced from the web with ease. Gain more details on this feature.
Native App Experience: iOSGods App+ is a native application, providing faster speeds and a smoother interface that resembles a genuine app.
Improved App Downloading: The App+ now ensures complete app downloads before installation, reducing network errors and failed downloads compared to the web app.
On-Device Signing and Installation: The App+ utilizes distinct certificates and installation methods, allowing the signing and installation of desired apps directly on your iDevice.
File Sharing Enabled: Easily transfer IPAs and apps from your PC to the Documents folder within the App, enabling installation solely using your iDevice. An extension to the custom IPA signing feature.
App Notifications: Stay informed with app notifications, and expect further enhancements and exciting new features to be added soon.
Cons
Repo is available for limited devices.
99% of free apps revoke the possibility
Need internet connection
Need an Apple developer certificate to install this app (premium version)
Further reading ==> How to sign iPA files for free?
==> Can we use the unc0ver jailbreak tool to jailbreak iOS 16?
iOSGods iPA Downloader Alternatives
According to our research, the following are the top alternatives to this app.
Conclusion
We have achieved remarkable results by utilizing this program. The iOSGod software has proven to be highly impressive, showcasing outstanding features, speed, and overall performance. In comparison to other similar alternatives in the community, this approach stands out as significantly more effective and advantageous.
Overall, we would rate it as 4.5/5. It's a worth-trying tool!