(Last Updated On: 15th October 2022)
iOS 13 features bring a fresh look to the things you do most often, making them easier than ever. iOS 13 features include a Dark Mode, a Find My app, revamped Photos app, Siri voice, updated privacy features, remember app, a new street-level view for Maps, and more.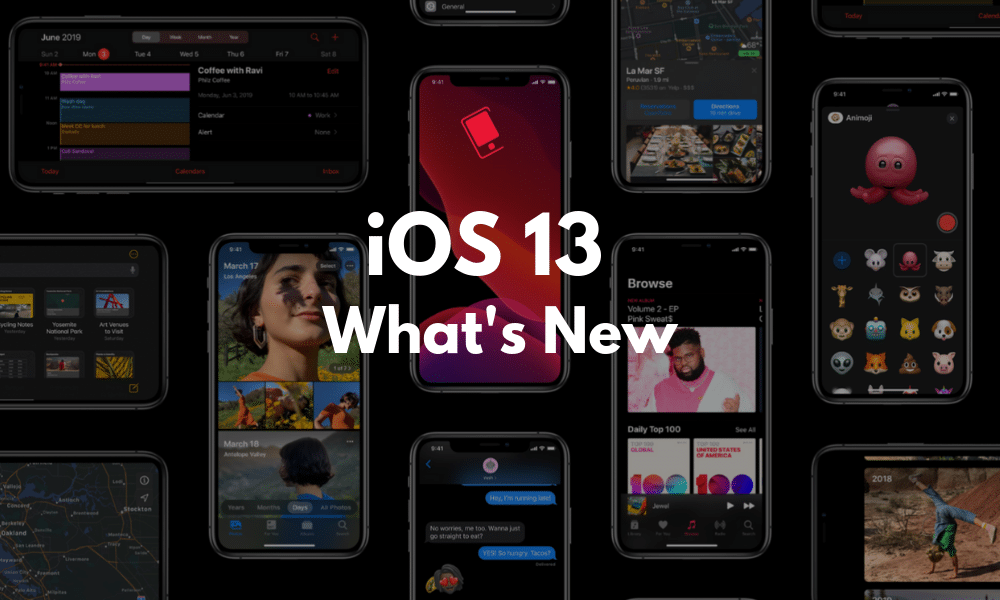 Apple released its new version by adding awesome features.
Dark mode,
New volume HUD
Multiple windows on iPad
GOOD STUFF
Dark Mode looks great
New Photos app is updated
new imogies
BAD STUFF
Buggy
Few truly new features
higher security
iOS 13 new features
Here are the top best 10 features of iOS 13.
1. Dark mode for iOS 13
This is the most notable feature of iOS 13. Dark mode, a light-on-dark color scheme saves the battery of your device. Buttons and other elements that would normally be white or bright are now black or dark. most people say dark mode is easier on their eyes.
2.Revamped Maps app
Apple Maps has been "rebuilt" from the ground up, collecting land and air data.
3.Siri improvements
Siri got Shortcuts, a function that took you directly to a certain part of an app. Siri's voice has changed, too.
A smarter Photos app
Photos get 'portrait lighting' controls designed to smooth skin, brighten eyes.
photo editing is improved than the iOS 12.
Apple is working on a new app. it is going to replace the Find My Friends and Find My iPhone apps
App Store with Arcade
Support for Arabic and Hebrew,Available for play on iPhone, iPod touch, iPad.
can I jailbreak iOS 13?
yes, now you can jailbreak iOS 13 with an online jailbreak tool also the computer jailbreak methods. Uncover, Odyssey, chimera, and checkr1n tools are compatible with iOS 13.
you may also like-
more about Unc0ver jailbreak>>>