(Last Updated On: 4th November 2022)
Apple has launched iOS 16.0.3 for the iPhone.
iOS 16.0.3, like iOS 16.0.2, is a point upgrade. It's a little update, but like its predecessor, it includes critical bug fixes for iPhone users who have upgraded to Apple's latest operating system.
With that in mind, we'd like to walk you through everything you need to know about Apple's latest and best iPhone iOS 16 upgrade.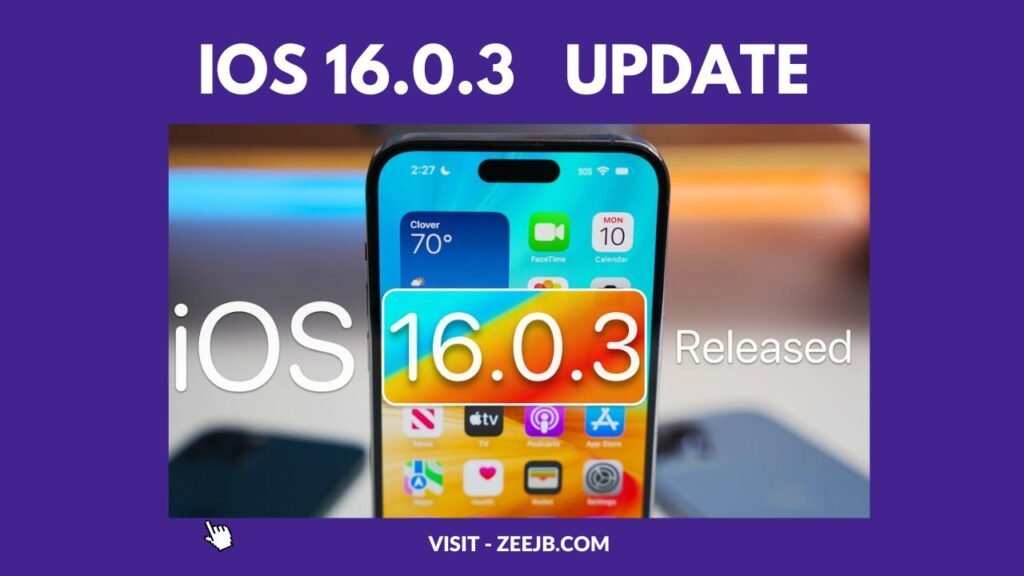 check out more about:
Fugu 15 / 14 Jailbreak – Semi-Untethered permasigned jailbreak for iOS 15 2022.
TrollStore – You Can Now Sideload Any IPAs Permanently For Free in 2022.
Filzaescaped15 – PlankFilza iOS 14 – iOS 15.2.1
iOS 16.0.3 Features
Fixes an issue where incoming call and app notifications may be delayed or not delivered on iPhone 14 Pro and iPhone 14 Pro Max
Fixes an issue where low microphone volume can occur during CarPlay phone calls on iPhone 14 models
Fixes an issue where the Camera may be slow to launch or switch between modes on iPhone 14 Pro and iPhone 14 Pro Max
Fixes an issue where Mail crashes on launch after receiving a malformed email
iOS 16.0.3 Problems
The list of iOS 16.0.3 issues includes battery life, installation issues, Wi-Fi issues, Bluetooth issues, UI lag, issues with Face ID, and issues with various apps.
We've heard that iOS 16 will break AirPlay for certain content on second-generation and third-generation Apple TV models. It is not clear if this is a bug or intended.
iOS 16.0.3 Review
For iOS 16.0.2 users, the iOS 16.0.3 download will be around 940 MB. You can expect a similar size for other iPhone models running the previous version of iOS 16.
The exact size of the iOS 16.0.3 download depends on your iPhone model and the version of iOS it's currently running. If your device is running an older version of iOS, you'll likely see a bigger download because your update comes with the changes from the updates you skipped.
Connectivity
Battery life is stable.
Wi-Fi connectivity is fast and reliable.
Bluetooth is working normally.
GPS and cellular data are both stable.
App Performance
Third-party apps including Netflix, Dark Sky, Twitter, Slack, Asana, Gmail, Chrome, and Spotify are working fine at the moment.
First party apps like Safari and Podcasts are also stable.
Speed
iOS 16.0.3 currently feels as fast as iOS 16.0.2.
Can I jailbreak iOS 16.3 ?
you can more information about iOS 16.3 from zeejb iOS 16.3 jailbreak page.tap the below button and learn more about iOS 16 updates.