(Last Updated On: 12th November 2023)
In this all-new guide, you'll learn: How to use Checkra1n jailbreak with 3Utool for Windows and Linux PCs, 3Utool support versions, Device compatibility, all the possible jailbreak methods, and Best jailbreak solutions.
How to jailbreak your iPhone/iPad with 3Utool?
now you can easily jailbreak your device by using checkra1n jailbreak with the support of the 3U tool. as you know Checkra1n is a permeant, checkm8 exploit-based jailbreak tool. also, it supports all the iOS versions including newly released iOS 14.2, iOS 14.3, iOS 14.4, iOS 14.5, iOS 14.6 versions.
If you are on Latest version of iOS, Please follow iOS 15 – iOS 17.2 Jailbreak Guides Below.
If you have a Windows or Linux PC (computer) you can use the 3U tool guide to jailbreak your device easily and usefully.
3Utool guide for Windows
Here are the complete steps by steps guide of 3Utool. before you follow the steps, you need to prepare Requirements
#1 USB drive (Up to 2 GB) – Must use above 1GB
#2 3uTool – Software
#3 Windows PC
#4 Download the latest version of 3uTools
#5 Backup Device data before start Jailbreak
#6 iPhone Charger/lighting cable
Step 01- Download the latest 3uTool for windows:
Step 02- Connect your USB drive to Windows Computer
Step 03- Open 3uTool and go to Flash & JB section. (jailbreak> Flash&JB-Jailbreak)
Step 04- Next Select > "Make Checkra1n jailbreak USB flash drive." from 3uTool.
#Step 05- Select your USB drive from the menu and click " start making" blue button.
Step 06- Wait for complete jailbroken USB drive process and tap the Yes button for popup
Step 07- After the process complete you will get Congratulation popup message.
#Step 08 – Press Close Button and Close 3Utool. after Connect your iPhone to PC Now by using an original USB cable.
Step 09- Restart your windows PC and next go to Boot Manager once the PC reset.
Step 10- Select USB drive and press Enter. wait a few minutes (you can see the checkra1n jailbreak tool logo on your home screen.
#Step 11- Tap start (if you are on iOS 13.7 / iOS 13.6.1 / iOS 13.6 version, please press Tap options, next Tap allow untested Device, after press Back button and tap start )
Step 12- Next press Ok and follow the screen instructions carefully.
#Step 13- Once Device restart , Open Home screen and find the Checkra1n app
Step 14- after press Cydia installation button.
Now you can enjoy jailbreak with Awesome Cydia Tweaks.
Cydia tweaks
After jailbreak your device you need to use jailbreak tweaks.
Check out the best top Cydia Tweaks>>>
You may also like :
Checkra1n windows – 3Utool guide
3Utool updates
iOS 14.7 Beta 2 download is available on 3uTools.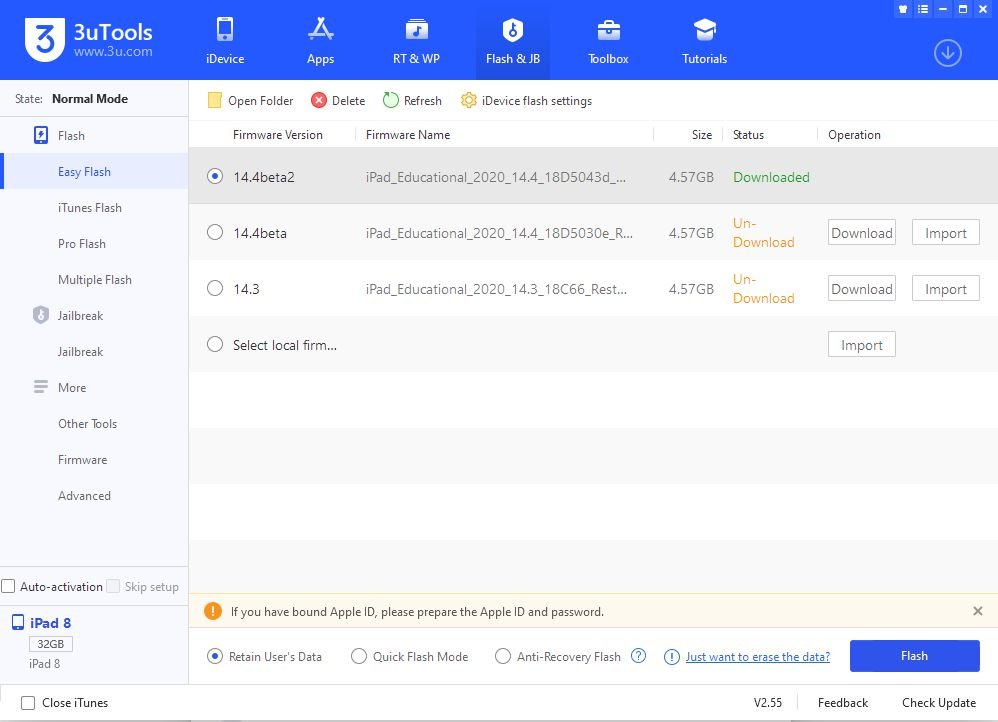 Check out more jailbreak updates:
checkra1n cydia tweaks
You can get awesome Cydia tweaks from zeejb cydia tweak page.