(Last Updated On: 27th May 2023)
You can now download a ChatGPT app on your iPhone /iPad.OpenAI's ChatGPT AI software is officially on iOS.
OpenAI's ChatGPT AI software is officially available on iOS now. ChatGPT, the revolutionary and contentious artificial intelligence chatbot, is now available as an iPhone or iPad app. OpenAI, the company behind ChatGPT, released the official ChatGPT app for iOS last week, which was a wise move given the flood of fakes and copycats that have flooded the market since ChatGPT first appeared in late 2022.
ChatGPT is an artificial intelligence chatbot developed by OpenAI and released in November 2022. The name "ChatGPT" combines "Chat", which refers to its chatbot functionality, and "GPT", which stands for generative pre-trained transformer, a large language type. model.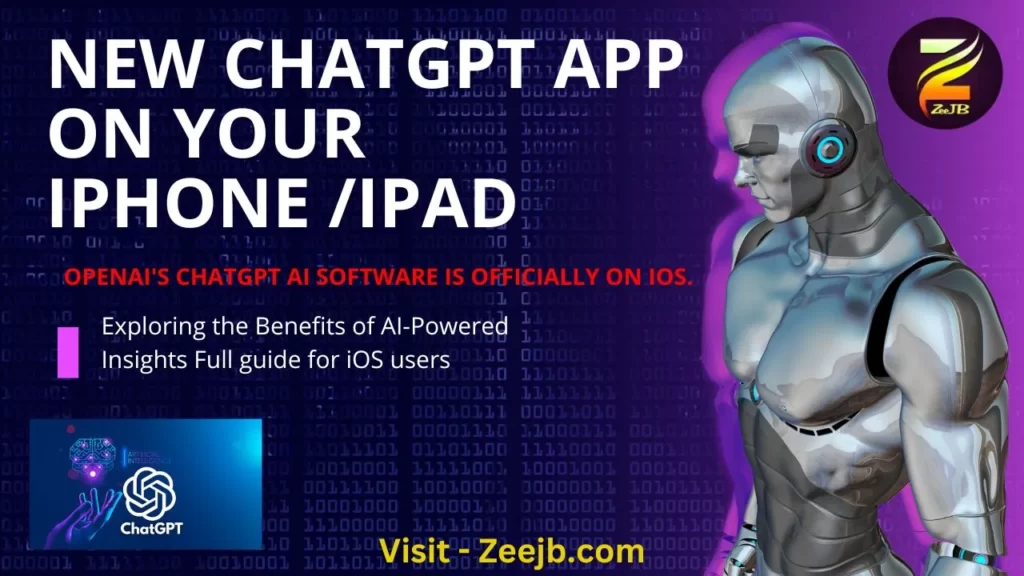 The free ChatGPT app offers what you'd expect from the web version, which is largely about providing detailed responses to your numerous prompts. You can even receive real-time information thanks to Bing Search, something ChatGPT could never accomplish (it could only provide data before 2021). One new feature particular to the iOS app is the ability to ask ChatGPT questions using speech recognition.
Install ChatGPT on your iPhone or iPad.
As previously said, there is numerous third-party software posing as ChatGPT, so be cautious when installing the correct one. If you don't want to look for it in the App Store, you may download ChatGPT for iOS from the URL below. If the developer is OpenAI, you'll know it's the right one.
ChatGPT for iOS and iPad is available for download.
How to create a ChatGPT on an iOS device?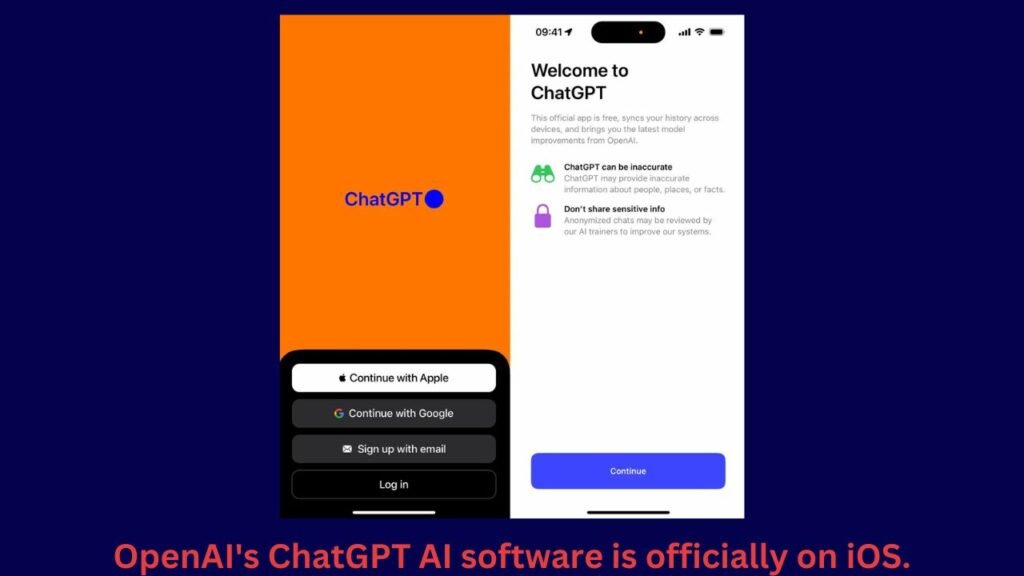 To use ChatGPT, sign in or create an account.
If you already have an account, click the login option and sign in using your current email address and password.
If you don't have one, you may quickly create one using your Apple ID, Google account, or email address. You'll next be prompted to give your name and birthday (those above the age of 13 can use ChatGPT, but minors may require parental permission) as well as your phone number to confirm that you're a real person.
Finally, you'll see a single welcome page on which ChatGPT warns you that its responses may be wrong and that you should avoid sharing important information because the chats may be inspected by AI trainers. Hit Use ChatGPT as usual.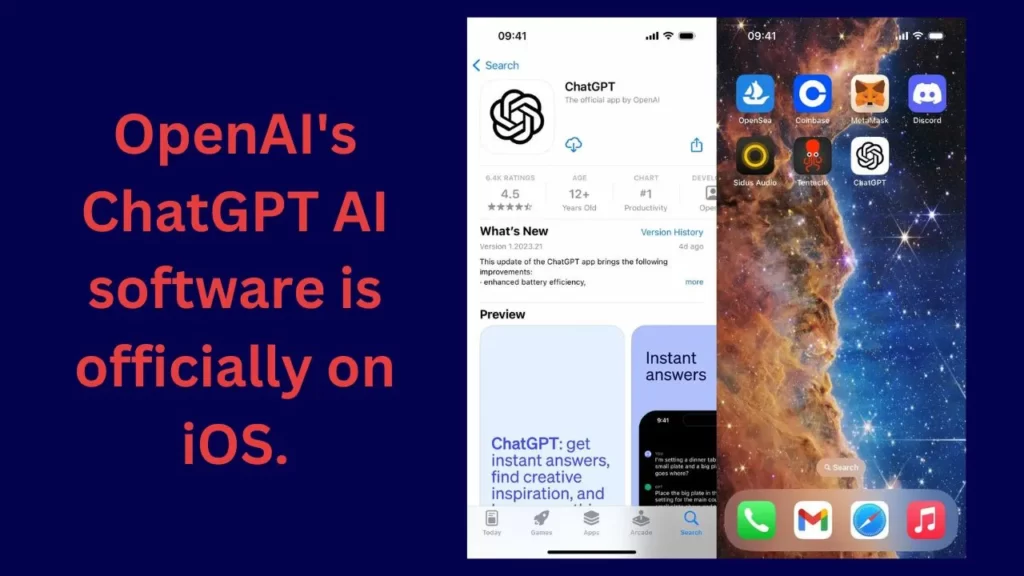 ChatGPT on the iPhone or iPad
You can now use ChatGPT in the same way you would in a web browser, however, the user experience looks slightly different on mobile.
Tap on the text field labelled Message at the bottom of the screen to ask ChatGPT a question. Tap the audio icon on the far right of the text field to activate the new voice-to-text capability. ChatGPT will request microphone access. You can then speak for as long as you want after granting access — tap to stop recording. To submit your prompt to ChatGPT, use the enter key.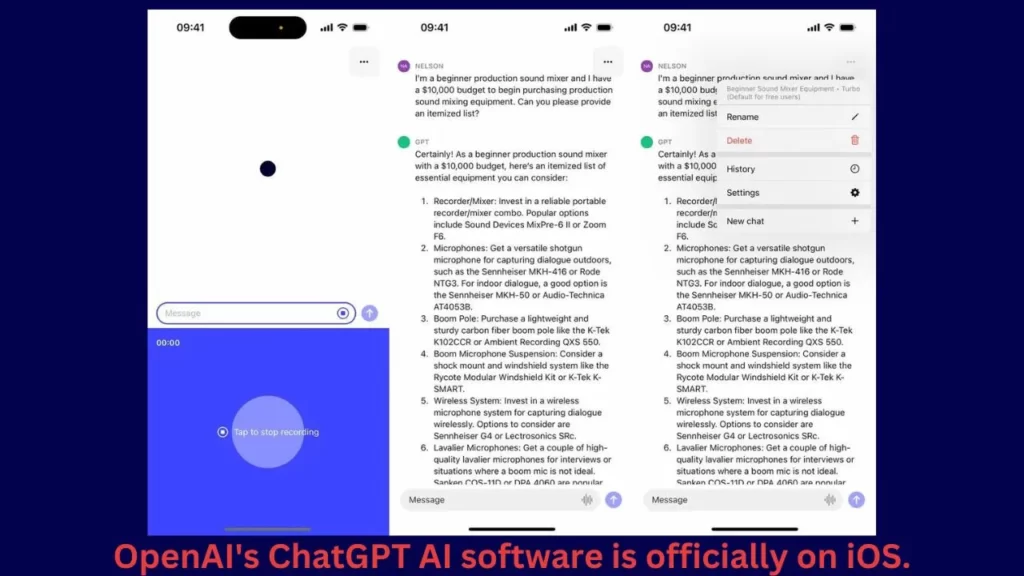 You can access ChatGPT's menu in the top right, where you may rename your chats, delete them, examine your history, adjust your settings, and start a new one.
You can subscribe to ChatGPT Plus in your preferences, which gives you access to OpenAI's most recent language model, GPT-4, as well as access to ChatGPT even when demand is high and free users may be locked out. You will also have first access to any new features. ChatGPT Plus costs $20 a month, but you don't need to pay for ChatGPT on iOS unless you want these advanced features and guaranteed access.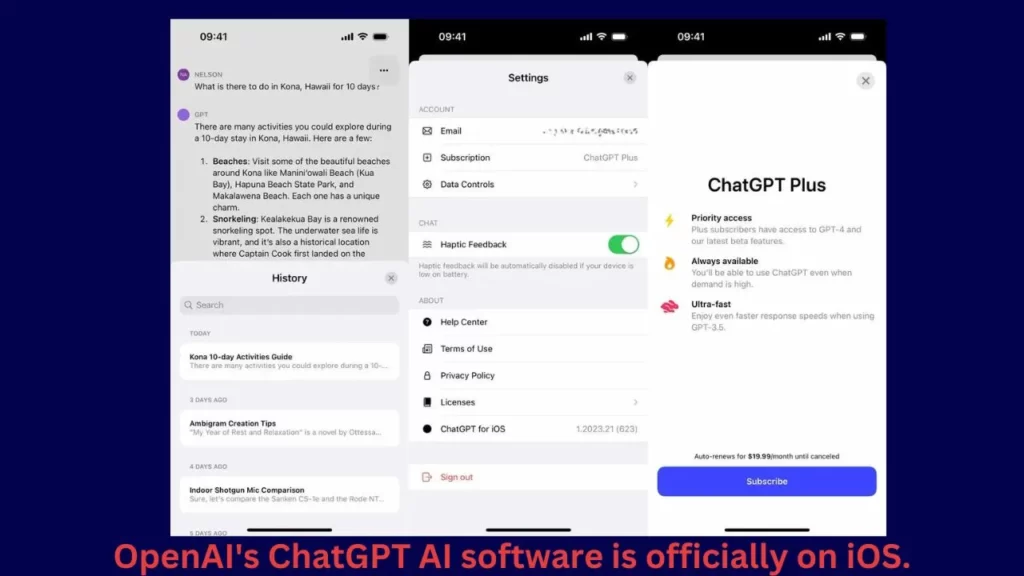 ChatGPT on iOS is presently only available in the United States, but it will be available in other countries in the coming weeks. Don't worry, Android users: OpenAI promises ChatGPT will be available on Android devices soon.
Advantages of ChatGpt for iOS
Personalized Assistance: ChatGPT offers personalized assistance and guidance to iOS users, providing tailored responses and recommendations based on their specific needs and preferences.
24/7 Availability: With ChatGPT, users have access to support and information around the clock, ensuring they can get help whenever they need it, regardless of time zones or business hours.
Instant Responses: ChatGPT provides immediate responses to user queries, allowing for real-time interaction and quick problem-solving, enhancing the user experience and reducing wait times.
Extensive Knowledge Base: Powered by vast amounts of information, ChatGPT can answer questions, provide insights, and offer valuable information on a wide range of topics, ensuring comprehensive support for iOS users.
Language Translation: ChatGPT can facilitate language translation, helping iOS users communicate with others who speak different languages. It can assist in translating text in real-time, breaking down language barriers, and enabling effective communication.
Creative Inspiration: ChatGPT can assist users in generating creative ideas, whether it's for writing, design, or other creative endeavors. It can provide suggestions, brainstorm with users, and help overcome creative blocks.
Learning Companion: ChatGPT can act as a virtual learning companion, providing explanations, and examples, and answering questions on various subjects. It supports educational pursuits and aids in understanding complex concepts.
Task Automation: ChatGPT can automate certain tasks on iOS devices, providing step-by-step instructions or guiding users through processes. This streamlines operations, simplify workflows and enhances productivity.
Content Generation: For content creators, ChatGPT can assist in generating the content, offering suggestions for headlines, blog posts, social media captions, and more. It serves as a valuable tool for content ideation and creation.
Multilingual Support: ChatGPT supports multiple languages, making it easier for iOS users from different linguistic backgrounds to interact and seek assistance in their native language.
you may also like: How to jailbreak with Xina tool.click here>>>
ChatDPT with Darkbro
Darkbro team allows you to install chatDPT and pro, haked features, other Ai tools and all the jailbreak tools free and offer prices to iOS users. Darkbro goes above and beyond by incorporating hacked features, empowering users to unlock new capabilities and functionalities. They are committed to providing a seamless and unrivaled experience for iOS users, making their offerings truly remarkable.
iOS jailbreak tools and solutions
Discover a wide range of iOS jailbreak tools and solutions that cater to your customization and app exploration needs. Some notable options include:
Dopamine Jailbreak – iOS 15 -15.4.1 – Unleash the power of iOS 15 to 15.4.1 with this cutting-edge jailbreak tool.
Ra1ncloud Jailbreak – Enjoy a seamless jailbreaking experience with this reliable solution.
XinaA15 Jailbreak – Unlock the full potential of your iOS device using XinaA15's powerful jailbreak.
Palera1n Jailbreak – Experience a comprehensive jailbreak solution with Palera1n, compatible with various iOS versions.
checkra1n Jailbreak – Trust in the stability and reliability of checkra1n for a secure jailbreaking process.
unc0ver Jailbreak – Explore a world of tweaks and customizations with the popular unc0ver jailbreak tool.
Fugu15 Jailbreak – Discover enhanced capabilities and possibilities with Fugu15's feature-packed jailbreak.
Chimera Jailbreak – Elevate your iOS experience with Chimera's advanced jailbreak functionalities.
C0ment Jailbreak – Elevate your iOS experience with Chimera's advanced jailbreak functionalities.
Taurine Jailbreak – Unleash the potential of your iOS device with Taurine's powerful jailbreak capabilities.
Rootless Jailbreak – Unleash the potential of your iOS device with Taurine's powerful jailbreak capabilities.
Odyssey Jailbreak – Unleash the potential of your iOS device with Taurine's powerful jailbreak capabilities.
Blizzard Jailbreak – Unlock a world of possibilities with Blizzard, a robust and secure jailbreak tool.
Kok3shi jailbreak – Experience a seamless jailbreak process and discover new features with Kok3shi.
Pikzo jailbreak – Explore a curated collection of tweaks and applications with Pikzo's user-friendly jailbreak.
Cripzi jailbreak – Empower your iOS device with Cripzi's comprehensive jailbreak solution.
DLEASY app – Stay up-to-date with the latest trends using this trending app of 2023.
E-sign Signer  -Seamlessly install jailbreak Cydia using this convenient jailbreak installer.
U04S Store – Access the Unc0ver jailbreak online installer and explore a variety of iOS apps.
Oddy Store – Enjoy the benefits of Taurine jailbreak and effortlessly download iOS apps using Oddy Store.
Appdb pro – Unlock a vast array of tweak apps and new iOS apps with this comprehensive installer (online).
Zeejb app store – Discover a wide range of jailbreak apps and tweaks within the Zeejb app store.
Whatsapp patch app – Customize and enhance your WhatsApp experience with this hacked app.
Youtube patch app – Access additional features and functionalities on YouTube through this hacked app.
lightning sign app – Seamlessly sign IPA files with this convenient IPA signer.
Zeon – Experience a user-friendly jailbreak tool with Zeon, offering a range of customization options.
Hexxa plus – Explore a diverse range of tweaks and modifications using Hexxa Plus.
Palera1n Jailbreak virtual – Access a virtualized version of Palera1n Jailbreak for a hassle-free experience.
Sileem jailbreak – Discover a straightforward jailbreak solution with Sileem, designed for ease of use.
Xina jailbreak online tool – Embrace the simplicity of Xina's online jailbreak tool for a seamless process.
Selio virtual signer – Sign IPA files conveniently using Selio's virtual signing capabilities.
blizzardboard – Stay informed and up-to-date with the latest news and discussions on Blizzardboard.