(Last Updated On: 19th May 2023)
Here is the complete guide to downloading and installing all the iOS jailbreak tools and solutions.
In recent years, jailbreaking has gained immense popularity among iPhone users who seek to unlock the full potential of their devices. By breaking free from Apple's restrictions, users can customize their iPhones, access third-party apps, and enhance their overall iOS experience. However, navigating the world of jailbreaking can be daunting, especially for newcomers.
This comprehensive guide aims to provide you with a complete overview of iOS jailbreak tools and solutions, helping you make informed decisions and maximize the benefits of jailbreaking.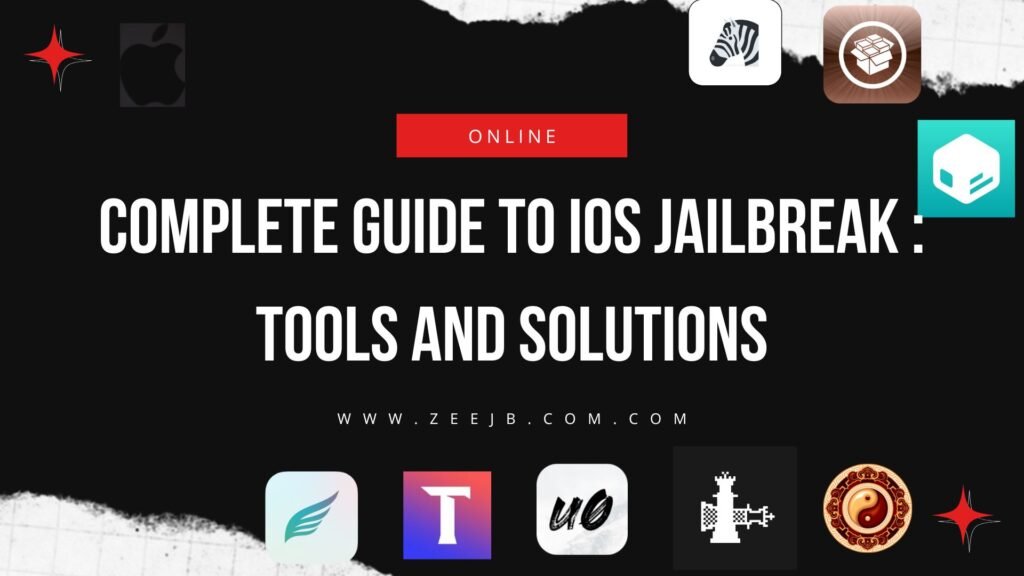 Understanding Jailbreaking
Jailbreaking is the process of removing software restrictions imposed by Apple on iOS devices, allowing users to gain root access and install unauthorized software. It enables a wide range of customizations, such as theming, personalized control center, and advanced system tweaks. However, it's essential to be aware of the potential downsides, including security risks and voiding your device's warranty. Understanding the pros and cons will help you make an informed decision before proceeding.
you may also like :
Popular Jailbreak Tools and Solutions
Here are all the jailbreak solutions and alternatives, with online links available all around the world. Tap the Get Now online And Download the popular jailbreak tools and solutions
Updated – 18.05.2023
Popular Jailbreak Tools
There are several prominent jailbreak tools available in the community, each with its unique features and compatibility. Let's explore a few of the most popular ones:
For each tool, we'll provide step-by-step instructions on how to jailbreak your device, including prerequisites, compatible iOS versions, and any important considerations.
Essential Jailbreak Tweaks and Apps
Once you've successfully jailbroken your iPhone, it's time to explore the vast library of tweaks and apps that can enhance your iOS experience. Here are some must-have tweaks and apps to get you started:
Activator: A powerful tweak that allows you to create custom gestures and shortcuts for various actions, improving productivity and convenience.
Filza File Manager: Enables access to the file system, allowing you to explore and modify files on your iPhone.
Cylinder: An animation tweak that replaces the standard page-scrolling effect with a wide range of unique animations, adding a touch of customization to your device.
AppSync Unified: Allows the installation of unsigned apps on jailbroken devices, expanding your app options beyond the App Store.
Troubleshooting Common Issues
Jailbreaking is not without its challenges, and you may encounter some issues along the way. Here, we'll address common problems and provide troubleshooting guidance to help you overcome them. Some common issues include:
Device compatibility errors:
Boot loops:
Failed jailbreak attempts
Conclusion:
In this comprehensive guide, we have covered the fundamentals of jailbreaking, introduced popular jailbreak tools, recommended essential tweaks and apps, provided troubleshooting guidance, and discussed the future of jailbreaking. Armed with this knowledge, you can unlock new possibilities and personalize your iPhone to suit your preferences. Remember to proceed with caution, as jailbreaking may have risks, and always stay updated with the latest tools and community developments.
By offering valuable information and insights, we aim to empower you to make the most of your jailbroken iPhone, opening up a world of customization and innovation.
you may also like :

PikZo Jailbreak – iOS 12 to iOS 16.4.1
Sideloadly: IPA Sideloader, Latest version – Sign Any IPA File – Full Review 2023
Palera1n Jailbreak – iOS 15 to iOS 16.5 beta 4: Full Review 2023.
Jailbreak iOS 15.5 – Dopamine/online
Jailbreak iOS 15.6 online/ checkra1n
14.3 Jailbreak Online/Checkra1n