(Last Updated On: 10th June 2023)
Learn how to enable Spotify Premium features for free using Spotilife IPA. Discover the installation process, compatible devices, and the latest updates. Download Spotilife and enjoy unlimited skips, ad-free streaming, and more.
Introduction: Unlock Spotify Premium Features for Free with Spotilife IPA
What is Spotilife?
Spotilife is a powerful jailbreak tweak designed for the official Spotify app. By installing Spotilife, you can activate premium features without the need for a paid subscription. This tweak modifies the Spotify app, allowing you to disable ads, enjoy unlimited skips, and unlock the extreme-quality sound stream. While Spotilife provides these premium features for free, it's important to note that using this tweak is considered illegal, and it's recommended to purchase a premium Spotify subscription instead.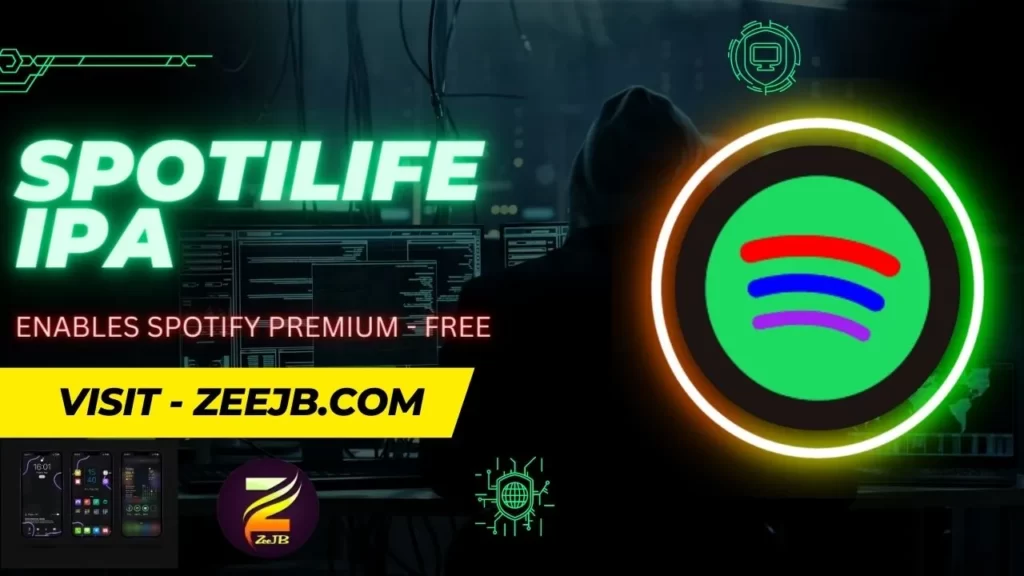 Download Spotilife IPA
To get started with Spotilife, you'll need to download the Spotilife IPA file and install it on your iOS device. Follow these steps:
Step 1 – Visit the iPA library and download the latest version of Spotilife IPA compatible with your device's iOS version.
Step 2 -Once the IPA file is downloaded, open Sideloadly, a popular IPA installer application.
Step 3 – Connect your iPhone to your computer using a USB cable or via Wi-Fi.
Step 4 – Launch Sideloadly and click on the IPA icon. Then, select the Spotify++ IPA file from the dialog box.
Step 5- Enter your Apple ID credentials when prompted to sign the IPA file.
Step 6- Click the Start button to initiate the installation process. Provide your Apple ID password when prompted.
Step 7- After the installation is complete, open the Settings app on your iPhone.
Step 8- Navigate to General → VPN & Device Management (on iOS 15) and click on the developer app associated with your email.
Step 9 – Tap on Trust to grant permission for the Spotilife app to run on your iOS device.
Add Repository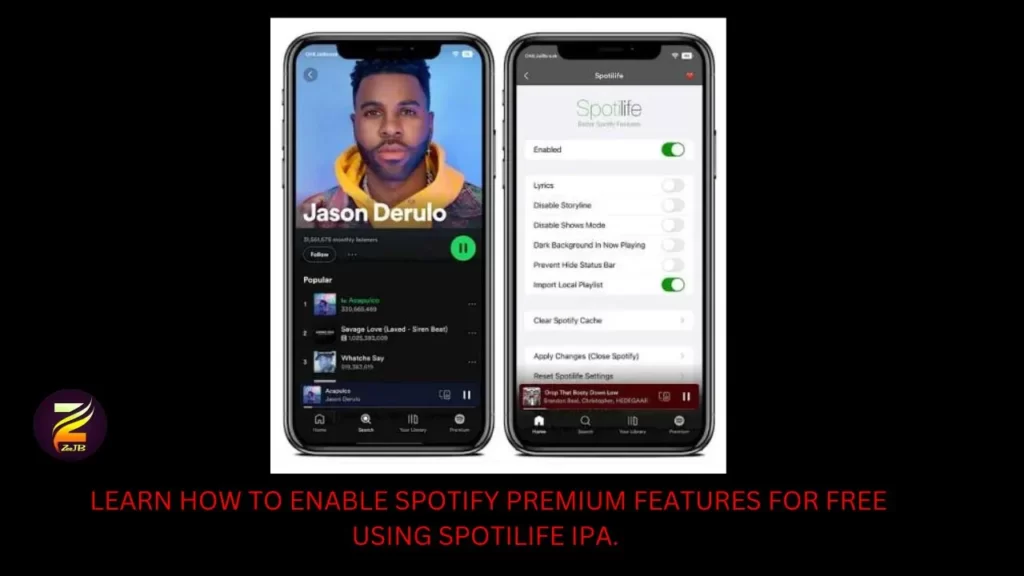 To access Spotilife tweak, you need to add the official Spotify++ Repo to your Cydia Sources.
Follow these steps:
Step 1 – Launch the Sileo app on your device from the Home Screen.
Step 2- Tap on the Sources tab and then select Edit.
Step 3- Add the following repository URLs:
https://julio.hackyouriphone.org/
https://julio.hackyouriphone.org/rootless/

Step 4- Install the Spotilife or Spotilife rootless tweak from the new repository.
Step 5 – After installation, perform a respring on your iPhone to apply the changes.
Step 6 – You can now access the Spotilife tweak settings directly from the Spotify app.
How to get Spotilife?
dark bro web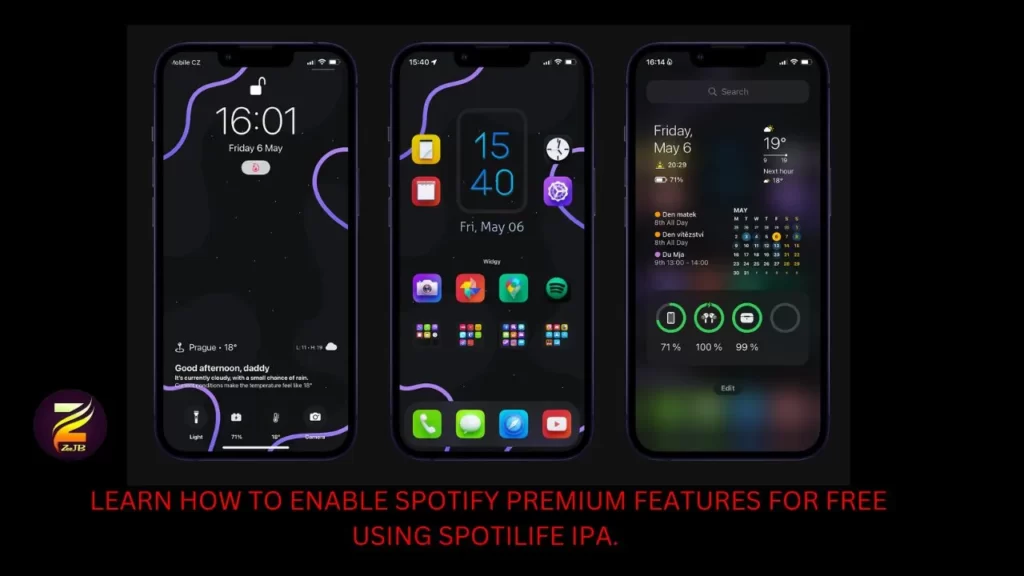 Now you can experience the incredible benefits of Spotify without any cost by taking advantage of the Darkbro website. Through their Spotilife offers, you can unlock even more exciting features and enhancements for your Spotify experience. These offers are designed to make your music streaming journey more personalized, immersive, and enjoyable.
Tap the button below to embark on your Spotify adventure with Darkbro. Take advantage of this amazing opportunity and elevate your music listening experience to new heights. Don't miss out – get it soon and let the music begin!
2. Appdb Pro
With the Appdb Pro app, you can now easily obtain the Spotilife app on your device.Appdb Pro is fully compatible with all iOS versions and device models, ensuring a seamless experience for all users. Simply tap the button below to access the necessary tweaks.
Follow these simple steps to get started:
Step 1: Tap the button below and download the Appdb Pro app.
Step 2: Open Appdb Pro and navigate to the Cydia tweak section.
Step 3: Locate the Spotilife app and tap on its icon.
Step 4: Press the install button followed by the OK button to initiate the installation process.
Step 5: Once the tweak is successfully installed, you can now enjoy the incredible features of the Spotilife app on your device.
Embrace this opportunity to enhance your Spotify experience with the Spotilife app. Follow the steps above and unlock a whole new level of personalized music streaming. Start enjoying your favorite tunes today!
Spotilife Compatibility
Compatibility: iOS 14.0 – 15.4.1, iOS 15.5 beta 1 – 15.5 beta 4, iOS 15.6 beta 1 – 15.6 beta 5. Other firmware releases are not supported. iOS 15.5 is not supported, iOS 15.6 is not supported, and iOS 16 is not supported. This app is possible because there is a bug in iOS.
What's New in Spotilife IPA?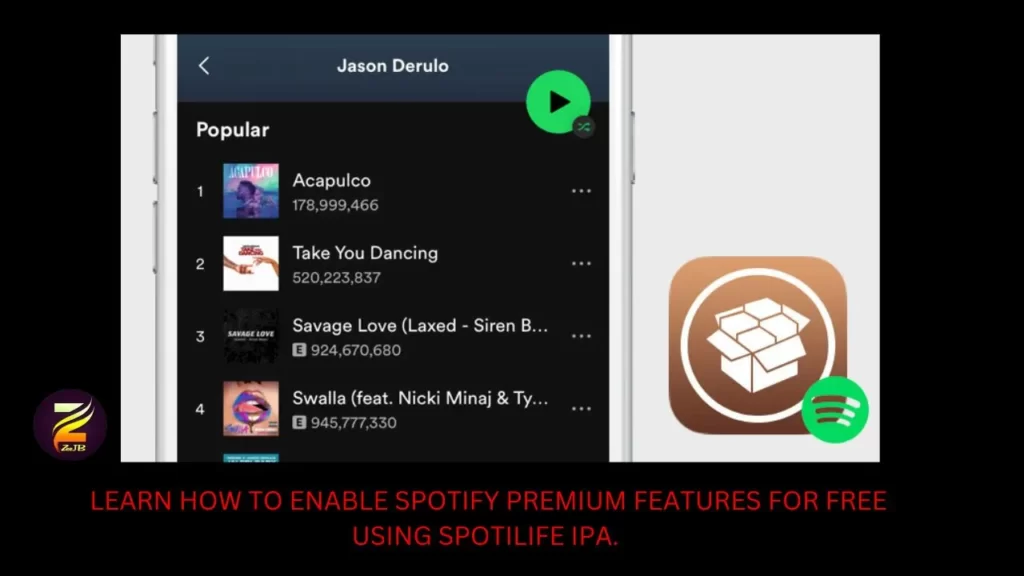 Spotilife IPA has recently been updated to version 1.8, bringing exciting features and improvements:
Support for rootless jailbreaks such as Fugu15.
Added compatibility with iOS 15.
Bug fixes and overall improvements for enhanced performance.
New features, including the ability to load in the Stations app.
Removed dependency on Cydia Substrate.
Updated to support the latest Spotify app for iOS.
How to Install Spotilife Julioverne on iPhone?
Download the iPA File from above link.
Install Altstore or Sideloadly on your PC
Now you can sideload the tweak using the above tools.
Conclusion
Spotilife IPA offers a convenient way to enable Spotify Premium features for free on jailbroken devices. By installing this tweak, you can enjoy ad-free streaming, unlimited skips, and other premium functionalities. However, it's important to be aware of the legal implications and consider purchasing a premium Spotify subscription for a fully licensed and supported experience. Unlock the power of Spotify Premium with Spotilife and enhance your listening pleasure on iOS.
Disclaimer
" The information provided on this website is for educational and informational purposes only. The content is intended to offer knowledge and guidance related to the topic. However, it is important to note that any actions taken based on this information are at your own risk. We do not endorse or promote any illegal activities. It is essential to respect the terms and conditions set by developers and to use any tools or techniques responsibly. We cannot be held responsible for any consequences that may arise from the misuse or misinterpretation of the provided information.
If you have any concerns or questions, please seek professional advice or consult the respective developers or our contact team for further clarification."
Recommended Reads: Top Cydia Tweaks: iOS 12.2, iOS 13,iOS 14
Spotilife Credit
Spotilife no Jailbreak is a popular Spotify iOS app tweak for iOS developed by a talented team of developers. We would like to acknowledge their hard work and dedication in creating this powerful tool for iOS users. If you encounter any issues or have a request for post-removal related to theSpotilife, please contact us at [info.zeejb@gmail.com]. We are committed to resolving any concerns promptly and maintaining a positive user experience. Thank you for your understanding and support.
Learn More About Jailbreak iOS 13.4/13.4.5
FAQ
Who created Spotilife?
Spotilife is created by Julioverne, the developer behind CrackTool4 or CyDown. Try Spotilife today, and enjoy premium Spotify features for free!