(Last Updated On: 22nd May 2023)
Here are all the things you need to know about StrymTV, New URl playlist How to download the guide, features, the latest updates, and StrymTV online installation links.
Transform your iPhone or iPad into a portable IPTV player, granting you access to an extensive selection of live sports events, well-known TV channels, and various video streams. StrymTV, a renowned iOS application, empowers you to enjoy live television on the go, no matter where or when you desire.
StrymTV is a powerful M3U playlist player that lets you watch live TV anytime and anywhere on your iOS device.
How to get StrymTV online?
StrymTV is an IPTV player that can be downloaded through the AppStore. To watch your favorite channels, add the official StrymTV M3U list. The application will not be withdrawn.
Step 1. Install StrymTV from AppStore.
Step 2. Open the app from the home screen.
Step 3. Add the official StrymTV IPTV list (https://pastebin.com/raw/1sYgCyLV) by tapping the + button.
Step 4. Watch all Live Events and Channels.
How to add StrymTV M3U playlist?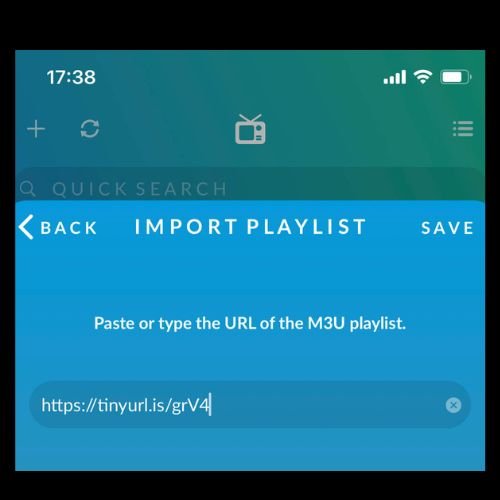 Select the ➕ button in the navigation bar to open the Playlist Manager view on the Playlists tab, then select the ➕ button and select Import playlist from a URL button, paste or type the link to the playlist in the URL https://tinyurl.is/grV4 field and then Play Click the Save button to download the list.
You may also like:
How to Install StreamTV on Apple TV?
StreamTV is compatible with the Apple TV 3rd Generation, Apple TV 4K, and Apple TV HD. You can find out which Apple TV you have by visiting support.apple.com/kb/HT200008.
Initial Configuration
If you are configuring your Apple TV for the first time, you will need:
Access to the Internet
A valid Apple ID. If you don't already have an Apple ID, you can get one here: appleid.apple.com/account#!&page=create
An HDMI cable • A TV or other display with an HDMI port (An HDMI 2.0 or later compatible cable is required for Apple TV 4K.)
If you need additional information, go to support.apple.com/kb/HT210092 (for 3rd generation) or support.apple.com/en-us/HT205358#appletv4kappletvhd (for 4K/HD).
StreamTV should be installed on your Apple TV.
After you've configured your Apple TV, go to the App Store and follow the steps below:
Look for StreamTV.
To begin downloading, highlight and choose the StreamTV app.
After it has finished downloading, select open to run StreamTV.
To access your whole TV channel roster, you must link StreamTV to the Internet service offered by Buckeye Broadband.
StrymTV with Appdb
Appdb app also allows you to get the StrymTV online on your iOS device.it is compatible with Compatible iPhones, iPad, and iPods. Requires iOS 12.0 or newer including iPhone 14 pro max. Also, you can get the cracked versions and special features of StymTv using the Appdb pro team and Darkbro web team.
StrymTV updates (what's new)
This update includes:
BUG FIXES
Fixes Favorites view and playlist items are now visible.
Fixes Ads bug displaying a blank screen.
Minor bug fixes. and more
Unlimited Playlists
Import unlimited remote and local M3U playlists to your iOS device.
Built-in powerful media player with multiple features.
Update remote playlists automatically.
New features of StrymTV
StrymTV has been updated to version 1.0.4.
Stability, performance, and user experience are all important considerations.
StrymTV lives sports URL has been added.
StrymTV playlist URL has been updated.
The favorites display has been improved, and playlist elements are now visible.
The ads problem that was displacing a blank screen has been fixed.
Minor bug fixes are included.
There are a few small bugs.
Search feature has been added to the player view.
Support for iOS 15 has been added.
What is StrymTV?
StrymTV is a famous app that allows you to watch live TV feeds on your iPhone and Apple TV for free. You can watch live sports events and access over 50 commercial television channels from your device's screen if you have a working StrymTV playlist URL. StrymTV is compatible with iOS 11 to iOS 16.
The StrymTV app is essentially a robust M3U playlist player for iOS that supports a variety of video formats like HTTP, HSL, m3u8, mms, rtsp, ts, mpegts, and many more. After importing a StrymTV playlist URL, you can utilize the built-in sophisticated media player to play any channel.
All channels are labelled with their name and corresponding image for easy identification. To discover the appropriate channel, you can search through the list of all TV channels or browse through categories such as Sports, Entertainment, News, Latino, Kids, and News.
StrymTV includes a built-in media player for live streaming. It allows you to use Airplay technology to cast a channel to AppleTV, take screenshots from the video, modify the brightness, manage the audio level, and change the display mode to fill the entire screen.
Furthermore, you may customize some player settings, such as enabling background playback, which allows you to continue playing audio even while the programme is in the background, playing media over cellular, and starting playback in iPiP (internal Picture in Picture) mode.
This free IPTV player includes a plethora of handy functions. It allows you to import an unlimited number of remote and local M3U playlists to your iOS device, manage your M3U playlists, add channels to favourites for easy access, and, most importantly, automatically update remote playlists.
The latest StrymTV player update includes support for Raw Pastebin links and URL Schemes. Open strymtv://player/VIDEO_URL in a web browser or linking service to view any stream. You may even play, copy, or edit any of your recently played broadcasts.
StrymTV allows you to watch live sports events online that are routinely updated, such as the UEFA Champions League, NBA, NHL, MLB, Box, Golf, ESPN, La Liga, Formula 1, WWE, and many others. StrymTV URL playlists also provide live access to channels such as ABC, BBC, Eurosport, ESPN, BT Sports, bein Sports, Fox, HBO, MTV, HGTV, SYFY, TBS, CNN, USA, CN, Nickelodeon, TNT, CBS, and others. Typically, the video resolution streams in HD quality, which is sufficient to cast to your TV via the StrymTV application. View live broadcasts in landscape or partial mode. The only drawback is that adverts appear before each stream and cannot be skipped.
URL to the StrymTV playlist
StrymTV is compatible with M3U playlists, which can be readily loaded into the IPTV player. Simply tap the + button and then import the playlist from a URL to add a new StrymTV URL playlist. There can only be one active playlist. It is also possible to construct empty M3U playlists.
>=StrymTV: https://movitv.pro
(for StrymTV) https://movitv.pro/f1.txt
>=https://veve.pro (open to all IPTV players)
>=https://pastebin.com/raw/uPre5AFb (IPTV playlist for free)
Solutions and Alternatives for StrymTV
Channels Pro is an excellent solution for StrymTV. You can also watch internet television (IPTV) on your iPhone. Stream NBA, NFL, UFC, UEFA Champions League, Premier League, Bundesliga, LaLiga, FIFA World Cup Qatar 2022, and other sporting events live. It also includes the option to enable true PiP, which allows you to run other programs in full-screen mode.
Ratings and Reviews of StrymTV
Great app
Everything is good when it's available and you get your streaming started. Haven't had many issues with lags but a few times. Great app overall but can't get access to live events 50 percent of the time.

janthony6391
Reviews of StrymTV
Best app ever
At first this was that best app I ever downloaded but then few months ago I could only look at two short movies that's was it I emailed the support team still nothing now if the app works for you then great but u having problems like me just delete on to the next one

Update

The app is back up and working like it should that is great. When the app is working this is the best app so let's keep it running right

Sheldon simmons,
iOS jailbreak tools and solutions
The most famous jailbreak tools(top jailbreak tools) and solutions are,
JAILBREAK TOOLS