(Last Updated On: 10th September 2023)
Here is the latest review/update and step-by-step installation guide on the DarkRa1n iCloud Bypass tool.DarkRa1n is the first free iCloud bypass tool that removes the activation lock screen on checkm8 compatible iPhones and iPads on iOS 16 – iOS 16.2.  
It is a Semi-Tethered or Tethered iCloud Bypass tool brought to you by ios_euphoria, the developer who released the BlackRa1n iCloud Activation Bypass.
DarkRa1n support devices:
iPhone 5S, iPhone 6, iPhone 6 Plus, iPhone 6S, iPhone 6S, Plus iPhone SE 1 gen,
iPhone 7, iPhone 7 Plus, iPhone 8, iPhone 8 Plus iPhone X,
iPad 5 gen iPad 6 gen iPad 7 gen iPad Air iPad Mini 2 iPad Mini 3 iPad Mini 4 iPad Pro 1 & 2 gen

DarkRa1n iCloud Bypass For iOS 15.0 – iOS 15.7.2
A11 > iPhone 8 / iPhone 8 Plus / iPhone X
A10X > iPad Pro 10.5 (2017) / iPad Pro 12.9 2nd Gen (2017)
A10 > iPhone 7 / iPhone 7 Plus / iPad 2018, 6th generation / iPad 2019, 7th generation
A9X > iPad Pro 12.9 in. 1st generation / iPad Pro 9.7 in.
A9 > iPhone 6S / iPhone 6S Plus / iPhone SE / iPad 2017 5th Generation
DarkRa1n iCloud Bypass For iOS 16.0 – iOS 16.5.1
A11 > iPhone 8 / iPhone 8 Plus / iPhone X
DarkRa1n support iOS version:
iOS 16.2, iOS 16.1.2, iOS 16.1.1, iOS 16.1, iOS 16.0.3, iOS 16.0.2, iOS 16.0.1, iOS 16, iOS 15.7.2, iOS 15.7.1, iOS 15.7, iOS 15.6.1, iOS 15.6, iOS 15.5, iOS 15.4.1, iOS 15.4, iOS 15.3.1, iOS 15.3, iOS 15.2.1, iOS 15.2, iOS 15.1.1, iOS 15.1, iOS 15.0.2, iOS 15.0.1, iOS 15.
Download the DarkRa1N file for free
Check out more about:
How to remove iCloud Bypass on iOS 15 – iOS 16
iCloud Bypass can be removed from iPhones and iPads using the free app called DarkRa1n. This allows you to use recycled iDevices. It only takes a few simple steps to use our iCloud bypass removal application, but before you begin, make sure that Python and Homebrew are both installed on your macOS system.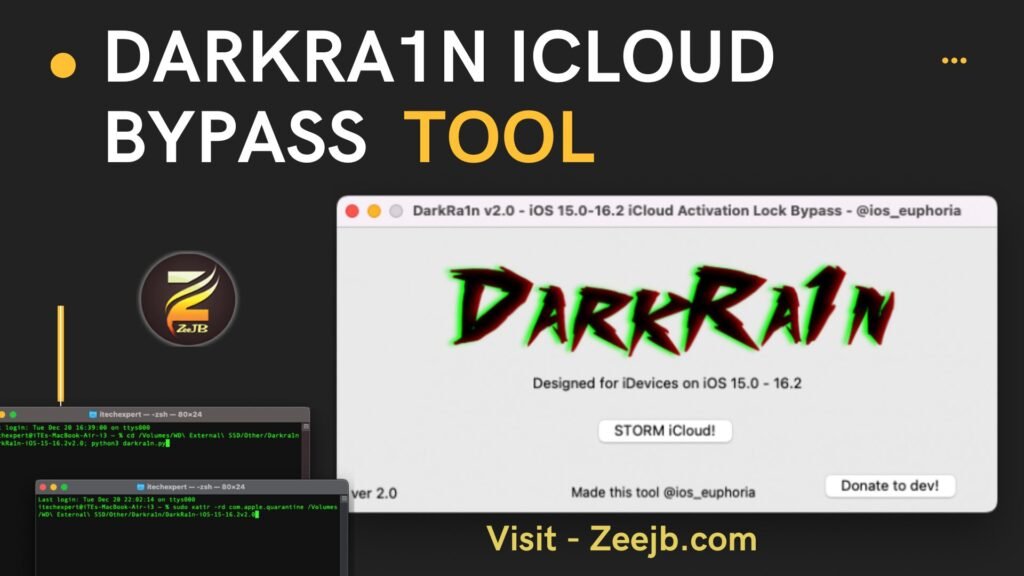 To use the iCloud Bypass tool DarkRa1n, you should Jailbreak your iPhone using Palera1n Jailbreak. iCloud Remover for iOS 15 – iOS 16 on iPhones with an A9 to A11 processor may not come with this jailbreak. Once the device is jailbroken and on the setup screen, continue.
Make sure you have the following with you
Tethered or Semi-tethered Works.
No signal, it's free. Do not use SIM!
No need to change the serial number.
Mac OS only GUI. Linux is under development.
Step#1 – Connect an iDevice that is compatible with macOS.
Step#2 – On Mac, open the DarkRa1n folder and terminal.
Step#3 – Type cd space and then drag and drop the folder.
cd_ 
Step#4- To install the required components, run the following command in the terminal.
bash ./install_deps.sh
Step#5 – Then go to Settings > Security & Privacy > Allow the Terminal and ssh wrapper full disk access.
Step#6 – Inputting the following command into the terminal will install the required components.
python3 darkra1n.py 
Step#7 – At this point, connect your jailbroken iPad or iPhone to the PC.
Step#8 – To begin, click "STORM iCloud" and follow the on-screen instructions.
Step#9 – Your iOS device will reboot now that the iCloud Activation Lock has been removed.
Step#10 – Next, re-jailbreak your iPad or iPhone with Palera1n Jailbreak.
Try running the commands if anything isn't working.
sudo xattr -rd com.apple.quarantine./
chmod 755./" in the DarkRa1n folder
Simply use the following command to resolve your iproxy issue:
sudo apt-get install libusbmuxd-tools && sshpass -y. 
or commands in the DarkRa1n folder:
 "sudo xattr -rd com.apple.quarantine ./" and "chmod 755 ./"
Palera1n Jailbreak Allows DarkRa1n Tethered iCloud Bypass
The most efficient Palera1n jailbreak must be installed on your iPhone or iPad to use the DarkRa1n tethered iCloud bypass, which is compatible with iOS 15 to iOS 16. Each time you reboot your iPhone, you must use a computer to install the iOS system. If not, the screen immediately goes black.
Check out more about Palera1n's Guide to Jailbreaking iOS 16 - iOS 15 click here>>>
In contrast to Palera1n's BlackRa1n iCloud activation lock bypass on iOS 15, DarkRa1n iCloud Bypass does not include Palera1n tools and requires independent jailbreaking before use. However, BlackRa1n is only compatible with iOS 15.0 – iOS 15.7.1. BlackRa1n 1.4 is still available for Linux and Mac.
You may also like:
What Is DarkRa1n iCloud Bypass?
DarkRa1n is the first iOS tool that can deactivate iCloud Bypass on iPhones and iPads running the most recent version of iOS 16, iOS 16.2. DarkRa1n iCloud Bypass is a powerful utility that allows users to disable Find My iPhone and unlock Apple ID without the need for a password. This innovative tool supports all checkm8 devices running iOS 15.0 to 15.7.2, as well as A11 devices running iOS 16.
Check out more about Xina jailbreak. Click here>>>
Securing Your Device with DarkRa1n iCloud Bypass
Apple's iCloud Activation Lock function is designed to prevent unauthorized access to your device and protect against theft. However, situations arise where users may forget their password or purchase an iCloud-locked device online, leaving them locked out of their own devices.
DarkRa1n iCloud Bypass comes to the rescue as a reliable solution for bypassing the iCloud Activation Lock. It serves as the alternative to BlackRa1n's iOS 15 iCloud Activation Lock Bypass and offers support for A9-A11 handsets without signal connectivity. Even if your SIM card is inactive, DarkRa1n ensures system accessibility.
You may also like: Unlock Your iDevice with Ease: A Comprehensive Review of the 4uKey iCloud Removal Tool
Simplified iCloud Bypass with DarkRa1n
DarkRa1n's tool provides additional capabilities, making the process of deleting iCloud Bypass much simpler. With just a single button press, you can remove the iCloud Activation Screen from your jailbroken smartphone. The DarkRa1n tool offers clear step-by-step guidelines for seamless navigation.
It's important to note that DarkRa1n's iCloud Bypass exclusively supports older devices using the Checkm8 exploit. Apple has addressed the vulnerability enabling jailbreak, so bypass functionality for newer devices like the iPhone XR, XS, XS Max, iPad Mini 5, iPad Air 3, iPad 8, A13, and A14 is not available with DarkRa1n.
DarkRa1n: Unlocking Activation Lock on A9-A11 Devices
DarkRa1n iCloud Bypass allows you to unlock the Activation Lock function on iPhones and iPads running A9-A11 iOS devices. This means that even if your iDevice is deactivated, DarkRa1n can bypass the Activation Lock and grant you access without requiring your password.
Preserving Baseband Integrity with DarkRa1n
The baseband status of your device is not affected by DarkRa1n's functionality. When using the DarkRa1n tool, your device's baseband remains unaltered. Although the signal may not be activated immediately, a paid service will be provided for each device once it is activated. Keep in mind that a Linux version of DarkRa1n is also in the works for future release.
By utilizing DarkRa1n iCloud Bypass, you can effectively unlock your iCloud-locked device and regain access to its features and functionality. This tool provides a convenient and reliable solution for users facing Activation Lock issues on their A9-A11 devices running iOS 15 and iOS 16.
DarkRa1n iCloud Bypass tool Reddit updates
iOS 15.0 – 15.7 | 16. 0 – 16.2 iCloud Bypass Tool for Checkm8 Devices
PLEASE WIPE THE DEVICE FRESH BEFORE STARTING. Then palera1n jailbreak it, then read the DarkRa1n README!!! After that, run the tool and start iCloud Bypass.
Click STORM iCloud!
Once it completes, it will go into recovery mode.
All you need to do is re-jailbreak the same way you did and that it.
DarkRa1n iCloud Bypass Tool iOS 15.0 – 16.2 V2.0 (Checkm8 devices)

UPDATE! 5/3/2023 @ios_euphoria is banned on twitter. @mrcreator1 and @pwn2owned are my new twitter handles. Darkra1n works on OLD iOS 15/16 versions.

Version SUPPORTED 15.0 – 15.7 16.1 – 16.3

Versions NOT SUPPORTED with DarkRa1n exploit 15.7.2 – 15.7.5 16.3.1+
(anything newer than that IS not supported)

Apple releases newer iOS patches for older devices that DONT support iOS 16 thats why SOME iOS 15 versions dont work. You came late to the game. Blame yourself lol. Its okay though as I made a new tool iSkip which involves a NEW method for bypassing these NEWer iOS versions. Dont even need to use DarkRa1n its just an old method I made. Check my twitter @pwn2owned and @mrcreator1 to see if theres a download link.

Both_Kale7287
Questions and Answers: 

Q: What happens if my device reboots or runs out of battery?

A: Easy. Just connect to your computer and run palera1n again jb. That's it.

Q: Device doesn't boot after re-jailbreaking!?

A: If your device doesn't want to boot after the second jailbreak - go to palera1n folder and delete these folders: blobs, boot-iPhone

(it may be boot-iPod, boot-iPhone, boot-iPad) - delete it!

and also go to ramdisk and delete the folder: sshramdisk

Now try the palera1n jailbreak again. The device should now boot!

Q: I don't see the palera1n app!!?

A: Connect to WiFi. Don't use a sim. Wait and device will respring with app!

Q: Signal?

A: ...no. 

It will never be free. I have not and am not planning on releasing signal bypass tools.
DOWNLOAD FREE: https://www.mediafire.com/file/magkde8ij9y90m8/DarkRa1n-iOS-15-16.2v2.0.zip/file

If you're having issues please wait for the next update or attempt to follow this guy's tutorial.



Youtubers and creators alike, if you get it working please make a tutorial how to use it and I will update this post!
DarkRa1n jailbreak video guide :
FAQ
What are the jailbreak tools?
2. What are jailbreak alternatives?
The most famous jailbreak solutions are,