(Last Updated On: 28th May 2023)
Optimize iOS performance with Speedy tweak – fine-tune animation speed, enhance responsiveness, and customize visuals on your jailbroken iOS 15 device.
Enhancing iOS Responsiveness with Speedy Tweak for iOS 15
When it comes to optimizing the performance of your iOS device, Apple has ingeniously incorporated captivating animations to mask certain loading issues. However, on a jailbroken device, you can take complete control over the speed of app loading and SpringBoard animations. Enter Speedy, the revolutionary tweak designed specifically for rootless jailbreaks like Fugu15 Max Beta, Dopamine, or Palera1n.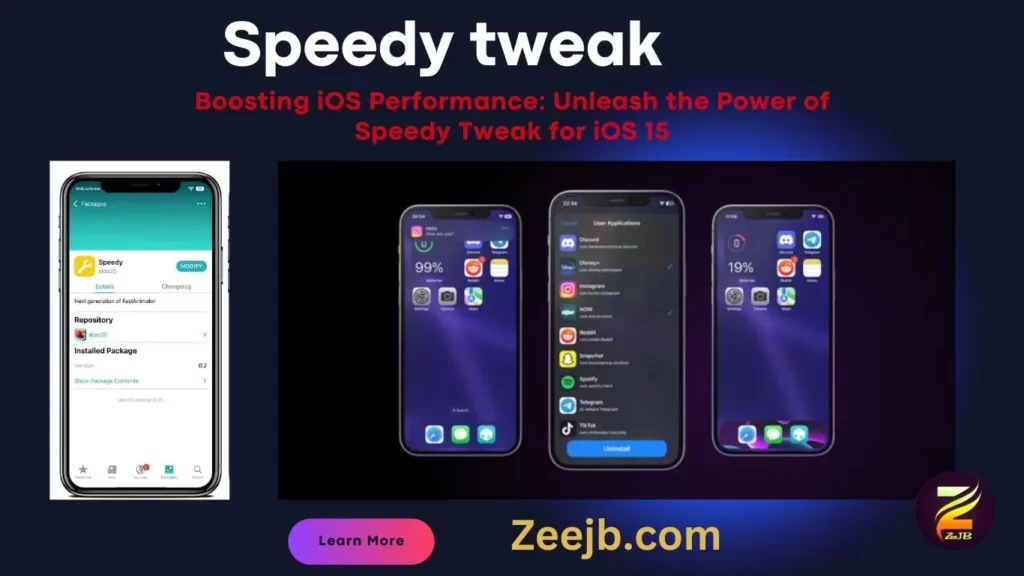 In this article, we'll explore the features, customization options, and installation process of Speedy Tweak, which aims to elevate the animation speed within applications and SpringBoard, enhancing the overall responsiveness of your iOS 15 device.
Check out more about :
Add Speedy Repo to your package manager and install the tweak:
https://alias20.gitlab.io/apt/
Understanding Speedy Tweak
What is Speedy? Empowering Your iOS Experience
Speedy is a remarkable jailbreak tweak tailor-made for iOS 15 and newer versions, focusing on rootless jailbreaks. With its extensive range of enhancements to animation speed, both within applications and SpringBoard, Speedy surpasses its counterparts like AnimationBeFast. Upon successful installation, Speedy seamlessly integrates a dedicated preference pane within the Settings app, providing easy access to its configuration options.
Expand your knowledge by exploring:
Customizing Animation Speed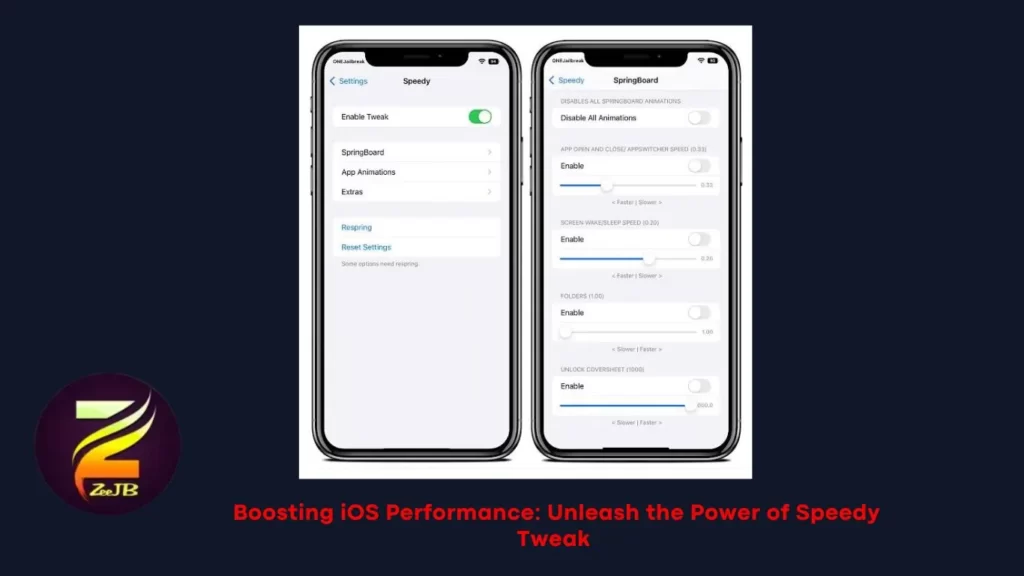 Unleashing the Power of Animation Customization
To elevate the overall speed of your iOS device, Speedy for iOS 15 offers a convenient toggle that disables all SpringBoard animations with a single touch. But that's not all – the tweak empowers you to customize animation speed for various actions, such as opening and closing apps, adjusting the App Switcher speed, screen wake and sleep speed, folder opening speed, and even unlocking the cover sheet. With Speedy, you can fine-tune your device's animation experience to match your preferences.
App-Specific Animation Customization
Tailoring Animation Speed for Installed Apps
Speedy goes the extra mile by providing a range of animation customization options tailored specifically for installed apps. Each selected value is multiplied by the default animation value (set to 1.0), allowing you to have granular control over animation speed. Moreover, you can also exclude certain apps from being affected by Speedy, giving you the flexibility to prioritize animation settings based on your usage patterns.
Exploring Animation Customization Parameters
Unraveling the Secrets Behind Animation Control
When customizing animations in the Settings app using Speedy, it's important to note that changes may not take effect immediately. To see the updated animations, it is necessary to close the Settings app from the app switcher and then reopen it. Speedy offers a variety of customization options, each serving a specific purpose:
Duration: Fine-tuning the overall time required for animation completion.
Damping: Adjusting the speed at which animations come to a stop.
Velocity: Controlling the speed at which animations initiate.
Stiffness: Modifying the duration of animations at the stopping point.
Mass: Managing the weight of spring animations at their endpoints.
Fine-Tuning System Animations
Personalize Your Visual Experience
In addition to app-specific animations, Speedy includes an Extras section, which grants you access to disable specific system animations. Within this section, you can conveniently toggle off animations like Icon fly-in, passcode highlight, passcode reveal animation, Face ID lock glyph, wallpaper scaling, and parallax animation. These options offer a comprehensive level of control over system animations, allowing you to personalize your device's visual experience according to your preferences.
Installing Speedy Tweak
Simple Steps to Elevate Animation Speed
To enjoy the benefits of Speedy on your jailbroken iOS device, follow these simple steps:
Step 1 -Open the Sileo app from your device's Home Screen.
Step 2 -Tap on the Sources tab, then select the Edit button.
Step 3- Add the following repository URL: https://alias20.gitlab.io/apt/
Step 4- Search for "Speedy rootless" and install the tweak.
Step 5- Restart the Springboard to apply all changes.
Step 6- For added convenience, you can quickly add the Speedy repository to your preferred package managers, such as Cydia, Sileo, Installer, or Zebra, using the provided quick links here. With just one click, you can effortlessly add the repository and download Speedy for iOS 15.
What's New in Speedy 0.2
Continuous Improvements and Bug Fixes
The latest version of Speedy tweak, version 0.2, introduces overall improvements and bug fixes, ensuring a smoother and more reliable user experience. As the development team continues to refine and enhance Speedy, users can expect an even more optimized and feature-rich animation customization tool.
Conclusion
Unleash the Full Potential of Your iOS Device with Speedy Tweak
With Speedy tweak for iOS 15, you can unlock a new level of control over animation speed within applications and SpringBoard on your jailbroken device. By customizing animation parameters and fine-tuning system animations, you can personalize your iOS experience to suit your preferences. Enhance the responsiveness of your iOS device and elevate your visual experience with Speedy Tweak.
JAILBREAK TOOLS AND SOLUTIONS