(Last Updated On: 9th March 2022)
Here's a step-by-step guide to upgrading your iPhone iOS version in the iOS 14 series to iOS 15. (iOS 15.1). without using a PC, and without further restore tools.
Apple released iOS 15.4 beta 5 yesterday, it's already been replaced some iOS bugs. The famous iOS exploit developer @realBrightiup was found two XNU bugs fixed in iOS 15.1, and he shared them with the jailbreak community.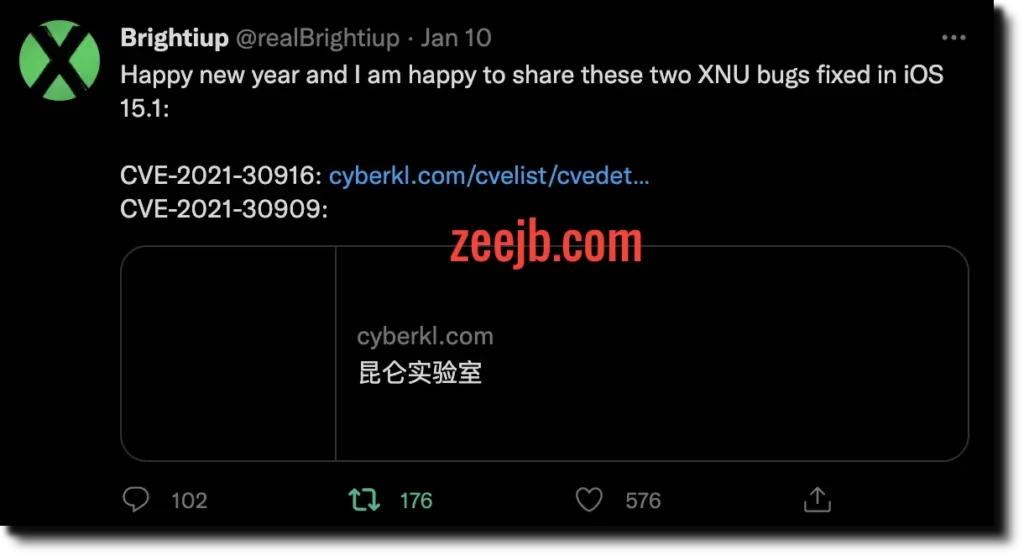 After a few days ago he will publish the POC (proof of concept) that can be jailbreak developers to use.
But according to other exploit developers, it is not a POC, but anyway another developer Jake James who is the developer of the rootless jailbreak tool he is made a real POC using the Brightups exploit document.
And also (Jake James) twitted he is also working on his own kernel exploit, he will try to make it clean and usable for a public jailbreak.
This means that developers of popular jailbreak tools such as unc0ver and Taurine can use this stable exploit to update their jailbreak tools' compatibility to iOS 15 – iOS 15.1 support.
Also, Another developer @licht_jb twitted "Looks like 15.2 beta 1 is vulnerable" with Brightiups bug for 15.0 – 15.1.1 "
As a result, iOS 15.2 beta 1 is also vulnerable. According to this, we can also expect an iOS 15.2 jailbreak (but not soon).
If you want to jailbreak iOS 15.1, iOS 15.1.1, iOS 15.2, or iOS 15.2 beta 1, follow the steps below and then update your iOS device to the latest version. (If you're using iOS 14 – iOS 13)
If you've been thinking about upgrading to the latest version of iOS(iOS 15 IOS 15.1), here are the best reasons to upgrade now.
Include new camera features and an upgraded screen size.
Bug fixes.
Can be jailbroken.
Lot of new features.
How to upgrade from iOS 14 – 15.1
Method 1:
Regular Delay OTA has been FIXED by Apple!
Step 01: Go to http://supervise.me to supervise your device
Step 02: Then download iOS 15.1 from http://delayota.com (if on iPhone 12/13 15.1.1 will show from the 15.1 profile) This could stop working at any time. GO GO GO!!!
Method 2:
Follow the below complete guide carefully to a successful upgrade. First, you need to backup your iPhone. Then, go to Settings > General > Software Update and you can see the latest version of the iOS is here (Maybe iOS 15.3), but we need to update iOS 15.1, to get iOS 15.1 follow the below instructions.
Tested iOS versions –
iOS 14.2
iOS 14.3
iOS 14.5.1
iOS 14.6
iOS 14.7
iOS 14.8 / iOS 14.8.1
Per requirements:
A Jailbroken iPhone / iPad.
Step 01: Once you have jailbroken your device. open up Cydia / Zebra app.
Step 02: Tap on the sources > Edit > Add, then add the following 3 repositories.
supervise.me repo: http://repo.supervise.me

Cadoth repo: http://repo.cadoth.net

Dhinakg repo: http://dhinakg.github.io/repo
Step 03: After adding the repos you need to supervise your device, to do that tap on the supervise.me repo > All Packages > Supervise > Install
Step 04: Go to repo.cadoth.net > All Packages > OTAEnabler > Install
Step 05: Go to dhinakg.github.io/repo > Tweaks > Dalles > Install
Step 06: After that Open iPhone/iPad safari browser then enter following web site.
Dallas: https://dhinakg.github.io/dallas
Step 07: Scroll down the page and find Dallas Enabler then tap on the red text link, then press "Allow" on the popup.
Step 08: Open iPhone Settings> General > Profiles > Tap on the Dallas Enabler > Tap on install
Step 09: Go back to safari bower then scroll down the https://dhinakg.github.io/dallas page then tap on Dallas – 15.1, then allow profile download.
Step 10: Then again go to iPhone Settings> General > Profiles >Dallas -15.1 > Install.
Step 11: Now go back to iPhone Settings > General > Software Update
Now you can see iOS 15.1, now you can Download and install the software update.
you may also like: