(Last Updated On: 19th June 2023)
Discover the five incredible new features coming to AirDrop with Apple's iOS 17 update. From NameDrop to continued transfers over the internet, these enhancements will revolutionize your sharing experience.
Introduction
Since its introduction in iOS 7, AirDrop has become the favored means for iPhone users to instantly share photos, videos, documents, and more with nearby Apple devices with relative ease. Given its widespread popularity, the feature hasn't changed all that much over the years. But this year, Apple is stepping things up a gear by bringing several new capabilities to AirDrop that should make it more powerful than ever.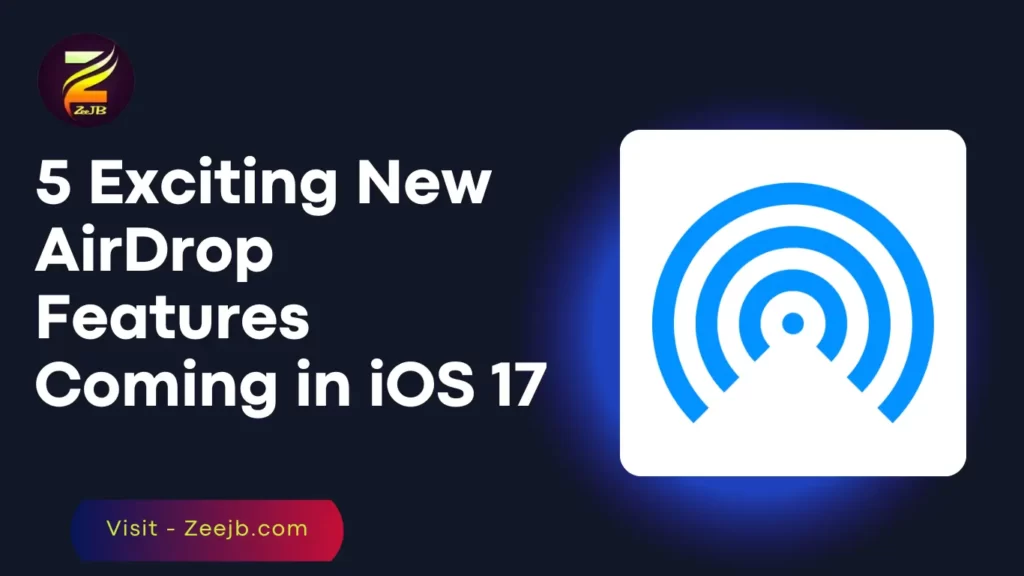 Learn more about how to make easy money from a Fiverr account.click here>>>
Can I jailbreak iOS 17?
Here is how to jailbreak iOS 17 online and with Palera1n, all the latest updates about the iOS 17 jailbreak, release dates, new features, jailbreak solutions, Unv0ver, Chimera, Checkra1n, Palera1n jailbreak, tool compatibility, how to get Cydia for iOS 17 online, and top jailbreak tools.
NameDrop – Effortless Contact Exchange
NameDrop was Apple's headline new AirDrop feature in its ‌iOS 17‌ preview. Rather than type in the number of someone new to call or text them so that they have your number, NameDrop allows you to simply hold your ‌iPhone‌ near their ‌iPhone‌ to swap contact details.
How NameDrop Works
When two iPhones are held close to each other, each person's Contact Poster appears (a picture of yourself that you can customize and edit, new to ‌iOS 17‌). Users can then select which numbers and email addresses in their contact cards they want to share.
The feature also works between an ‌iPhone‌ and a nearby Apple Watch running an upcoming software update, which Apple says will be available "later this year."
Expand your knowledge by exploring:
New AirDrop Gesture – Seamless Content Sharing
The same iPhone-to-iPhone proximity gesture that works for NameDrop also allows users to share content like photos and files. Simply bringing the two phones close together initiates the transfer over AirDrop, thereby removing the current requirement to manually select the person from the AirDrop device locator via the Share Sheet.
Check out more about – TrollStore – Sideload Any IPA File Permanently For Free in 2023.
Continue AirDrop Over the Internet – Uninterrupted Transfers
The way AirDrop currently works, you have to stay within close proximity to the other person's device for any transfer to complete – if you leave AirDrop range, the transfer fails and the content isn't shared. This can be particularly frustrating when you're sending or receiving several large files like video content.
By contrast, if you leave the AirDrop range in ‌iOS 17‌, the content you are trying to share with someone continues to be sent securely, and in full quality, over the internet. The only requirement is that both you and your recipient are signed in to iCloud.
SharePlay Over AirDrop – Simultaneous Activities
Holding two iPhones close together can also be used to initiate a shared activity via SharePlay. This allows the two of you to listen to music or watch a movie together.
And thanks to a new SharePlay API, third-party developers can make their apps support the gesture, allowing you to drop into the same game together or watch the same stream while using your separate devices.
Explicit Image Blurring – Enhanced Privacy
iOS doesn't allow just anyone to share a photo or document to your device unless you actively choose to accept it. A longstanding issue with AirDrop, however, is that it displays a preview of the proposed shared content on your device's screen, whether or not you actually want to see it.
This has led people to be subjected to unsolicited nude and explicit images. To prevent this in ‌iOS 17‌, Apple is introducing a new opt-in feature that automatically blurs images sent over AirDrop that may have sensitive content like nudity. The content will be blocked but can be viewed by tapping a "Show" button.
These Sensitive Content Warnings work like the Communication Safety functionality that Apple added for children, with all detection done on the device, so Apple does not see the content being shared.
Conclusion
These upcoming AirDrop features in iOS 17 are set to enhance the way users share and connect with their Apple devices. Get ready for an even more seamless and secure sharing experience with AirDrop's newfound capabilities.
You may also like:
Jailbreak iOS 16.1 – Online/Palera1n
Saily – Package Manager – iOS/iPad OS [updated] 2022
Jailbreak iOS versions 11 – iOS 17.1
iOS 14 jailbreak – We Covered Everything
iOS 14.6 Jailbreak unc0ver, Checkra1n & online tools.
How to Set Up GoDaddy Email Account on an iPhone?