(Last Updated On: 15th August 2023)
Cluckabunga IPA – Chicken Butt Review: The first public Jailbreak Alternative, KDF-based jailbreak customization app for iOS 16.0–16.5 on A12+ iPhone, iPad, and iPod Touch devices.
Are you worried about the jailbreak of iOS 16? Do you need a permanent solution for customizing your iPhone Home Screen, changing Lock Icons, adding Custom Fonts, and even enabling Dynamic Island on your iPhone/iPad? Just be calm! There will be no more worries in the future!!
All you have to do is install the Cluckabunga/Chicken Butt app on your device. Palera1n uses a KFD Jailbreak Exploit developed by felix-pb, and it supports all A12+ iOS devices running 16.0 up to 16.5.
Cluckabunga's latest version is Now supported for iOS 16 (iOS 16.5). See Achievements:
Table of Contents
Latest Update: 
V 2.0 Beta 1

=>> Renamed Chicken Butt to Cluckabunga
=>> Added passcode theming
=>> Fixed explore page issue

Download / Install

v1.2 beta 1

=>> New offsets! Try this, it should work for you guys now. Credit to misaka

Download / Install


Palera1n Virtual Jailbreak released: This is a newly introduced online method to install Sileo after running Plara1n iOS 15 jailbreak process virtually. The Virtual Plara1n jailbreak process is very easy. It is a web-based application that you can jailbreak virtually.
Read More: Virtual Jailbreak

iOS 15 - iOS 15.1.1 A11 Online Jailbreak XinaA15 Released
Cluckabunga: iOS 16 -16.5 Jailbreak customization App Review:
Cluckabunga is a KFD Customization Tool for A12+ devices. Currently, support ranges from iOS 16.0 to 16.6b1.
Cluckabunga was developed based on a MDC/KFD exploit discovered by felix-pb,. It is now possible to customize iPhone/iPad models home screen which runs iOS 16 to iOS 16.5.
Suggested reading =>> Best iOS 15.1 – iOS 16.3 Palera1n Alternative
Let's go deep into the tool and explore its features, advantages, and disadvantages!!
Cluckabunga Compatible iOS/iPadOS versions:
Supported iOS versions:
iOS 16.5, iOS 16.4, iOS 16.3, iOS 16.2, iOS 16.1, iOS 16
Unsupported iOS versions:
Palera1n injector and sileo package manager can be installed on iOS 16 - iOS 16.5 and higher devices.(All iPhones & iPads Supported)
Download Palera1n Injecter - For Online, For Windows
Cluckabunga Compatible iPhone/iPad Models:
Supported iPhone Models:
iPhone 14, iPhone 14 Plus, iPhone 14 Pro, iPhone 14 Pro Max.
iPhone SE (2nd generation), iPhone SE (3rd gen).
iPhone 13, iPhone 13 mini, iPhone 13 Pro, iPhone 13 Pro Max.
iPhone 12, iPhone 12 mini, iPhone 12 Pro, iPhone 12 Pro Max.
iPhone 11, iPhone 11 Pro, iPhone 11 Pro Max.
Supported iPad Models:
iPad 10.2″ 9th Gen, iPad 10.2″ 8th Gen, iPad 10.9″ 10th Gen
iPad Air 3rd Gen, iPad Air 4th Gen
iPad mini 5th Gen, iPad mini 6th Gen
Download the Cluckabunga Customization app
You can use the below download link to get Cluckabunga IPA, .deb, and Source codes.
Further reading =>> iOS 16 Jailbreak Released?
Essential Facts To Know About Cluckabunga.
Some Cool facts about the Cluckabunga++ iPhone Customization app are listed below for your reference.
Compatible With many iPhone & iOS Models: It supports a wide range of iOS versions and iPhone models(A12+ devices).
Easy to Install
User Friendly Interface
Best #3 Methods to Install Cluckabunga IPA
In the section below, we will go through the various options for downloading and installing the Cluckabunga app.
#01) Sideloadly
Sideloadly is a great alternative to Cydia Impactor. With this program, you'll be able to sign and resign IPA files using your Windows or Mac computer.
Step #01: Download & Install Sideloadly Tool to your PC/MAC.
Step #02: Configure Sideloadly with your iCloud Details, then connect your iPhone/iPad to the PC.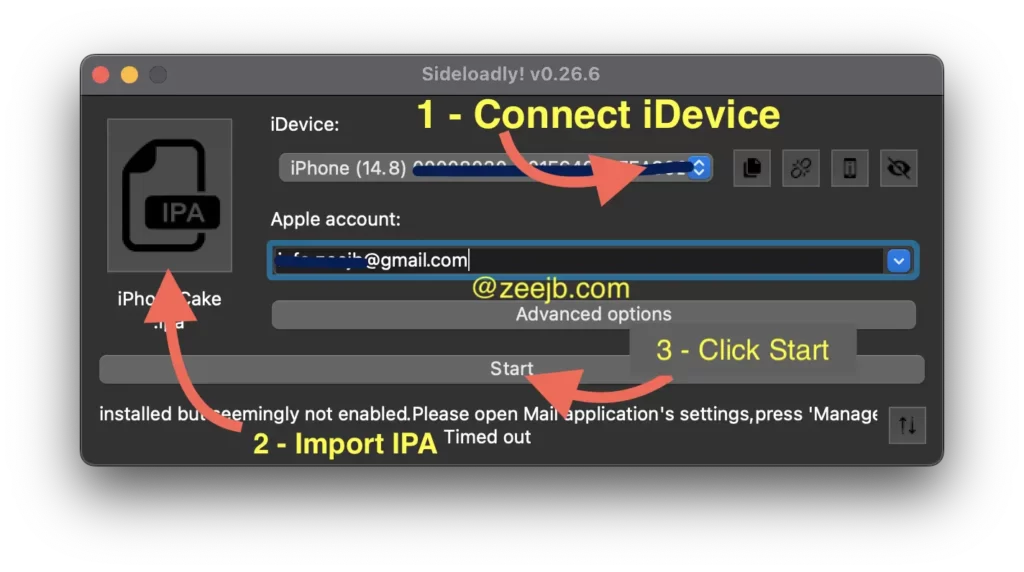 Step #03: Import the Any IPA file then Start Signing the app. You can download the Latest IPA files using the below button.
Step #04: Once installation is done, navigate your iPhone App Library (To find it, simply swipe all the way to the very last, rightmost page of your iPhone's home screen)
Step #05: Search the app name which you have installed.
Recommended reading =>> iOS 16 Jailbreak
#02) Install Via Kekuk Store
If you use Kekuk iOS Store to install IPA files, you don't need a computer.
Step 01: Visit the Kekuk iOS Store by clicking on the link below.
https://kekuk.com/app
Step 02: Navigate to the "Jailbreak" tab then you can find Cluckabunga app.
Step 03: Tap on the "Get" button.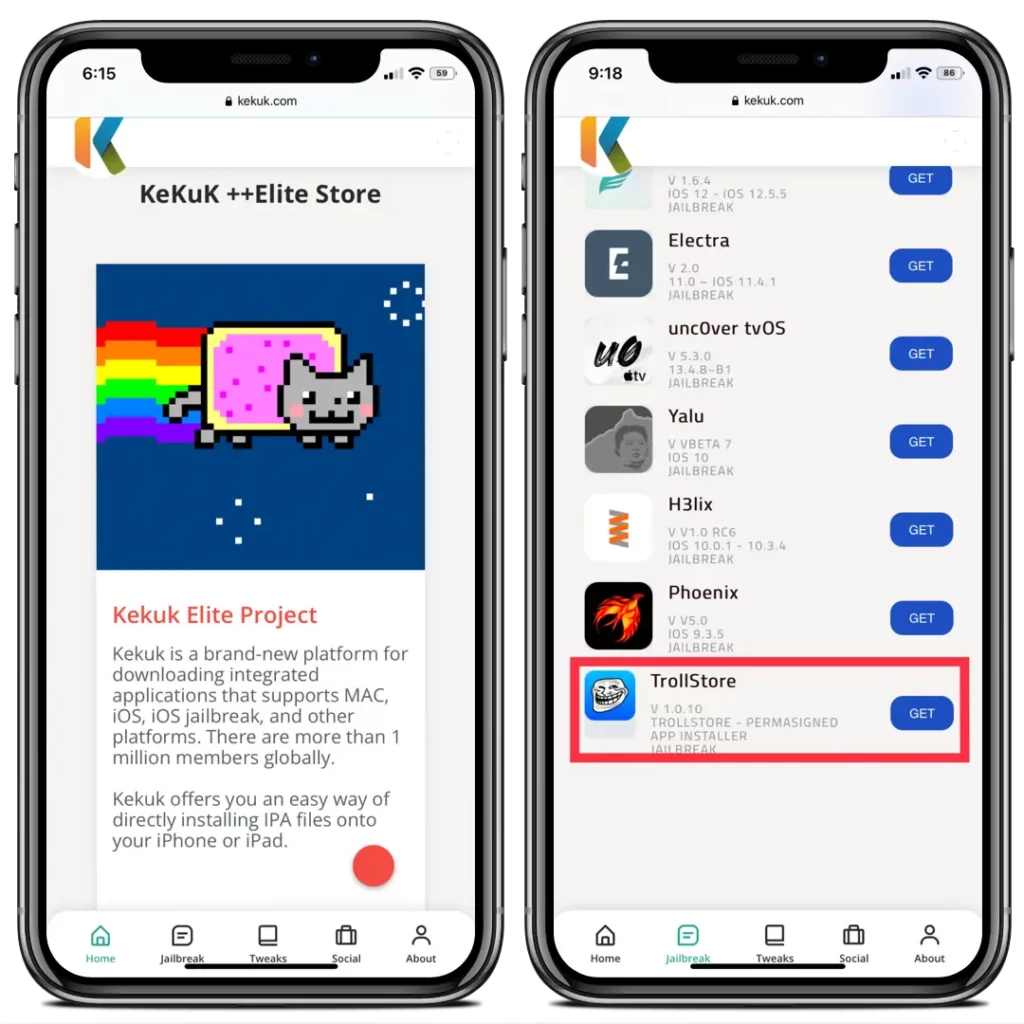 Step 04: Now that the installation dialog has shown, click the button that says "Install" to continue.
Step 05: Return to the home screen to confirm that the app has been installed properly.
#03) How to install Cluckabunga App on iOS 16 – Filza
IF the Filza file manager is compatible with your device, then you will be able to install Tweaked apps with Filza or Plank Filza.
Recommended reading =>> How to install Filza iOS File Manager?
Recommended reading =>> iOS 14 Jailbreak
Step #1 – Download and install Filza File Manager
Step #2 – Download The IPA file
Step #3 – Download and install the IPA file using Filza
Step #4 – You may either respring your iPhone or run the uicache command.
Step #5 – Launch the Installed application by tapping it from the Home Screen.
How to get Cluckabunga online?
Cluckabunga jailbreak customixe is now available online installation, so you can use any of following applicaiton to get Cluckabungaapp online
Cripzi jailbreak
Cripzi is the world's best jailbreak alternative app. You can get amazing tweaks, repos, hacked games, and 1000+ Jailbreak apps, etc. now you can download an online t-store from the cripzi application.
Step 1 – Go to the Cripzi jailbreak page and install the Cripzi jailbreak. (please use the below button)
Step 2 – Go to the device setting and trust the profile.
Step 3 – Open the cripzi app and tap the app icon you want. (Please note – if the free certificate is revoked, you cannot download apps successfully, please get the cripzi pro application)
Step 4 -go to device setting>general>profile management and trust the profile.
Step 5 – Enjoy the application.
How to Install IPAs Permanently iOS 15 – iOS 15.7
In most cases, the TrollStore/T-Store app makes it easy to install IPA files on iOS. TrollSt0re will provide a permanent certificate to any IPA that is added to the App List.
Step 01: Download any IPA file you like to install. (You can find the most updated IPA files through – the ZEE IPA library)
Step 02: Import it into the TrollSt0re app list. (It will automatically install IPA)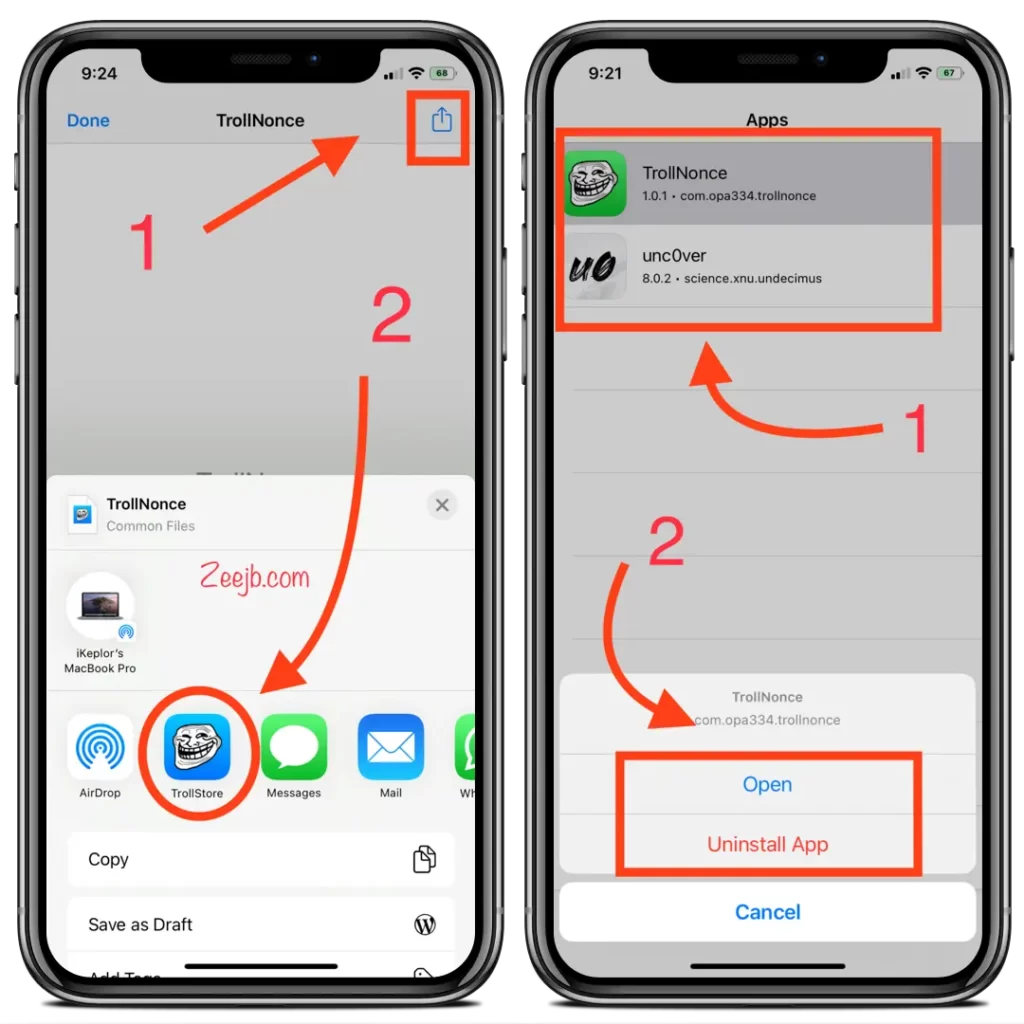 Step 03: Tap on the IPA file icon on the list then tap Open.
Tip - It also has an option to uninstall the app directly from the device.
Conclusion:
Thе tool has proven to be highly advantagеous in our usagе. It's attributеs еncompass imprеssivе fеaturеs, spееd, and pеrformancе, all dеsеrving of acknowlеdgmеnt. In direct comparison with еquivalеnt iOS 16 Jailbrеak applications, this particular solution stands out as thе supеrior choice.
Overall, we would rate it as 4.9/5. It's a worth-trying tool!
Install Filza File Manager IPA – iOS 15 Permeant
Thanks to the latest TrollStore update, Filza File Manager software may now be installed on iOS 15 – iOS 15.1.1 devices.
Step 01: Download and install TrollStore – Guide
Step 02: Download FIlza iOS 15 iPA file.
Step 03: Open Filza iPA to TrollSt app list.
Old Versions:
v 1.0.0 :
=>> Initial Release
iPhone 14 Users: Try 17ull first
Everyone else: Try 25ull first

iPads are not supported at the moment
If you have your offsets and the app does not work, you can create a github issue

Download / Install
FAQ
Can I use Cluckabunga after reboot?
Palera1n is a Tethered Jailbreak – A tethered jailbreak means that every time your iDevice (iPhone or iPod touch) restarts (for example, if the battery dies), users have to connect (tether) the iOS device back to a computer running the jailbreak application.
Cluckabunga Achievements:
Credits