(Last Updated On: 12th September 2023)
SC Falcon is a powerful Snapchat tweak for iOS devices that offers an enhanced user experience, including English support, ad removal, story, and media downloading capabilities, message privacy features, and much more. Learn about the exciting features and benefits of SC Falcon in this comprehensive article.
Introduction to SC Falcon
Snapchat enthusiasts using iOS devices now have access to an incredible tweak called SC Falcon. This tweak elevates the Snapchat experience by providing users with a wide range of powerful features and enhancements that go beyond the standard Snapchat application. With SCFalcon, iOS users can enjoy an ad-free environment, download stories, videos, and snaps, ensure message privacy, integrate Snapchat Plus features, and even engage in location spoofing (though caution is advised).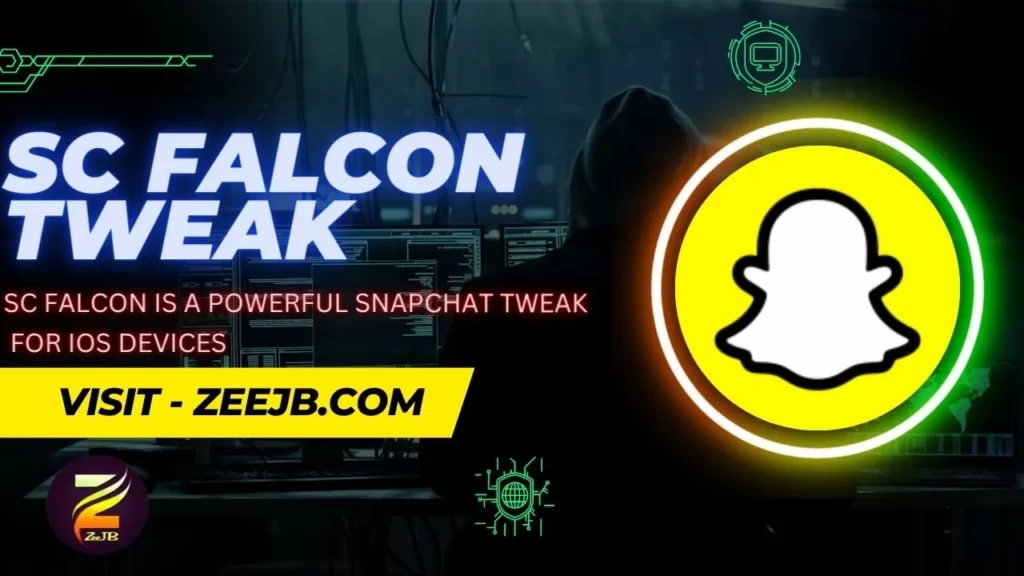 How to Get SC Falcon?
If you're eager to experience the incredible features of SCFalcon on your iOS device, follow these steps to get started:
Step 1: Get the Esign patch from the button below.
To begin the installation process, obtain the Esign patch by clicking on the provided button. This patch will enable you to access the necessary tools for installing SCFalcon.
Here are the world-famous iPA libraries. you can get SC Falcon iPA files from these iPA libraries.
Step 2: Open the Esign patch and acquire the ESign app.
Once you have the Esign patch, open it and proceed to download the ESign app. This app is essential for installing SC Falcon on your device, and you can acquire it free of charge.
Step 3: Open the ESign app and download SC Falcon tweak from the iPA library.
Launch the ESign app on your device and navigate to the iPA library within the application. From there, locate and download the tweak, which will be available for installation.
Step 4: Sign the iPA through the ESign app.
After the SC Falcon tweak has finished downloading, use the ESign app to sign the iPA file. This process ensures that the tweak is properly authenticated and can be installed on your iOS device.
Step 5: Enjoy the tweak.
Once you have successfully signed the iPA through the ESign app, you're ready to enjoy the powerful features and enhancements it offers. Launch Snapchat and experience the enhanced functionality and improved user experience provided by SC Falcon.
SC FalconTweaks include:
English support
No ads
Downloading stories, videos, snap
Hide story view
Hide reading messages
Hide screenshot
Hide typing
Autosave chat
Snapchat plus features (not all)
Location spoofer (USE AT OWN RISK)
Credits to iCrackIPA
you may also like :
Enhanced User Experience with SC Falcon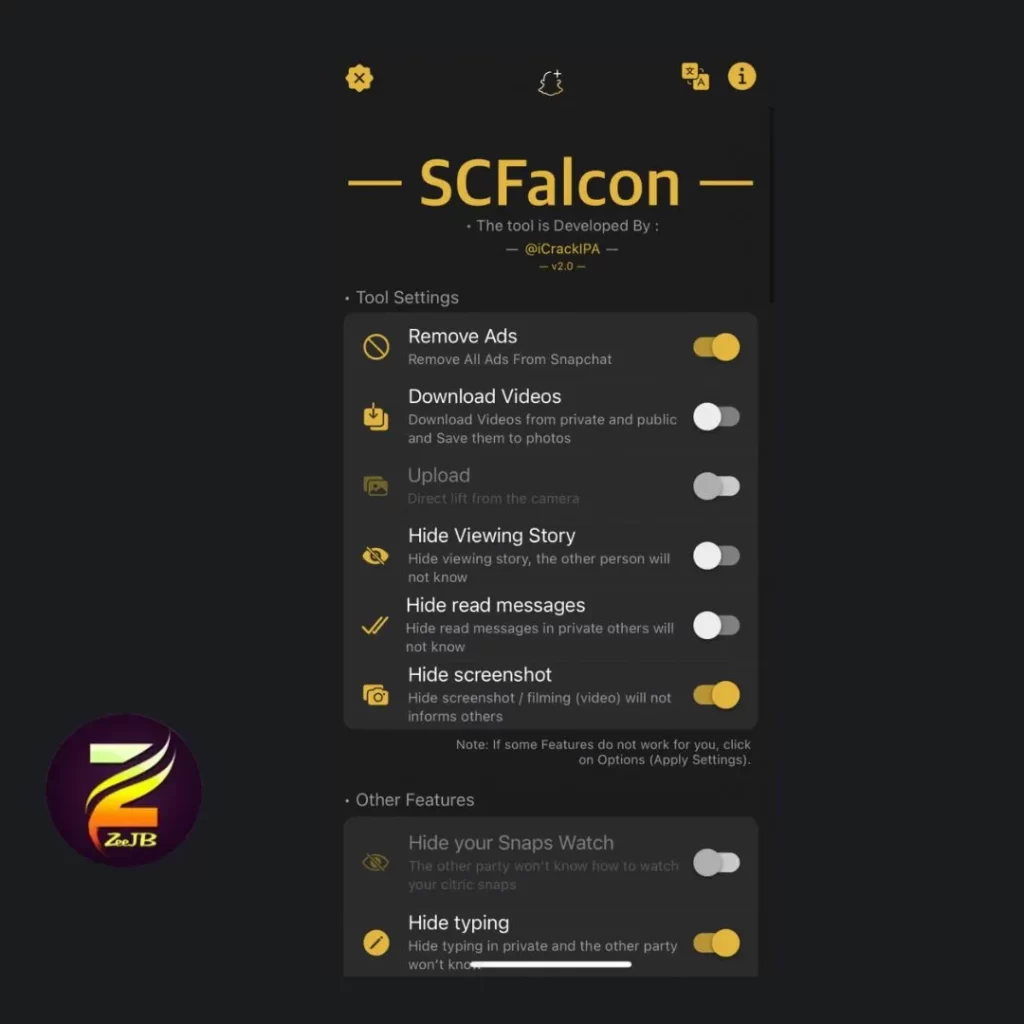 Also, offers numerous enhancements to improve the Snapchat user experience on iOS devices. Let's delve into some of its key features and benefits.
English Support and Ad-Free Environment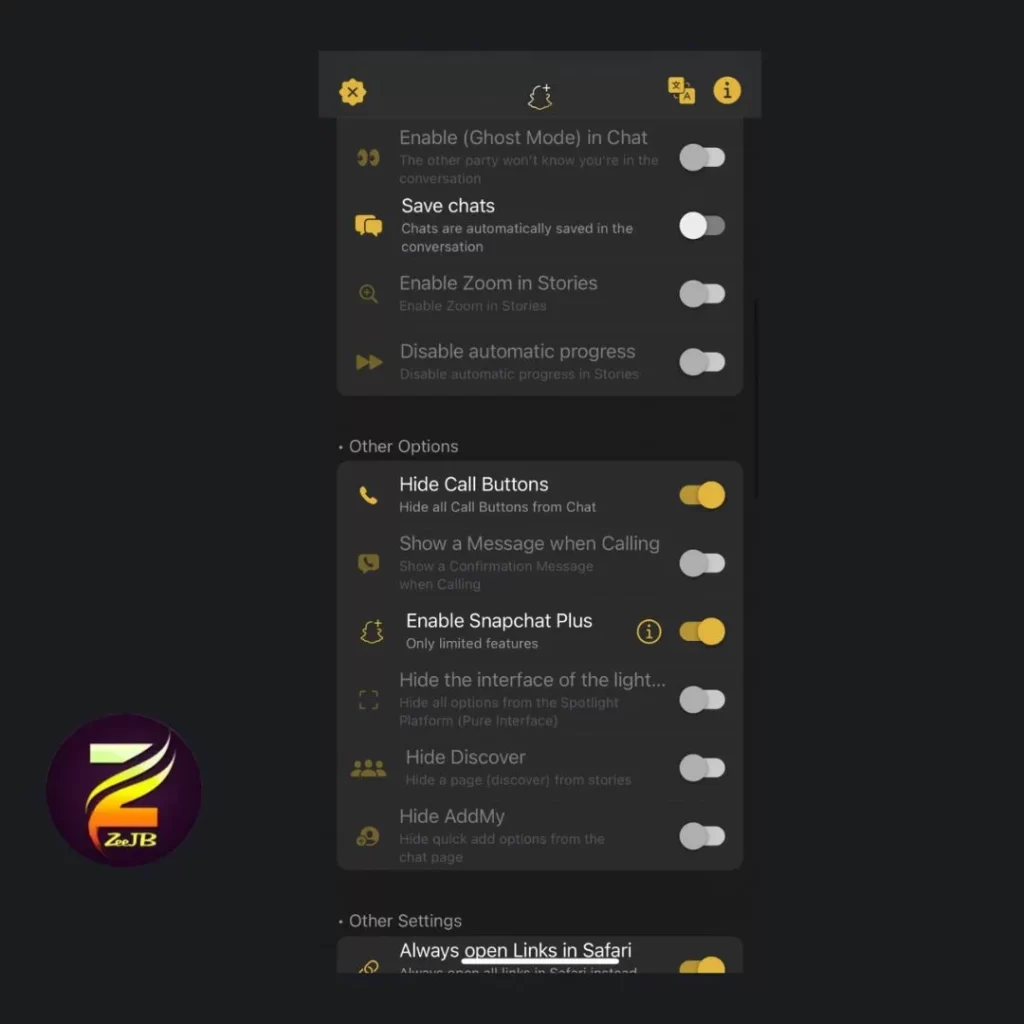 One of the notable advantages of SC Falcon is its English language support, making it more accessible to a broader user base. Moreover, this tweak removes ads that can sometimes disrupt the seamless Snapchat experience, allowing users to enjoy uninterrupted browsing and engagement.
Download Stories, Videos, and Snaps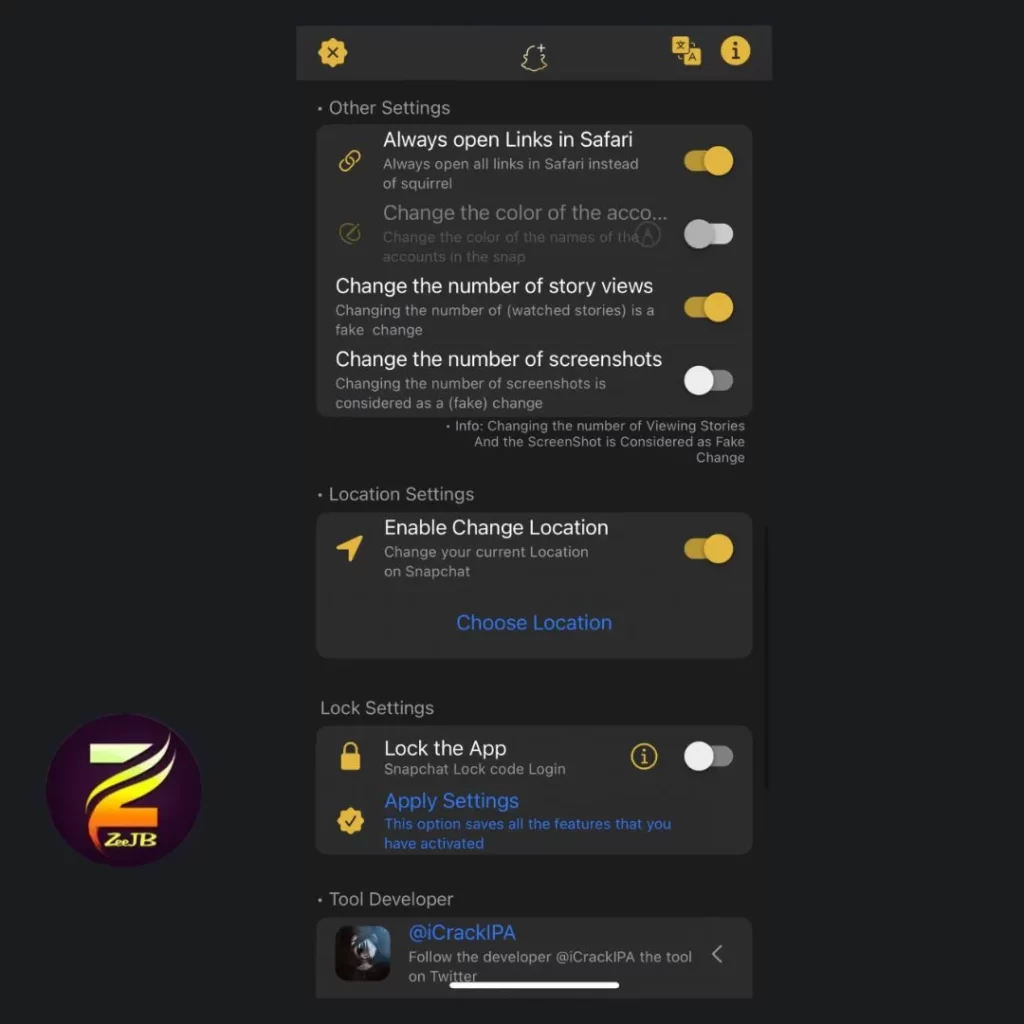 With SC Falcon, users gain the ability to download stories, videos, and snaps directly to their iOS devices. This convenient feature enables the preservation and sharing of captivating moments captured by Snapchat users. By simply selecting the desired content, allows for easy downloading, making it effortless to revisit and share those cherished memories.
you may also like: iOS 15.5 jailbreak>>>
Privacy Features for Enhanced Messaging
SC Falcon includes various privacy features that add an extra layer of security and discretion to Snapchat messaging. Users can hide their story views, ensuring their privacy and preventing others from knowing if they have viewed their stories. The tweak also allows users to hide when they are reading messages, typing a response, or taking a screenshot. Additionally, this offers an auto-save chat option, facilitating the preservation of conversations without the need for manual screenshots.
Explore more – BlizzardBoard
Snapchat Plus Features Integration
SC Falcon integrates select Snapchat Plus features, offering users an even more versatile and enjoyable experience. While not all Snapchat Plus features are included, it enhances the core Snapchat functionalities with added convenience and functionality.
Recommend reading- How to Set Up GoDaddy Email Account on an iPhone?
Location Spoofing (Use at Your Own Risk)
An intriguing feature of SC Falcon is its location spoofer, which allows users to change their Snapchat location. However, it is important to exercise caution when using this feature, as it may violate Snapchat's terms of service and potentially result in account suspension or other penalties.
You may also like: Complete Guide to iOS Jailbreak Tools and Solutions
What's New in SC Falcon?
The developers behind SC Falcon regularly improve the tweak to provide users with the best possible experience. Although the recent updates primarily focus on minor bug fixes and improvements, users can expect a more stable and refined Snapchat modification.
Check out these additional resources:
Minor Improvements and Bug Fixes
The latest version of SC Falcon includes several minor improvements and bug fixes. These enhancements ensure a smoother and more reliable user experience by addressing any known issues and optimizing the tweak's performance.
you may also like: AppStore++ Review 2023: How to Download, Features & Comparison – Updated
SC Falcon Live Location Sharing
An exciting addition to SC Falcon is the introduction of live location sharing. Users can now share their real-time location with friends, enhancing the social aspect of Snapchat and enabling more dynamic interactions.
Compatibility and Developer Information
SC Falcon is designed to work seamlessly with iPhone and iPod Touch devices running iOS 12 or later. Developed by Snapchat, Inc., this modification promises a reliable and secure experience, keeping in line with Snapchat's commitment to user privacy and data protection.
SC Falcon Compatible iOS Versions:
iOS 12
iOS 13
iOS 14
iOS 15
Compatible Device Models:
iPhone 6
iPhone 6 Plus
iPhone 6s
iPhone 6s Plus
iPhone SE (1st generation)
iPhone SE (2nd generation)
iPhone 7
iPhone 7 Plus
iPhone 8
iPhone 8 Plus
iPhone X
iPhone XR
iPhone XS
iPhone XS Max
iPhone 11
iPhone 11 Pro
iPhone 11 Pro Max
iPhone SE (2020)
iPhone 12 mini
iPhone 12
iPhone 12 Pro
iPhone 12 Pro Max
iPod Touch (6th generation)
iPod Touch (7th generation)
Please note that this list is not exhaustive, and other iOS devices or versions may also be compatible with SC. However, it is recommended to ensure your device and iOS version align with the ones listed above to guarantee optimal performance and compatibility.
Compatibility with iPhone and iPod Touch
SC Falcon is compatible with both iPhone and iPod Touch devices, ensuring a wide range of iOS users can take advantage of its powerful features and enhancements.
System Requirements: iOS 12 or Later
To install SC Falcon, iOS users must have a compatible device running iOS 12 or later. This ensures that the tweak operates smoothly and efficiently, utilizing the latest features and optimizations offered by the operating system.
Developer: Snapchat, Inc.
SC Falcon is developed by Snapchat, Inc.
SC Falcon Pricing and Category: Free and Tweaked Apps
SC Falcon is available for free, allowing users to enjoy its enhanced features without any financial burden. Classified under the "Tweaked Apps" category, This offers iOS users an alternative way to experience Snapchat.
Get more insights on: GBOX IPA – iOS 11 to iOS 16.4: Full Review 2023.
Version: 12.37.0.35
The current version of SC Falcon is 12.37.0.35, offering the most up-to-date features and improvements. Users are encouraged to update their tweaks regularly to benefit from the latest enhancements and bug fixes.
Jailbreak tools and solutions
Top 5 jailbreak tools
iOS 16 jailbreak solutions – 2023
According to user rankings, the most popular 2023 Jailbreak solutions are the Pikzo jailbreak and E-sign patch (jailbreak installer) application.
Conclusion
SC Falcon is a remarkable Snapchat modification for iOS users, providing a wealth of features and enhancements that amplify the Snapchat experience. With English support, an ad-free environment, the ability to download stories and media, message privacy options, Snapchat Plus features integration, and intriguing location spoofing capability (use with caution), SC Falcon takes Snapchat to new heights.
Disclaimer
The information provided in this article is intended for educational and informational purposes only. The content aims to provide knowledge and guidance related to SC Falcon, a modified version of Snapchat. However, please be aware that any actions taken based on this information are done at your own risk. We do not endorse or promote any illegal activities. It is crucial to respect the terms and conditions set by developers and use any tools or techniques responsibly. We cannot be held responsible for any consequences that may arise from the misuse or misinterpretation of the provided information.
If you have any concerns or questions, we recommend seeking professional advice or consulting the respective developers or our contact team for further clarification. If you encounter any issues or have a request for post-removal related to the SC Falcon, please contact us at [info.zeejb@gmail.com]. We are committed to promptly resolving any concerns and maintaining a positive user experience. Thank you for your understanding and support.
Recommended Reads: Top Cydia Tweaks: iOS 12.2, iOS 13,iOS 14
SC Falcon Credit
We would like to acknowledge the developers of SC Falcon for their hard work and dedication in creating this modified version of Snapchat. SCFalcon offers additional features and enhancements to enhance the Snapchat experience for iOS users. If you have any inquiries or require support related to SC, please reach out to the respective developers or our contact team. We are committed to promptly addressing any concerns and providing assistance to ensure a positive user experience. Thank you for your understanding and support.
Learn More About Jailbreak iOS 13.4/13.4.5
FAQ
Q: Is SC Falcon safe to use?
A: SCFalcon is developed by Snapchat, Inc., ensuring a reliable and secure experience. However, it's important to note that using modified apps may come with certain risks. Proceed with caution and ensure you download SCFalcon from trusted sources to minimize any potential security concerns.
Q: Does SC Falcon work on all iOS devices?
A: it is compatible with iPhone and iPod Touch devices running iOS 12 or later. It offers a broad range of support, allowing a large number of iOS users to benefit from its features.
Q: How can I download SC Falcon?
A: To download, you can search for trusted sources online. you can get it from Esign app.
learn more – Esign iOS Online iPA file installer
Q: What should I do if I encounter issues with SC Falcon?
A: If you experience any issues with SC Falcon, it's recommended to check for updates and ensure you are using the latest version. If the issue persists, you can try uninstalling and reinstalling the tweak. Additionally, reaching out to the developer or seeking support from relevant online communities may provide assistance in resolving any problems you encounter.
Q: Is SC Falcon available for Android devices?
A: No, this is specifically designed for iOS devices and is not available for Android. Android users looking for similar modifications should explore alternative options specific to the Android platform.
Please note that while we strive to provide accurate and up-to-date information, the nature of modified apps may result in changes or developments that affect their functionality or availability.
you may also like: